By: Jonathan Kwan
June 21, 2019
I remember watching an episode in the sixteenth season of BBC's Top Gear when they brought over the Australians for a series of challenges. In the first event of a drag race using a "typical commercial vehicle", the Australians appeared to have an advantage at first with their 6.0L V8-equipped 380hp Holden Maloo pickup. The British trio, pretending to be in trouble, sent along a run-of-the-mill Ford Transit minivan. Soon after the race began, the Australians realized that was no common Ford Transit. In fact, it blew the doors off the Holden Maloo at the 1km finish line, prompting the hosts from down under to ask Jeremy Clarkson what was actually powering it. Jeremy Clarkson opened the rear doors to reveal a Jaguar XJ220 engine that was "slightly turbocharged" for a whopping 542hp. Of course, such a van does not exist in production and you can definitely buy faster cars from the factory, but what beats the joy of tuning? Back in 2007, I reviewed the OCZ Flex XLC PC2-6400 CL4 2x1GB DDR2 RAM, which has integrated 1/4" barbs for water cooling. The RAM did not turn out to overclock so well and I never ran it with water cooling, but it was fun to see it inside a windowed chassis nonetheless. Fast forward a decade and a bit later, another company decided to give integrated water cooling support a shot; this time with a power supply. Wait, what? Yes, you read that right. The FSP Hydro PTM+ 850W has a built-in Bitspower liquid cooling system allows the PSU to deliver up to 1000W when needed. Sure, you can buy a 1000W PSU, but is it not more novel to run an 850W PSU at 1000W instead?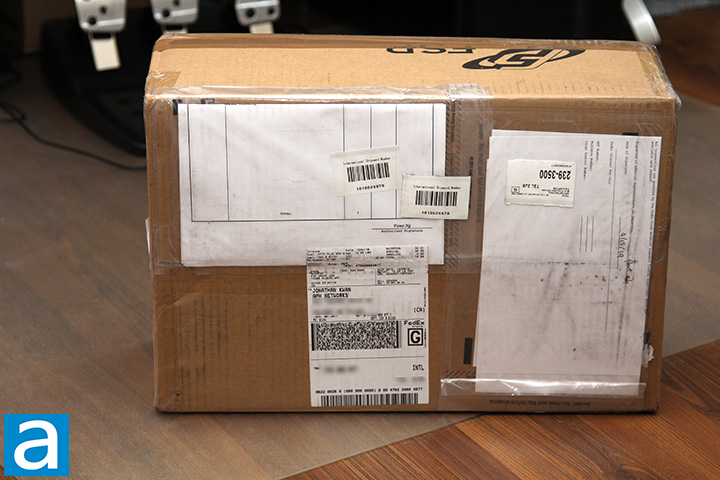 Our review unit of the FSP Hydro PTM+ 850W arrived in a medium-sized brown corrugated cardboard box from the company's American headquarters in Chino, California, USA. Using FedEx International Ground, our Hydro PTM+ 850W arrived in excellent condition to us here in Calgary, Alberta, Canada for our review today.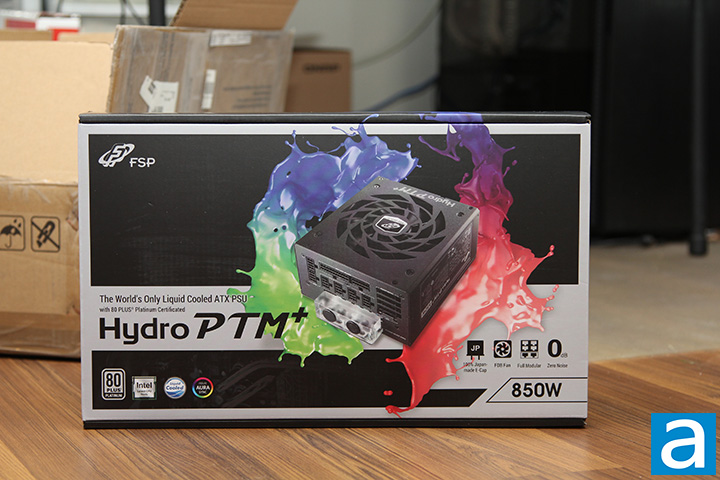 Inside the shipping box is the FSP Hydro PTM+ 850W's retail box. It has been a long time since I reviewed an FSP power supply here at APH Networks, and the latest design is quite good looking. As you can see in our photo, the photo of the power supply itself is shown prominently in front of a splash of color. Otherwise, the grey and black color scheme is reserved and pragmatic; FSP's logo is printed at the top left corner, while a band in the middle has the Hydro PTM+ model name and the fact this is the world's only liquid cooled ATX PSU with 80 Plus Platinum certification. Two arrays of icons show off its features. The left array includes an 80 Plus Platinum badge, Intel CPU compatibility, liquid cooling, and ASUS Aura Sync. The right array includes 100% Japanese-made capacitors, fluid dynamic bearing fan, fully modular, and zero noise. The remaining sides have a little more detail in presentation, which you will find more photos, feature highlights, and specifications.
Before we move on, let us take a look at the specifications of the FSP Hydro PTM+ 850W , as obtained from the manufacturer's website:
Model: HPT850M
Rated Output Power: 850W
Max. Output Power: 1000W
Form Factor: ATX
80 PLUS Certification: Platinum
Input Voltage: 100-240Vac
Input Current: 10-5A
Input Frequency: 60/50Hz
Efficiency: > 92%
Fan Type: FDB Fan, 135mm
Dimensions(L x W x H): 150 x 190 x 86mm
Weight: 2.9kg
Protection: OCP, OVP, SCP, OPP, OTP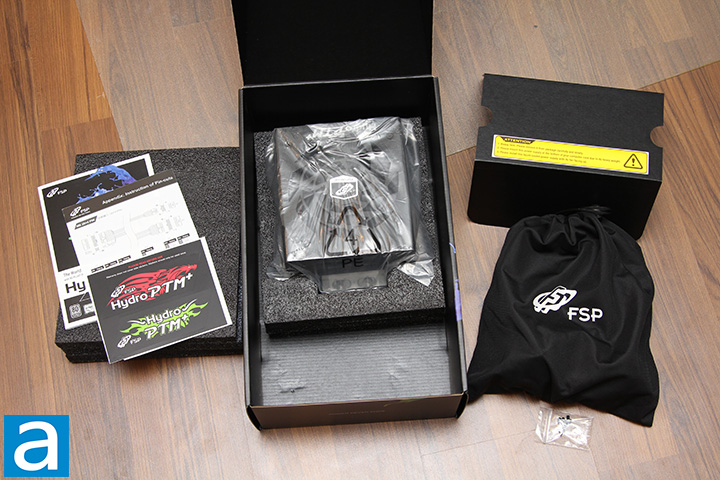 The FSP Hydro PTM+ 850W's retail packaging can be opened by a flap attached at the side. Upon opening the box, you will find everything neatly organized. The power supply is securely clipped between two foam brackets. Everything else is located inside a black drawstring bag. Out of the box, you will receive the Hydro PTM+ 850W power supply itself, modular cables, AC power cable, four screws, product manual, pin out guide, and some stickers. The bundle is very minimalist.
---
Page Index
1. Introduction, Packaging, Specifications
2.
Physical Look - Outside
3.
Physical Look - Inside
4.
Minor Tests and Conclusion