By: Jonathan Kwan
March 14, 2007
Revised April 3, 2007
Overclocking has always been a serious focus amongst PC enthusiasts, but it hasn't been until recently with the introduction of the Core 2 processors from Intel that, even users who were priorly not interested in overclocking, is doing so now. One very interesting aspect has hit the memory industry for quite a while, however -- is the introduction of heatsinks to memory modules. While not always necessary, it looks extremely attractive to an extent.
OCZ's usage of heatsinks with RAM has proved to be very successful, especially in the marketing side. Since then, almost all manufacturers are slapping on heatsinks on their modules -- and the introduction of a relatively aggressive design on Corsair's Dominator series has again sparked some evolution in this regard. OCZ's release of the Flex XLC PC2-9200 RAM is an evolution on top of the Dominators with native support for water cooling. Personally, unless you are clocking your RAM that high with that much voltage, I don't think it's necessary -- but hey, it looks cool, and it sells well for the best RAM in the market today during its introduction period.
The primary obstacle that high end memory must overcome is that, despite the fact that they are really leading edge in terms of performance, it is still a far cry from leading edge when it comes to price. Not all users can spend several hundred for a couple sticks of memory modules -- and to address to this group of people who don't need that much performance, and when price is a concern, OCZ has an answer for you -- or at least to intend to anyway -- the OCZ Flex XLC PC2-6400 CAS4 edition. There's a CAS3 version with new ProMOS ICs in there that's said to be some serious competition for Micron's legendary D9 series chips, but the CAS4 version is indeed cheaper, and keep in mind that at the time of shipping these to APH Networks... they weren't even annouced yet. But we might get to take a look at them further down the road.
The point is that we will be examining the OCZ Flex XLC PC2-6400 2x1GB Dual Channel Kit, from, *a big shocker*, OCZ! Ok, let's take the box apart.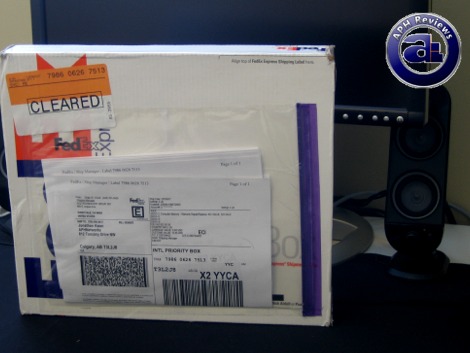 Our review unit unit came from OCZ's offices in California, USA using FedEx International Priority, as usual. Filled with Styrofoam packing peanuts, everything inside was secure and physically undamaged upon receiving. Interestingly, as I recently moved, OCZ accidentally sent one to my old address as well as my new address -- and I managed to get hands on both of them because the new resident brought them to me (How nice!). Now, I get to keep them ;)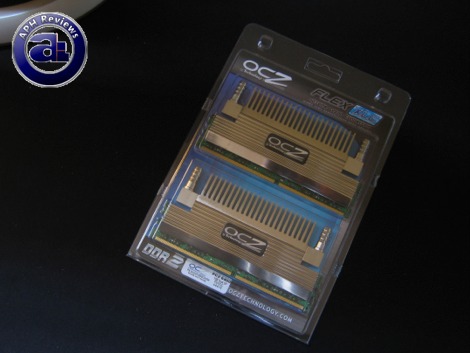 Using clear plastic packaging, the retail package is held together with two frictional buttons rather than a blister package. The memory is placed horizontally on top of each other in relative, rather than two parallel vertical placement as we've previously seen with regular OCZ memory. It's quite heavy due to the massive heatsink, and it does a pretty good job at showing it off right off the shelf.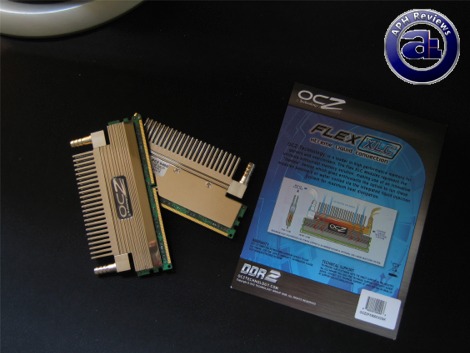 Removing the plastic packaging and flipping the description sheet around, reveals the water cooling compatibility of the OCZ Flex XLC's heatsink. The heatsink enclosing the memory module themselves are made out of aluminum with fins across the top; the flat surface at the back is actually quite shiny but very prone to fingerprint marks.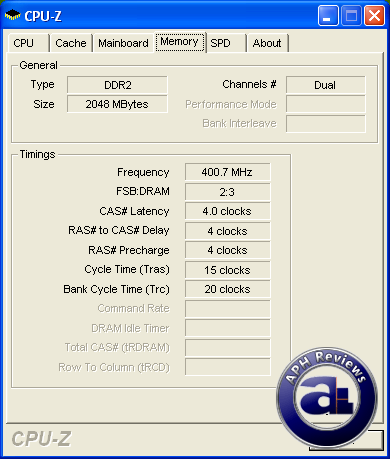 Before we move on, let's take a look at the specifications of the OCZ Flex XLC PC2-6400 CL4 2x1GB Dual Channel kit, as obtained from OCZ's site:
Specifications
800MHz DDR2
CL 4-4-4-15(CAS-TRCD-TRP-TRAS)
Available in 2GB (2x1024) Dual Channel Kits
Unbuffered
OCZ Lifetime Warranty
2.0 Volts
240 Pin DIMM
2 x 1/4" ID (inner diameter) barbs
Special Features
FlexXLC Heatsink*
2.2V EVP**
Part Numbers
2GB (2x1024) D/C Kit PN - OCZ2FX800C42GK
* The new OCZ FlexXLC (Xtreme Liquid Convention) heatsink delivers superior heat dissipation via the integrated hybrid copper and aluminum liquid injection system. The FlexXLC module was engineered with this unique "flexible" design to give enthusiasts the unparalleled option to run the modules passively or water cooled. The concurrent use of both technologies (water-cooling) promotes maximum heat dissipation and pushes thermal management of memory modules one step further to keep up with the ever-increasing frequency demands. FlexXLC modules seamlessly co-migrate with any system upgrade to liquid cooling.
**OCZ EVP (Extended Voltage Protection) is a feature that allows performance enthusiasts to use a VDIMM of 2.2V ± 5% without invalidating their OCZ Lifetime Warranty.
---
Page Index
Page 1 - Introduction, Packaging, Specifications
Page 2 - A Closer Look, Installation, Test System
Page 3 - 3DMark06 Results
Page 4 - PCMark05 Results
Page 5 - EVEREST CPU Results
Page 6 - EVEREST FPU Results
Page 7 - EVEREST Memory Results
Page 8 - SuperPI, Cinebench 9.5, EVEREST Memory Latency Results
Page 9 - Overclocking Results
Page 10 - Overclocking Continued, Conclusion