Page 2 - A Closer Look, Installation, Test System
In terms of the physical aspect, there are two things I want to talk about: The build of the RAM, and a short introduction to the unique Flex XLC heatsink. In terms of the build, a quick run over the specifications of the memory looks remarkably similar to the OCZ Platinum XTC Rev. 2, with the exception of the heatsink.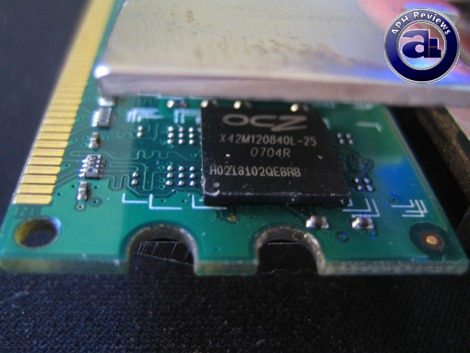 A quick peak behind the heatsink. Can't seem to find much by searching model numbers, but as far as I know they are ProMOS ICs, because at the PC2-6400 level, OCZ will not use Micron D9 chips until you move up the ladder.
The OCZ Flex XLC PC2-6400 CL3 edition utilizes newer ProMOS chips that is heard to rival those of Micron D9 in terms of overclocking capabilities. The CL4 edition that we are testing today, however, does not have any known-to-be commendable overclocking; but we'll see how the long history of ProMOS ICs will perform under a new heatsink today.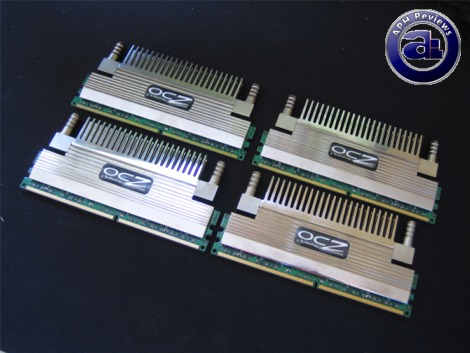 The most interesting aspect that separates the Flex XLC apart from the rest of the OCZ memory line is the heatsink. Utilizing a large aluminum heat dissipater, sets of aluminum fins set across the top in an organized array to bring heat away from the memory modules. The liquid injection system is made out of copper inside to create a copper-aluminum hybrid (Although you won't really see the copper), with an input and output on both ends of the Flex XLC heatsink.
The reason why OCZ calls it the 'Flex XLC' is to highlight the 'flexibility' of this product. A few misconception floats around the web as certain users has a misconception that the Flex XLC runs so hot that it needs water cooling -- that is entirely not true. It is to be used either with or without water cooling; but you have an option to connect it to your liquid system if you want to bring the temperature further down and nothing else.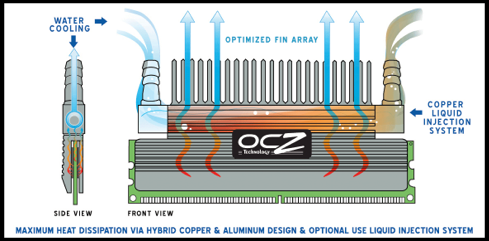 The diagram that OCZ uses on their site to promote the Flex XLC series. Our OCZ Flex XLC PC2-6400 CAS4 2x1GB Dual Channel kit uses the same heatsink as the one utilized on the OCZ Flex XLC PC2-9200 edition.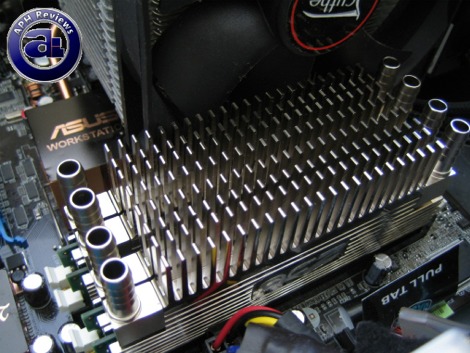 Installation goes for the same as other RAM. While I thought that the large OCZ Flex XLC heatsink may interfere with nearby slots, I had no problems installing all four modules into my Asus P5W64-WS Professional motherboard. The Scythe Infinity in which I thought earlier to possibly interfere with large RAM heatsinks in fact did not; it even added a positive to it as the nearby fan brings additional airflow over the top of the Flex XLC memory. Scythe Infinity plus a set of Flex XLCs may not be a bad combination at all.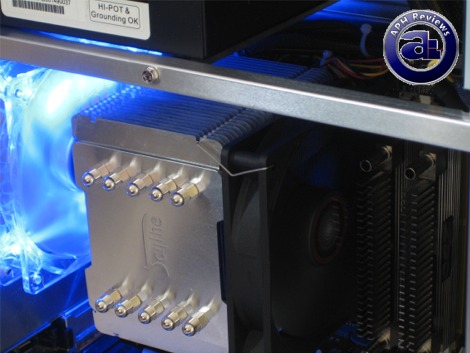 Test System
CPU: Intel Core 2 Duo E6300 (Conroe, 2MB L2 Cache)
CPU Cooling: Scythe Infinity
Motherboard: Asus P5W64-WS Professional
Case: Thermaltake Aguila (1x120mm LED, 1x120mm)
Power: Seasonic M12 500W
Graphics: BFG GeForce 7600GT OC
Sound: Creative X-Fi XtremeMusic
Optical Drive: NEC AD-7170A 18X DVD+/-RW
Hard Drive: Seagate 7200.10 320GB 16MB SATA2
Operating System: Microsoft Windows XP Professional SP2
Comparison Memory
- OCZ Flex XLC PC2-6400 CL4 2x1GB - 4-4-4-15
- Buffalo Firestix PC2-6400 2x512MB - 5-5-5-15
- OCZ Special Ops Edition Urban Elite PC2-6400 2x1GB - 4-4-3-15
The reason why I used 2 sticks of OCZ Flex XLC PC2-6400 CL4 is to maintain a fair benchmark in overclocking rather than using all 4 sticks. In addition to that, we found out that a pair of Flex XLCs that we have on hand was not stable enough to pass our Prime95/SuperPI/Memtest86 tests, so we left them out. Good thing a 'replacement' was on hand before we even asked for it!
---
Page Index
Page 1 - Introduction, Packaging, Specifications
Page 2 - A Closer Look, Installation, Test System
Page 3 - 3DMark06 Results
Page 4 - PCMark05 Results
Page 5 - EVEREST CPU Results
Page 6 - EVEREST FPU Results
Page 7 - EVEREST Memory Results
Page 8 - SuperPI, Cinebench 9.5, EVEREST Memory Latency Results
Page 9 - Overclocking Results
Page 10 - Overclocking Continued, Conclusion