By: Jonathan Kwan
December 9, 2006
It's been quite a while since we've reviewed a Thermaltake product. In the computer cooling industry, Thermaltake is no doubt a major player. Many of Thermaltake's cases are top notch; and in terms of aesthetics, I can confidently say that many of their designs appeal to my tastes. Not only that; popularity of their products amongst both consumers and computer enthusiasts has been quite strong during the past few years. This review, we'll be taking a look at Thermaltake's Aguila -- their mid-tower with uniqueness in many areas of design. Let's go over how well this case contains our computer equipment as well as its performance in keeping the temperatures at optimal level.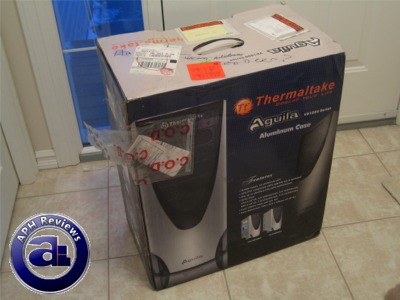 Our review unit came transported by UPS Ground from Thermaltake's office in USA. There were some hold ups; but Thermaltake's "infamous accounting team" pretty quickly resolved it (As Ian over Thermaltake says. I actually found that pretty funny!) and had it delivered. Biggest loss is probably UPS making a total of four delivery attempts in one week, from Monday to Thursday. Poor UPS.
Our retail box of Thermaltake's Aguila was large and with case features printed as well as different photos on various sides. It was surprisingly pretty darn light -- not as light as Thermaltake Matrix VX, but all in all the force of gravity acting on it at -9.81m/s2 with equation Fgravity = Mg, is a total of 62.1 N. Anyway, 6.33 kilograms according to Thermaltake.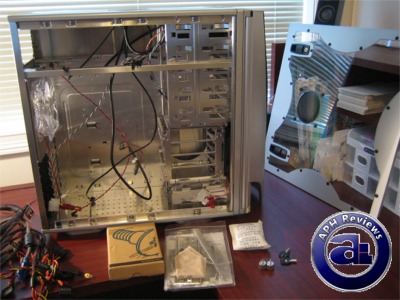 Out of the well-packed box is Thermaltake's Aguila case with parts and accessories taped or placed within the case itself. The Thermaltake Aguila is available with four configurations; a black version with or without window and a silver version with or without window. Our unit is the silver colored one that came with a large clear window that covers a great percentage of the right removable panel.
The set of included accessories include a package of screws of various sizes for different hardware installation as well as a bunch of motherboard risers. Package of 5.25" drive bay tool-free installation rails are inside the box, as well as a piece of cloth possibly intended to clean your case window. Several self-adhesive clear plastic sheets are made for applying to certain risen metal parts of the motherboard tray to prevent undesired conduction and short circuit.
A small mesh is located in the middle of the side case window. Personally I don't think that is necessary as I've always believed that installing a fan (Especially a small one) will provide little to no advantage, but adds to noise generation as well as interrupting normal airflow.
The unusually large plastic case feet can be easily removed to your preference.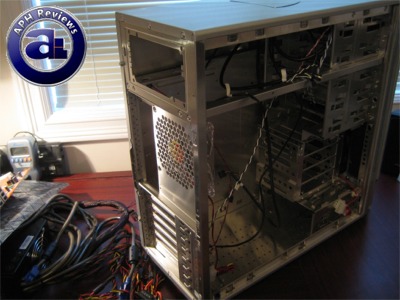 The back of the Thermaltake Aguila at an angle. The layout at the back is no different from arrangement of ATX mid-towers. Inside the box, there are 3.5" hard drive bays placed perpendicular with connectors facing the outside (It cannot be reversed for connectors to face the inside like Antec's Sonata II, however) for convenience and prevention of large add-on cards to interfere with the hard drives. If I slap in a 8800GTX one day, the room available is unlikely to cause any problems (I will confirm it shortly).
Cables for internal Firewire, USB, audio connector jacks, power, reset, HDD LED, power LED, and chassis intrusion detection connection runs from various locations inside the case. Two fans are included by default; one 120mm with a blue LED at the back and a single 120mm fan located at the front next to the hard drive cage.
Interestingly, another 5.25" drive bay is located separately below the hard drive cage that also allows access from the front.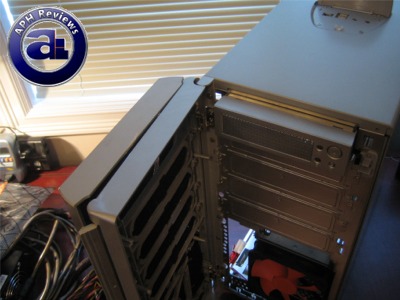 Thermaltake's famous two-door design as originally seen in the Tsunami model. The second door can be locked by a 'key' included to be worked with the integrated lock; which is also to be used with the one that locks the side panel.
Opening the second door allows you to gain easy access to the 120mm fan as well as a requirement to add or remove devices in the 5.25" drive bay. The first door is to be opened like any other for normal access to power buttons, optical drives, and such -- but cannot be locked which is quite a loss in my opinion.
Since no connectors are available by default behind the first case door, two USB ports, a Firewire connector as well as the standard audio jacks (One in, one out) are located behind a push-lock flap at the top (Similar to Coolermaster's Wavemaster).
All connectors here are blocks except for the Firewire internal connector -- which is something I do not understand why.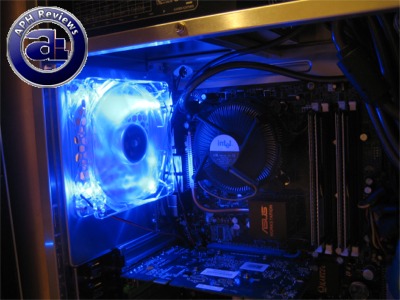 The power supply container is really only restricted by the length of the Thermaltake Aguila itself. With a side rail, it looks like the one with Thermaltake's Matrix VX -- but the rail itself cannot be unscrewed and flexed for easy PSU installation. Since my Tagan Turbojet 1100W is a fairly large power supply, I had to slip it in from underneath (You cannot install the power supply from the other side) which gave it a few more scratches. Unfortunately, if your motherboard is already installed... well... you can have lots of fun installing the PSU!
A PSU support rail perpendicular to the side rail can be screwed in for power supply support. Two screws are applied where one has to be installed from the opposite end (Requires removal of the other panel).
Overall, power supply installation can be improved as it is neither easy nor convenient in this area. The frame surrounding the power supply at the back of the case is also very sharp -- it gave quite a deep cut to my fingers while attempting the PSU installation.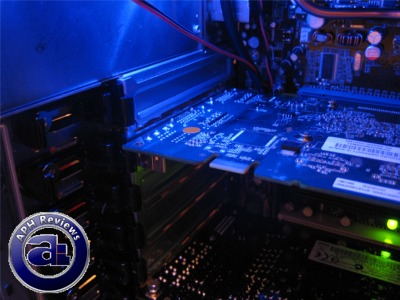 Plugging in add-on cards such as video cards and sound cards is really a tool free operation. The plastic clip is to be slid out, plug card into motherboard, and press down to lock. Although the locks are plastic, it does not seem to be that it will be easily broken like Coolermaster's Cavalier series (I used to have one of those cases and I broke quite a bit of the tool-free add-on card locks).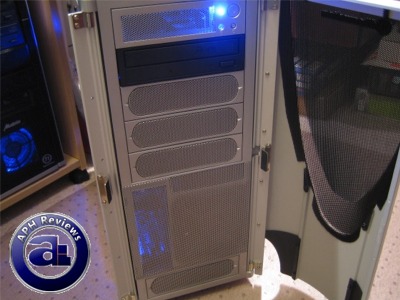 The front of the case behind the first case door. As you can see, the front case door can actually be configured to open either way (Left or right) at your preference. When closed, a low power magnet keeps the door shut -- however, if you want, the whole case door can be removed completely.
The mesh covering drive bays are extremely flexible and easy to bend; just keep that in mind.
All drive 5.25" internal drive bays can be accessed from the front; along with a vertical one that's supposedly designed for Western Digital's Raptor hard drive with window so it can be shown on the side since Thermaltake Aguila has such a large case window. Unfortunately that blocks out the other drives, so you can no longer install other hard drives because the end of the drives might end up sticking out at a perpendicular angle; and that's the end of that.
The LEDs are actually very bright. A blue LED indicates power on, with a red LED to represent disk activity. A power and reset button is conveniently located beside it, with a bay for floppy installation. A second one is below the first set of 5.25" drive bays. Since the case control set is located in a standard 5.25" drive bay, it can be relocated to other 5.25" drive bays on the case if you prefer to do so.
The mesh design is also seen in our Thermaltake's Matrix VX review a few months back. It really does improve airflow -- but you'll have to clean it with a vacuum cleaner regularly as it is prone to dust attraction.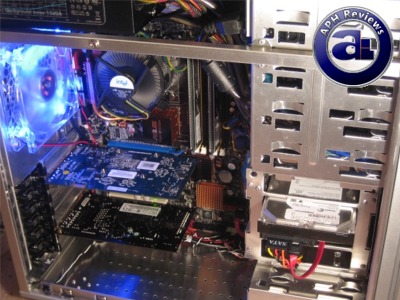 When installing 5.25" drives, it is not entirely tool-free. The mesh pieces covering the 5.25" drive bays actually need to be removed by a screwdriver since it is held on by a screw. After that, it is tool-free in this area -- put in the left and right drive rails and slide it into place. The drive rails do not work particularly well with components in the drive bay that's not full size -- such as a fan controller. I tried it with abit's uGuru panel when I reviewed abit's AB9-Pro, it works; but you can tell that it's not designed for that purpose in mind.
Installing hard drives is an implementation that is completely not tool-free. The drive cage needs to be removed during installation; held to the case by a single screw. Installing the hard drive requires special screws provided by Thermaltake. There are rubber pieces implemented to reduce drive vibration and noise.
All in all, the Thermaltake Aguila is not really a tool-free case. It is only tool free with add-on cards and partially with 5.25" drive bay device.
Also, a large series of organized holes are located at the bottom of the case. It could improve heat exhaustion, but again, dust attraction can be an issue.
On the bright side, I found wiring with this case extremely desirable. With my Asus P5W64-WS Professional's excellent layout and Thermaltake's excellent design with the Aguila, the results are in the photo above. I really didn't pay too much effort to it either -- not a single zip tie was used. An immense amount of cables can be hidden behind the hard drive cage conveniently and wired around the corner underneath it when required.
---
The Tests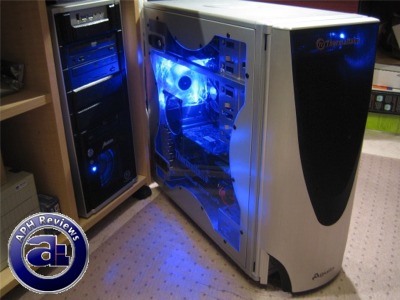 The finished computer! Because of the mesh design on the door as well as the curve underneath it, air fan flow from the bottom in and from the top into the fan as well as mesh behind the door for drawing air in. LEDs can also be clearly seen without any pass-throughs because of the mesh design (And of course, like I said earlier, the LEDs are extremely bright). The door has no handles to open, but you can easily reach your hand below the curve to pull the door open.
The window panel is held to the case by two plastic locks, which can be locked by the included key at the top lock. The door is not to be slid open, but instead pulled out at an angle where it pivots at the end of the opposite side; therefore no worries about missing the clips when sliding in. Two large thumbscrews can be applied at the back if you want to. This door does support intrusion detection if supported and enabled on your motherboard.
The tests were conducted on system with the following specifications:
CPU: Intel Core 2 Duo E6300 @ 2.8GHz 1:1 with RAM (400MHz*7)
Motherboard: Asus P5W64-WS Professional (Intel i975X + ICH7R)
RAM: OCZ Special Ops Edition PC6400 2x1GB
Graphics: BFG GeForce 7600GT OC 256MB
Power Supply: Tagan TurboJet 1100W
Case: Thermaltake Aguila (1x120mm LED, 1x120mm standard)
Storage: Seagate 7200.10 320GB 16MB Cache SATA2
Optical: NEC AD-7170A 18X DVD+/-RW
Sound: Creative X-Fi XtremeMusic
OS: Microsoft Windows XP Professional SP2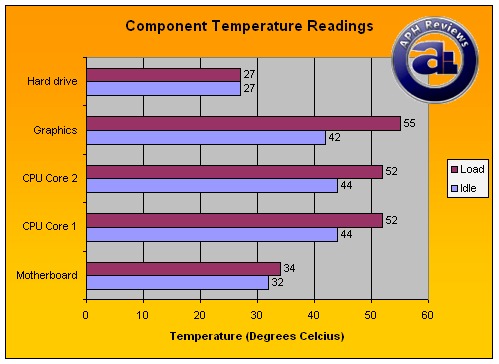 As you can see in our benchmark results above, temperatures were generally kept well. With a 120mm fan drawing air over the Seagate hard drives, temperatures remained 27 degrees Celsius (Room temperature is approximately 22 degrees Celsius). Load on the graphics card was simulated by accelerating HDR graphics in real time at a high resolution with maximum anti aliasing enabled. At idle, temperatures stayed constant at 42 degrees Celsius while reaching a very acceptable 55 degrees Celsius under load using the stock fan on the BFG 7600GT OC which I bought out a few weeks back as a temporary card for now.
Since Intel Core 2 Duo CPUs have calibrated sensors on the chip itself, we used the core temperature readings on our ~50% overclocked E6300 running at 2.80GHz (Stock is at 1.86GHz). This is probably more limiting to our stock heatsink/fan as temperatures remained at 44 degrees Celsius idle on both cores. A simulation of heavy load was executed using both SuperPI and Prime95 to generate maximum heat while rendering HDR graphics in real time simultaneously. Results ended at 52 degrees Celsius for both cores. I probably will need a new heatsink/fan shortly though!
Under the heavy load simulations as noted above, motherboard temperatures are usually the readings that reflect case temperatures as well. Depending on the sensor and placement, readings on our Asus P5W64-WS Professional indicates a 2 degree Celsius increase in temperature under load over idle's recorded 32 degrees Celsius. Overall, the results are not bad at all.
In terms of noise, the fans are not loud -- but not the quietest we've seen. It is not designed to insulate any sound within so it won't quiet down the sound generated by other components such as your power supply or fans on heatsinks.
---
I really liked the looks and design of the Thermaltake Aguila. The extra large case window enables more view inside your case with less blockage in the way. Air is well designed when drawn inside from the front; placement of power buttons and case door is flexible and the case itself is light enough for most situations. Cabling can be done very easily and neatly thanks to the amount of cables you can hide behind the drive cage. However, there are some sharp edges and drive installation is not entirely tool-free. Power supply installation can be a hassle due to the way you slip it in, and could be a problem if you want to remove the power supply later on -- especially if your power supply is large. Lock is nice for its window side panel as well as the second case door, but it would be excellent if the main case door could be locked as well. In conclusion, it is an excellent case -- but just a few quirks here and there that might be sort of significant; but most people won't mind for all the benefits you get. As usual from Thermaltake, the Aguila comes at a very reasonable price most people are more than willing to pay.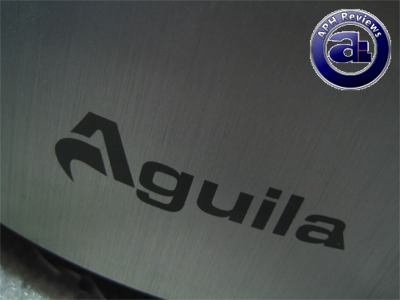 Special thanks to Ian over at Thermaltake for making this review possible.

Rating: 7.3/10 APH equal.balance
- More information on our APH equal.balance award in our Review Focus.
- The rating 7/10 means "Great product with many advantages and certain insignificant drawbacks; but should be considered before purchasing".
- The rating 8/10 means "Definitely a very good product with drawbacks that isn't likely going to matter to the end user".
- More information in our Review Focus.
Great looking case, extra large window, and excellent for pulling cables around easily. Just those few things that are holding the case back such as PSU installation and such; otherwise we would have given it an 'APH Recommended' without a second thought.