By: Jonathan Kwan
April 29, 2006
What's 3.8 kilograms that has the capability to accommodate thousands of dollars' worth of technology equipment? A computer case. Not just any computer case; its the (In Milhouse's tone from The Simpsons) Thermaltake Matrix VX.
Despite the overuse of the word "Matrix" nowadays, and a reminder of matrices of what we recently studied in mathematics, this computer case is very unique. As what I suggested earlier, the Thermaltake Matrix VX weighs a marvelous 3.8 kg. Is it light enough to lean back and dodge a bullet? Heck yes!
Yes, 3.8 kg. Not only could I not believe how light it is when I saw the description of this product on Thermaltake's website, it furthermore amazed me when I lifted it with literally four fingers into my house from my deck where FedEx left it.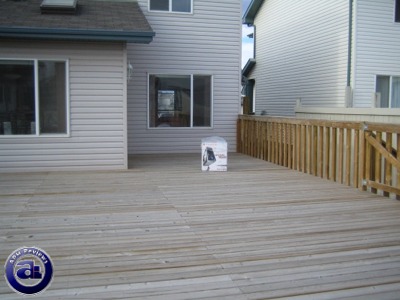 The FedEx man cleverly left it at my deck towards the back of my house. To prove Thermaltake's point of the Matrix VX's weightlessness, a picture displaying a finger lifting up the Thermaltake Matrix VX is shown with their slogan, "Light as feather. Solid as rock". Although it's not entirely correct in terms of grammar, the point is made.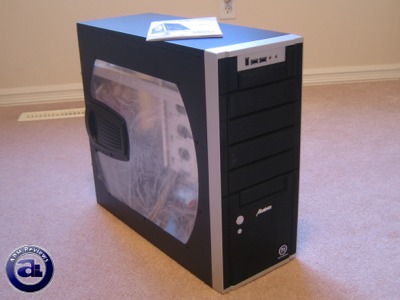 Safely packed inside our retail boxed Thermaltake Matrix VX is a menu... err... manual (Sorry, I am a bit hungry), and the case itself. Even though the Matrix VX's multimedia-ish front mesh design looks nice, to me it isn't all "jaw-droppingly-sexy" nor does it get those "super elegant" awards; the large case window on the side looks great to my personal tastes though. One thing, the "Matrix" logo in front looks a bit 'smudged'. However, power and reset buttons are located in a favorable location; maintaining a good size and reach without being too close to the bottom. I also like how the reset button on Thermaltake's Matrix VX has a little depth into the face of the case, reducing chances of being pressed accidentally. A red HDD LED and blue power LED is located below the reset button.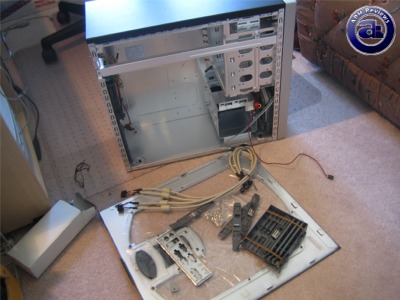 Taking what's inside the Thermaltake Matrix VX out reveals more accessories. This includes a bunch of cables as well as tool-free installation accessories and a box of various screws and risers. Two 120mm case fans are preinstalled in a tool-less fashion; held by four plastic clips is the front fan which is transparent with a blue LED, while the one located at the back for exhaust is orange with a black frame. The front fan is designed to draw air into the case as well as directing air over your hard drives.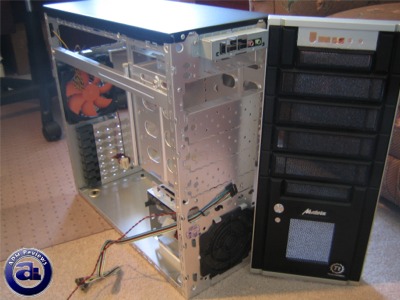 Thermaltake Matrix VX's front face must be removed in order for us to add or remove devices that goes in the front of the case; primarily optical drives. Removing the front face can easily be achieved by reaching your hand into the slot underneath the Matrix VX and give it a quick pull.
As you can see in our photo above, air is drawn through the front mesh past a fan filter before entering your case. While the fan filter is designed to eliminate unwanted particles from entering your case, dust might as well get stuck to your Thermaltake Matrix VX's front mesh. Imagine the unpleasant sight before whipping out a vacuum cleaner.
UPDATE: The front mesh attracts a lot of dust and dust is very noticeable after a few weeks of use.
Two cables connect your case LEDs and buttons through another cable to your motherboard. The pins are not labeled of which side connects to what, therefore a chance of a confused first time user probably isn't too uncommon. If you look carefully, however, it is possible to distinguish which side is the bottom on each cable, and you can connect the two accordingly.
Speaking of cables, there are two cables that runs from front panel I/O connectors to various places on your motherboard. Firewire and one USB port shares two cables that cannot be separated due to a common connector block on one end, while the other USB port shares another cable in a similar manner except with the audio jacks instead of a Firewire port. If you just want to use front USB ports and not anything else, you are pretty much out of luck but to run both sets of cables through your case -- bad news if you are working hard for some super neat cabling.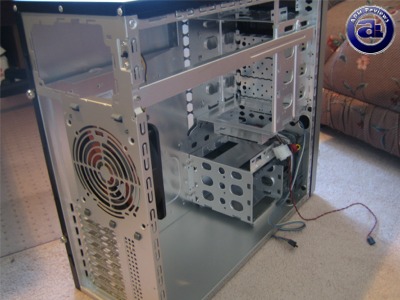 A shot at the back of the Thermaltake Matrix VX. As you can see, hard drives will be pointed towards the side of the case when installed in Thermaltake Matrix VX's hard drive cage. Although tidy cabling would be a little more difficult, the way they implemented it is much more convenient for us to swap hard disks. In older designs, adding or removing hard drives is often a hassle because add-on cards such as graphics and sound boards often gets in your way.
A gap of approximately half a centimeter is located between the hard drive cage and bottom of the Thermaltake Matrix VX. During installation, I found this gap extremely useful for hiding excessive cables and wires.
Built with physically large power supplies in mind, I can safely say that the Matrix VX can accommodate computer power supplies of virtually any size. A little tip for installation: the rail can be loosened or removed for power supply installation. Don't try to shove your PSU in from where the rail narrows, it simply won't work. (I tried!)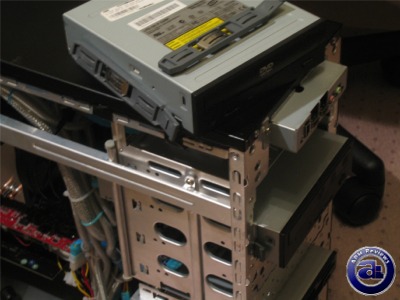 Although the requirement of removing the front panel in order to install optical drives maybe somewhat an inconvenience, the actual drive installation process is not. Simply put two supplied rails onto both sides of your drive, and slide it into place. I still like Coolermaster's implementation of tool-free drive installation on the Cavalier 1 which I purchased last year better, where you simply put a drive into place and slide a lock to lock the drive into place. Tool-free drive installation on the Thermaltake Matrix VX can still be completed in thirty seconds, however. Hard drive installation is nearly identical to optical drive installation.
There are two places on the Thermaltake Matrix VX for installing floppy drives. One place is above your optical drives while the second location is located below optical drives. The one at the top allows tool-free installation; unfortunately the second one requires usage of screws.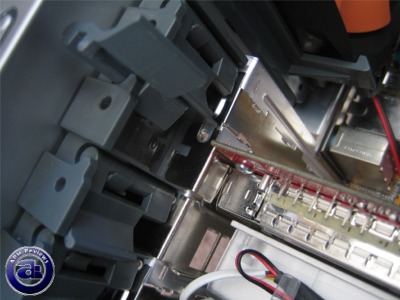 Tool-free installation for add-on cards. This design is excellent. First of all, it's not nearly as easy to break as the flimsy ones on the Coolermaster Cavalier 1, which I broke a few over time. Secondly, it actually holds your graphics card or whatever securely in place. Also, unlike other cases, the little pieces of metal that is in place for back PCI slot connectors (Whatever you call them) can be put back in -- not those kind where once you remove from the case by breaking it off cannot be replaced back in.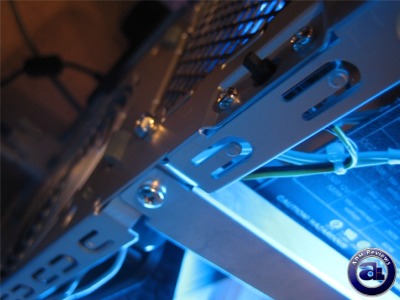 A little 'detector' for chassis intrusion detection. A cable runs to your motherboard from the detector. It can be useful for the LAN party crowd, but for home use, it's your choice to connect it or not. After all, I open and close my case all the time when the computer is on!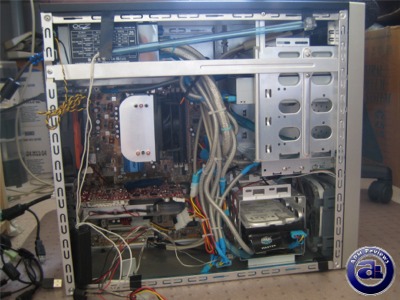 Installing the rest of the components went without much hassle. As a mid-tower, there is a good amount of room to work with inside the case. I noticed no sharp edges that the user can access, therefore no physical damage were caused to me while installing computer parts. Here's some good news for first time computer builders: screw holes on the motherboard tray are numbered with a separate label assisting you in identifying where motherboard risers go depending on the type of motherboard you have (mATX, ATX etc). From my experience with the this case, I noticed one of the holes to put a motherboard riser in for ATX motherboards were mis-instructed by the label.
One thing I must note is that the statement "Solid as rock" is as much as a figure of speech as the first part of their slogan, "Light as feather". Although the Thermaltake Matrix VX is well constructed, holds every single component very well and highly unlikely to collapse under normal use, aluminum sheets located at the top, back, as well as the side panels are soft and bends temporarily when pressure is applied. Take the side panel for example. It is unbelievably light, but unbelievably thin as well. Feels flimsy to an extent; but definitely strong enough for normal usage and a worthy trade off for having such an incredibly light case.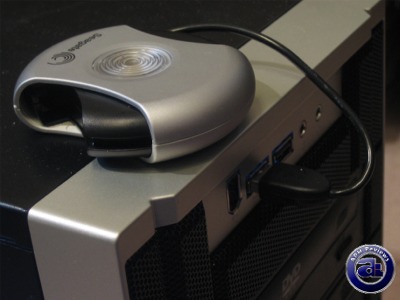 This may appeal to some, but not all: front panel connectors are actually in the front. To me, it is a welcome change from the ones on the side as on the Coolermaster Cavalier 1 and Nikao Dragonfire. I mean, front panel connectors are meant to be in the front, aren't they? I don't really like cables sticking out from both sides of my case. In addition to that, for users having their computers inside a compartment under their desk, you won't need to slide your computer out slightly in order to access the "front" panel connectors.
If you noticed how we plugged our Seagate 5GB Pocket USB Hard Drive into front USB ports in the photo above, the connector on my Seagate Pocket HD doesn't go fully into Thermaltake Matrix VX's front USB port. This creates a similar problem that I mentioned in the ZIP-LINQ USB Power Adapters review; the ports do not hold the connected device and/or cable in its place very well.
---
The Tests
After completing the final build, we move onto "The Tests". I feel excited every time we move onto "The Tests". Don't you feel excited as well?
Anyway, all tests were completed on my... let's say, "ultra super crazy 1337 pwnz0r computer":
AMD Athlon 64 3000+ S754 Newcastle @ Stock 2.00GHz (Cool & Quiet ENABLED)
Arctic Cooling Freezer64 Pro
Asus K8V-X Motherboard
Corsair 2x512MB, Single Channel, DDR400 @ 2.5-3-3-8
Western Digital 80GB 7200RPM 8MB Cache (NTFS)
ATI All-In-Wonder Radeon 9800 Pro
Arctic Cooling VGA Silencer Rev. 3 @ 2400 RPM
Creative Sound Blaster Audigy 2
Pioneer DVR-108 Multiformat DVD Burner
Liteon 16x DVD Drive
2xVastech CCFL Cold Cathode Lights
OCZ Modstream 450W PSU
--
Thermaltake Matrix VX (2x120mm case fans)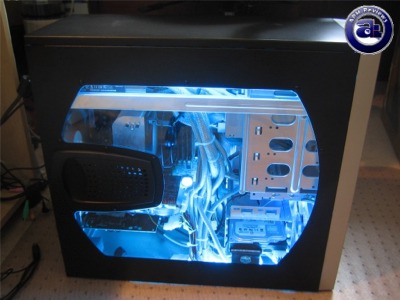 All tests were run with the computer in an upright position, case door closed, in order to achieve the most accurate and real-life results. The computer remains in the same location in the same room throughout all tests. The room temperature is around 24c. Arctic Cooling Freezer64 Pro will be cooling the CPU using pre-applied MX-1 thermal paste and directly connected to the motherboard's 3-pin connector. Computer is turned on and idling for at least two hours for idling test results. High CPU load results were obtained using Prime95's large FFTs Torture Test, ran for 31 minutes.
Please note that anything within one degree or two is basically the same number. Also, the Coolermaster Cavalier 1, although ran under the same tests and same conditions as the Matrix VX (Same position, same location, etc) the results are obtained from my reviews that I wrote last month.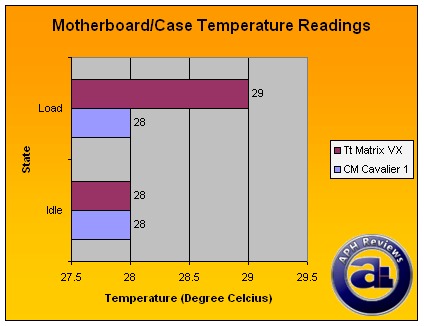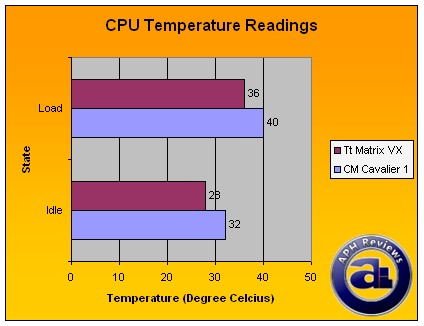 Although the Thermaltake Matrix VX is definitely not the quietest the case we've seen, the amount of noise it produces is still acceptable for everyday use. Undervolting the fans help a bit. Anyway, results of our tests indicate great cooling performance that this case offers. Under idling conditions, the Matrix VX's case temps are at 28c -- only four degrees higher than our room temperature. CPU temperature is identical with case temps, but I would give a little more credit to the Arctic Cooling Freezer64 Pro heatsink because no case temperature change is recorded with my Coolermaster Cavalier 1 as well.
Under APH's high CPU load test, case temperatures changed by one degree Celsius -- at least that's what our sensor indicates. CPU temperature went up to 36c, a change by 8c when compared to our idling results. I am pretty impressed by this, because on our Arctic Cooling Freezer64 Pro review using my Coolermaster Cavalier 1 case, the exact same test resulted in a CPU temperature of 40c. I'll have to credit Thermaltake Matrix VX's cooling here for this great result.
For those wondering, my hard drive is stable at 29c. One single degree above case temperature isn't bad at all.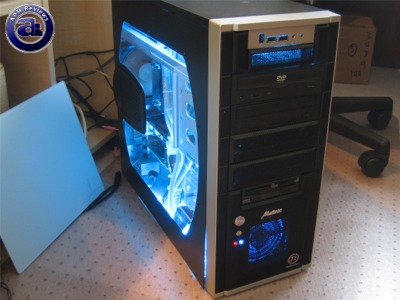 Overall, the Thermaltake Matrix VX is an excellent case. Although the aluminum is incredibly thin, it is definitely a good tradeoff for having such an incredibly light case as build quality is still good. With an option of having a large window and decent cooling that generates an acceptable/reasonable amount of noise, the Thermaltake Matrix VX is excellent run for your money for its average price below $90. Even though I don't like how you'll have to pull off the front mesh panel to install optical drives, the Matrix VX offers well implemented tool-free installation -- especially for installing add-on cards. By having a well designed exterior as well as interior, although it has a few quirks here and there, still doesn't stop us from giving the Matrix VX an 'APH Recommended'.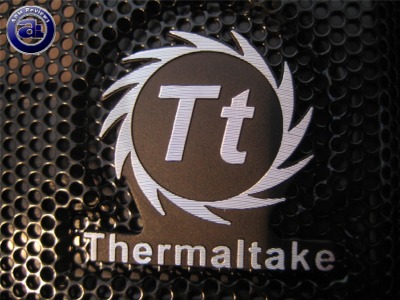 Special thanks to Annie over at Thermaltake for making this review possible.

Note: The number ratings below has been adjusted accordingly to comply with our new Number Rating System.
Rating: 7.8/10 | APH Recommended
What do these rating mean?
Extra light case, good run for your money with great cooling and easy to work with. Definitely not the quietest case we've seen in addition to a few quirks here and there, but we still recommend the Thermaltake Matrix VX as its drawbacks are not too significant but instead relatively minor.