By: Jonathan Kwan
March 31, 2006
As my Spring Break, err... Review Week -- continues, I tested another heatsink besides the Thermaltake RX-K8. Today, we'll be taking a look at Arctic Cooling's Freezer64 Pro. It happens rarely, but I am already amazed by it right out of the box -- not only that it has all the high end features such as heatpipes; the price is at a jaw dropping retail price of less than $40 (MSRP is $34). How would a sub $40 heatsink with all these features perform? These statistics will be revealed by the pretty graphs later on in this review.
Our review unit came from Arctic Cooling's offices in Hong Kong, using by FedEx International Priority. Man I miss Hong Kong... I wish I can go there this year. Anyone want to buy me some tickets? Anyway, that has nothing to do with this review...
The story behind the big "Hold" sticker on the package was that I phoned FedEx to hold the parcel at their shipping depot, so I can pick it up on the way home next day. Don't worry, it's nothing like DHL. (Don't even remind me of them! ARGGG)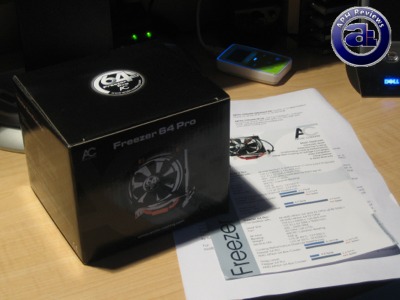 Despite the popularity of plastic retail packaging used by the majority of manufacturers, our Arctic Cooling Freezer64 Pro came in cardboard box retail packaging. No more nightmares of ripping apart hot glued plastic! If all companies used this kind of packaging, life will be a lot easier -- especially for reviewers like me. Kudos to you Arctic Cooling!
Here is some information on the Arctic Cooling Freezer64 Pro, taken from their website:
---
Extremely Quiet
The low speed 92 mm fan reduces the noise level to a minimum.
The patented fan holder is able to practically eliminate the typical buzzing sound of 92 mm fans.
Patent No 203 07 981 U1 (Germany)
Patent No 10/834 232 (USA)
Powerful cooling
6 Heat Pipes (three used double sided) are able to transfer heat up to 200 Watt. The heat exchanger is built of 42 fins and consists of a surface area of over 4700 cm2 and allows for resistance free energy transfer to air.
Integrated Cooling of Voltage Converters
Air is drawn in from the side of the fan to cool the components around the CPU.
Some air is blown out towards the voltage converters on the mainboard with the bent fins at the bottom.
Patented Vibration Absorption
The four rubber connectors o­n the fan case act as a vibration damper to absorb the vibration of the running fan. This can reduce significant vibration between plastic fan case and heatsink.
Easy Installation
The cooler is to install without any tools within seconds.
Long Lifetime / 6 Years Warranty
The ARCTIC Ceramic Bearing provides an unmatched Life Time of 137'000h (L10@40°C) resp. an MTBF@70°C of 163'000h and thus a 6 year warranty.
Specifications
Heatsink: 104 x 58 x 126.5 mm
Fan: 107 x 43.5 x 96 mm
Overall Dimensions: 107 x 96.5 x 126.5 mm
Rated Fan Speed: 2200 RPM
Power Consumption: 0.16 Amp.
Air Flow: 40 CFM / 68 m3/h
Weight: 528 g
Noise Level: 0.8 Sone
Thermal Resistance: 0.18°C/Watt
Thermal Interface Material: Pre-applied MX-1 Paste
Warranty: 6 Years
---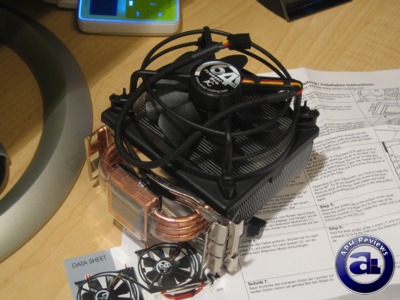 Combined with a decent sized 92mm fan, 42 fins, and 6 heatpipes, you shouldn't and wouldn't expect this product to be small at all. The fins of this heatsink are made out of aluminum; some performance will be sacrificed for lightweightness. Due to its physical size, weighing 528g isn't too unreasonable nor is it out of hand. The base and heatpipes are still made out of copper for heat conduction in where it's due. If all 42 fins on the Arctic Cooling Freezer64 Pro were made out of copper, chances are that permanent damage would be caused to your motherboard due to long term stress.
Speaking of heatpipes, at the bottom of the heatsink, where the array of heatpipes joins the first aluminum fin, it appears to be poorly welded. On the bright side, I haven't experienced any problems yet, and that should not be a problem.
The visual-eye-candy-aspect of the Arctic Cooling Freezer64 Pro is average. It does not have beautiful and attractive color coordination as compared to Thermaltake's RX-K8 which we reviewed yesterday. The motherboard connector cable is sleeved though; Arctic Cooling still could have had it made to be more visually appealing, since case modders and/or people with case windows usually enjoy showing off their components inside the box. I am not saying that the aesthetics of the Freezer64 Pro does not live up to the standard, but there is always room for improvement, since the computer enthusiasts is their target group.
I was going to use Arctic Silver thermal paste for use with the heatsink tests. Arctic Silver is providing us the paste for use with our reviews, unfortunately the products got held at the customs (No, it's not DHL) so we changed our plans and decided to use thermal paste that comes with the particular heatsink in all our tests.
At the same time, I got an email from Michele over at Arctic Cooling.
As you will see our Freezer 64 Pro already comes with our pre-applied MX-1 paste. This is a high end Shinestu paste and specifically designed for our coolers to provide optimum performance.
I strongly suggest that you keep this paste on the Freezer 64 Pro - you will not only see that the cooler will be much better in cooling performance than the [competitor], but by adding this pre-applied thermal paste makes installation for end customers most convenient.
This is our philosophy at Arctic Cooling - providing high performance , silent coolers at very attractive prices and enabling easily installation for all.
Besides the two reasons listed above, an insufficient amount of available Arctic Silver gave me another 'excuse' to use the pre-applied paste. Some people told me that the performance of Arctic Cooling's MX-1 paste is better than Arctic Silver 5, yet others informed me that they noticed no temperature differences. Personally, I don't see how it can be any worse than AS5, since Arctic Cooling's recommendation of retaining their MX-1 paste intact would decrease this product's score if MX-1 isn't at least as good as AS5. Anyway, I like how they have thermal paste pre-applied on the heatsink's base itself. Not everyone is good at applying thermal paste -- some people apply too much, creating an insulation layer. Others apply too little, preventing proper heat conduction. Unfortunately, because of the pre-applied thermal paste, I cannot see how smooth the base of this heatsink really is (I did not clean the paste off). However, judging by the edges where thermal paste is absent, it looks smooth enough.
UPDATE: Some of our readers reported cases of disappointing cooling performance due to heatsink base badly lapped. From reading other user comments that purchased this heatsink from major online retailers, most seems to be happy with this product without issues I just listed. Therefore, we can conclude that heatsink base issues are isolated incidents and should be exchanged for a new one.
So, how would this Arctic Cooling product live up to their philosophy of providing high performance, silent coolers at very attractive prices and enabling easy installation for all? The price of this product is definitely attractive, like I said before -- $34 for a heatsink with heatpipes and all the high end features. Many Arctic Cooling's competitor that manufactures heatsinks with these features has their products higher than $70.
Last year, ty8131990 on the forums gave me an Arctic Cooling VGA Silencer Rev. 3 as a gift. It includes some, let's say, 'non-high-quality-looking' thermal paste, which comes in a tube and not pre-applied. While the VGA Silencer offers decent performance and definitely silent, it wasn't very easy to install. Let's check how the Freezer64 Pro performs later in the tests.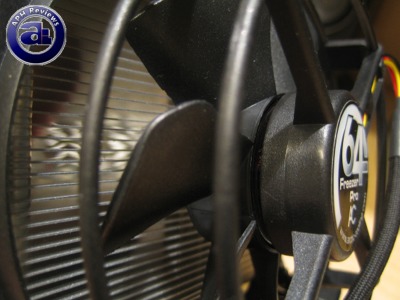 The fan is a 'reverse fan', held by the fan cage. Similar implementation is used by Thermaltake's RX-K8, which rattles and shakes our whole case as well as generating an immense amount of noise. When I noticed that the Freezer64 Pro uses the same technique, I kind of wondered how well this heatsink will perform. The good news is, during our tests the fan is very quiet and generates minimal vibrations. There are vibration dampers at all four corners of the fan. Screws were used on the Thermaltake RX-K8, which we had to tighten up. To be honest with you, I can still hear a light 'whoosh' with the Freezer64 Pro installed in my computer, hooked up directly to our motherboard's 3-pin connector.
I tried undervolting the fan on the Freezer64 Pro, using Zalman's Fanmate II that came with the Zalman 7000B-Cu which I purchased last year. I discovered that best performance-to-noise ratio occurs when fan is running at approximately 1795 RPM. At this fan speed, my computer kept reporting CPU fan speed is at 0 RPM every five seconds or so. I increased the voltage in order to allow the fan to run slightly above 2000 RPM. 0 RPM reports did not come as frequent, but still appears every fifteen seconds. I adjusted the knob and gave it full power to spin at 2300 RPM, all 0 RPM reports are gone. Fan undervolting shouldn't be in your radar if you want to buy Arctic Cooling's Freezer64 Pro.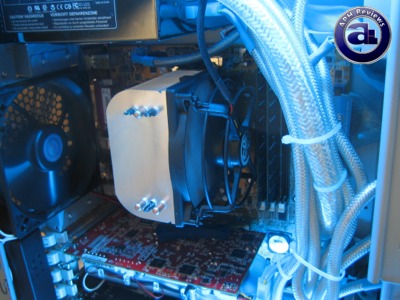 As you can see in the photo above, the Freezer64 Pro features a 90 degree fan, pointing directly at the back of my case where a 120mm exhaust fan is. This allows much better cooling, directly pushing the CPU's heat out the back of the case without creating airflow interference like 99% of the CPU coolers on the market today. Having this design has its negative points though: sticking that much out the motherboard will create undesired stress on your motherboard. Good thing the Freezer64 Pro is fairly lightweight for its size.
Installation went generally well. The Arctic Cooling does not require you to replace your motherboard backplate, nor does it require the stock retention bracket to be removed. In other words, it's basically "take your old heatsink out, pop the new heatsink in" kind of installation.
If things were as easy said as done, that would be great. One thing I didn't like much when installing the Freezer64 Pro was that the clip lock is at the top. Take a look at the photo above. There's a low clearing between this heatsink and my OCZ Modstream. I had to unplug a few interfering cables and try my very best to reach inside in order for it to get the Freezer64 Pro clipped properly. Clipping it down also takes a bit of technique; I keep getting the "one side gets loose and the other gets in, one gets in and the other gets loose" problem. Roughly two minutes later, I managed to get it nice and tight over my CPU. Installation was still easy enough, although it's not as easy to install as the Thermaltake RX-K8 and AMD's stock fan.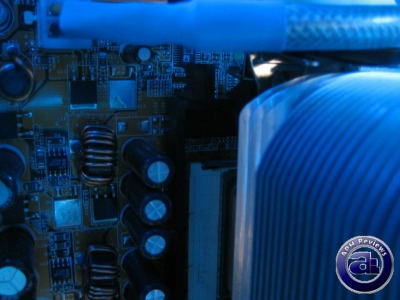 These are the "bent fins" used to redirect air over your motherboard components. If you are an overclocker, this will come in handy occasionally as you jump your voltages on your CPU to achieve just that that extra MHz. By the way, the above photo was very hard to take -- shoving my hand and camera between a 120mm fan and heatsink. That is, without getting hit by the 120mm fan, at the time of taking the photo just 1mm away from my hand and camera.
---
The Tests
All tests were done on my computer. I know it sucks, but don't make any comments unless you want to buy me some new parts!
AMD Athlon 64 3000+ S754 Newcastle @ Stock 2.00GHz (Cool & Quiet ENABLED)
Asus K8V-X Motherboard
Corsair 2x512MB, Single Channel, DDR400 @ 2.5-3-3-8
Western Digital 80GB 7200RPM 8MB Cache (NTFS)
ATI Radeon 9800 Pro on Arctic Cooling VGA Silencer Rev. 3 @ 2400 RPM
Creative Sound Blaster Audigy 2
Pioneer DVR-108 Multiformat DVD Burner
Liteon 16x DVD Drive
Coolermaster Cavalier 1 (1x80mm + 1x120mm)
2xVastech CCFL Cold Cathode Lights
OCZ Modstream 450W PSU
All tests were run with the computer in an upright position, case door closed, in order to achieve the most accurate and real-life results. The computer remains in the same location in the same room throughout all tests. The room temperature is around 24c. Thermal paste that came with the specific heatsink was used; all pastes were given a proper amount of time for them to fully settle. The fan on the heatsink will be directly connected to the motherboard's 3-pin connector. Computer is turned on and idling for at least half an hour for the idling tests. High CPU load results were obtained using Prime95's large FFTs Torture Test, ran for a minimum of 15 minutes. All heatsinks, including the stock AMD heatsink, are brand new and were never used before until this review.
Please note that the temperatures were obtained on different days, because we have to allow the paste to fully settle before testing each heatsink. For this reason, there could be a change in our room temperature due to conditions outside. Each test has been run several times at different times of the day to maximize accuracy. If you see the temperature readings of different heatsinks on the graphs within 1-2 degrees of each other, the performance of compared heatsinks should be theoretically identical in real life performance.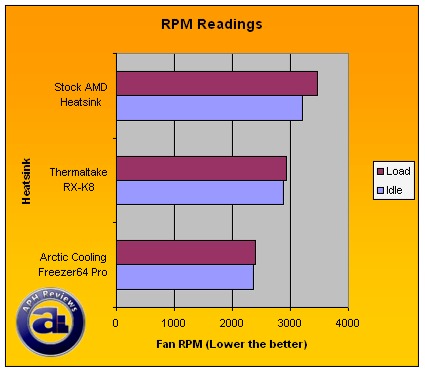 The Arctic Cooling Freezer64 Pro has the slowest fan out of all three compared products. At 2360 RPM idling and 2393 RPM during full load, the noise level didn't change enough to be obvious to anyone. Rotating at this fan speed, a light whooshing sound can be heard inside my case. Despite the whooshing sound, Arctic Cooling's Freezer64 Pro is still the quietest heatsink/fan that we tested on our charts today.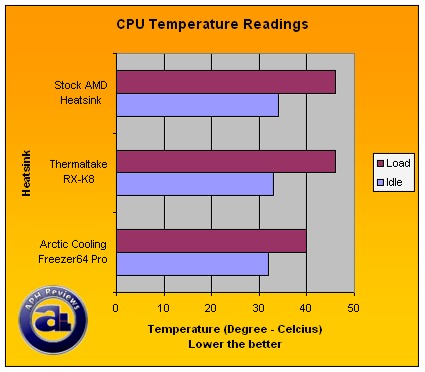 Even though it has the slowest fan out of all three tested cooling solutions, the Arctic Cooling heatsink performed the best. Starting off at 32c, the temperature is statistically dead on with Thermaltake's RX-K8 and stock AMD fan, which started off at 33c and 34c, respectively. However, under our 15 minute Prime95 Large FFTs Torture Test, our CPU that's cooled by the Freezer64 Pro has the best recorded temperature of 40c while both other heatsink/fans tied up 6 degrees Celsius higher.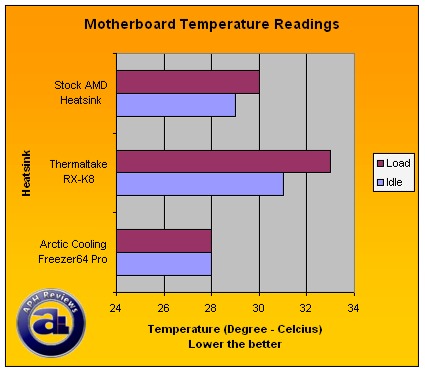 We then recorded our motherboard temperature. Depending on where the sensor is, motherboard temperatures usually represent the case temperature. I don't think I need to mention the performance of the other two heatsinks in this article -- you can read about it in our Thermaltake RX-K8 review which uses the same testing methods. Arctic Cooling Freezer64 Pro's performance is definitely worth mentioning; our recorded motherboard temperature did not change at all even under high CPU load. This is probably due to the way this heatsink was designed. The 92mm fan on this heatsink points at the back of my case where a 120mm fan stations to draw heat out more efficiently.
After running through all the results, Arctic Cooling's Freezer64 offered the best performance at an impressive $34 price tag (MSRP). With all the high end features such as heatpipes and 90 degree fan, anything that even comes close makes you dig twice as deep into your pocket. Along with some decent pre-applied thermal paste and even bent fins for cooling your MOFSETs, this heatsink is just... that perfect. Usage of stock motherboard retention bracket for tool-free installation is a big plus. There are a few quirks though, such as placement of the clip lock at the top instead of the bottom. Welded joint points of the heatpipes look a bit on the low quality side, but I haven't experienced a problem yet. Aesthetically speaking, the Freezer64 Pro doesn't capture too much attention; so its looks have room for improvement. Overclockers or quiet PC enthusiasts who are looking for high end air cooling at a bargain price will love Arctic Cooling's Freezer64 Pro.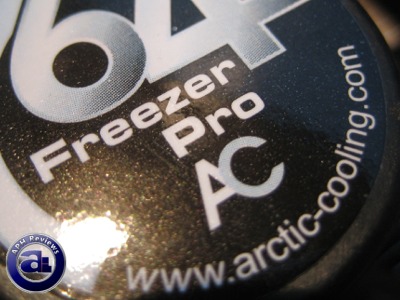 Special thanks to Michele over at Arctic Cooling for making this review possible.

Note: The number ratings below has been adjusted accordingly to comply with our new Number Rating System.
Rating: 7.6/10 | APH Recommended
What do these ratings mean?
Excellent performance, quiet cooling and all the high end features at a rock bottom price. Welded joints at the bottom looks 'low quality' and visual aspects have room for improvement.
Do you have any comments or questions about the Arctic Cooling Freezer64 Pro? Drop by our Forums. Registration is free, and it only takes a minute!