By: Jonathan Kwan
March 30, 2006
Well, Spring Break is more like Review Week for me -- with loads of review products coming in on my doorstep while I exchange emails with numerous manufacturers. Since I supposedly have so much time during this break, I decided to write up a few more reviews for everyone to read.
Today, we'll be taking a look at the Thermaltake RX-K8 heatsink, with a few pretty graphs for analyzing the performance of this product.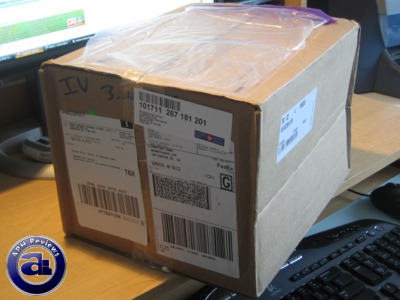 Our review unit came in a rather large box, passed on from FedEx to Canada Post in Richmond, BC. Surprisingly it didn't go through Memphis -- FedEx's major hub where most shipments in North America passes through.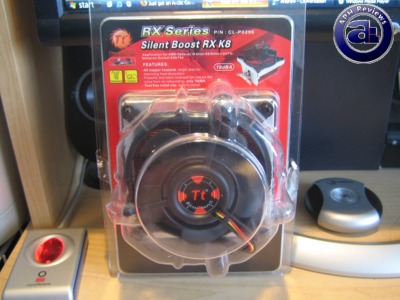 After fishing through all the packing peanuts, I discovered that our review unit came in retail packaging. At first, I thought it was one of those containers made of hot-glued plastic packaging; a closer look revealed that there is no binding or adhesive involved. Thermaltake's clamshell style plastic packaging really understood the end-user's frustration with hot-glued packaging.
The specifications are listed on the reverse side of the retail pack. Speaking of specifications, here is some information taken from Thermaltake's website:
---
Unique Reversed Fan, reduces the noise from air-rebounding and create better air flow for heat dissipation. Works with AMD Opteron/AMD Athlon 64, including S754, S939, and AM2.
All copper heatsink, larger area for improving heat dissipation
Powerful and silent reversed fan,. reduce the noise from air-rebounding, only 18dBA
Tool-free metal clip, easy to install
P/N CL-P0296
Fan Speed 2200 ± 10% RPM
Fan Dimension 92x92x38 mm
Max Air Flow 38.7 CFM
Heatsink Dimension 85x73x48 mm (46 fins)
Air Pressure 2.69 mm H2O
Rated Voltage 12V
Noise 18 dBA
Started Voltage 6V
Life Expectation 30,000 hours
Rated Current 0.25A
Connector 3 PIN
Power Input 2.88W
Weight 543g
---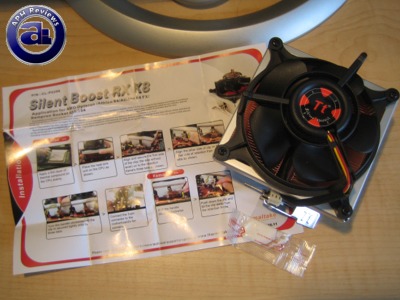 Our review unit in retail packaging came with the RX-K8 heatsink itself, a small bag of rather cheap-looking thermal paste and a quick setup guide. Unlike Arctic Cooling's Freezer64 Pro, the paste doesn't look any special nor pre-applied onto the heatsink. Except for the words "Ezbond Chemical Co, Ltd" on the little bag that holds the paste itself, there isn't any other information that I can find regarding the paste, so I don't expect them to offer any jaw-dropping performance either. The Arctic Cooling Freezer64 Pro comes pre-applied with their MX-1 paste; which according to them is "high end Shinestu paste". It took me some effort to remove the Thermaltake RX-K8 from the CPU a few days later because those 'Ezbond Chemical Co' paste was very, very gooey and created quite a bit of a mess.
Besides the included thermal paste issues, I really like the looks of this heatsink. The color is well coordinated and design is very visually appealing. Even the cable that plugs into your motherboard is sleeved.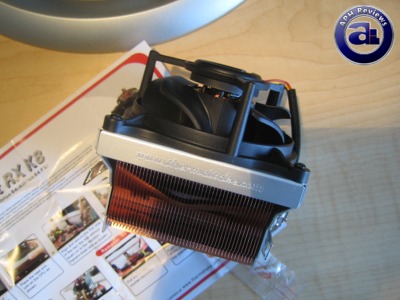 Putting the Thermaltake RX-K8 on its side reveals its 46 copper fins. Cutting through the middle of the copper fins is a pressure bar, which is to be used with the retention bracket that comes with your motherboard. This allows quick and easy installation without removing your motherboard's backplate. Trust me, this is very good news. When I bought and installed my Zalman CNPS7000B-Cu last year, it required you to remove the stock retention bracket and backplate. The backplate on my Asus motherboard is glued using heavy industrial adhesives, and that took me around two hours to successfully remove it.
If you look carefully at how the fan is mounted on the heatsink, you will see that it is attached to the fan cage -- the way it is implemented resembles the way that Arctic Cooling installed their fan on their Freezer64 Pro. According to what I know, mounting the fan on the fan cage (Reverse fan) reduces vibrations, therefore reducing noise. When I first installed this heatsink, the RX-K8 vibrated uncontrollably, causing our whole computer to shake while generating an immense amount of noise. It turned out that the screws on the fan were loose. After tightening up the screws, the noise level has been cut down slightly (Although not as much as I hoped it would be) but the case still vibrates. During our tests, we noticed that the stock AMD heatsink causes considerably less vibrations than the RX-K8 even though the stock HS/F runs at an average of 400rpm faster than the Thermaltake. Remember, AMD stock fans have no special fan cage for a reverse fan.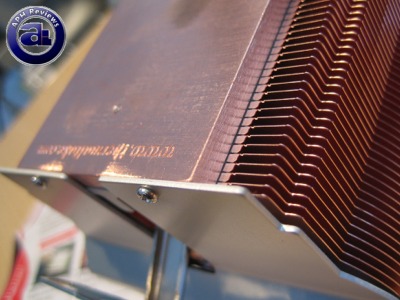 The base of the heatsink. This is where the RX-K8 comes in contact with your CPU. The surface is generally flat, but there is no real shine to it; machine marks are clearly visible and the up-downs can be felt if you run your fingernails over it. This is not a good sign for an aftermarket heatsink. Some lapping done by the end user will definitely help here.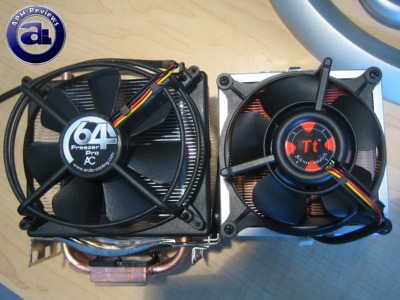 A size comparison with the Arctic Cooling Freezer64 Pro heatsink. Both products retail for around the same price, but the Arctic Cooling Freezer64 Pro has six heatpipes, a larger 92mm fan which is designed to be positioned ninety degrees to CPU. The Thermaltake RX-K8 has taken a more traditional approach; having a 80mm fan pointing down at the CPU with no heatpipes -- the overall design of this heatsink seems to be very similar to a stock heatsink. Ironically, even the latest Athlon 64 X2 stock heatsinks boasts a couple of heatpipes.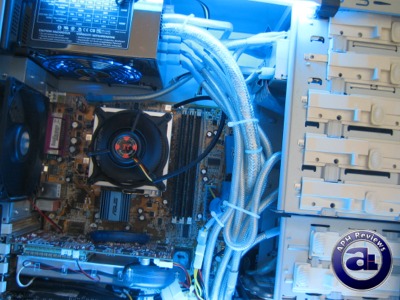 If you look at the photo above, you can see that the three-pin motherboard connector is sleeved. This is excellent for people who want neat looking case interiors.
Installing the heatsink is quick and easy. At 543g it's definitely not light, and noticeably heavier than the Arctic Cooling Freezer64 Pro. However, unlike the Freezer64 Pro, Thermaltake's RX-K8 is made of mostly copper instead of aluminum. Copper is a lot heavier than aluminum; the bottom line is that the RX-K8 weighs much less than the Zalman 7000B-Cu. Using the stock motherboard retention bracket, installing this heatsink requires absolutely no tools and takes around two minutes to install, including the time to apply thermal paste. For this review, I used the little pack of thermal paste that came with the RX-K8. Arctic Silver is sending us thermal paste for use with our reviews, unfortunately it didn't come in time for use with this article. For this reason, all heatsinks used for comparison in this review use thermal paste that comes with that specific heatsink.
---
The Tests
All tests were done on my computer. I know it sucks, but don't make any comments unless you want to buy me some new parts!
AMD Athlon 64 3000+ S754 Newcastle @ Stock 2.00GHz (Cool & Quiet ENABLED)
Asus K8V-X Motherboard
Corsair 2x512MB, Single Channel, DDR400 @ 2.5-3-3-8
Western Digital 80GB 7200RPM 8MB Cache (NTFS)
ATI Radeon 9800 Pro on Arctic Cooling VGA Silencer Rev. 3 @ 2400 RPM
Creative Sound Blaster Audigy 2
Pioneer DVR-108 Multiformat DVD Burner
Liteon 16x DVD Drive
Coolermaster Cavalier 1 (1x80mm + 1x120mm)
2xVastech CCFL Cold Cathode Lights
OCZ Modstream 450W PSU
All tests were ran with the computer in an upright position, case door closed, in order to achieve the most accurate and real-life results. The computer remains in the same location in the same room throughout all tests. The room temperature is around 24c. Thermal paste that came with the specific heatsink was used; all pastes were given a proper amount of time for them to fully settle as well. The fan on the heatsink will be directly connected to the motherboard's 3-pin connector. Computer will be turned on and idling for at least half an hour for the idling tests. High CPU load results were obtained using Prime95's large FFTs Torture Test, ran for a minimum of 15 minutes. All heatsinks, including the stock AMD heatsink, are brand new and were never used before until this review.
Please note that the temperatures were obtained on different days, because we have to allow the paste to fully settle before testing each heatsink. For this reason, there could be a change in our room temperature due to conditions outside. Each test has been ran several times at different times of the day to maximize accuracy. If you see the temperature readings of different heatsinks on the graphs within 1-2 degrees of each other, the performance of compared heatsinks should be theoretically identical in real life performance.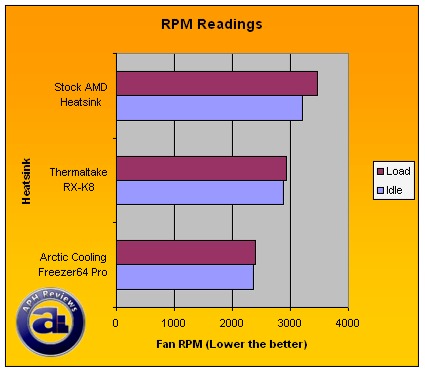 Let's start off with our recorded fan speed. The Freezer64 Pro's 92mm fan spins the slowest of all (And quietest) at approximately 2300-2400 RPM. Thermaltake's RX-K8 ranged from 2884 RPM to 2934 RPM, AMD Stock Fan came in at 3214 RPM idling and 3461 RPM under high CPU load for 15 minutes. The accuracy of fan speed readings are within 5%.
The specifications of this heatsink indicate that the fan speed should be around 2200 RPM, but for some reason, when mine is connected to the motherboard directly, it runs at 2934 RPM (Maximum). Since all the other heatsink/fans tested in this review are directly connected to the motherboard, and that no fan controller is included with the RX-K8, I am not going to be adjusting the speed of the fan artificially.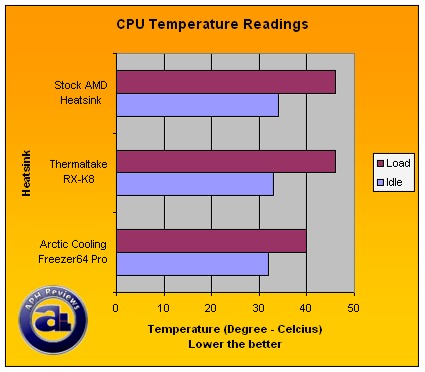 The Thermaltake RX-K8 is dead on with AMD's stock heatsink. The recorded idle temperature is 33c while the AMD stock heatsink started off at 34c. Under our Prime95 large FFTs torture test, both ended up in a tie at 46c. Surprisingly, the Arctic Cooling Freezer64 Pro started off at 32c, only a single degree lower than the RX-K8. Although the Freezer64 Pro's larger 92mm fan spins slower than the rest of the bunch, it's ninety degree fan and six heatpipes really helped it in getting a great temperature of 40c under high load. The RX-K8 has no special features like heatpipes to improve its performance, besides the all copper design.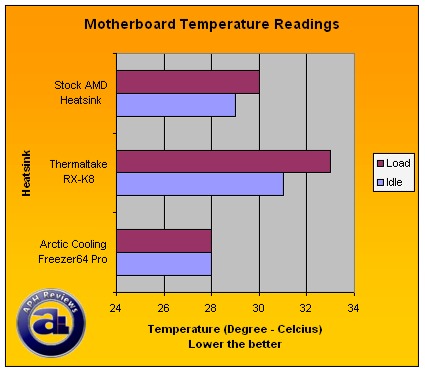 Motherboard temperature readings. Depending on where the sensor is, the motherboard temperature usually means your case temperature. Much to my surprise, Thermaltake's RX-K8 yielded the highest temperature at 33c under high CPU load. Even the stock AMD heatsink fan, which is a standard one (Not the one with heatpipes) gave better results, possibly due to its higher-RPM fan. The Arctic Cooling Freezer64 Pro put the best results on our chart with 28c on both idle and load. The design of the Freezer64 Pro is different from all the other heatsinks, due to the fact that the fan points towards the back of our case -- where our 120mm exhaust fan is -- therefore allowing the most efficient and natural airflow (And definitely didn't direct the heat at our motherboard temperature sensors).
After using the RX-K8 heatsink/fan for a good amount of time, it doesn't live up to it's "Silent Boost" label -- at least to me. Let's analyze the 'silent' part. Despite what it says on Thermaltake's site or what other reviewers say, I do not find this product really that 'silent'. I am very enthusiastic about quiet computing, as you can see on my specs listed above; most components were silenced or made to be decently quiet under everyday use (I know my DVD drives are not quiet, but I rarely use them). With the RX-K8 installed, I can hear it very clearly, generating noise inside my computer as well as creating a good amount of vibrations. I found the stock AMD heatsink/fan even quieter in some occasions, so if quiet computing is your preference, then this heatsink is not your choice.
Moving onto the 'boost' part. Beautiful color coordination along with a sleeved connector cable is a nice combination and really 'boost' the look of your computer interior. But judging by the tests that I ran, I don't find its performance to be any better than the stock heatsink from AMD which comes with your CPU. You should be possible to achieve better temperatures with better thermal paste and the base lapped, but that will cost you time and money and not necessarily 'good right out of the box'. I understand that the RX-K8 has a slower fan than the stock AMD fan, but it doesn't make it any quieter, so that doesn't create an excuse for having stock heatsink performance. It might allow some more airflow over the MOFSETs which is around your CPU, but that's about it. If you are an overclocker, or just plain obsessed with nice, cool temperatures, this product isn't for you. At stock heatsink performance, stick with your stock heatsink instead, unless you really like the looks of this product. For approximately the same price, I highly recommend the Arctic Cooling Freezer64 Pro instead, which offers clearly superior performance and features than the Thermaltake RX-K8.
I'll look forward to Thermaltake's next product which hopefully they'll use all their room for improvement!
Special thanks to Annie over at Thermaltake for making this review possible.
Note: The number ratings below has been adjusted accordingly to comply with our new Number Rating System.
Rating: 2/10
What do these ratings mean?
I honestly cannot recommend this product. I like its good looks, but it's not that silent, and it doesn't give you much performance boost at all over the stock AMD heatsink, if at all. Using the same amount of money, buy a better product such as the Arctic Cooling Freezer64 Pro. Looking forward to Thermaltake's next heatsink.