By: Jonathan Kwan
November 29, 2006
In the computer world, there are two distinct, separate streams of products. One is for the enthusiast level; offering top-notch performance and a large set of features -- but this usually comes at a steep price for bottomless pockets only. The majority of PC users belong to the mainstream class -- and to find or produce a product that strikes a balance between performance, quality, and features is quite a challenge for both the manufacturer and the consumer. With the latest enthusiast level chipsets such as NVIDIA's 680i on motherboards with a relatively high price, and Intel's flagship i975x supporting ATI's Crossfire natively, a new focus emerges for mainstream pricing as it sets its spotlights on Intel's newer P965 chipset. With our AB9-Pro motherboard from abit, this focus comes seemingly with an inseparable question: "Is this board with it?" which can be broken down into several other questions in regards to its performance, quality, stability, design, overclockability, plus the motherboard's overall value. This is my first motherboard review so far, so constructive suggestions and comments are welcome!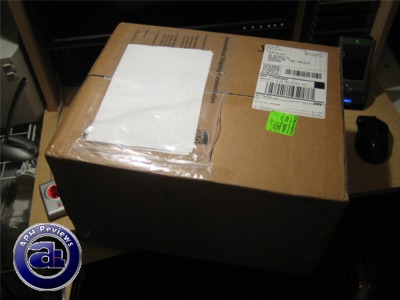 Our review unit came in a relatively large box using UPS from abit's US office. It was fairly cold on that day, and UPS delivered it quite early in the morning and I didn't have a chance to get my hands on it until 6 PM that evening. Since UPS left it at my door, we'll see how abit technology steps up against the rage of the Canadian winters. Apparently the motherboard still works without any problems, so we are all set for our review today!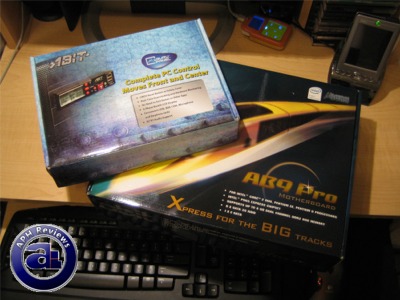 They decided to throw in their uGuru panel in addition to the abit AB9-Pro motherboard we expected. Quite a pleasant surprise, and we'll go over the uGuru panel as well later, and check out the features and practicality of this product (Which can be purchased separately).
Since our motherboard came in a retail box, we get to see how they package the product along with a full set of included accessories. The train as a symbol for "Xpress for the BIG tracks" is abit's emphasis on speed and performance, but may evoke other meanings for our other readers in Western Europe. Well, anyways...
You might be wondering I kept spelling 'abit' with all non-capitalized letters instead of 'Abit' as a name should be. Vince over at abit mentioned that the new way of spelling (With optional bold) is a symbol of their change in company, therefore the implementation of new name spelling method is a reflection of such change.
We will have a little change on how we are going to present this review today. Since there's quite a bit of information to present (Along with the benchmarking fun), this will be a multi-page review as separated into 8 pages as shown in our Page Index at the bottom of every page in this article.
---
Page Index
1. Introduction
2.
Features, Packaging, Accessories
3.
Board Layout
4.
The uGuru Panel
5.
Test System; Benchmarks: PCMark05, 3DMark06
6.
Benchmarks: EVEREST Ultimate Edition 3.50.799
7.
Benchmarks: Cinebench 9.5, HDTachRW 3.0.1.0
8.
Onboard Sound, Overclocking, Conclusion