Page 4 - The uGuru Panel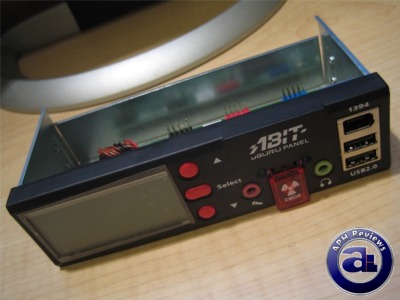 As a separate accessory, the abit uGuru panel is available for purchase and designed exclusively for abit motherboards featuring the uGuru technology. The uGuru panel fits in a 5.25" drive bay; however due to its length you may or may not face incompatibility issues with tool-free implementations of various cases. I did not experience much with my test system using Thermaltakes' Aguila mid-tower.
The uGuru panel features two USB ports, a Firewire port, and two 3.5mm jacks for mic and headphones. Another cable leads into a special connector on the motherboard for usage with temperature monitoring, and a separate cable plugs into the CMOS reset pins for convenient CMOS resets.
When power is supplied, but computer is off, the panel will still remain active as room temperatures will be displayed (It's actually pretty accurate). When turned on, processor clock speed, temperature of CPU, motherboard as well as fans connected to the motherboard will be displayed. Voltages of various components (CPU, RAM) will be shown as well. The unit has a multistage backlit display for different brightness levels.
I actually had photos of this installed in my computer and turned on, unfortunately my OCZ SD Card suddenly died and took 700MB of photos with it. That includes all my BIOS photos of this motherboard (Which is not quite recoverable since I am testing another unit at the moment) along with the uGuru usage photos. Along with the missing were also photos for my future reviews, so the lesson learned is... don't trust these things too much!
I found the uGuru Panel very useful for very convenient data output. This comes in especially well if you are overclocking (At least on the abit AB9-Pro), since this motherboard does not know how to automatically reset CPU parameters without manually clearing the CMOS. I am quite surprised at the lack of this features as I've seen this with pretty much all Asus motherboards for the last few years.
Anyhow, if you are getting an abit motherboard, and have a few extra bucks to spare, grab the uGuru Panel. It's quite useful (At least to me); and you won't be disappointed.
---
Page Index
1.
Introduction
2.
Features, Packaging, Accessories
3.
Board Layout
4. The uGuru Panel
5.
Test System; Benchmarks: PCMark05, 3DMark06
6.
Benchmarks: EVEREST Ultimate Edition 3.50.799
7.
Benchmarks: Cinebench 9.5, HDTachRW 3.0.1.0
8.
Onboard Sound, Overclocking, Conclusion