By: Jonathan Kwan
December 2, 2006
Buying RAM is not like buying a computer case: Looks are usually out of the question. However, it doesn't mean that this very factor cannot affect sales. Instead of the plain old black-blocks-and-green-background sticks, it could actually look pretty exciting if heatsink on RAM were designed with thought and effort put into it. In terms of overclocking, however, it seems that the amount of influence memory heatsinks have is disputable when compared to high performance memory chips -- but with windowed cases, wouldn't it be nice to have the best of both worlds? Something that looks different, and performs differently. Let's take a look at the OCZ Special Ops Edition Urban Elite PC6400 2x1GB kit today.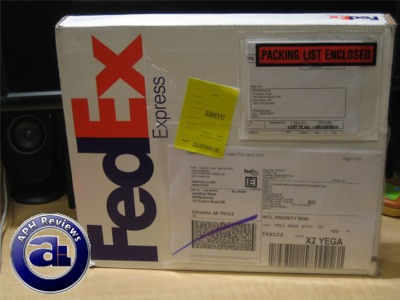 As usual, our review unit came very quickly and nicely packed from OCZ's offices in Sunnyvale, California using FedEx International Priority. Since the name 'OCZ Special Ops Edition Urban Elite PC6400 2x1GB' is undeniably very long to not only say but also type, we'll just call it the 'OCZ SOE Urban Elite' in our article today. It's quite a change for me lately as I move onto things I have lesser experience with regards to reviewing -- like power supplies, motherboards, and now RAM!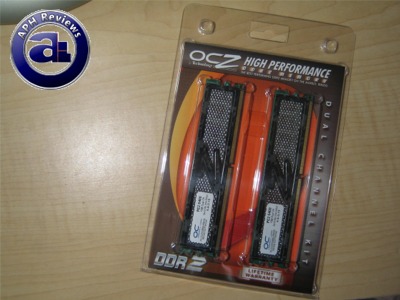 Our OCZ SOE Urban Elite came in non-binded retail packaging in OCZ's standard orange color scheme for memory. However, the additional brown is implemented likely to compliment a 'army feel'. It can easily be opened as only the edges are held together by friction. As net force equals mass times acceleration, and the force of friction equals the coefficient of friction times the perpendicular force (Which does not necessarily equal gravity, although it could be)... well, anyway, where were we again?
Ah, yes. The packaging. The clear plastic clearly shows what's inside (And of course, the unique looking Urban Camo Motif XTC heatspreader). Apparently there's nothing excessive at all and very easy to open as it should be. This will allow us to open the package without destroying it, as well as pop it onto our motherboards as soon as possible.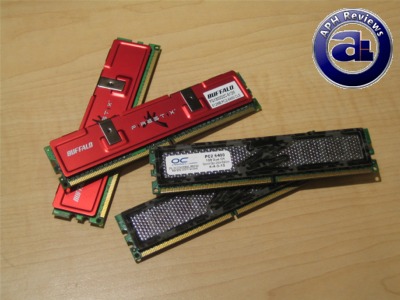 Opening the package reveals the OCZ SOE Urban Elite RAM. The heatspreader is unique on its own due to the army style 'camouflage' textures of what OCZ calls "Urban Camo Motif XTC". Our photo above shows OCZ's SOE Urban Elite (Bottom) and the red Buffalo Firestix (Top).
Besides the big 'Z' in the middle of OCZ's SOE Urban Elite memory modules, specifications are labeled on the RAM modules as well. OCZ's Special Ops Edition line where the vanilla version comes at stock latencies 5-5-5-15 while the Special Ops Edition Urban Elite (Notice the two extra words at the end) arrives at latencies 4-4-3-15.
It seems to us that if the OCZ Special Ops Edition (Vanilla) is essentially the OCZ Gold XTC, the SOE Urban Elites should be somewhat comparable to the OCZ Platinum XTC Rev. 2, except for the fact that the Urban Elites has slightly lower latencies for RAS# precharge.
Specifications of the OCZ SOE Urban Elite, as obtained from OCZ's site:
- 800MHz DDR2
- CL 4-4-3-15 (CAS-TRCD-TRP-TRAS)
- Unbuffered
- Urban Camo Motif XTC Heatspreader
- Lifetime Warranty
- 1.9 - 2.1 Volts
- 240 Pin DIMM
- OCZ Enhanced Latency Technology
- 2.2V EVP - OCZ's unique Extended Voltage Protection feature allows PC2-6400 modules to handle voltages up to 2.2V ±5% and still be covered by our Lifetime Warranty.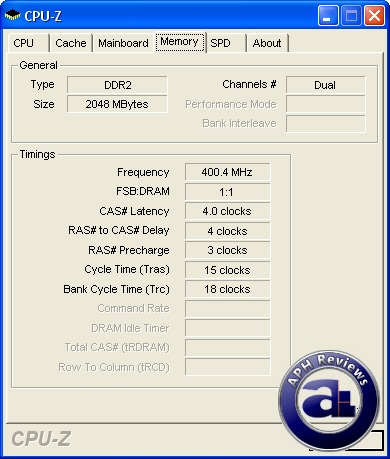 ---
Page Index
1. Introduction, Packaging, Specifications
2.
Test System and Benchmarks
3.
Overclocking and Conclusion