By: Jonathan Kwan
December 12, 2006
Believe it or not, the term 'consumer' does not describe every PC user in the home. A new trend emerges as the term 'prosumer' is created to accommodate this change -- usually referring to computer enthusiasts who want something beyond the features and characteristics of even a relatively high end consumer product. So, how about it -- a workstation motherboard for the home? With four PCIe slots and a truckload of other features built on Intel's i975X chipset, the Asus P5W64-WS Professional "Wall Street Quartet" motherboard is definitely a very interesting product. The evoked sense of performance, stability, and features just seems to be overwhelming. Let's see how well and what this board can deliver.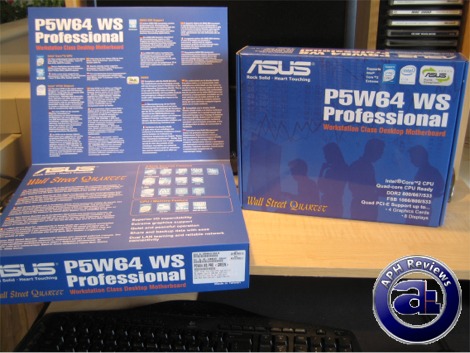 Our review unit came in a large box using FedEx from Asus' office in California, USA. I did have a few photos, except the incident where my OCZ SD card I am using with my camera just died and took off over 700MB of images. Just always remember to back up, guys.
As usual from Asus' high end offering, the board came in a two piece box design; where one piece designed to slide out from either side covers the main box. The slide off has a flap to reveal details of the Asus P5W64-WS Professional's special features as well as a short description of Intel's i975X chipset. The main box flips open with two tabs holding it closed and contains the motherboard, cables, manuals, and other miscellaneous accessories inside. Printed at the back of the box includes information that outlines specifications and features of this board in detail.
Nicknamed the "Wall Street Quartet", the Asus P5W64-WS Professional makes it obvious that it is targeting professionals in this area. The word 'Quartet' obviously refers to the four PCI Express x16 slots on this motherboard -- but 'Wall Street'? A quick look on the box shows the four individuals, and behind it a faint representation of a stock and/or market graphs. Maybe you really need that eight monitor setup for displaying stock information (4 graphics card for 8 monitors). Now I'd really want to be that professional on Wall Street, seems like a fun job!
Everything inside the box were neatly packed and carefully placed to prevent damage during shipping. I still remember the packaging of Asus' A8N-SLI Premium that some of my friends bought last year with packaging not too dissimilar to what we've seen with our Asus P5W64-WS Professional today. It's always nice to get hands on something with a product with nice packaging (And something even more exciting inside)!
Below are specifications and features of the Asus P5W64-WS Professional as obtained from Asus' site:

Intel CPU Features
- LGA775 Intel® Core™2 Processor Ready: This motherboard supports the latest Intel® Core™2 processors in LGA775 package. With new Intel® Core™ microarchitecture technology and 1066 / 800 MHz FSB, Intel® Core™2 processor is one of the most powerful and energy efficient CPU in the world.
- Intel® 65nm Dual-Core CPU support: This motherboard supports Intel Pentium D/Pentium 4/Celeron dual-core processors built on the 65-nanometer (nm) process technology with copper interconnect.
- Intel® MPT (Intel® Memory Pipeline Technology): The Intel® Memory Pipeline Technology (Intel MPT) delivers additional system-level performance by optimizing memory access between CPU and system memory, and allows increased performance at standard operating specifications.
- Intel 975X chipset: The Intel 975X is the latest chipset designed to support Dual PCI Express graphics, along with the maximum 8GB dual-channel DDR2 667/533 architecture, 1066/800 FSB (front-side-bus), and Dual-core CPU. Easily build an n workstation or create a multimedia environment with its exceptionally high bandwidth. Together with the Serial ATA ports enabled through the SATA 3Gb/s RAID controller integrated in the ICH7R Southbridge, the Intel 975X satisfies multi-task processing and data security.
Intel Chipset Features
- Advanced Thermal Design: ASUS has devoted special efforts to address the thermal issues across the motherboard, and most notably the areas that reside the CPU, power, Northbridge and Southbridge.
ASUS Special Feature - Thermal
- Stack Cool 2: Stack Cool 2 is a fan-less and zero-noise cooling solution offered exclusively by ASUS. It effectively transfers heat generated by the critical components to the other side of the specially designed PCB (printed circuit board) for effective heat dissipation.
- 8 Phase Power Design: ASUS 8-Phase Power Design keeps CPU and power module away from suffering risk of high power stress, which makes CPU lifetime much longer and system more stable. Furthermore, It provides high efficiency operation to generate less heat than conventional power solutions and consequently achieve cool system environment. With this strong power pump, this motherboard is made for overclocking.
- Fanless Design: Heat-pipe Thermal solution: Cooling fans, though a popular thermal solution, also come with noise and malfunction likelyhood. ASUS Motherboard's fansless concept is specifically created to provide a cool environment without all the baggage.
- The heat pipe, heat sinks and strategic board layout were tailor made to dissipate heat in the most efficient manner.
ASUS Special Feature - Performance
- AI Clock Skew: AI Clock Skew automatically skews the memory clock signal timing, thus improving memory overclocking capability by 10 to 15%, depending on the memory features when users overclock memory frequency. Users can easily enjoy better memory overclocking without strenuously fine-tuning the clock signal timing. For professional users, they can still adjust each memory channel's clock signal separately to reach the highest memory frequency.
- ASUS O.C. Profile: The motherboard features the ASUS O.C. Profile that allows users to conveniently store or load multiple BIOS settings. The BIOS settings can be stored in the CMOS or a separate file, giving users freedom to share and distribute their favorite overclocking settings.
- Precision Tweaker: It offers ways to raise system performance inch-by-inch and step-by-step to achieve maximum performance! This is about getting the most out of your machine and taking pride in your customized computer.
- AI NOS™: Applications such as 3D games and video editing demand a huge chunk of system resource. Inject "nitrous oxide" into your CPU! The patented AI NOS™ (Non-delay Overclocking System) technology intelligently detects system load and automatically boosts performance for the most demanding tasks. Unlike other dynamic overclocking techniques, AI NOS™ reacts much faster to satisfy your unending need for speeds.
- PEG Link: This latest technology, PEG (PCI Express Graphics) Link Mode, is a unique feature that enables users to boost graphics card performance for superior video quality. PEG Link allows users to raise GPU and VGA memory throughput via the motherboard BIOS the same way system bus and memory bus are tweaked. PEG Link Mode enables powerful video performance on DX8 and DX9 applications. ASUS engineers carefully fine-tuned the parameters for every single PCI-Express card to provide system stability during high-speed graphics operation.
ASUS Special Feature - Others
- AI Gear: To balance both system performance and quietness, AI Gear allows users to choose from profiles to adjust CPU frequency and vCore voltage, minimizing system noise and power consumption. Users can real-time change the mode under operating system to suit their needs.
- AI Nap: With AI Nap, users can instantly snooze your PC without terminating the tasks. System will continue operating at minimum power and noise when user is temporarily away. It keeps downloading files or running applications in quietest state while you're sleeping. Simply click keyboard or mouse, you can swiftly wake up the system in few seconds.
- ASUS Q-Connector: The ASUS Q-Connector allows you to connect or disconnect chassis front panel cables in one easy step with one complete module. This unique adapter eliminates the trouble of plugging in one cable at a time, making connection quick and accurate.
- ASUS CrashFree BIOS 3: The ASUS CrashFree BIOS 3 allows users to restore corrupted BIOS data from a USB flash disk containing the BIOS file. This utility saves users the cost and hassle of buying a replacement BIOS chip.
- ASUS EZ Flash 2:EZ Flash 2 is a user-friendly BIOS update utility. Simply launch this tool and update BIOS from a USB flash disk before entering the OS. You can update your BIOS only in a few clicks without preparing an additional floppy diskette or using an OS-based flash utility.
- ASUS MyLogo2: The ASUS MyLogo2 is the new feature present in the motherboard that allows you to personalize and add style to your system with customizable and animated boot logos.
Interface Features
- PCI Express Architecture: PCI Express is the latest I/O interconnect technology that will replace the existing PCI. With a bus bandwidth 4 times higher than that of AGP 8X interface, PCI Express x16 bus performs much better than AGP 8X in applications such as 3D gaming. PCI Express x1 also outperforms PCI interface with its exceptional high bandwidth up to 500MB/s. The high speed PCI Express interface creates new usages on desktop PCs e.g., Gigabit LAN, 1394b, and high-speed RAID systems.
- Dual Gigabit LAN: The integrated dual Gigabit LAN design allows a PC to serve as a network gateway for managing traffic between two separate networks. This capability ensures rapid transfer of data from WAN to LAN without any added arbitration or latency.
- High Definition Audio: Enjoy high-end sound system on your PC! The onboard 8-channel HD audio (High Definition Audio, previously codenamed Azalia) CODEC enables high-quality 192KHz/24-bit audio output, jack-sensing feature, retasking functions and multi-streaming technology that simultaneously sends different audio streams to different destinations. You can now talk to your partners on the headphone while playing a multi-channel network games. All of these are done on one computer.
- SATA on the Go: The P5W64 WS Professional supports the next-generation hard drives based on the Serial ATA (SATA) 3Gb/s storage specification, delivering enhanced scalability and doubling the bus bandwidth for high-speed data retrieval and saves. The external SATA port located at the back I/O provides smart setup and hot-plug functions. Easily backup photos, videos and other entertainment contents on external devices.
- IEEE 1394a interface: IEEE 1394a interface provides high speed digital interface for audio/video appliances such as digital television, digital video camcorders, storage peripherals & other PC portable devices.
RoHS
- GreenASUS: The motherboard and its packaging comply with the European Union's Restriction on the use of Hazardous Substances (RoHS). This is in line with the ASUS vision of creating environment-friendly and recyclable products and packaging to safeguard consumers' health while minimizing the impact on the environment.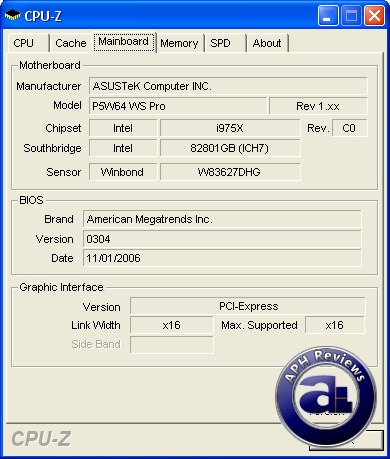 ---
Page Index
1. Introduction, Packaging, Features
2.
Chipset, BIOS, Accessories
3.
Board Layout and Design
4.
Test System; Benchmarks: PCMark05, 3DMark06
5.
Benchmarks: EVEREST Ultimate Edition 3.50.799
6.
Benchmarks: Cinebench 9.5, HDTachRW 3.0.1.0
7.
Onboard Sound, Overclocking, Conclusion