Page 2 - Chipset, BIOS, Accessories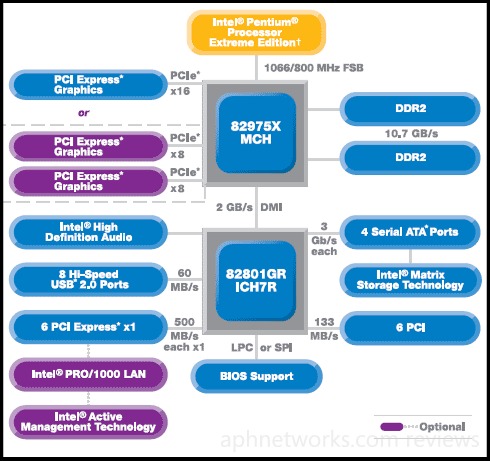 Diagram of Intel's i975X chipset. Since i975X is an older chipset than the company's P965, it utilizes ICH7R instead of ICH8R. ICH7R supports only 4 SATA2 ports natively; whereas ICH8R supports up to 6 SATA ports. The Asus P5W64-WS Professional has a total of 7 internal SATA2 ports -- where an onboard Marvell 88SE6145 controller takes care of the other three. The Intel ICH7R controlled ports has support for Intel Matrix Storage Technology that allows JBOD and RAID 0,1,10,5 configurations. The Marvell 88SE6145 supports JBOD, RAID 0,1,10 (No RAID 5); the single eSATA at the back I/O panel is also controlled by this chip.
The good thing about ICH7R is its native support for Parallel ATA whereas P965 based motherboard leaves that to a third party controller. A standard IDE connector and a floppy IDE connector is on board the Asus P5W64-WS Professional.
In addition to that, Asus' integrated SoundMAX audio complies with Intel's High Definition Audio standard. The dual Gigabit Ethernet ports on Asus' P5W64-WS Professional is powered by Marvell (As usual by Asus motherboards).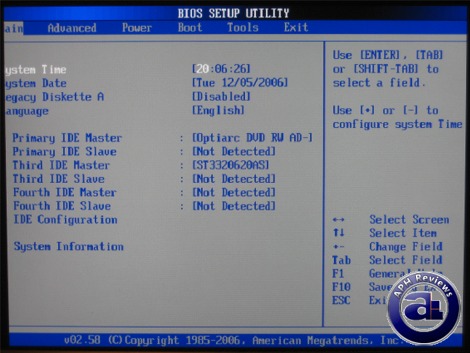 Asus' P5W64-WS Professional utilizes the American Megatrends BIOS. I've become pretty used to this interface on my other motherboards that I usually use -- and as different categories separated into different tabs, everything is neatly organized and logically placed.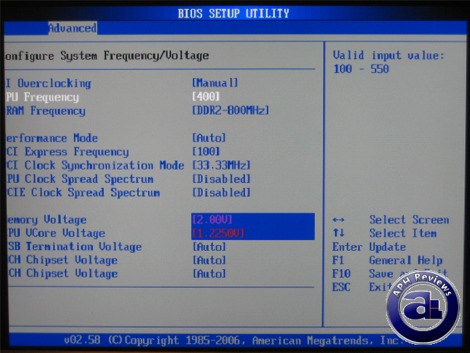 Like what we've seen on the abit AB9-Pro, CPU FSB frequency is adjusted by entering a number (Ranging from 100-550) on your keypad instead of running through a menu. RAM dividers is not shown in literal ratios; but instead in actually frequency after a front side bus frequency modification so you don't have to grab out a calculator to determine RAM speed. PCI Express and PCI frequencies can be locked and unlocked from here as well.
As for voltages, RAM frequency can be adjusted from 1.85V to 2.40V in 0.05V increments. CPU voltage ranges from 1.2250V to 1.7000V at 0.0025V increments (Lots of significant digits here haha). FSB termination voltage can be adjusted from 1.20V to 1.50V at 0.10V increments; MCH chipset voltage from 1.20V to 1.50V at 0.10V increments; while ICH chipset voltage can be set to either 1.05V or 1.20V. DDR2 frequency can be set from DDR2-400 to DDR2-1066 but scalable as you increase FSB. For example, if your RAM runs at DDR2-533 (1:1 with a Core 2 Duo), and you raise the FSB frequency to 400MHz, the RAM will still remain 1:1 with CPU but becomes DDR2-800 automatically.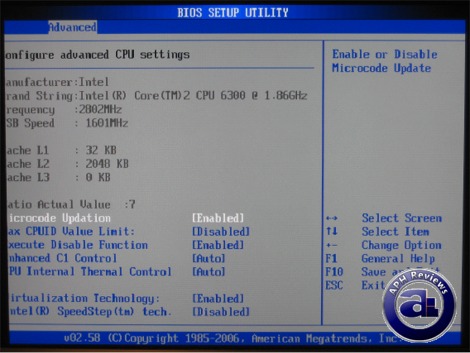 Other CPU related features setting. No, it does not "unlock" the CPU multiplier as rumored earlier -- it can be either set to 6 or 7 on my Core 2 Duo E6300 (Default is 7).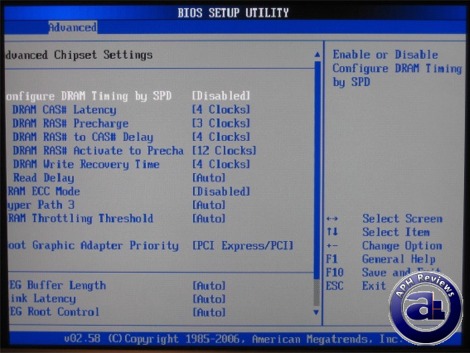 RAM timing settings can be adjusted here along with user defined PEG configurations. The latencies can be adjusted by selecting a value from a preset menu.
As some users might not have noticed, but usually manufacturers such as OCZ lists timings in the order of CAS, RAS to CAS, RAS Precharge, and Cycle Time. The Asus board has the RAS to CAS and RAS Precharged switched in separate orders; so what it appears at 4-3-4-12 in the screenshot above should actually be correctly referred as 4-4-3-12.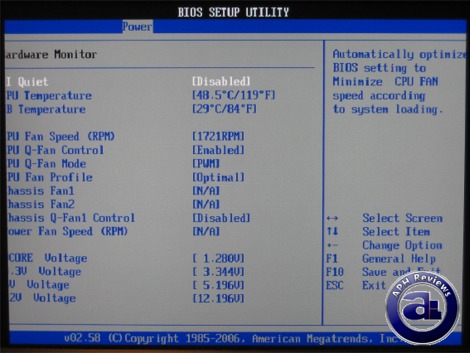 Hardware monitor and fan settings. I don't know why, but somehow I can't access this page anymore afterwards. Everytime I try to enter my computer hangs, overclocked or not. I tried to update the BIOS and it didn't help; but the sensor is fine as I can obtain value within Windows. Interestingly, after a BIOS flash, my recorded CPU temperature rose over 10 degrees Celcius. Good thing the CPU itself has sensors on both cores, and the values on there is over 10 degrees lower than what my Asus board reports.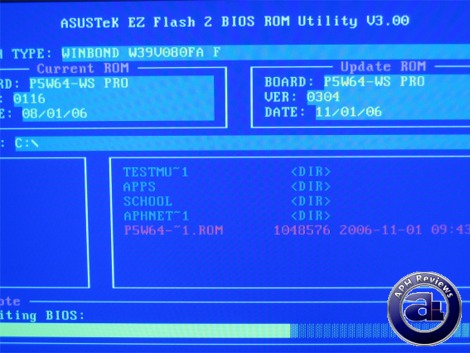 BIOS flashing can be done within the BIOS flash utility launched in the BIOS. It is done quickly and easily independent of the operating system (A big plus), and I had absolutely no problems loading a ROM from my OCZ Roadster and flashing from that.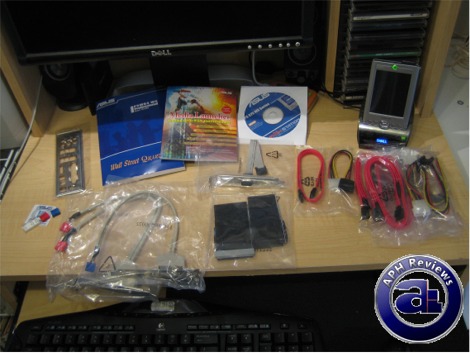 Anyway, out of the technical stuff, you will receive the Asus P5W64-WS Professional, drivers and utility CD, user manual, FDD and IDE cable, I/O shield, internal to serial connector, internal to Firewire connector, four SATA cables, and four Molex to SATA power connectors. Since this board has 7 internal SATA2 connectors, more SATA cables would have been nice.
Generously included were Asus' Media Launcher, which includes the following software: MediaOne Gallery, WinDVD Creator 2 Platinum, InterVideo PhotoAlbum, Disc Master 2.5 Platinum, and DVD Copy 2.5 Platinum.
Also included are Asus' Q-Connector with one for each Firewire, USB and case features -- basically small labeled blocks for scattered single pin connectors to connect into such as case power, reset, LEDs, speakers and such. This conveniently 'converts' the scattered cables into a single block -- a great accessory in my opinion.
The manual has very small amounts of spelling and grammatical errors that makes us wonder if it was edited and spell checked prior to publishing!
---
Page Index
1.
Introduction, Packaging, Features
2. Chipset, BIOS, Accessories
3.
Board Layout and Design
4.
Test System; Benchmarks: PCMark05, 3DMark06
5.
Benchmarks: EVEREST Ultimate Edition 3.50.799
6.
Benchmarks: Cinebench 9.5, HDTachRW 3.0.1.0
7.
Onboard Sound, Overclocking, Conclusion