By: Jonathan Kwan
November 11, 2006
In terms of design and diversity of USB flash drives to accommodate different needs, OCZ has been leading in this market for quite a while now -- especially among enthusiasts. A large contribution to OCZ's success in the flash memory market can be associated with their aggressive pricing schemes -- you can easily purchase a nice OCZ drive at decent capacity for around 30 dollars at major online retailers -- and that's quite a steal to most people. However, unlike their high performance and low latency memory, it seems that it's this very area has been plaguing all of OCZ's flash drives after the original OCZ Rally. As we've seen in the OCZ Rally2 as an indication of decent performance but high latencies, as well as the impressively sized OCZ Mini-Kart with semi-decent performance but again high latencies, how will OCZ's new Roaster USB thumb drive perform in both design and file performance? Let's dig into every aspect with our review today.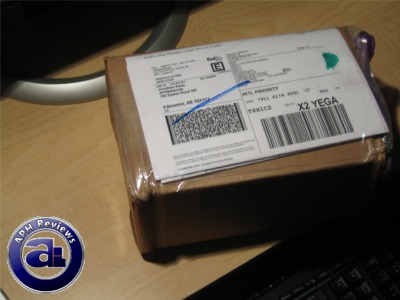 Our review unit came in a small box using FedEx International Priority from California, USA. The box came in excellent condition and the gaps between the box and the packages inside were filled with packing peanuts as usual. Surprisingly, FedEx left the package at my door without anyone signing for it this time, just like how UPS usually does it. Maybe one of the UPS delivery man switched over to FedEx!
Inside the box are two retail packages; one of the package with the OCZ Roadster which we are specifically look at today in this review. Also included is OCZ's SD Dual hybrid Secure Digital and USB flash drive. We'll review that very shortly, unfortunately it's a DOA (Dead on arrival) so we'll wait for a replacement before we can conduct our tests. Let's get onto the OCZ Roadster today.
Our OCZ Roadster arrived in retail packaging; with the same orange-and grey-color scheme as the rest of OCZ's flash memory line. The blister pack again is pretty hard to open without any sort of equipment, but usage of a retractable blade knife can solve most problems in regards to these packages.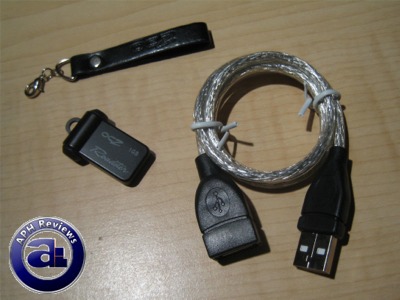 Out of the box, you will get the OCZ Roadster itself, a plastic-ish leather strap, and a USB extension cable. Our review the unit of the OCZ Roadster is the 1GB variant; which as far as we can tell is the only capacity available for purchase at time of review.
The leather strap is connected to a very short chain segment and a metal hook, which is designed to connect to the plastic loop on the drive itself. The plastic loop on the drive is not attached to the inner part of the drive; but instead externally implemented, therefore the chances of it breaking is increased.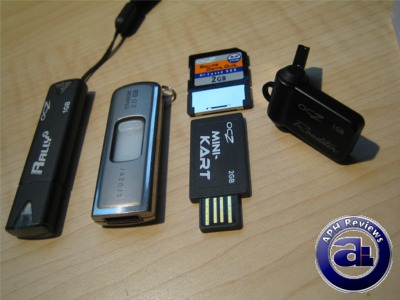 A size comparison with other flash drives. From top left: OCZ Rally2, SanDisk Cruzer Titanium U3, OCZ SD Dual, OCZ Mini-Kart, and OCZ Roadster.
The physical design of OCZ's Roadster is fairly simple. A full size metal USB connector is slightly extended to accommodate the flash memory chips at the back with a rotatable plastic cover that's slightly bigger than the connector itself to cover all sides of it. When folded in half, it is a lot smaller than the OCZ Mini-Kart; although at any time it is nowhere as thin. The OCZ Mini-Kart has exposed connectors, however. (Although we never had any problems with the Mini-Kart's exposed connectors.)
I can really see why OCZ calls this product the 'Roadster', because if you actually take a look, it pretty much does resemble a vehicle of this kind. In addition to that, OCZ really likes to associated their drives with cars and racing (Rally, Rally2, Mini-Kart, and Roadster) to evoke a sense of speed and size.
---
The Tests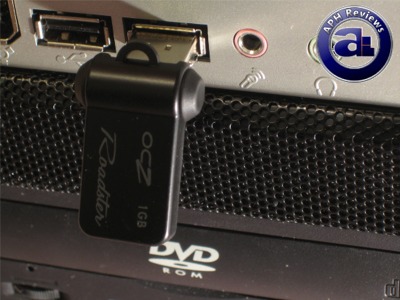 Unfortunately and surprisingly, there's no activity LED on the drive at all. This will pose certain inconvenience to users who want to check if the drive is receiving any power from the USB port, or that if it is in use or not. Also, the pivot point of this drive occupies its own share of the width, so don't expect a slim drive that could accommodate other drives beside it. Luckily a USB extension cable is included if indeed this scenario occurs.
Moving on, our benchmarks were completed on my 1337 pwnz0r computer. This will probably be the last time a test will be conducted using this machine:
AMD Athlon 64 3000+ S754 Newcastle @ Stock 2.00GHz (Cool & Quiet ENABLED)
Arctic Cooling Freezer64 Pro
Asus K8V-X Motherboard
Corsair 2x512MB, Single Channel, DDR400 @ 2.5-3-3-8
Western Digital 80GB 7200RPM 8MB Cache (NTFS)
ATI All-In-Wonder Radeon 9800 Pro
Arctic Cooling VGA Silencer Rev. 3 @ 2400 RPM
Creative Sound Blaster Audigy 2
Mitsumi 7-in-1 Flash & Floppy Reader
Pioneer DVR-108 Multiformat DVD Burner
Liteon 16x DVD Drive
Thermaltake Matrix VX
OCZ Modstream 450W PSU
Microsoft Windows XP Professional SP2
For reference purposes, we've used the following USB mass storage devices in our benchmarks:
- SanDisk Cruzer Mini 512MB
- OCZ Mini-Kart 1GB
- OCZ Rally2 1GB
- SanDisk Cruzer Titanium U3 2GB
- OCZ Roadster 1GB
In our benchmarks, we used our standard test folder to calculate performance of the drives. Our test folder contains thirty additional folders inside. Inside the folders are 515 files; consisting of EXE, INI, DAT, BIN, DLL, ZIP, JPG, AVI and more. The total combined file size is 399 MB (418,666,235 bytes).
We also used a single 399 MB file (418,666,235 bytes) by adding the 515 files and 30 folders listed above to an uncompressed ZIP file for single file performance. Each test was ran at least twice to ensure accuracy.
Write means copying from the test file from our test system to the device.
Copy means to copy the file from the reference device to our test system.
Move means to move the file from the reference device to our test system.
The first series of tests are 515 files of write/copy/move. The total combined file size is 399 MB and contains a variety of different files, as mentioned earlier.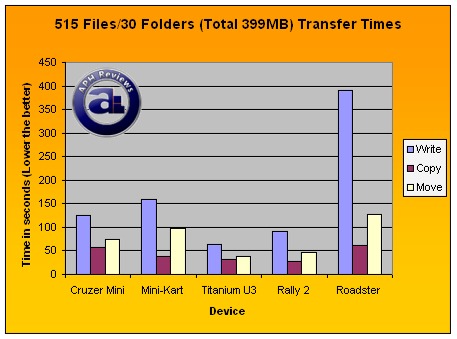 Time in seconds - Lower the better.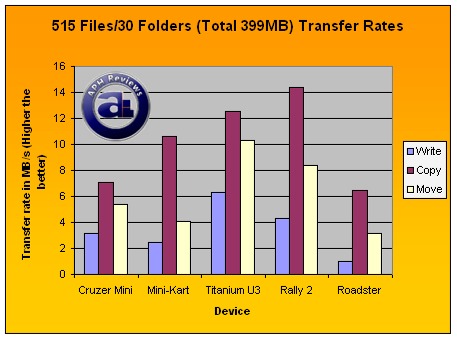 Transfer rates in MB/s - Higher the better.
In our multifile benchmarks, the OCZ Roadster's write speed finished off at the lowest speed amongst all other compared drives at 391.51 seconds, or 1.02 MB/s. This means it is almost twice as slow as the next slowest drive, OCZ's Mini-Kart 1GB. The record USB flash drive write speed is still held by SanDisk's Cruzer Titanium U3 2GB at 31.73 seconds (12.57 MB/s).
In terms of multifile copy, OCZ's Roadster finished at a semi-decent 61.80 seconds (6.46 MB/s), although still the slowest drive on the graph behind the Cruzer Mini at 56.29 seconds (7.09 MB/s). Fastest drive in this area is OCZ Rally2 1GB finishing off at an amazing 27.67 seconds (14.42 MB/s).
Moving onto the multifile move, which is usually determined by both the drive's write and read speed, the OCZ Roadster again did not as optimally as limited by its write speed. Again, OCZ's Roadster is the slowest of the bunch completing the move utilizing 126.93 seconds (3.14 MB/s). OCZ's Mini-Kart 1GB, although slowest next up on the charts, completed at 98.28 seconds (4.10 MB/s). Our fastest drive in this portion of our tests is the Cruzer Titanium U3 2GB at 38.75 seconds (10.30 MB/s).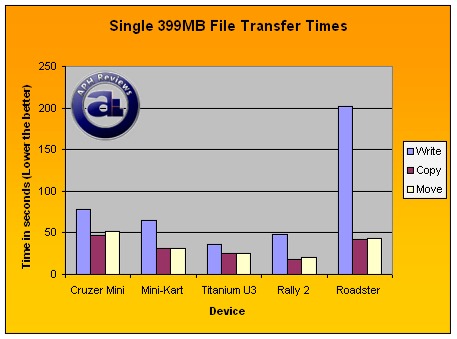 Time in seconds - Lower the better.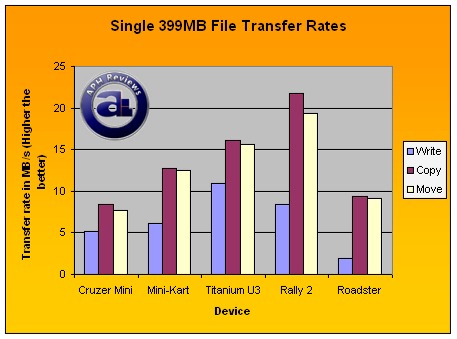 Transfer rates in MB/s - Higher the better.
In APH's single file write test, it seems to us that the OCZ Roadster, although showed better write performance than our multifile write test, still performed poorly when compared to other flash drives. Completing at 201.77 seconds (1.98 MB/s), the next slowest drive compared pulled off a 77.92 seconds (5.12 MB/s) for SanDisk's Cruzer Mini 512MB. Fastest drive is SanDisk Cruzer Titanium U3 2GB; writing a single 399 MB file in 36.64 seconds (10.88 MB/s).
In our single file copy test, the OCZ Roadster finally did not finish last at 42.53 seconds (9.38 MB/s); slightly better than the Cruzer Mini at 47.13 seconds (8.47 MB/s). The fastest flash drive for our copy test is still the OCZ Rally2 1GB completing in 18.29 seconds -- translating to a score of 21.81 MB/s.
For the single file move test, OCZ's Roadster achieved it at 43.49 seconds (9.17 MB/s). Again slightly faster than SanDisk's Cruzer Mini 512MB (51.56 seconds or 7.74 MB/s), but still behind the OCZ Mini-Kart 1GB at 31.85 seconds (12.53 MB/s). OCZ Rally2 1GB still retains its crown in this portion of benchmarks at 20.66 seconds (19.31 MB/s).
HDTach Tests
We've used HDTach RW 3.0.1.0 to run a Full Bench on each drive and then graphed it.
Graph 1: OCZ Roadster vs. SanDisk Cruzer Mini 512MB
We've tested the OCZ Roadster against a SanDisk Cruzer Mini 512MB using HDTach in this test. Let's go over the things that remain the same in all other tests; which include performance of the OCZ Roadster itself. Optimally, when using flash memory, there should be minimal latency or random access time. It seems to us that the OCZ Roadster has pretty bad random access latencies at 107.8 ms. For the most part, the OCZ Roadster stayed at approximately 0.8 MB/s according to HDTach at the ends of the drive after the big drop.
Graph 2: OCZ Roadster vs. OCZ Mini-Kart 1GB
What can we say... although the OCZ Mini-Kart is definitely not we call spectacular in performance, the OCZ Roadster scored significantly lower in the sequential read tests. Again take a look at the random access time: OCZ Roadster's latency is almost twice as much as the OCZ Mini-Kart -- and 61.7 ms is pretty bad for a flash drive (Should be less than 10 ms). Could this be due to a similar flash memory controller -- the infamous USBest UT161 as we've seen in the Rally2 as well?
Graph 3: OCZ Roadster vs. OCZ Rally2 1GB
Yeah, we all know that the OCZ Rally2 is definitely the fastest drive in terms of read performance we currently have on hand. However, if you noticed a pattern, many OCZ drives dip significantly at one point of this test. As a side note, I've actually ran tests for the OCZ Roadster on two different computers and obtained almost identical results. For fairness count, graphs were primarily used from results obtained using my desktop computer as above. For reference purposes, the exact same test and test method were used on my laptop with virtually identical results as my desktop:
Dell Inspiron 6400
Intel Core 2 Duo T7400 (Dual Core Merom 2.16GHz with 4MB L2 cache - SpeedStep enabled)
1GB (2x512MB) DDR2-533 RAM in Dual Channel
Hitachi 5400RPM 160GB SATA drive (Perpendicular recording)
ATI Mobility Radeon X1400 256MB Hypermemory (128MB dedicated/128MB dynamically allocated)
15.4" Widescreen display (1440x900)
Philips DVD+/-RW SDVD8820
Graph 4: OCZ Roadster vs. SanDisk Cruzer Titanium U3 2GB
As you can obviously see, the Cruzer Titanium U3 is a lot faster than the Roadster. Although read speed is not the primary strength of the Titanium (Write is, however), it is still considerably faster than OCZ's Roadster. If you take a look at the latency of each device, it should become apparent to you that the SanDisk Cruzer Titanium U3 has the lowest random access time of 1 ms -- basically the ideal latency. Note that the Cruzer Titanium U3 and OCZ Roadster are different types of product: One aimed for performance and durability, while the latter intended for incredibly small physical size.
---
The OCZ Roadster is a tiny, nice looking drive that demands to be shown off with its incredibly small physical size. However, the durability of its utilization of plastic as the 'convertible' cap and loop for lanyard is disputed, so leave this in your wallet or somewhere safe when not in use. When it comes to actual drive performance, it is definitely one of the slowest drives we've tested so far and tested latency is far from optimal. Please keep in mind that this is also the smallest drive we've tested, therefore it's probably not that fair to compare it with all the 'big guys' in performance point of view. Therefore, if you simply carry a few Microsoft Word documents around and desires maximum portability, the OCZ Roadster is probably a very good choice, especially with OCZ's aggressive pricing. However, if you were to carry large files and/or if you want to strike a balance between size and performance, we'd still like to recommend the
OCZ Mini-Kart
: The extra thin and small USB flash drive but still offers acceptable performance for every day use. Durability and performance by buying a physically larger drive?
SanDisk Cruzer Titanium U3
for the win.
Special thanks to Andy over at OCZ for making this review possible.

Rating: 6.2/10 | APH equal.balance
- - More information on our APH equal.balance award in our Review Focus.
- The rating 6/10 means "A product with its advantages, but drawbacks should not be ignored before purchasing".
- The rating 7/10 means "Great product with many advantages and certain insignificant drawbacks; but should be considered before purchasing".
- More information in our Review Focus.
Incredibly small USB flash drive, great design, and excellent prices at various major online retailers. Read/write performance has great room for improvement, but again, this is the smallest drive we've tested so far at APH Networks.