By: Jonathan Kwan
July 29, 2006
SanDisk has been a big and common household name ever since the introduction of flash memory into mainstream consumer hands. When the name 'CompactFlash' was mentioned during the times when majority of electronics such as PDAs and cameras used it, many will associate it with the name 'SanDisk' automatically. Fast forward to 2006, SanDisk is one company with the most experience in the flash memory market, and still remains as one of the major players within this industry. All of their products have non-volatile NAND flash memory as their primary storage -- including storage cards, USB flash drives, and digital audio players.
To be honest, I've never owned any SanDisk flash memory cards other than the ones that tag along with my Canon cameras, including an 8MB CompactFlash card and a 16MB Secure Digital card. Other than that, I had a Memorex 64MB CF card (Because of its low cost compared to other brands over 5 years ago) and a Lexar 256MB SD card I purchased at a large local electronics retailer 2 years ago, and lately a couple of OCZ 133x SD memory cards. However, my first USB thumb drive was a SanDisk. Purchased quite a while ago, it was competitively priced at another local retailer, which really got me into purchasing one. And the SanDisk Cruzer Mini 512MB has served reliably ever since I got it.
Despite SanDisk's experience and quality in their products, it seems that they've historically been a very average-consumer oriented company, with less aim at the enthusiast market. What I mean is that their emphasis on high performance flash memory, especially USB flash drives, is minimal. Companies such as OCZ have and still been very effective in marketing their products at prosumers with a huge stress on performance. To credit SanDisk, they did advertise speed with many of their products lately -- but it doesn't seem to me that their performance highlights are as strong and revolutionary as the legendary OCZ Rally (Which, as far as I know, is still a fast flash drive, so it's not plain marketing), as well as their follow-up product, the OCZ Rally2, which we'll be looking at in a few weeks. Benchmark results are in for the Rally2, so we'll use the numbers for that in today's review as well.
Moving back on topic, today we'll be looking at the SanDisk Cruzer Titanium U3, the follow up product to SanDisk's own fabled SanDisk Cruzer Titanium on strength and reliability. It's quite an opportunity for us to take a look at the OCZ Rally2 as well, another second generation product, but from OCZ whose main emphasis is on performance. Will they cross each other's line and take back what they have been previously missing and still uphold their flagship features?
To identify and contrast from the original Cruzer Titanium (Both are physically different as well), we'll call it the Cruzer Titanium U3 (Giving it as part of its name in addition to its U3 features). On SanDisk's site, certain drop down menus (But not the site itself) seem to call it the SanDisk Cruzer Titanium2, but here at APH, we think calling it the SanDisk Cruzer Titanium U3 is more appropriate for various reasons.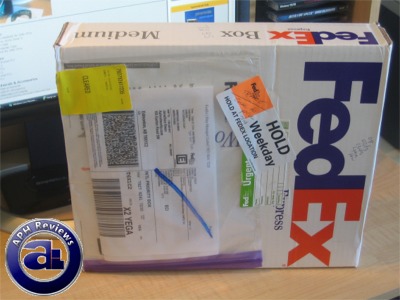 Our review unit came in a FedEx International Priority Medium box from Sunnyvale, California. I called FedEx to hold it at their shipping depot, so I can drop by and pick it up the following day. I felt pretty bad missing a delivery because I fell asleep somehow when the FedEx man came, and I didn't realize that he rang my doorbell until I checked a few hours later with a FedEx doorknocker attached to my door. But anyway, that has nothing to do with this review. So let's move on.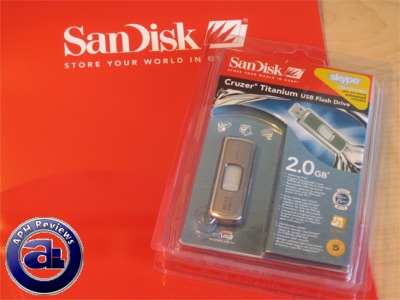 Our review unit came in hot-glue-bound-clamshell-plastic-blister-retail-packaging, or whatever you want to call it. Being pretty used to opening these packages now, I just grabbed a boxcutter and opened it at the top to slip my hand in and extract what's inside. To be fair, the packaging itself looks pretty nice and compact, showing the drive itself clearly on the package, with SanDisk's well known blue and red color scheme. You probably won't cut yourself with the plastic on blister packs if you deal with them a lot. One rule of thumb is don't try to rip the open by the joints; just cut where you need to with a boxcutter.
Feature highlights are printed in text across both the front and back of SanDisk Cruzer Titanium U3's retail packaging. Our review unit today is the 2GB variant; a 1GB version is also available for purchase.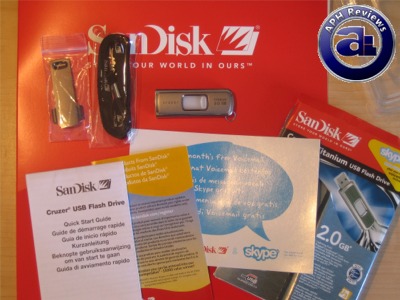 Out of the box, you'll get a the SanDisk Cruzer Titanium U3 drive itself, lanyard, clip attachment, quick start guide, SanDisk product brochure, and a Skype voucher. I couldn't figure out that piece of included metal was a clip attachment (Used sort of like a pen clip to attach to your clothing) until today. The lanyard is long and suitable for attachment around the neck (If you want to, that is), except there are no disconnection points at the end for easy disconnection during usage without taking the whole thing off your neck. SanDisk Cruzer Mini's lanyard has this sort of feature with the included accessory.
Before we move on, let's take a look at its specifications, taken from SanDisk's website:

* Capacity: 1GB – 2GB
* Retractable USB connector
* Performance: 15MB/s read speed & 9MB/s write speed
* Rugged Liquidmetal® body
* Crush force exceeds 2000 lbs
* Laser etched graphics and finish
* U3 smart enabled
* Loaded with the following U3 compatible PC programs
o CruzerSync synchronization tool
o SignupShield password manager
o SKYPE "Make video calls from PC to PC"
o AVAST antivirus software
* Dimensions: 7.14mm x 19.05mm x 57.94mm (D x W x L)
* Distinctive Blue LED
* Hi-Speed USB 2.0 certified (backwards compatible with all USB 1.1 ports)
* USB Mass Storage Class Device
* Compatible with Windows 2000 SP4 and XP
* Certified Windows 2000 and XP

Remember, this is a U3 drive (More on this later). Therefore, the U3 part of this drive is only compatible with Windows 2000 Service Pack 4 and above, but as a Universal Mass Storage (UMS) device, it should be compatible/accessible by all operating systems, excluding its U3 features.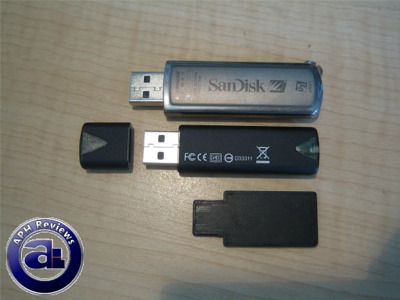 Size comparison with two other USB drives. Since we've seen the front face of all the other drives a lot, I decided to get a back shot for all those interested. One nice characteristic of SanDisk's Cruzer Titanium U3 is its retractable USB connector, as seen on its predecessor. This allows excellent protection and enhances durability, as well as replacing the need of having an easy to loose cap.
As seen in the photo above, we had the connector extended on the SanDisk Cruzer Titanium U3 (When you retract it back in, the size would be what you see above without the connector). Below it is the OCZ Rally2, and the OCZ Mini-Kart. The Cruzer Titanium U3 is slightly thicker than the OCZ Rally2, a few millimeters wider, but quite a bit shorter when the USB connector is retracted inside its casing. Without a doubt, the OCZ Mini-Kart is definitely the smallest of them all.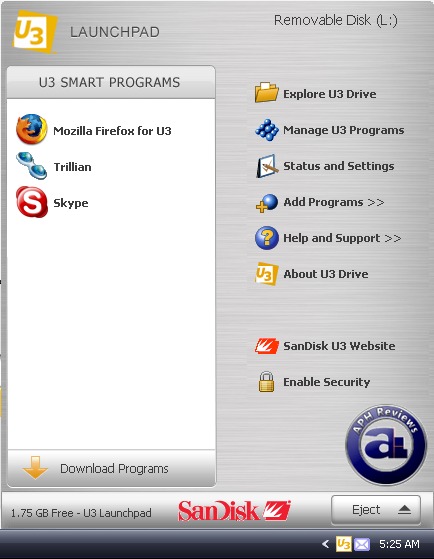 After plugging the drive into our test system, Windows XP automatically detected and ran SanDisk's Cruzer Titanium U3 without any problems. In addition to recognizing it as a Removable Disk, an additional CD Drive can be seen inside My Computer as well. The U3 portion.
The U3 Launchpad automatically executes when the drive is plugged into a USB port on a compatible operating system (Windows 2000 SP4 and above). No Linux or Mac OS support was made at press time; which may pose some frustration to users of the respective operating systems. Programs packaged for U3 are allowed to write to the host PC, except they are required to 'clean up' later on -- therefore you must hit Eject to disconnect the drive every time in the U3 launchpad. Certain groups of people criticize that programs on the U3 platform sometimes leave behind traces on the host PC.
On the other hand, installing U3 applications are pretty easy, simply select and download programs of your choice and everything else is automatic. However, a lot of free programs that are packaged for U3 is also readily available for normal UMS storage devices (Such as Portable Firefox), therefore I don't think U3 will be a major selling point for this drive besides its ease of use. Skype for U3 is pretty useful though (Not available on other portable platforms), especially with SkypeOut to call anywhere within North America for free. Prank calling brought to the next level. Imagine the possibilities!
For additional notes, U3 can be uninstalled to convert the Cruzer Titanium U3 back to a standard UMS device. As far as I know, SanDisk is the only company that posted a U3 reinstallation tool, but there are instances of installation failure and the success rate is undisclosed. So think twice if you really want to uninstall U3, if you are going to use it later on. Also, formatting your U3 drive will temporarily turn your drive non-U3. Removing the drive and plugging it back in will solve this issue; U3 will not be uninstalled that way. However, all your programs and data will be lost.
---
The Tests
Let's have a little twist. This whole "SanDisk Cruzer Titanium U3" drive boasts incredible durability, especially against crush force, up to 2000lbs. Many of you will probably say, "Yeah, sure it can!". This drive surely feels solid on hand, but the coincidental part is, I am asking the same question as most of you probably are. And to find the answer, there's only one way to find out how capable this product is in taking crush force: Run over it with a vehicle. That probably won't be 2000lbs onto the drive, since not all weight of the vehicle is concentrated into one spot, but at least it proves something.
For starters, let's check what material this drive is made out of. On the back, a clear logo of "Liquidmetal" can be seen. A quick search leads us to Liquidmetal Technologies' site, a company specializing in unique and improved alloys upon 'typical' compositions. So, more information on the "Third Revolution" can be found here.
Then the excitement begins...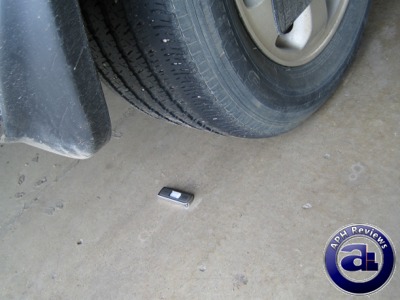 SanDisk Cruzer Titanium 2GB vs. Honda Odyssey EX. Yep, that's the heaviest thing we have around the APH Labs that's usable for our test. Right under the tires sits our test unit. After backing out once, our Cruzer Titanium U3 stayed in the same position, so I decided to drive back into the station and run over it once more. I felt a bit anxious, nervous, excited, or whatever feeling when I went out to check if our SanDisk Cruzer Titanium U3 survived or not...
Results: Not even a scratch. Literally. After running over the drive twice with a minivan, our SanDisk Cruzer Titanium U3 didn't even dent or even obtain a scratch. To verify if the drive still worked, I plugged it back into my computer and continued my tests without any problems. Now that's one durable drive that can really handle some crush force. And it even takes it like its nothing.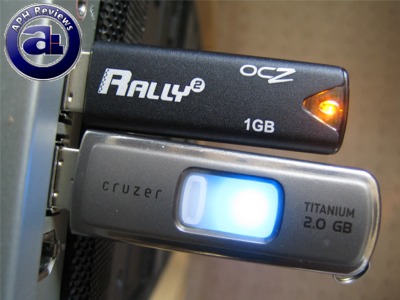 Continuing our tests, a blue LED sits in the middle of the Cruzer Titanium U3, and blinks during disk access. This plastic part is probably the weakest part of the drive, so that's a single vulnerability if someone runs over your drive facing up with half flat tires. Anyway, I like how the USB connector sort of 'locks' into place in both its extended and retracted positions. A slight push down will 'unlock' it and allow the connector to slide Moving on, our benchmarks were completed on my 1337 pwnz0r computer:
AMD Athlon 64 3000+ S754 Newcastle @ Stock 2.00GHz (Cool & Quiet ENABLED)
Arctic Cooling Freezer64 Pro
Asus K8V-X Motherboard
Corsair 2x512MB, Single Channel, DDR400 @ 2.5-3-3-8
Western Digital 80GB 7200RPM 8MB Cache (NTFS)
ATI All-In-Wonder Radeon 9800 Pro
Arctic Cooling VGA Silencer Rev. 3 @ 2400 RPM
Creative Sound Blaster Audigy 2
Mitsumi 7-in-1 Flash & Floppy Reader
Pioneer DVR-108 Multiformat DVD Burner
Liteon 16x DVD Drive
Thermaltake Matrix VX
OCZ Modstream 450W PSU
Microsoft Windows XP Professional SP2
For reference purposes, we've used the following USB mass storage devices in our benchmarks:
- SanDisk Cruzer Mini 512MB
- OCZ Mini-Kart 1GB
- SimpleTech Portable Pininfarina 100GB
- OCZ Rally2 1GB
- SanDisk Cruzer Titanium U3 2GB
In our benchmarks, we used our standard test folder to calculate performance of the drives. Our test folder contains thirty additional folders inside. Inside the folders are 515 files; consisting of EXE, INI, DAT, BIN, DLL, ZIP, JPG, AVI and more. The total combined file size is 399 MB (418,666,235 bytes).
We also used a single 399 MB file (418,666,235 bytes) by adding the 515 files and 30 folders listed above to an uncompressed ZIP file for single file performance. Each test was ran at least twice to ensure accuracy.
Write means copying from the test file from our test system to the device.
Copy means to copy the file from the reference device to our test system.
Move means to move the file from the reference device to our test system.
The first series of tests are 515 files of write/copy/move. The total combined file size is 399 MB and contains a variety of different files, as mentioned earlier.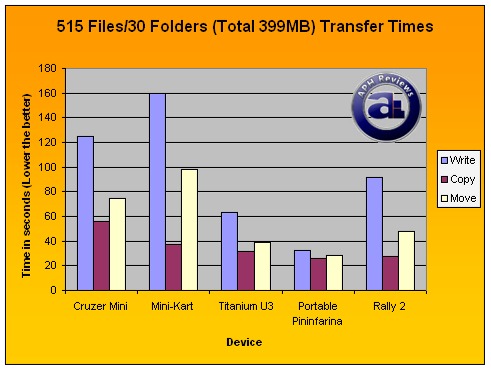 Time in seconds - LOWER the better.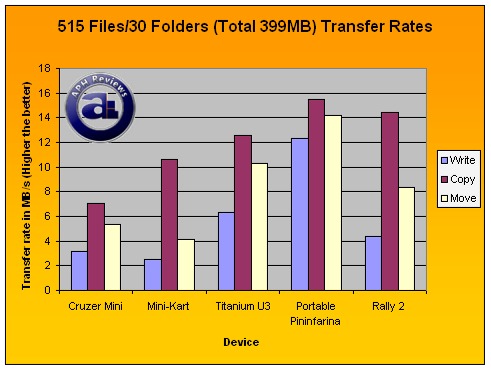 Transfer rate in MB/s - HIGHER the better.
In our multiple file write test, the SanDisk Cruzer Titanium U3 really showed some impressive performance. Completing the write in 64.34 seconds, it is the fastest flash drive we've tested -- beating up OCZ Rally2's 91.97 second score. When translated into MB/s, SanDisk's Cruzer Titanium U3 showed a strong 6.3MB/s (Remember, this is our multiple file write test) while the OCZ Rally2, OCZ Mini-Kart and SanDisk Cruzer Mini had a 4.34MB/s, 3.19MB/s, and 2.5MB/s write speed, respectively. The SimpleTech Portable Pininfarina 100GB is an external hard drive and holds a clear lead -- but it is in a completely different category, so we will just leave its results on the graphs as a reference and wouldn't be used for comparison while analyzing the USB flash drives.
For our copy tests, the SanDisk Cruzer Titanium U3 showed strong performance as well, but its 31.73 seconds record is beaten by the OCZ Rally2's 27.67 seconds result on our charts. That's 12.57MB/s for SanDisk's Cruzer Titanium U3 and 14.42MB/s for OCZ's Rally2. SanDisk Cruzer Titanium U3 performed better in the move tests than the Rally2's 8.36MB/s versus its own 10.3MB/s, likely due to OCZ Rally2's limited write capabilities.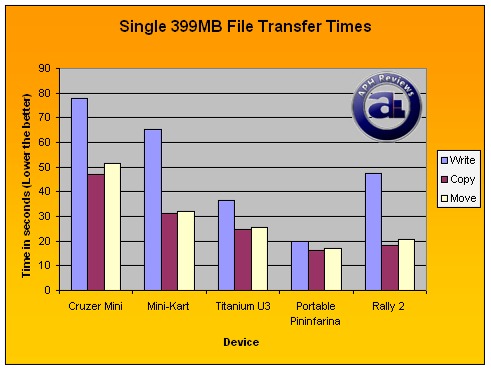 Time in seconds - LOWER the better.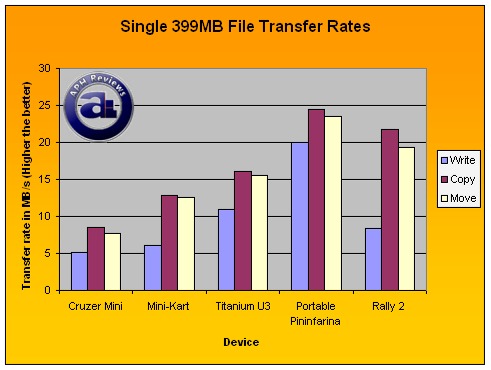 Transfer rate in MB/s - HIGHER the better.
Again bumping the OCZ Rally2 out for write performance. In our single file write, the Cruzer Titanium U3 completed the test in 36.64 seconds, edging out the Rally2's 47.57. That's 10.88MB/s and 8.39MB/s write, respectively. However, OCZ Rally2 again held back a lead in our single file copy tests, completing in 18.29 seconds at an incredible 21.81MB/s gained itself some respect against Cruzer Titanium U3's 24.79 seconds score, which translates to a still respectable 16.1MB/s transfer rate. The OCZ Rally2 ended up with a 19.31MB/s for file move and the SanDisk Cruzer Titanium trailing with a 15.6MB/s transfer rate.
On the other hand, both Cruzer Titanium U3's read and write performance exceeded its manufacturer claim of 9MB/s write and 15MB/s read in our single file tests -- which is very rare for products nowadays.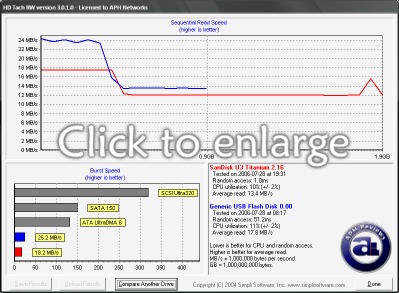 Most of the data shown in our HDTach results are self explanatory, but I'll still go over a bit. Note that the Generic USB Flash Disk 0.00 is the OCZ Rally2. For the most part, results in HDTach agree with our proprietary APH file test results since it's 'average read'. I am very impressed by its random access though, at 1.0ms, it clears out OCZ Rally2's extremely low score of 51.2ms. The drive overall is pretty consistent, except for that drop in the near the beginning and the spike at the end.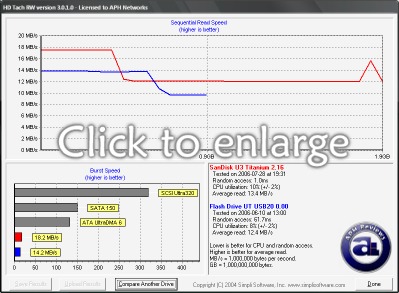 Comparison with our OCZ Mini-Kart. Again, the SanDisk Cruzer Titanium beats out the OCZ Mini-Kart in response time by a mile... no, more than that -- but anyway, as we said in our Mini-Kart review, the results for the Mini-Kart seem to not match up with our proprietary APH tests for once (Check the review for more information).
---
The SanDisk Cruzer Titanium U3 is one strong, durable and capable USB thumb drive. Combined with its great physical design -- retractable connector and truly strong Liquidmetal casing that survives the crush force of a minivan, with file performance that is definitely among one of the best -- there are only a few things that we believe SanDisk can improve on. The plastic component at the middle of the drive is the only weak physical point of this drive that can probably be replaced by something stronger. If the physical size and dimensions were to be reduced any further, it would be excellent. Although it has incredible random access and write performance, if read speed can be further enhanced, we will have one perfect drive that APH can truly recommend. However, for this drive to reach its maximum selling potential and popularity, it must be priced at a more competitive price point than it is now, because USB thumb drives such as the OCZ Rally2 and OCZ Mini-Kart comes in at less than half the price of the Cruzer Titanium U3 for same capacity at various local and online retailers.
UPDATE: Many of our readers reported that it is not hard to find great deals on the SanDisk Cruzer Titanium U3 in well-known online retailers as well as brick and mortar stores. If you can find an great deal on this product, this drive is an excellent buying choice.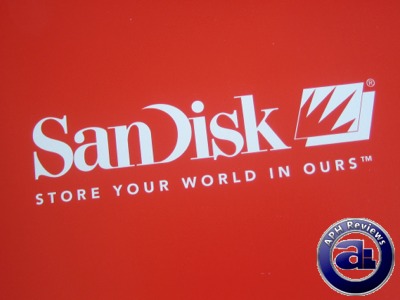 Special thanks to Jamie (Representing SanDisk) for making this review possible.
Note: The number ratings below has been adjusted accordingly to comply with our new Number Rating System.

Rating: 8/10 | APH Recommended
What do these ratings mean?
Fast, durable, and capable -- it's the SanDisk Cruzer Titanium U3. Now if all the minor drawbacks are improved upon, and priced more competitively, we have one truly excellent drive to recommend, but this product definitely have immense amounts of potential on its own already.