By: Jonathan Kwan
June 3, 2006
While Secure Digital memory cards has been "the" standard storage medium for a large variety of gadgets such as PDAs and digital cameras for the past few years, many changes have been evolving more or less with the internal components of these non-volatile storage devices. As far as the postage-size physical aspect as well as impressive durability go, it's becoming more and more obvious lately that more emphasis is being placed on speed and performance of Secure Digital memory cards. As high performance computer RAM manufacturers jump into the flash memory bandwagon, they are prone to raise performance without a doubt. OCZ, as well as a handful of manufacturers, started demonstrating their latest flash media with large "High-Speed 133x" labels printed all over the packaging. This leaves us with a question: Will we, as consumers, benefit from this theoretical performance gain?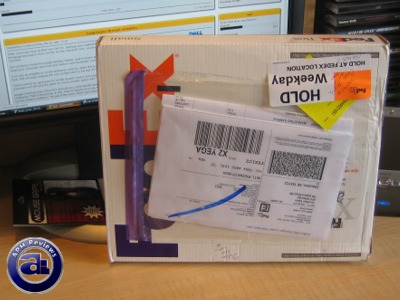 Our review unit came in a FedEx International Priority box. I wasn't at home at the time when they delivered it to my door on Friday, so I phoned them to hold the package at our local FedEx location so I could get it the following Monday on the way home. Fortunately, I got some time after last week's review on XTracPads Ripper XXL, so I picked it up on Saturday. Little did I know OCZ had a little surprise for us...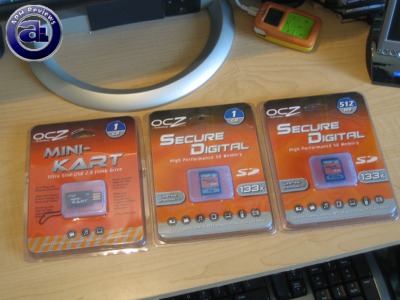 Initially, all I expected was an OCZ Mini-Kart. Upon opening the box and digging through a tight filling of packing peanuts, I discovered not one, but two, yes two -- OCZ high-speed SD cards. What a pleasant surprise, although it did mean that I had an extra review to write. (I wouldn't mind!)
Speaking of the OCZ Mini-Kart, check out our review here.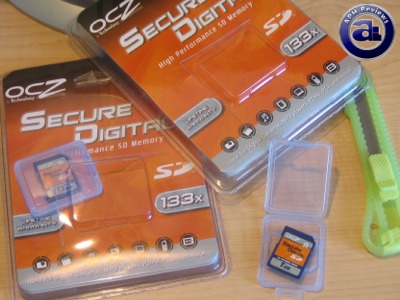 Both our 512MB and 1GB version has near identical retail packaging. Its orange theme and blister pack appears to be OCZ's tradition with memory products, whether is RAM or flash memory (Their power supply packaging is usually blue). Much similar to Logitech's teal on all their peripherals, you'll just know it's their product by its color scheme.
To be honest, I am not a big fan of these blister packs. Although it's been a favorite for store shelves in terms of retail packaging, opening them can be a hassle, especially when it recalls memory of scrapes and cuts on my hand due to sharp plastic. A boxcutter comes in handy when removing our OCZ SD cards from its packaging!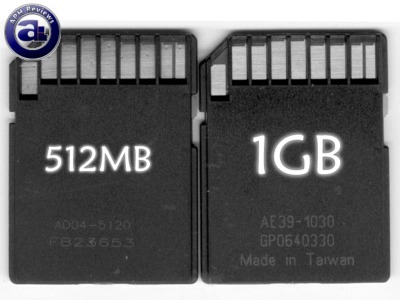 I don't think we need to dig too much into physical aspects of our OCZ high-speed SD cards, since Secure Digital is a standardized format. There's a nice OCZ sticker on the front face of both cards, and both SD cards are blue. Interestingly, when flipped around, it seems it reveals a little bit more information as shown in our black and white image above. Plugging AE39-1030 into Google, it pulled a lot of PQI 133x SD memory results. It should be safe to assume that the 1GB card is the same as PQI's, but I can't seem to obtain any other information from the rest of the numbers.
Since both cards are different internally, we'll test them separately in our benchmarks. Using the following test system:
AMD Athlon 64 3000+ S754 Newcastle @ Stock 2.00GHz (Cool & Quiet ENABLED)
Arctic Cooling Freezer64 Pro
Asus K8V-X Motherboard
Corsair 2x512MB, Single Channel, DDR400 @ 2.5-3-3-8
Western Digital 80GB 7200RPM 8MB Cache (NTFS)
ATI All-In-Wonder Radeon 9800 Pro
Arctic Cooling VGA Silencer Rev. 3 @ 2400 RPM
Creative Sound Blaster Audigy 2
Pioneer DVR-108 Multiformat DVD Burner
Liteon 16x DVD Drive
Thermaltake Matrix VX
OCZ Modstream 450W PSU
Microsoft Windows XP Professional SP2
All of our SD card read/write tests were done on our Mitsumi 7-in-1 Flash/Floppy drive. Because primary purpose of SD cards is for photos, our multiple file copy benchmark consists of 3 folders with 209 four-megapixels photos in JPG format and 3 AVI movie files; the combined size of all photos and videos is 217MB. With our single file test to obtain maximum performance, a single 217MB uncompressed ZIP file was used. Tests were ran at least twice to ensure accuracy. All of our SD cards use the file format that it came in, in this case it was all FAT.
Write means copying from the test file from our test system to the device.
Copy means to copy the file from the reference device to our test system.
Move means to move the file from the reference device to our test system.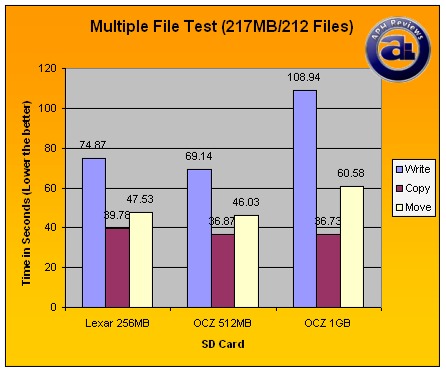 Transfer Times (Seconds) - LOWER the better.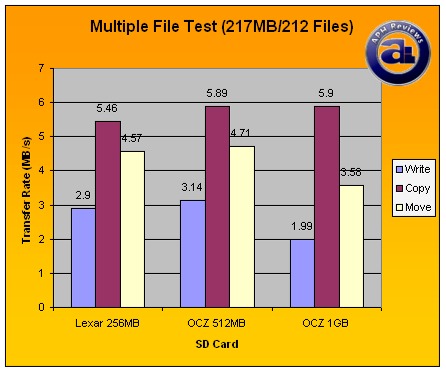 Transfer Rates in MB/s - HIGHER the better.
Surprise, surprise. OCZ's 512MB card went neck to neck with my two year old Lexar 256MB card (Which to my knowledge did not claim any "high-speed" performance). Although consistently beating the Lexar card by a handful of seconds each time, it wasn't very significant when we put it into megabytes-per-second. However, when it came to our OCZ 1GB card, it suffered very horribly writing over 200 separate files at a time -- finishing at 108.94 seconds, it was clearly beaten by both Lexar 256MB and OCZ 512MB cards; finishing off at 74.87 seconds and 69.14 seconds, respectively. Although it performed slightly better than its 512MB counterpart by a few milliseconds in APH's copy tests, the OCZ 1GB SD card's move test trailed behind other cards at a file moving rate of 3.58MB/s.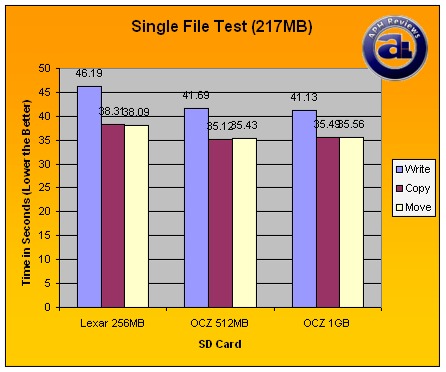 Transfer Times (Seconds) - LOWER the better.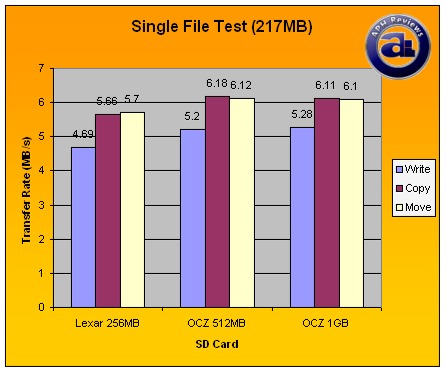 Transfer Rates in MB/s - HIGHER the better.
In our single 217MB file test, both OCZ card's performances are nearly identical. According to our results, the OCZ SD cards consistently bested the Lexar 256MB SD card by roughly 3 seconds each time.
UPDATE: Some of our readers mentioned that burst mode using a consumer camera such as the one I used for testing will not benefit from high speed SD memory due to limitations of the camera itself. Therefore, the above benchmark results will be used for reference purposes only, and should not be taken into a purchase/decision factor. dSLR cameras using these card may or may not benefit from this (Should have less time differences between shots), but we do not have the equipment to test this at the moment therefore we cannot confirm this.
Using our Canon SD300 digital camera, we tested if the OCZ SD cards offered any performance gain in taking burst shots. At 2272x1704 (4 megapixels) with compression setting on Fine and flash disabled, we took our photos in exactly the same position each time at the same things to maintain a benchmark as accurate as possible (As far as out consumer camera can take us anyway). We gave the camera exactly 20 seconds to take as many burst shots as possible. Again the OCZ SD cards showed no real performance gain than the Lexar product -- except for the fact that the OCZ 512MB card finished off with one more photo.
The red line indicates Lexar's 256MB SD card while the blue line represents OCZ's 512MB SD card.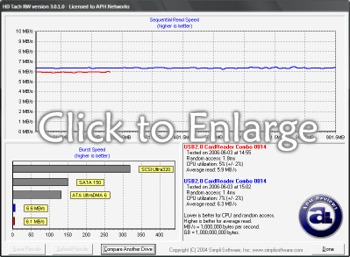 The red line indicates OCZ's 1GB SD card while the blue line represents Lexar's 256MB SD card.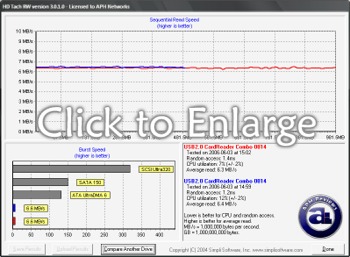 The red line indicates OCZ's 1GB SD card while the blue line represents OCZ's 512MB SD card.
According to HDTach, the OCZ SD cards did perform consistently better than the Lexar 256MB card, although not by a whole lot. When comparing OCZ's 512MB SD card against the 1GB SD card, performance was nearly identical; except our chart indicates OCZ's 512MB card has an average read of 0.1MB faster.
Basically, we didn't see any real performance gains with OCZ's 133x SD memory cards when compared to our 'normal' Lexar 256MB unit. In our multiple file write test, OCZ's 1GB SD card was pretty disappointing. Otherwise, both cards did manage to best our Lexar 256MB SD card by roughly a couple seconds in every file performance tests. The same goes with HDTach; read performance was nearly identical between both cards and consistently faster (Although not a significant difference) than our Lexar 256MB SD card. You may gain some performance from dSLR camera burst shots, although we cannot confirm this. In conclusion, this product is pretty average in terms of performance, so don't expect any super-crazy-fast file read/write -- but with the 1GB card seen below $30 CAD online at press time, it is really great bang for your buck.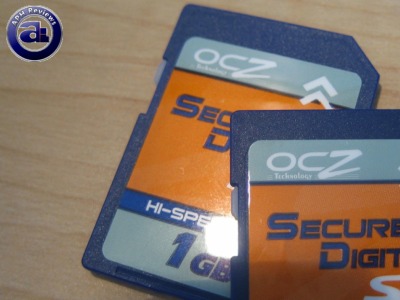 Special thanks to Andy over at OCZ for making this review possible.
Note: The number ratings below has been adjusted accordingly to comply with our new Number Rating System.
Rating: 7.5/10
What do these ratings mean?
OCZ's SD cards did not blow us away with its relatively average read/write performance -- but for its price, it's no doubt a great run for your money.