By: Jonathan Kwan
May 27, 2006
Back in the days when I thought the Func sUrface 1030 Archetype was "huge" at 11.5" x 9.5", all I can say to myself now is I ain't seen nothing yet. Ok, I learned my lesson. Then we reviewed the SteelPad 5L -- which is almost as large as my keyboard thus physically larger than the Func sUrface 1030 Archetype. Large right? I still ain't seen nothing yet.
O RLY? YA RLY. So let's move on to our review today of XTracPads' Ripper XXL. As the "XXL" name suggests, how 'extra-extra-large' can it be?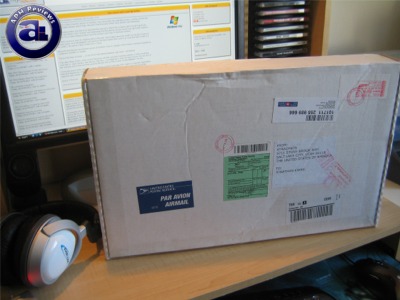 After waiting anxiously for two weeks, our review unit arrived to us at APH Labs in a large box using United States Parcel Service.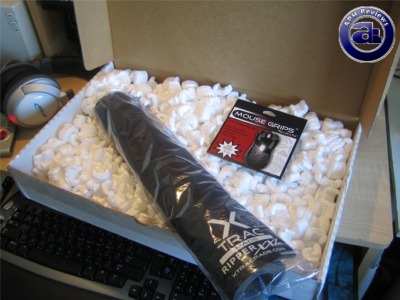 Inside our box is our XTracPads Ripper XXL rolled up in OEM packaging. Even though it's a mousepad, which is unlikely to experience any damage during shipment, they took extra an extra step with all the packing peanuts to ensure the XTracPads Ripper XXL to arrive safely to us in APH Labs. The MouseGrips 2.0 from PCXmods in our photo above is a separate product which you can read our review here.
Here is some information regarding the XTracPads Ripper XXL, taken from their website:
---
Features:
* Silky smooth solid black surface
* Quiet operation
* Very flexible
* HUGE mousing surface
* (2) 5" strips of XTracPads Mad Tape™
Specifications:
36"w x 18"h x 1/8" (914mm w X 457mm h)
Sure Grip rubber backing
Cloth mousing surface
---
See their emphasis on HUGE? What they said was actually what they really meant: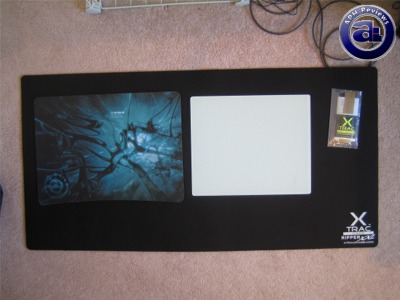 With our SteelPad 5L and Icemat 2nd Edition (Both mousepads have fairly large mousing surfaces) over the top of our Ripper XXL, it's obvious XTracPads Ripper XXL is beyond 'just-another-mousepad' -- it's humongous; it's unique by itself due to its unusually large dimensions as the most obvious physical attribute.
In addition to that, the size of XTracPads Ripper XXL to awed all my friends and everyone around me. After receiving countless wows and comments such as "WOW that's like a door mat", "Is this for real?", "That's a mousepad!?", it's not only an extremely large mousepad, it captures attention very well and especially suitable for LAN Parties and other public events.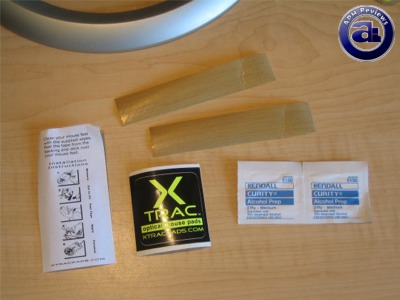 Also included with the Ripper XXL is a pair of 5" XTracPads Mad Tape. Two pieces of alcohol prep are included to clean your mouse feet while these strips can be cut and applied to your mouse feet to supposedly enhance glide. Personally, I did not notice any performance gain over polytetrafluroethylene feet on our Logitech G5. Unless your mouse has an absolutely poor glide or significantly worn out feet, I suggest against using these as they raise your mouse up slightly higher than what it's designed for, contributing to your optical or laser engine to go slightly out of focus; in turn decreasing tracking performance.
Despite what I just mentioned, these strips comes in handy for future usage if necessary, and becoming a standard included accessory with high end mousing surface. It's nice to see XTracPads was not left out of the crowd. In addition to that, they also threw in a XTracPads sticker for you to enjoy.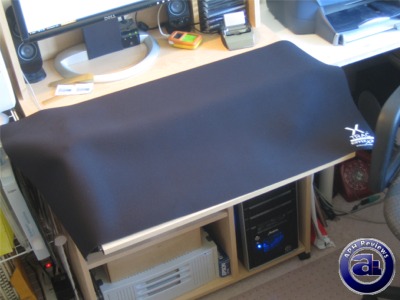 Putting this over my computer desk, it further reinforces my point of being large, as you can see in our photo above. Much unlike previous plastic, glass, or plastic/cloth hybrid pads we looked at previously, the XTracPads Ripper XXL is a cloth pad with soft backing, contributing to a very flexible pad. This allows much easier transport and not vulnerable to damages due to bending.
Cloth pads definitely have its advantage. For one thing, Teflon on cloth is absolutely silent; and does not generate noise like Teflon on glass. In addition to that, cloth pads (Especially with soft backing like XtracPads Ripper XXL) are more comfortable. However, as far as cloth goes, it is bound to attract and accumulate dust, dirt, and liquid much more easily than plastic pads as well as absorbing your sweat, which is probably what you don't want. On the bright side, you can always clean it with soap and water -- just allow it some time to dry off.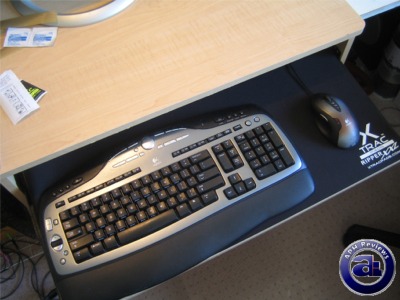 As an (un)fortunate owner of a relative old-fashioned desk with keyboard tray and everything (Hey, no money for a better one), the XTracPads Ripper XXL's mousing surface is larger than my keyboard tray both in length and width. To get around the width issue, I folded my Ripper XXL a bit on the left to make my keyboard tray capable of accommodating such a large mousepad. I am glad that the XTracPads Ripper XXL is a relatively thin product, so folding it a bit will not add too much to its thickness. Please note that the photo above does not portray XtracPads Ripper XXL's real life size in any way; it appears much smaller in our photo above.
---
The Tests
Now that our whole desk has become a XTracPads Ripper XXL cloth mousing surface, we'll never run out of room for those intense gaming situations or large traces in Adobe Photoshop.
Mousepads or mousing surfaces has seemingly become a very significant and important aspect of the e-sports industry. As the latest and greatest laser mice topping at 2000dpi resolution and as high as 1000Hz polling rate as seen on our Razer Copperhead, dumping over $50 on your mouse will not be much help until you spend a few more on a mousing surface. The surface that your mouse tracks on not only is very important to accuracy; but also a significant contributor to glide and control of your mouse. Besides that, comfort and grip are both very important aspects of a good mousing surface. And it's not just for gaming. Graphics work requires a precise mouse and mousing surface as well.
Due to the nature of the soft backing of XTracPads Ripper XXL, it does a very good job of locking itself down on our desk with its flexibility and application of weight over a specific area. I noticed no undesired mousepad movements or slips in virtually any case -- it retains excellent traction on most desks I've tried it on.
Let's have a close up look on the actual surface of XtracPads Ripper XXL.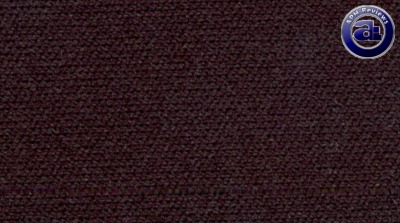 The surface seemed pretty consistent at most areas, although from my high resolution images I did noticed minor inconsistencies at certain points.
In our Photoshop freehand trace test, performance was pretty good. Although this pad did not have a glide as good as our SteelPad 5L (Which in turn did not match Func sUrface 1030 Archetype's gliding ability), its cloth surface gave its share of control in. Therefore, I think this product is great for graphics work.
After completing my standard Photoshop freehand trace test, I moved on and played some Counter-Strike: Source. Using Firmware 1.1 on my Logitech G5, it seems to me that my mouse is a lot more sensitive than normal at same settings and resolution (2000dpi) when compared to my SteelPad 5L and Icemat 2nd Edition. Strangely enough, I did not notice this trend at 800dpi within Windows -- it seems to be performing nearly the same at this situation. After compensating by turning down mouse sensitivity within CS:S, things went a bit smoother. It still offers pretty good precision and control if you don't mind a bit of friction to reduce reaction time. However, I am not over-impressed by its gaming performance, but it's acceptable.
Coming to a conclusion, the XtracPads Ripper XXL has an obvious advantage -- it covers your entire desk to maximize mousing surface as well as lack of room prevention. Being comfortable and having excellent traction with virtually any computer desks I've tested this pad on, it is this product's second major advantage. While offering decent control and precision which is essential for applications such as Adobe Photoshop and other graphics work that requires such attribute, glide seems to be running behind other mousing surfaces such as Func sUrface 1030 Archetype and even our SteelPad 5L. This leads to reduction of your ability to make fast reactions in first person shooters. All in all, I am pretty surprised about its price when compared to its size. At MSRP $35, it's pretty reasonable, and if you don't need something this big, maybe you can divide it into a several pieces with a few friends!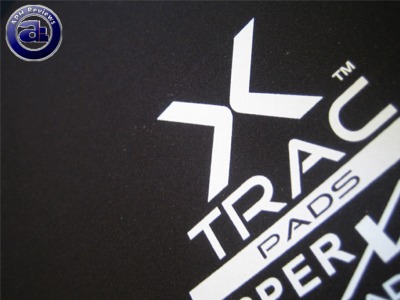 Special thanks to Christopher over at XTracPads for making this review possible.
Note: The number ratings below has been adjusted accordingly to comply with our new Number Rating System.
Rating: 7.5/10
What do these ratings mean?
Comfortable, extremely large mousing surface that offers good grips with computer tables with decent control and precision suitable for graphics work. However, it seems to lack in terms of glide.