By: Jonathan Kwan
March 25, 2006
Over two months after we reviewed Func sUrface 1030 Archetype, I got my hands on another mousing surface -- this time, a very unique and innovative one: a glass mousepad, from Icemat.
Yes, you read correctly. A glass mousepad. "A glass mousepad? What's going on?" That was my reaction when one of our readers asked me if I could write about one. For this reason, I decided to get one for review and see for myself what the craze was all about...
Our review unit came from... Denmark, using...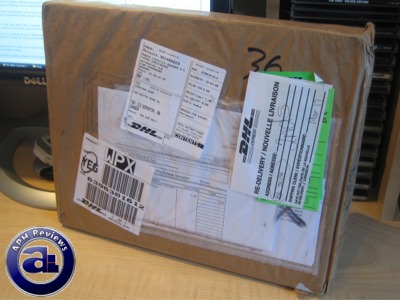 DHL!!! Allow some time for me to rant. So here it goes: If you've been around the APH community and read the Logitech G5 review, you'll understand my reaction when I saw the delivery notice on my glass storm door (Hey, at least it cleared the customs and didn't get held there for a month). Since I wasn't home at the time of delivery, I grabbed the delivery notice which has the waybill number on it, went to DHL.ca, entered the waybill number and reschedule a delivery for Thursday (Two days later) which someone will be home at the time.
When I came home on Wednesday night, I got another delivery notice from DHL. And that's after I rescheduled the delivery to Thursday one day before. I phoned them (I can memorize their phone number now -- 1-800-225-5345, and even their menu system. Man, I can almost memorize what the bot says...) and told the representative that I rescheduled a delivery, asked them why it was delivered today, and inquired if it can go out again on Thursday since it's their fault. The representative just bluntly told me that they cannot do that. Talk about great service...
You might say, "Why not just go pick it up yourself?!" Sure, I would have definitely done that; the problem is that DHL is at the northwest side of this city while I live in the southeast part of the city. In other words, it means a one-and-a-half hour drive to their shipping depot and back.
After I arrived at their shipping depot at 4:24 PM local time, I handed the lady at the desk the delivery notice. She took the sheet and went inside. Five minutes later she came back out; no, not with my package -- the lady just continued serving other customers, taking new shipments and such. I just stood standing there listening to my digital audio player as I whipped out my Pocket PC jotting down these notes while waiting. At 4:39 PM I still stood there waiting, while she just continued on her job as if she never took my delivery notice (There were around three people at the counter too). At 4:41 PM I was still waiting as she took in more new shipments.
Finally, at 4:43 PM she brought out the package and stood there trying to get the barcode scanner to work and spent about a minute trying to scan the number on the shipment. Finally at 4:44 PM she finally managed to get the parcel scanned, got me to sign my name with on the electronic name signing device with the back of a Bic Round Stic -- which I used my Pocket PC's stylus to sign my name instead.
I went up to pick up the shipment, and even that took me twenty minutes to complete. No wonder it took them a month to deliver the Logitech G5...
When I came home, I dropped Thomas over at SoftTrading an email regarding the horrors of DHL. Here's what I wrote:
I went down to DHL today and picked up the Icemat 2nd Edition (Worst shipping company in my opinion, just a heads up, if you read my Logitech G5 review, not the same situation as that one but still very poor service) [...]
And this is what he said:
You're not the first one to complain about DHL, let's leave it at that… ;)
Man I laughed so hard, Thomas just made my day!
Anyway... enough of the ranting... today on APH Networks we'll be taking a good look at the Icemat 2nd Edition glass mousepad.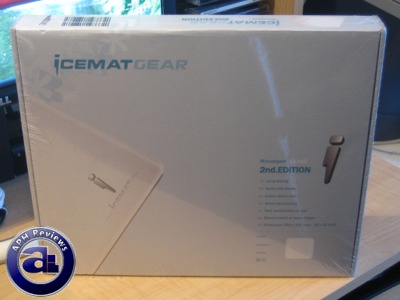 Our review unit came in beautiful retail packaging. Thick foam filled up the interior of the box to prevent cracked or damaged glass. The design of the box is very clean, modern, and pretty high-class.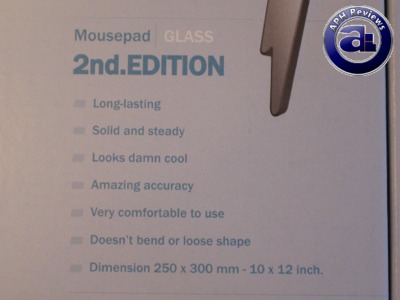 Here's the actual specifications/description/feature list on the box.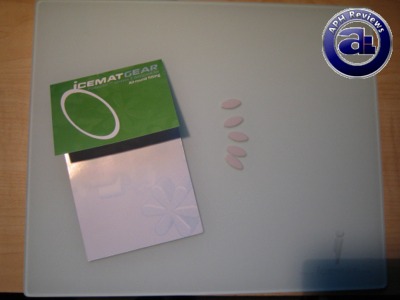 Out of the box, you'll get the Icemat 2nd Edition mousepad itself, five Teflon feet for use with your mouse and a "manual". Inside the flap it says, in exact words and punctuation:
---
Warning - Exclusion of Liability for use of IcematTM
Soft Trading ApS, a limited liability company regis-tered under the laws of Denmark, will be under no liability to the user of the mousepad IcematTM whatsoever, whether in contract, tort, including negligence, breach of statutory duty, restitution or otherwise, for any injury, death, personal injury, damage or direct, indirect or consquential loss all three of which terms include, without limitation, pure economic loss, loss of profits, loss of business, depletion of goodwill and like loss howsoever cause arising out of or in connection with any use of IcematTM for any other purpose than a mouse pad.
Due to the fact that IcematTM is made out of glass the consumer is advised never to place IcematTM on an unsecured surface or within the reach of children. IcematTM may not be used for other purposes than a mousepad.
---
Not exactly American English, but I think they are trying to integrate humor with a disclaimer
. There are some tips at the back of the manual to maximize the performance of this mousepad with your mouse. Great idea.
It's kind of interesting because the manual and the Teflon mouse feet cannot be seen as you open the box. It's under the large piece of foam that the Icemat sits on in packaging; a place where most people won't look at -- the very bottom of the box. I didn't look there either, until a few hours later when I remembered someone told me that the Icemat 2nd Edition comes with a set of Teflon mouse feet. It would have been better if the manual and Teflon mouse feet were placed at the top of the box, where it can be easily located once you open the package.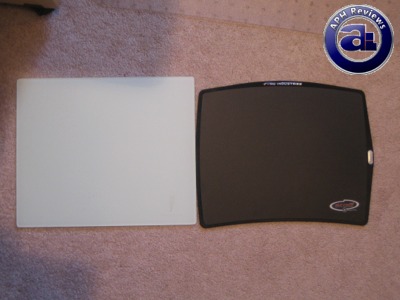 The Icemat 2nd Edition has taken on the straight-sides route, but the dimensions is nearly identical with the Func sUrface 1030 Archetype. I like how it is a perfect rectangle with rounded edges of where it's supposed to be. At 10 by 12 inch, it's the size sweet spot for most performance/precise mousepads nowadays.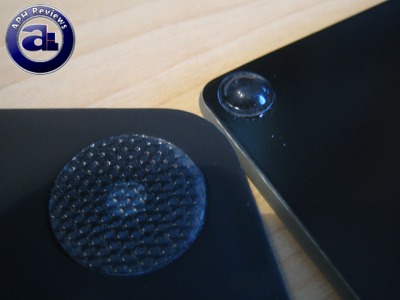 The grips. The Icemat 2nd Edition, on the right, implements dome-shaped rubber grips. This method definitely add to the height of the mousepad. The Icemat 2nd Edition is approximately twice as thick as the Func sUrface 1030 Archetype, so slipping it under your keyboard with a noticeable tilt is not exactly a great idea. They could have went for the virtually heightless Func style grips instead, pictured on the left of the above photo, will reduce thickness of the Icemat 2nd Edition by approximately 30%. Despite this disadvantage, the Icemat 2nd Edition's grip with my desk is still excellent and should not be a problem for people with large desks that can accomodate both a keyboard and the Icemat 2nd Edition without any overlaps. On the bright side, this mousepad doesn't slip nor does it undesirably relocate itself on my desk.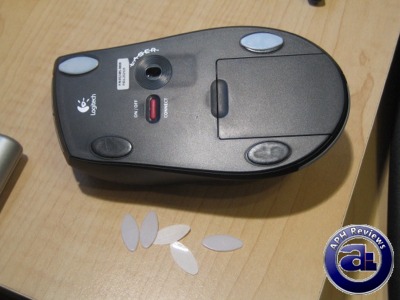 Included with the Icemat 2nd Edition are five self-adhesive Teflon mouse feet for use with your plastic feet mouse. Note that latest gaming mice such as Logitech G5 and Razer Copperhead already comes with Teflon mouse feet. The mouse pictured above that has plastic mouse feet is the Logitech MX600 which comes with the Logitech MX3000 Cordless Laser Set. When the Teflon feet is applied to the MX600, it gave the MX600 an amazingly smooth new glide as compared to the stock plastic feet.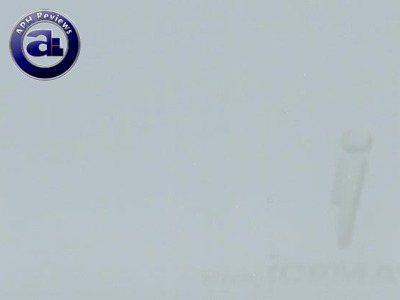 The surface of Icemat 2nd Edition that I scanned using my scanner. This surface gives virtually any mouse a nice smooth glide. It doesn't get scratched or worn out easily (It's glass). If you sweat a lot during gaming sessions, your sweat marks will be visible on this surface. The good news is, the sweat marks can be easily cleaned by running it under the water tap.
Glass is one of the hardest materials on the Moh's hardness scale. Unfortunately, it's very brittle, if it's dropped onto your hardwood or tile flooring, you are pretty much out of luck. However, bearing the fact that it is made out of glass has its advantages. For one thing, it does not scratch up easily (Unless you deliberately attempt to cause damage to it). Besides this, the Icemat 2nd Edition will not deform or get out of shape. Carrying the Icemat 2nd Edition to a lanparty might be a problem though, since it doesn't come with any travelling container that the Func sUrface 1030 Archetype provides. (You can use the cardboard box packaging that it came in if you like though)
For those wondering if this will work with an optical mouse, the answer is yes; it works with an optical mouse. The surface is frosted glass therefore not shiny or transparent, so optical mouse works just fine. I would still recommend a laser mouse for the best gaming experience though.
One thing I didn't like at first was the amount of noise it makes. When I showed it to my friends, they rubbed it with their fingers and immediately noticed the noise it generates as well. The sharp grinding noise sounds like it's trying to wear down the PTFE feet at the bottom of my G5. After a week of usage, I didn't notice any damage caused to my G5's feet. I got used to the noise as well. While it's a fact that it's annoying at first, but once you get used to it, it's not a problem -- at least to me.
If you are still using some generic promotion mousepad or just your bare desk surface right now, let me go over some advantages of these special mousing surfaces:
1) It offers your mouse a better glide
2) Feels better using your mouse on these pads than your desk
3) Inproves precision (For real. They really do make a difference)
For testing, I used the Logitech G5 Laser Mouse on firmware version 1.1. I noticed no tracking or acceleration problems as reported by a member on the forums (Who has a G5 on firmware version 1.0), and it seems to run as precise and problem-free as the Func sUrface 1030 Archetype.
As part of our standard testing procedure, we tested the Icemat 2nd Edition using Photoshop and Counter-Strike: Source. In Photoshop, the tracking of the mouse was good -- but to me, what's more important is how smooth the surface is; which the Icemat 2nd Edition has absolutely no problem in providing. While the Icemat allows better mouse glide than your desk, it cannot match the smoothness of the Func sUrface 1030 Archetype. Like I said before, the noise may be annoying to some people, at least when you first used this product.
While playing Counter-Strike: Source, the usual headshots that I get with the Func sUrface 1030 Archetype came in as good as it is with the Icemat 2nd Edition. Compared to just using the bare desk (I can't believe how I lived so long without a good mousing surface), I can't get you the exact numbers in headshot increases, but the headshots and far ranged kills from half way across the map just came "that much more frequent". If you believe that the mousing surface doesn't make a significant difference, well, it does. Mouse gliding is smoother than your desk but not as good as the Func sUrface 1030 Archetype. Noise is probably not an issue to gamers since you'll be immersed in lots of noise through your speakers or blocked out by your headphones.
In Photoshop, I don't have a problem tracing an image using the freehand crop tool. The large surface area provided by the Icemat allows me to have the extra room when tracing a specific area of the image. The smoothness offered by this mousing surface allows freehand traces with less jagged or uneven edges yet prevent accidental slipping, if you are a graphics professional or doing any work requiring extra precision, getting the Icemat 2nd Edition is a good choice. If you are easily annoyed or bothered by the noise, either plug your ears or maybe this product is not for you. The Func sUrface 1030 Archetype does not generate any undesired noise during usage.
Using glass for a mousepad is definitely an innovative idea, In addition to that, it offers the end user a product of excellent durability, does not get out of shape, scratched, and easily cleaned -- at a price. Precision is great on the Icemat 2nd Edition, but glide is not as good as the Func sUrface 1030 Archetype. The sharp griding noise when moving a mouse across this surface might tick off certain users as well. The thickness can be reduced if different grips were used. If price and the noise it generates is not an issue to you, the Icemat 2nd Edition is designed for you. However, for around half the price you can pick up the Func sUrface 1030 Archetype. It doesn't generate all the noise, but it's plastic therefore not nearly as durable as the Icemat 2nd Edition and scratches up after a while.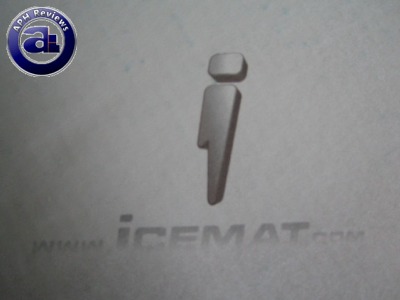 Special thanks to Thomas over at Soft Trading for making this review possible.
Note: The number ratings below has been adjusted accordingly to comply with our new Number Rating System.
Rating: 7/10
What do these ratings mean?
Innovative, durable glass surface that offers great precision. Glide is nice but not as good as the Func sUrface 1030 Archetype. Great mousepad if it doesn't make all the noise. A bit on the expensive side, but it's made of glass.