By: Jonathan Kwan
Feburary 4, 2006
Revised February 25, 2006
When first person shooter games became popular in the early '90s, the typical office mice just didn't cut it for the "boom-headshot" purpose. For this reason, Razer -- a company that originally consists of a bunch of gamers who demands better gaming peripherals -- reinvented the computer gaming peripheral industry with the legendary Razer Boomslang, which is very popular among professional gamers.
Many years later, after the Boomslang and Diamondback, is the Copperhead. As venomous as the name suggests, combined with a 2000dpi laser engine, 32kb onboard memory, 1000Hz polling rate with 1ms response time, you'd expect this mouse to assist you in being the deadliest gamer ever.
At least that's what we expect -- by the name and by the specs. How does this mouse perform in the real world? Does it live up to the name and its specs? We'll find out more as we take a closer look at the Copperhead.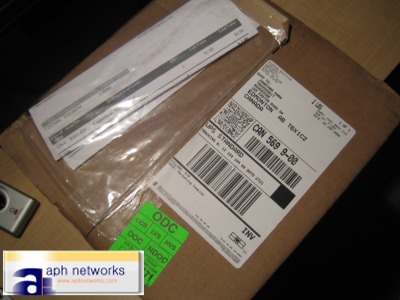 Here's a few background notes before we start the review. For one thing, we recieved the review product over a week ago. Unfortunately, Fedex crushed the package and broke the Copperhead's right mouse button (And cracked the driver CD, literally). It was very nice of Razer to send me a brand new replacement unit. Another thing is that this review was originally planned to compare the Copperhead directly against the Logitech G5. Since the G5 hasn't arrived yet, I'll have to write this one first. [EDIT: G5 has arrived. Review here] By the way, if you look closely at the above photo, UPS is used again! I think I am starting to love UPS...
Well anyway, the new Copperhead arrived in a nicely packed cardboard box to prevent damage due to crushing or whatever like last time. Inside the box is a nicely packed Copperhead in its retail packaging.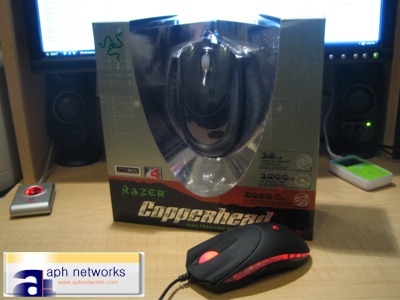 In front of the retail packaging is the other Copperhead we recieved last week.
The box provides quite a bit of information on the mouse, including the specification and a few highlights of its features. Speaking of specifications, this is the mouse on paper from Razer's website:
---
- 2000 DPI Laser Engine Powered by Razer Precision™
- 1000 Hz Ultrapolling™ with 1 ms response time as compared with 125Hz/8 ms response time used by other conventional gaming mice
- 32KB Onboard Memory Powered by Razer Synapse™
- 7 independently programmable buttons optimized with Razer's Hyperesponse™ technology for ultra tactile button feedback and maximum actions-per-minute (APM) gameplay
- Zero-Acoustic Ultraslick™ Teflon feet
- 16 bit data path, as compared to 8 bit and 12 bit data paths used by other conventional mice
- High speed motion detection, up to 45ips and 20g / Over 7080 frames per second
- Always-On™ mode pioneered by Razer™ - the laser engine sensor never powers down to provide instantaneous response at all times during gameplay
- Award winning Razer™ drivers featuring On-the-Fly Sensitivity™ DPI adjustment pioneered by Razer
- Size: 5.04" length x 2.5" width x 1.54" height
- GlowPipe™ non-slip side rails
- Ergonomic ambidextrous design
- Ultra large non-slip rubber coated mouse buttons
- Gold plated USB connector for maximum conductivity
- 7 foot, lightweight, non-tangle cord
---
The specifications listed above does include a bit of bias when compared against the "conventional gaming mice", although at the same time it does hold a bit of truth. I have to highlight that even my old Logitech MX500 offers up to 200Hz polling rate on PS/2.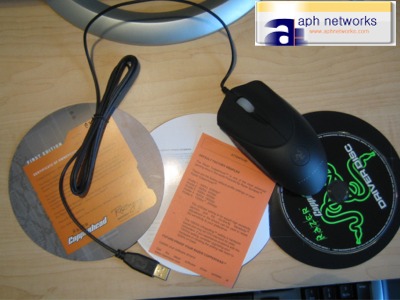 Here's what you get right out of the box. The driver CD is inside the manual, also included is some sheet that talks about profile settings, a certificate (More on this coming up) and of course, the mouse itself. Razer gave me a pleasent surprise when I discovered the replacement Copperhead was a "First Edition", which means it is the first 10,000 Copperheads to roll off the production line.
The certificate really interests me. The first Copperhead I recieved was not a "First Edition", so I grabbed both certificates and made a quick comparison.
The certificate that came with the First Edition Copperhead says First Editon while the normal Copperhead's certificate says Certificate of Authenticity.
The wording on the other side is also a bit different. Check out the scanned copied below.

There's an extra sentence in the third paragraph and in the end of the First Edition's certificate. Also, in the First Edition certificate it says Certificate of Ownership instead of Certificate of Authenticity at the top. Adding onto that, the First Edition certificate has the mouse's number out of the first 10,000 manufacured along with the date that the specific Copperhead was produced. The one I have was #1874. Whoever that has number 1, 10000 or 1337 sure is lucky!
Looks are always essential when people purchases a certain product. Most of the people that bought an optical mouse a few years back probably bought it due to the implementation of the little red LED that manufacturers used and the "cool factor" of the mouse rather than buying it because an optical mouse is (usually) better.
While some people are more interested in the paint job in a mouse, I know a lot of other people that are especially attracted to lights. Logitech and Razer each has taken totally different paths in design, so basically it's your choice of what design you like better. Logitech tends to produce mice that are rather simple with a focus on color coordination and right handed usage while Razer creates their mice that are suitable for both hands and enjoys the use of lights.
The pulsating serpent in the middle with the glow wheel and illuminated sides sure looks cool though. The Copperhead is available in three colors, green, blue and the red used in this review.
Top view of the Copperhead. It may look like those mice that comes with your computer, but it really does feel different in a good way.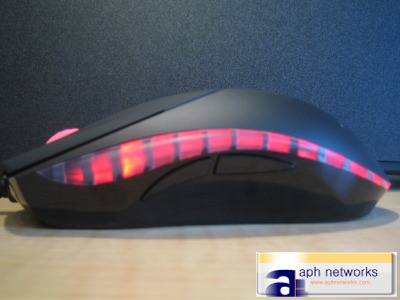 There are two buttons on each side of the Copperhead. You can disable the side buttons or map them to some function you like, for example, I configured the two button on the right to change the DPI setting, and the left two buttons on the Copperhead function as Windows button 4 and 5, which is actually Forward and Back respectively. The Windows button 4 and 5 were defined in Logitech's SetPoint drivers used for my MX600 mouse. Kind of cool to see mice of different brands work together without conflict.
One thing I noticed is that the shiny plastic on the side really attracts fingerprints, and scratches show pretty easily.
As I said before, Logitech and Razer each has taken totally different paths in design. Logitech tends to design their mice specifically for right handed users while Razer's Copperhead is suitable for both left and right handed users. Usually, ambidexterous mice are also what we call a "finger mouse" while mice designed specifically for one hand are commonly referred as a "palm mouse".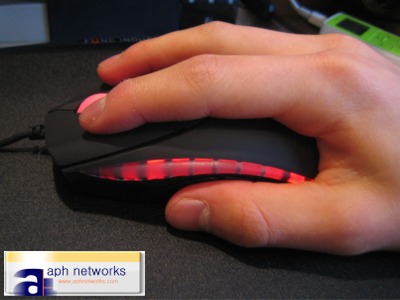 When handling the Copperhead, you leave your hand back with wrist on the mousing surface and fingers sticking out in front. We call this a "finger mouse".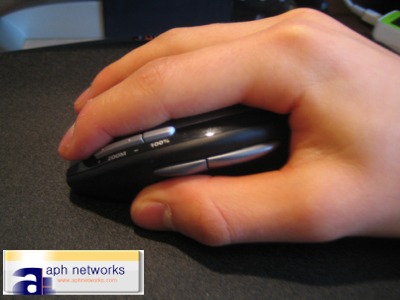 The mouse shown above is the MX600 that we reviewed last month; this mouse comes with the MX3000 cordless laser set. Since the MX600 is designed specifically for the right handed user, this also makes it a palm mouse where you put your whole palm over the mouse (As the name suggests).
If you are a left handed user, you have no choice but to use the Razer Copperhead (I do know a lot of left handed people that are right handed mouse users though). If you are a right handed user, you must first find out if you are a "finger mouse" user or a "palm mouse" user. Personally, I am a palm mouse user, but both my parents are finger mouse users. As a palm mouse user, I really do prefer to use the Logitech MX600 for normal day-to-day Windows usage. But hey -- it's my preference as a palm mouse user, and besides, this mouse is designed more for gaming than anything else.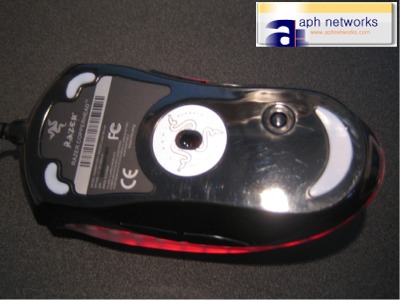 The bottom of the mouse. The middle is the heart of this product, the Razer Precision laser engine and sensor. It says 320nm Precision on the left side of the circle around the lens and CL1 Eyesafe on the right. I guess some laser mouse owners are afraid to look into the sensors because it's labelled as laser. (Don't worry, its perfectly safe to look into it).
Around 2cm away from the laser sensor is the Profile button. This button allows you to (kind of) quickly switch between profiles. As mentioned in the specifications above, the Copperhead boasts a 32kb onboard memory. The 32kb onboard memory lets you actually save your button settings on the mouse itself, which means that you won't lose your custom settings when you use your mouse on another computer. Your custom settings will work even if the computer you are using the Copperhead with doesn't have the drivers installed, which is pretty cool, extremely convenient and very rarely seen in a mouse. The Razer Copperhead also allows you to store up to five seperate button profiles. The Profile button lets you switch between the five profiles.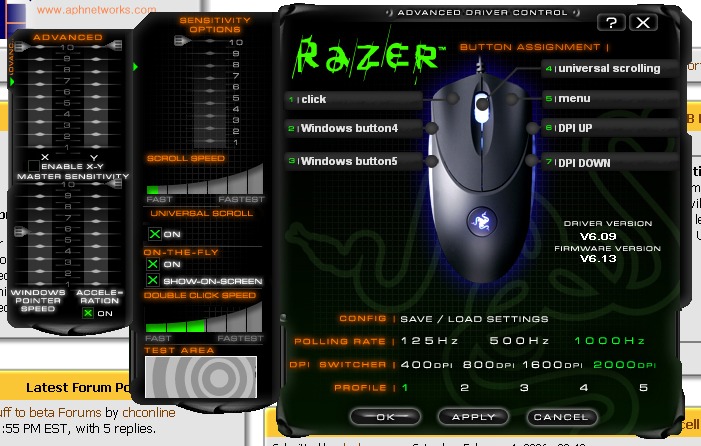 The software were quick to install and use. You will have to click "Continue Anyway" to install the unsigned drivers. After a quick reboot, you can have some fun configuring and using the mouse.
Like I said before, your button configurations will be stored on the mouse. My review unit came with firmware version 6.13. You can download and flash your Copperhead to the latest firmware version, which at the time of publishing this article is firmware version 6.17b. Flashing the firmware is quick and relatively easy. However, during the firmware flash you cannot use the Copperhead to click the "Next-next-next" on your screen, so you will need a second mouse to do that job or some really good keyboard-and-tab skills.
As you can see in the screenshot above, the driver/software is as easy to use as it looks. A new tray icon will also appear in your system tray. You can right click it and a "Disable tray icon" option is available, but I can't seem to disable it as it reappears every restart. The "Disable tray icon" function works just like the "Close tray icon" option -- it simply closes the tray icon which reappears every startup. Hope they get it fixed in the next driver revision because this is pretty annoying. (You can force it to not start at startup by going into msconfig and disable razerhid.
We've gone over the specifications, appearance, comfort, features, drivers and even the difference between the First Edition certificate and the "normal" certificate of this mouse. What else are we missing? Ah, yes. Of course, the performance! The Copperhead is designed with precision and performance in mind -- and that's the whole point of this mouse.
When I first tried this mouse around a week ago, I just couldn't wait to fire up Counter-Strike: Source to see how good this actually mouse is. Yes, that's with the one Fedex broke -- but hey, at least the laser sensor, left mouse button, a few side buttons and wheel still works. With the broken mouse I jumped into play in the APH CS:S server with around ten other players in playground_x_s. Deathmatch was broken at the time, so I bought a Deagle (A pistol) in the game and moved on. I clicked the side buttons which I mapped to DPI up/down earlier a few times. On the fly sensitivity change is very useful, different situations requires different DPI settings. Moving around, I suddenly noticed SHC-Boomer (One of the APH clan leaders and server staff) about to fire a shot at me with his AK. As I moved across the open ground of the map I quickly grabbed for an aim (While barely any part of the body of the guy is exposed) and much to my surprise, this mouse is VERY responsive and the accuracy of this mouse is something I never experienced before. It's almost like having an aimbot, but it's not -- I got a headshot and killed him in an instant. As the name suggests, this mouse is very accurate -- and DEADLY. Yes, this incident is real. You can even go ask him.
Well, of course, at that time I don't know if it's really the mouse or if it is actually luck. I swapped back to my MX600 wireless laser mouse, I do get headshots but not as frequent. For testing purposes, I reverted back to the Copperhead and my headshot streak came right back -- my jaw dropped at the amazing performance of this mouse. This mouse really glides nicely across virtually any surface with its Teflon coated mouse feet. While my MX600 wireless laser mouse only runs smoothly on the Func sUrface 1030 Archetype, the Copperhead glides almost as smooth on my bare desk as on the Func sUrface 1030 Archetype (Glide and precision are different things, however).
While many typical office mice or wireless mouse shuts off after a while to conserve power, the Razer Copperhead's laser is "Always On". This feature, pioneered by Razer, offers the end user a more "instant-response" mouse. Combined with 1ms response time and 1000Hz polling rate, those days when you see a guy in your face and cannot move your crosshair to his body and shoot is long gone.
Except for those "bad days of gaming" where you just can't seem to make a kill, using this mouse really gives my game rank a nice boost and really improves my "1337ness" on the server. Gaming is fun and very amusing with this mouse -- except when people thinks you are hacking because of your frequent headshots and nearly-impossible long range kills.
When comparing to the G5, this may not really be your office mouse for Photoshop or graphics work. The G5 performs much better in terms of Photoshop but in gaming, this mouse is way more responsive than the G5 giving a slight millisecond advantage against your virtual opponents. Precision is also incredible, but for a lot of office/graphics work mixed with a bit gaming, I'll suggest the Logitech G5. If you are truly a die-hard gamer who only wants the best of the best for that FPS you are playing, the Copperhead is definitely a good choice.
Note that this mouse is tested with the Func sUrface 1030 Archetype I reviewed a few weeks back. I don't have a Razer mousing surface so if anyone has any experience with this mouse and some kind of Razer mousing surface be sure to share your experience with me.
One thing I didn't like about the Copperhead is that it is way to light. You can change the weight of the mouse, but the kit is sold seperately and happily voids your warranty along the way. If they do something like the Logitech G5 which comes with a set of easily interchangeable weights and does not void your warranty, it would be excellent.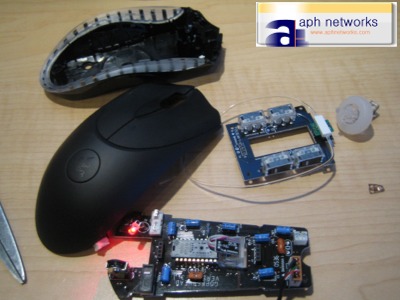 After my replacement Razer Copperhead arrived, I decided to take apart the broken Copperhead out of curiosity. Note that this voids your warranty so it is not recommended unless you don't mind terminating your two year warranty on this mouse. Disassembling the mouse is fairly easy, you just peel off the back mouse feet on the Copperhead and unscrew it. There's two PCBs inside, along with a little bulb kinda thing lighting up the wheel and another tube thing lighting both sides of the mouse. The pulsating light plugs into the board and it is possible to be disconnected.
I discovered that the... um... thing under the right mouse button was crushed therefore the right mouse button doesn't work. It's very hard to describe what was broken in words.
Even as a palm mouse user, I really enjoyed using this mouse. For day-to-day usage, I would still prefer a palm mouse because it is a lot more comfortable -- at least to me. I know a lot of people that swear by this mouse, both for gaming and office use -- but then again this is all personal preference. What I can comment on is the performance and features of this mouse, it is something I haven't seen to date. The 32kb onboard memory really adds convenience because it saves your button settings on the mouse and not your hard drive. It is definitely a deadly weapon of choice and I whole heartedly recommend the Razer Copperhead for gaming. Even if you are not a finger mouse user, and if you can spare (quite a bit of) cash, buy this as a second mouse and use it for the sole purpose of gaming. Driver is a little buggy and mouse is way too light, however. Weights are available, but are sold seperately and voids your warranty when used.
Be sure to take a look at the Logitech G5 review before making your final decision. It's a hard choice, I know, since both of them are excellent products and each has unique features of its own that makes itself more desirable.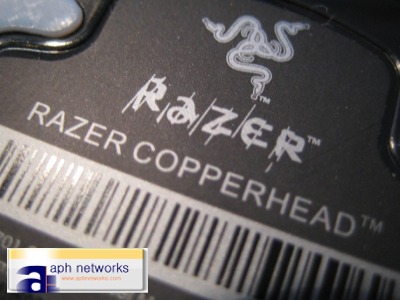 Special thanks to Jane over at Razer for making this review possible.
Note: The number ratings below has been adjusted accordingly to comply with our new Number Rating System.

Rating: 7.4/10 | APH Recommended
What do these ratings mean?
Expensive, but unmatched gaming performance along with great looks and nice features like onboard memory. Driver is slightly buggy and mouse is too light.