By: Jonathan Kwan
April 8, 2006
As you receive more and more exposure to the mousing surface world, you'll realize sooner or later that it is big business. Competition between veterans and rookies of this field is strong; not that price matters -- but performance does. After reviewing the Icemat 2nd Edition two weeks ago in addition to Func's sUrface 1030 Archetype which we took a look at a few months back, Thomas over at SteelSeries asked me if I wanted to review their SteelPad 5L as well. Having recommendations from both APH readers and a quick glance over descriptions of this product on the manufacturer's site three in the morning on my PDA, it appeared to me that it would be a pleasure for me to review the SteelPad 5L and enjoy it hands on.
About a week later, the SteelPad 5L arrived at my doorstep. Yes, literally. Remember, it's DHL that delivered it -- they shoved it under my large "Welcome" mat at my door without my permission; at least it was delivered though.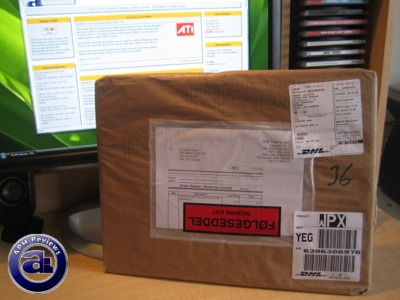 Like last time with the Icemat 2nd Edition, our review unit came in paper wrapping. I was very excited to get my hands on this product. However, the paper wrapping was literally seven layers thick, so it took me some time and a good amount patience. Our review unit came in perfect shape, no bends and dents.
For those wondering, the stuff displayed on the monitor is not a Vista theme. It is really Windows Vista, Build 5342. Yes, I am a beta tester.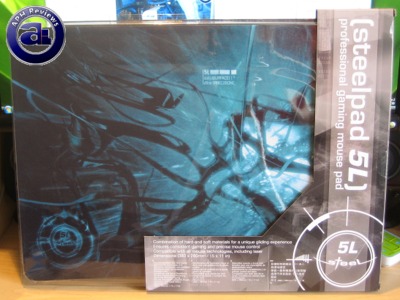 After ripping through more wrapping than seven Christmas presents that were under your tree last December, I laid my eyes on one of the largest mousing surfaces I've seen. Measured at 380 mm by 280 mm, the SteelPad 5L is nearly as wide as my keyboard and even beating it in terms of height. This is demonstrated in their retail packaging, where a large percent of SteelPad 5L's mousing surface is displayed to potential buyers who happen to look at it on a display shelf at retail stores. However, after opening the box, it is obvious to me that the SteelPad 5L is emitting a strong smell; similar to smells of a brand new home (Read: Personal experience). It will fade away after a few days. If you are very paranoid about these 'fumes', leave it in your basement and pick it up a week later.
Despite its name, the SteelPad 5L is not made out of steel. It actually consists of five layers; in order from the top to bottom: plastic coating, cloth, soft polyisoprene, hard plastic, and rubber grips.
Here are some pieces of information taken from SteelSeries' website on the five layers:
---
1. Plastic coating
Thin plastic coating ensures durability and maintains the texture of the underlying cloth material.
2. Cloth
A highly durable and extremely strong cloth material provides a smooth gliding experience. The texture of the plastic coated cloth surface allows for minimal mouse movements and maximum precision.
3. Soft polyisoprene
Specially treated soft polyisoprene provides softness to the touch. The softness of the rubber foam is very easy on the users' wrists, even for hardcore gamers and others who use their mouse for extended periods of time.
4. Hard plastic
A hard plastic compound maintains the stability and the shape of the mouse pad, and helps ensure a consistent gliding experience even on uneven surfaces.
5. Rubber elements
Small soft rubber elements ensures complete non-slippery steadiness.
---
I've done a quick comparison between two mousepads that I have acquired and accumulated from January till now. This includes an Icemat 2nd Edition as well as Func's sUrface 1030 Archetype. As you can clearly see in the photo above, the SteelPad 5L has a much larger mousing surface area out of all three. Now you won't have to worry about running out of room during those intense gaming sessions!
Design of the SteelPad 5L is definitely appealing to the eye. The abstract art looks nice and high-tech enough. Although I tend to stick with "simple-is-beautiful" design philosophy as demonstrated on their Icemat 2nd Edition, I still find the design of this mousepad beautiful. This is all personal preference; design ratings are very dependant on who is looking at it.
If you have a small desk like me, get a new one. If you were to buy such a large mousing surface, you'll want a desk that can accommodate both the keyboard and mousepad without shoving half your SteelPad 5L under your keyboard. I am not being a hypocrite -- it's not that I don't want to buy that fancy 1337 new desk from Ikea, it's because I can't afford to purchase a new one. Enough said!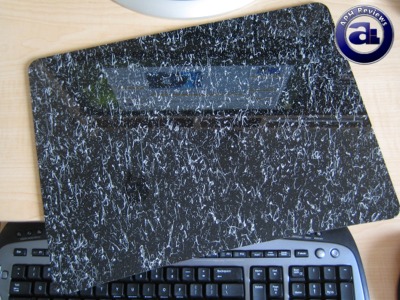 The bottom of this mousepad has a high gloss finish and very shiny. See the reflection of APH on it? Yep, that's right. Looks like marble... mmm shiny...
Anyway, mmm... shiny...
Anyway, mmm... shi -- okay, I got over it. Moving on, the seemingly-randomly applied toothpaste-like strips is actually rubber grips. Unlike those dome shaped grips used on their Icemat 2nd Edition, these rubber strips not only provide a good amount of visual appeal but a reasonable amount of grip as well. Since these grips are present in virtually all areas of the base, I found the grip between the SteelPad 5L and my desk fairly decent but slips and undesirable self-relocations aren't entirely out of the radar screen. At this point, you'll probably think I am contradicting myself. To clear everything up, the grips itself offer good grip. Unfortunately, the mousepad is not heavy enough to weigh down on the grips to take full advantage of it. During intense gaming sessions, you will find yourself adjusting the position on this mousepad once in a while. In my tests (Nothing too scientific like benchmarks), our Icemat 2nd Edition provided better grip, but king-of-best-grip is still held by the still undefeated Func's sUrface 1030 Archetype.
I found the thickness fairly reasonable on our SteelPad 5L. By not using dome-shaped grips as on their Icemat 2nd Edition, it's about as thick as the Icemat itself without its grips. It's still not as thin as our Func sUrface 1030 Archetype -- but the SteelPad 5L's five layer design gives it a very good excuse not to be any thinner. (More on this later in the tests) In addition to that, I can't see why anyone would buy such a large mousepad and leave half of its mousing surface under their keyboard.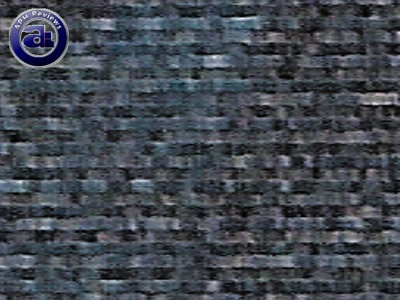 A very, very close up look of the SteelPad 5L. The cloth texture is very even as you can clearly see as displayed in our photo above. Because I am scanning at such a high resolution, it took my scanner ten minutes to complete scanning and made my computer so sluggish as well (The program eventually crashed, good thing I hit the Printscreen key in time). Of course, that's one of many tradeoffs when you use a beta OS. I wrote this whole review in Vista Build 5342, even processed the photos here. Too lazy to boot back into Windows XP.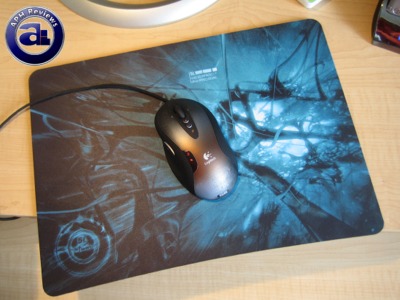 We all know the importance of mousing surfaces right? If you don't already know, please read the following reviews:
Icemat 2nd Edition review
Func sUrface 1030 Archetype review
As I said in the Icemat 2nd Edition review, here are some advantages that these specially designed mousing surfaces offer:
1) It offers your mouse a better glide
2) Feels better using your mouse on these pads than your desk
3) Inproves precision (For real. They really do make a difference)
The tests on the SteelPad 5L were completed using my favorite mouse -- the one and only Logitech G5 (At the time of writing this review anyway) Not that I don't like Razer's Copperhead, it's because I am a palm mouse user.
In our initial tests, glide was excellent (And quiet, no noise like the Icemat). Our G5 moved smoothly across the surface without a problem. I appreciated the amount of glide this mousepad offers; effortless yet in control. When comparing Func's sUrface 1030 Archetype against the SteelPad 5L, the Func product offers slightly better glide but feels out of control sometimes. With this product, there are no "out of control" feel when the mouse goes around. It's hard to describe, but I can tell you that glide is excellent and the feeling of proper control stands strong.
Our standard Photoshop and Counter-Strike: Source went on. In our gaming tests, I couldn't really see a difference between using the SteelPad 5L and all the other gaming surfaces. Running through our graphics work in Photoshop with the SteelPad 5L allowed slightly better control than Func's product, and maybe a little better than our Icemat. So in general, all three performed neck to neck. All except my SteelPad 5L which offered slightly better control than the Func which in turn had slightly better glide.
One thing unique to this mousepad is its softness. It's not soft enough for your hand and/or mouse to sag or sink during use, but allows a little more comfort for your wrist during computing sessions. This is a good tradeoff for having a thicker mousepad. This feature is on neither Func's sUrface 1030 Archetype nor Icemat 2nd Edition. In fact, this is one of my major reasons in liking the SteelPad 5L.
This is a good product. It's super large, looks high-tech, offers great glide as well as feeling of control under your hand. It certainly has its beef against the Func. However, it's still a bit on the thick side; the five layer design and amount of comfort it offers outweighs this negative aspect though. Could have been nearly perfect if it had better grip with my desk. I would have loved to stamp an "APH Recommended" on the SteelPad 5L, unfortunately its overall value and performance still doesn't beat Func's sUrface 1030 Archetype which retails for approximately half the price.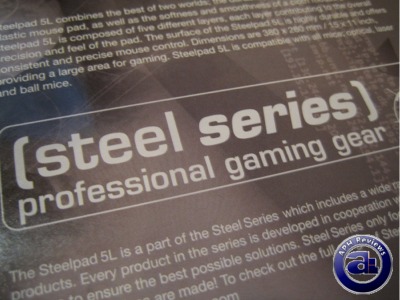 Special thanks to Thomas over at Soft Trading for making this review possible.
Note: The number ratings below has been adjusted accordingly to comply with our new Number Rating System.
Rating: 7/10
What do these ratings mean?
Very large surface and comfortable mousepad that offers great precision, glide and control. Nice high-tech look, but better grip with our desk will definitely be appreciated.