By: Jonathan Kwan
August 12, 2006
OCZ's flash drive engineering team as well as members of the marketing department have been coordinating and working together very well for quite a while now. During the original OCZ Rally's debut a short while back, it undoubtedly made a huge change in the whole USB thumb drive industry. With more emphasis -- and proven performance -- of speed more than ever before, reviewers across the world stood in awe as the OCZ Rally locked out the competition by beating every other drive across the board. Building upon its incredible demand and success, OCZ released their follow-up product recently -- the OCZ Rally2. Will this be a worthy successor to its older brother, as well as raising the bar of flash disks and revolutionize solid state portable storage once more? Let's see what we can discover with our brand new OCZ Rally2 in hand.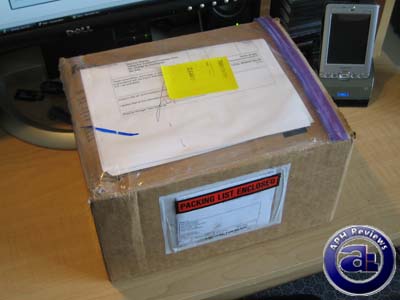 Our review unit came in a box from FedEx using International Priority. It was a bit bigger and heavier than I expected; so I knew it was going to be something more than the Rally2. Opening the box reveals the flash drive we'll be reviewing today as well as an OCZ's new Tempest heatsink -- which we'll be writing about shortly.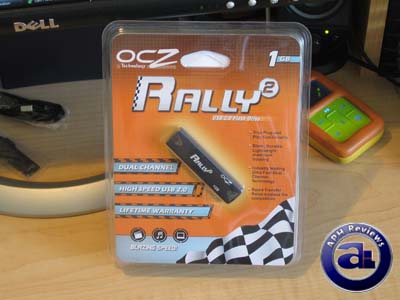 OCZ's standard orange color scheme blister packaging encloses the OCZ Rally2, as we've seen in their other flash products such as the OCZ Mini-Kart and OCZ 133x SD Memory. Large emphasis on 'Dual Channel' thumb drive was mentioned once more and OCZ's Lifetime Warranty label is advertised on its retail pack as well. Introduction to the product appears at the back of OCZ Rally2's packaging.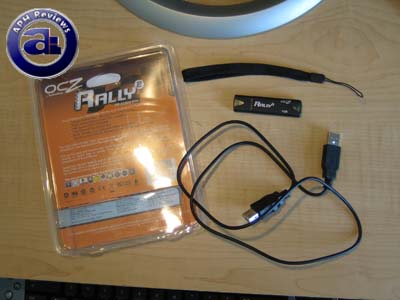 After using a box cutter to assist me in removing the packaging, there are several things in there that other products usually do not include. However, like its predecessor, the OCZ Rally2 comes with a USB extension cable in addition to a lanyard right out of the package (A driver CD for pre-Windows 2000 operating systems is also included, but you probably won't need it). Due to the design of the drive, attaching the lanyard on the OCZ Rally2 is much easier than to pull one through the OCZ Mini-Kart. On the other hand, the included lanyard will not allow you to pull your thumb drive around your neck, nor will it connect to your keychain -- the only purpose the lanyard serves is likely to be used around your wrist.
Judging by the photos on various sites as well as my first looks on the OCZ Rally2 really got me into believing it is made out of plastic. Last week, when I showed it to my parents, friends, as well as people in my Church, most people could have almost sworn it is made out of plastic as well -- so I am really not the only one. It begs to differ when you have actually touched the drive physically; in reality it is really aluminum. Better durability? Pretty sure, the drive is solid and light. But since it didn't make any durability claims, I am not going to run it over our vehicles like the SanDisk Cruzer Titanium U3 (Which by the way was a lot of fun).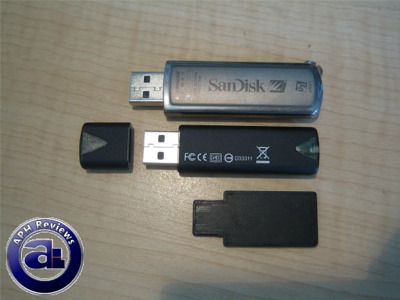 A size comparison and a back view with other USB flash drives. Starting from the top is SanDisk's Cruzer Titanium U3, OCZ Rally2, and at the bottom sits our ultra-slim OCZ Mini-Kart. The SanDisk Cruzer Titanium U3 has obviously larger dimensions than both OCZ drives, but features a retractable USB connector that's not seen in the OCZ Rally2. Unfortunately, the Rally2 still incorporates an older design of involving a cap -- giving the end-user major inconvenience for putting the cap on and off every time the drive is used. If your cap goes missing, there is only one included in the package, so you are likely to have to figure the rest out yourself.
Another thing I noticed about the OCZ Rally2 is that there is approximately half a centimeter gap between the USB connector tip and the end of the cap. I don't know why they left so much room there; because it can be easily taken out to make the drive shorter.
Moving back onto OCZ Rally2's physical aspects, I noticed that this product can finally be accurately described as a 'stick' -- unlike other USB 'sticks'. Its slim profile (As in 'not fat', as opposed to 'thick') comes in handy when you have a case such as Thermaltake Matrix VX with two front USB ports in parallel placed too close together. The width of this drive will only allocate as much room horizontally as the width of the USB port itself -- therefore will not affect other devices connected via USB.
---
The Tests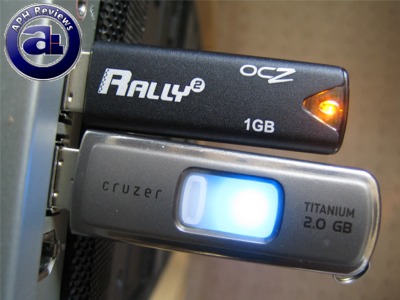 The Rally2 features an orange LED that blinks during disk activity. As you can see in the photo above, the Rally2's width is not much wider than the USB port itself, as opposed to the SanDisk Cruzer Titanium U3. Moving on, our benchmarks were completed on my 1337 pwnz0r computer:
AMD Athlon 64 3000+ S754 Newcastle @ Stock 2.00GHz (Cool & Quiet ENABLED)
Arctic Cooling Freezer64 Pro
Asus K8V-X Motherboard
Corsair 2x512MB, Single Channel, DDR400 @ 2.5-3-3-8
Western Digital 80GB 7200RPM 8MB Cache (NTFS)
ATI All-In-Wonder Radeon 9800 Pro
Arctic Cooling VGA Silencer Rev. 3 @ 2400 RPM
Creative Sound Blaster Audigy 2
Mitsumi 7-in-1 Flash & Floppy Reader
Pioneer DVR-108 Multiformat DVD Burner
Liteon 16x DVD Drive
Thermaltake Matrix VX
OCZ Modstream 450W PSU
Microsoft Windows XP Professional SP2
For reference purposes, we've used the following USB mass storage devices in our benchmarks:
- SanDisk Cruzer Mini 512MB
- OCZ Mini-Kart 1GB
- SimpleTech Portable Pininfarina 100GB
- OCZ Rally2 1GB
- SanDisk Cruzer Titanium U3 2GB
In our benchmarks, we used our standard test folder to calculate performance of the drives. Our test folder contains thirty additional folders inside. Inside the folders are 515 files; consisting of EXE, INI, DAT, BIN, DLL, ZIP, JPG, AVI and more. The total combined file size is 399 MB (418,666,235 bytes).
We also used a single 399 MB file (418,666,235 bytes) by adding the 515 files and 30 folders listed above to an uncompressed ZIP file for single file performance. Each test was ran at least twice to ensure accuracy.
Write means copying from the test file from our test system to the device.
Copy means to copy the file from the reference device to our test system.
Move means to move the file from the reference device to our test system.
The first series of tests are 515 files of write/copy/move. The total combined file size is 399 MB and contains a variety of different files, as mentioned earlier.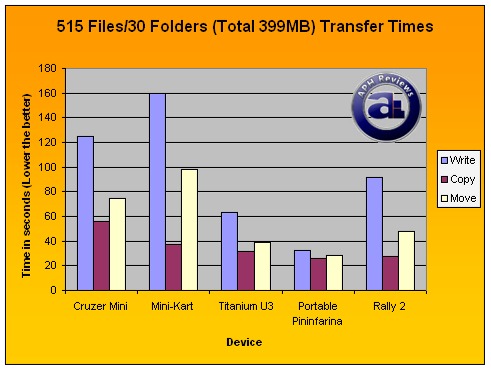 Time in seconds - LOWER the better.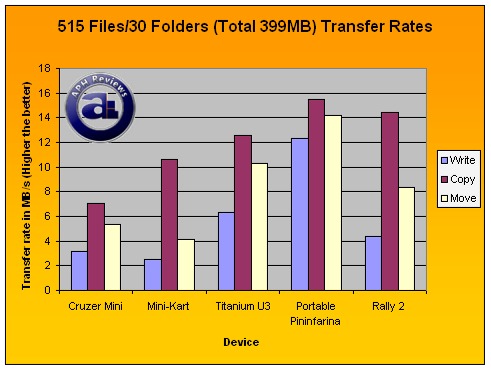 Transfer rate in MB/s - HIGHER the better.
In our multiple file write test, the hard drive based Portable Pininfarina holds a clear lead. However, when compared to other thumb drives, the dual-channel OCZ Rally2 didn't prove anything in terms of performance when compared to SanDisk Cruzer Titanium U3. Taking almost 50% more time at 91.97 seconds, the Titanium U3 has a clear lead for its 63.34 seconds score. This translates to 4.34 MB/s and 6.3 MB/s, respectively.
Moving onto our read tests, the OCZ Rally2 brings back a performance edge over the Titanium U3. With OCZ's Rally2 beating its closest competition by approximately 4 seconds, the Titanium U3 has a 12.57 MB/s read while the Rally2 has an impressive 14.42 MB/s score.
OCZ's Rally2 seems to be quite limited by its write speed, therefore scored lower on our multiple file move benchmark. The Titanium U3 has a lead for its 10.3 MB/s score and the Rally2 brings in its 8.36 MB/s onto our charts.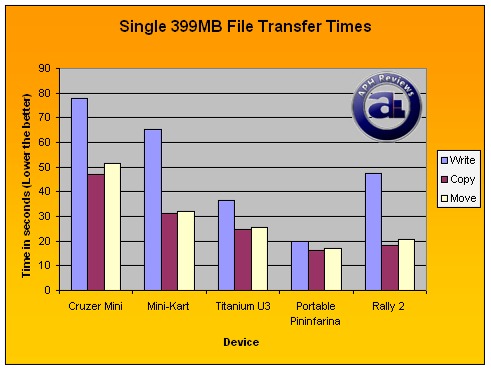 Time in seconds - LOWER the better.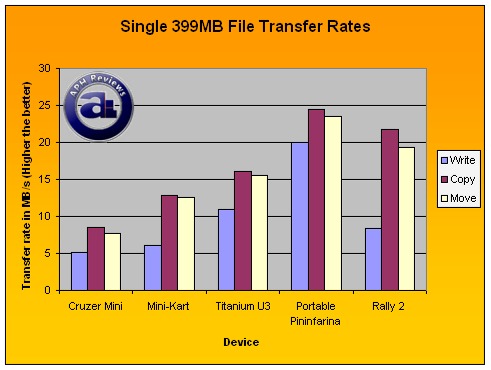 Transfer rate in MB/s - HIGHER the better.
Single file write test. Again, the SanDisk Cruzer Titanium U3 holds the lead with the Rally2 coming in close at second place. This gives us a 10.88 MB/s write performance for the Titanium U3 with the Rally2 trailing behind again at 8.39 MB/s for our single file write benchmark.
When it comes to our single file read test, the OCZ Rally2 brings back its performance crown in file read performance once more. This means a 16.1 MB/s score for the Titanium U3 with OCZ Rally2's impressive transfer rate in our benchmark with a 21.81 MB/s score.
With less limitation on its write speed, the OCZ Rally2 holds a second performance lead over the SanDisk Cruzer Titanium U3. The OCZ Rally2 brings a clear performance lead at 19.31 MB/s and the Titanium U3 trailing behind at 15.6 MB/s file move speed.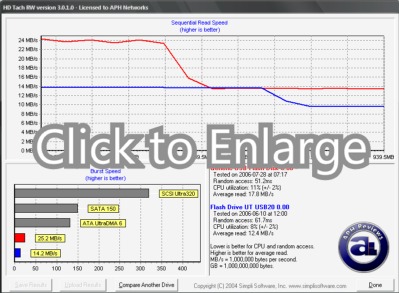 The red line shows OCZ Rally2's read performance while the blue line indicates our OCZ Mini-Kart results. Running at a top speed of over 24 MB/s read speed at certain points, it really slowed down near the end, giving it an average of 17.8 MB/s read speed according to HDTach. This is still a very impressive result, but once again its less than spectacular 51.2ms random access is not very acceptable for a USB thumb drive as we've complained about in our OCZ Mini-Kart review. The Mini-Kart's random access time is 61.7ms.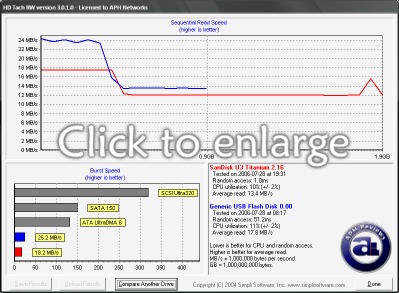 When compared to the SanDisk Cruzer Titanium U3 (Where the red line is the Titanium U3 and the blue line represents OCZ's Rally2), the Rally2 has a clear performance lead but held back by its relatively large drop in the middle. At 17.8 MB/s average read speed, it is definitely better than the Titanium U3's 13.4 MB/s score (Which is still really good). Once again, we must complain OCZ Rally2's 51.2ms random access, since the Titanium U3 has a truly more superior result with 1.0ms random access time hitting our charts.
Without much doubt, the OCZ Rally2 evokes many similarities to the OCZ Mini-Kart. Characteristics include incredible read performance but relatively lower write speed. A big hint is given away by both product's high latency random access -- without cracking open the Rally2's case, it probably uses USBest's UT161 flash memory controller as well. From USBest's site:

UT161 is an Advanced Hi-speed USB Flash Disk Controller intended for supporting Flash memory device and pin-to-pin compatible with UT168/UT166. It provides enhanced performance at 24MB/s for Read access and 17MB/s for Write Access, and supports comprehensive Flash technologies, including Single Level Cell (SLC) and Multi-Level Cell (MLC) NAND Flash, NROM and AG-ANG Flash memory. It allows the manufacturer to improve device performance and maximize flexibility in flash decision.
UT161 is a highly integrated single chip for USB2.0 Flash Disk controller, it integrates in-house USB2.0 Transceiver Macrocell Interface (UTMI), the Serial Interface Engine (SIE), 8032 compatible 8-bit micro-controller and voltage regulators. The highly integration reduces overall cost by minimizing component amount. Employed leading 0.18um CMOS technology, UT161 consumes less power thus operates at lowest temperature than all other competitors. UT161 is the most cost and power efficient solution for manufacture.

And from the same page:

USB Interface
- High-speed USB 2.0 interface; backward compatible with USB 1.1
- Integrated USB 2.0 Transceiver Macrocell Interface (UTMI) and Serial Interface Engine (SIE)
Flash Interface
- Supports SLC/MLC NAND Flashes, AG-AND Flashes and NROM Flashes
- Dual-channel mode support to achieve better performance
- Supports up to 8 Flash Banks; Flash Disk capacity from 16MB to 4GB
- Integrated ECC circuits for 4-bit error correction
High speed at data transfer rate
- Dual-channel mode: 24MB/s for Read, 17MB/s for Write
- Single-channel mode: 13MB/s for Read, 9MB/s for Write
8032 8-bit Micro-controller with enhanced feature
Auto-Run Function
Write-protect switch for security
LED indicator to show access status
Integrated voltage regulators to reduce BOM cost
Disk partitions and password check for security disk
PC boot up as USB Zip Disk and USB Hard Disk
Customized VID/PID and Serial number
Leading 0.18um CMOS technology
48-pin/64-pin TQFP 7mm x 7mm package
Windows, Mac and Linux compatible

Take a look at the specifications, you'll see what I mean. The difference in terms of implementation is that the Rally2 takes advantage of the flash controller's dual channel capabilities while OCZ Mini-Kart uses a single channel design.
---
After going through different aspects of OCZ's Rally2, overall I can say is that it not as revolutionary as its predecessor. Maybe this is due to the fact of overall drive performance improvement in the market lately, but OCZ definitely could have improved this drive in several different areas. First of all, they could have been more innovative than to use a cap for USB connector protection, simply due to the fact that caps are easy to lose and inconvenient to a certain extent. Write speed and random access have a lot of room for improvement. On the other hand, this drive has good looks and feels solid, thanks to its aluminum casing. Read speed is incredible, and best of all, it comes at a price most people are definitely willing to pay. One might argue that the SanDisk Cruzer Titanium U3 comes down to a very competitive price when retailers have it on specials -- so if that happens, I would recommend that particular drive over the Rally2 for various reasons as I've mentioned in both reviews. Otherwise, if you are looking for a good and sleek looking drive with still decent performance at an all-the-time affordable price, the Rally2 may be the drive you are looking for.
Special thanks to Andy over at OCZ for making this review possible.
Note: The number ratings below has been adjusted accordingly to comply with our new Number Rating System.
Rating: 7/10
What do these ratings mean?
Sleek and good looking thumb drive at an incredible price, but USB connector protection could be replaced by something other than a cap. Write speed and random access time has room for improvement as well.