By: Jonathan Kwan
December 16, 2006
As obvious as it may seem, RAM is quite an essential component in every day computing. Besides the primary purpose of exchanging and temporarily storing data, performance is the second consideration besides quantity. Of course, price is another important contributing factor -- if you are into speed and overclocking, you are more likely to pay more for better memory. For others, running at stock speeds is sufficient most of the time -- so why not consider lower priced value RAM kits? On the other hand, if you are reading this review, I could almost assume that a lot of us have more or less a good passion for computers and technology. Otherwise known as 'enthusiasts', let's give the Buffalo Firestix a try and see how these enthusiast grade memory will suit enthusiast demands.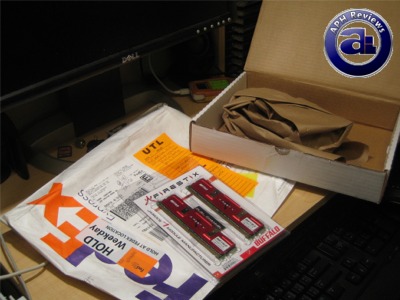 Our review unit of Buffalo's Firestix came in a FedEx Express package with a tightly packed cardboard box inside. There were some hold ups, but I must compliment FedEx for excellent communication with me for notifying me of any updates as well as keeping everything organized and logged. And of course Buffalo for getting everything solved so quickly so we can run our tests right on time.
The retail packaging of Buffalo's Firestix consists primarily of a white, black and red color scheme. As a standard for RAM packaging as I've personally seen with products from other manufacturers such as OCZ and Corsair, it is easy to open as it is "sealed" only by friction and not melted together and what's inside can easily be removed and put into action. The back of the packaging contained little technical information; but instead a simple paragraph style description.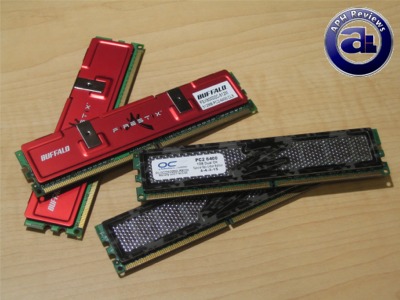 At the top is our red Buffalo Firestix PC6400/DDR2-800 (400MHz actual clock) 2x512MB RAM; whereas right below it is OCZ Special Ops Edition Urban Elite PC6400 2x1GB RAM set. We were expecting a 2x1GB dual channel kit for comparison, but since what we received is an 2x512MB set we will continue our tests as planned. Because our tests are highly dependent on performance and not capacity, it should have no effect on our benchmark and ratings.
The Buffalo Firestix is covered by a red heatsink with Buffalo's logo and the Firestix brand. The symbol behind the word means 'fire' (Character wise for this one means the same for both Chinese and Japanese). As claimed by Buffalo, it is held to the RAM module by a special adhesive which is supposed to increase thermal transfer ability.
A label showing model number and capacity with CAS latency is shown. Specifications as listed below, as obtained from Buffalo's site:
Buffalo Part Number: FSX800D2C-K1G
Latencies: 5-5-5-15 (CAS-TRCD-TRP-TRAS)
Voltage: 2.1V
The default voltage is pretty high, in my opinion. As the OCZ Special Ops Edition Urban Elite PC6400 2x1GB runs at 1.9V to 2.1V, the Buffalo Firestix starts off at 2.1V already. On the other hand, I heard users with an older BIOS on their motherboard boots off at 1.8V without problems, and can be flashed later. This is likely due to Micron's D9GMH ICs are designed to work at 1.8V at DDR2-667 -- but Buffalo has its specifications at DDR2-800, so it is factory specifications already includes part of the overclocking. We'll go over this right after the tests.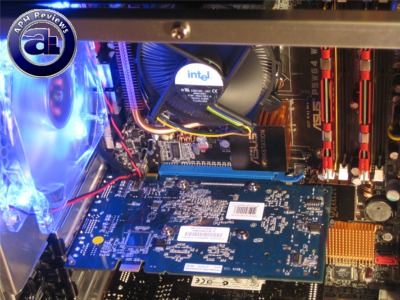 Before we move on, all tests were conducted on system with the following specifications. For all standard performance ratings (Non-overclocking), all components will be ran at default/stock settings for maximum accuracy. If results are within a few percent of each other, the performance will generally be the same as there is an error margin.
CPU: Intel Core 2 Duo E6300 (1.86GHz Dual Core)
Motherboard: Asus P5W64-WS Professional (i975X)
Graphics: BFG GeForce 7600GT OC 256MB
Power Supply: Tagan TurboJet 1100W
Case: Thermaltake Aguila (1x120mm LED, 1x120mm standard)
Storage: Seagate 7200.10 320GB 16MB Cache SATA2
Optical: NEC AD-7170A 18X DVD+/-RW
Sound: Creative X-Fi XtremeMusic
OS: Microsoft Windows XP Professional SP2
Comparison memory:
- OCZ Special Ops Edition Urban Elite PC6400 @ 4-4-3-15 Dual Channel
- Buffalo Firestix PC6400 @ 5-5-5-15 Dual Channel
Again, all components including RAM are ran at stock latencies and voltages.
---
Page Index
1. Introduction, Packaging, Specifications, Test System
2.
Benchmarks
3.
Overclocking and Conclusion