Page 3 - Overclocking and Conclusion
The memory chips on the Buffalo Firestix are Micron D9GMH ICs, in which Micron D9GMH chips itself are designed to run at nice timings, voltages, as well as overclockability. On Micron's site, the following information was provided in regards to the D9GMH:
Density: 512MB
RoHS: Yes
Depth: 64MB
Width: x8
Voltage: 1.8V
Package: FBGA
Pin Count: 60-ball
Clock Rate: 333 MHz
Cycle Time: 3ns
Op. Temp.: 0C to +85C
CL: CL = 5
Data Rate: DDR2-667
Running at DDR2-667 at 1.8V by default, it means that the Buffalo Firestix PC6400 2x512MB kit is overclocked to DDR2-800 right out of the box -- hence the high 2.1V voltage requirement. It's not an odd thing to do by manufacturers; the question is how much more can this kit overclock? Let's find out the maximum stable timings frequency we can achieve.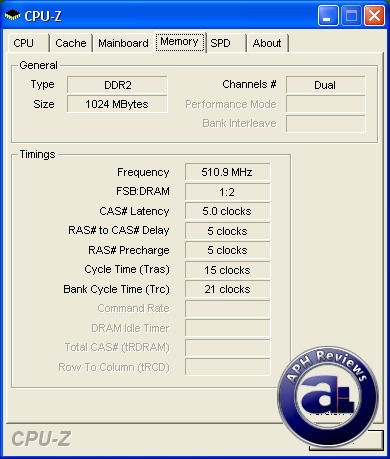 Since it runs at 2.1V by Buffalo's specifications, I overvolted it slightly to 2.2V and was actually able to achieve 510MHz (DDR2-1020). After hours of various memory tests, I can confirm that my set can reach this speed stably. I set my CPU's front side bus to run at half the speed of the RAM to make sure my CPU is not limiting the overclock. I can't go any higher than 510MHz without getting errors though. This is stock latencies at 5-5-5-15; it seems loosening the timings helped little (At least on my set). This is quite an impressive overclock though, as the Micron D9GMH ICs really never ceases to impress.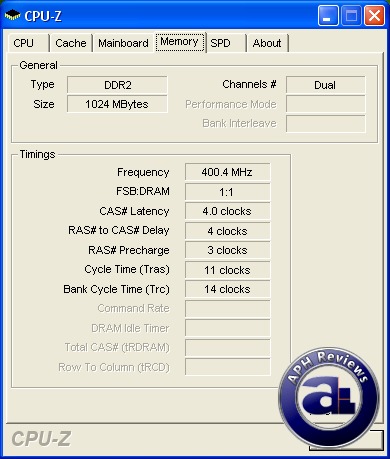 Since the set of RAM overclocks that well, at the same voltage I attempted to see what kind of latencies are possible at stock speed of DDR2-800 (400MHz). I cannot say I was disappointed when it did not run properly at 3-3-3-9, it's quite an expectation from me (haha). On the other hand, 4-4-3-11 booted up perfectly fine -- and after hours of various memory verification tests, I can confirm my set was perfectly stable at these timings. Not bad at all.
---
Nice looking RAM -- quite unique red heatspreader with white printed text, in my opinion. At manufacturer's stock specifications, I can say that the performance is not very competitive at all. However, what really sets the Buffalo Firestix above the competition is its impressive ability at running beyond manufacturer specifications. The lowest latency I was able to achieve with my kit was 4-4-3-11; while at stock latencies of 5-5-5-15 the Buffalo Firestix ran comfortably at 510MHz from 400MHz with absolutely no issues at all. The Micron D9GMHs are excellent memory chips -- and that makes the Buffalo Firestix an impressive RAM kit as well. The only problem -- and quite a significant one -- that I can see so far is that Buffalo's Firestix aren't readily available in countries such as Canada. What's more, checking major online retailers in the USA, it seems that not many of them carry this product; in addition to that, there's nothing more beyond the 1GB set despite the fact that the company sells 2GB kits as well according to their site. Since 2GB (2x1GB) is pretty much the enthusiast standard nowadays, the availability is quite a concern as it is hard to meet enthusiast requirements. In conclusion, I can confidently say this is really great RAM for your money. Assuming you can find a set at the capacity you want, that is.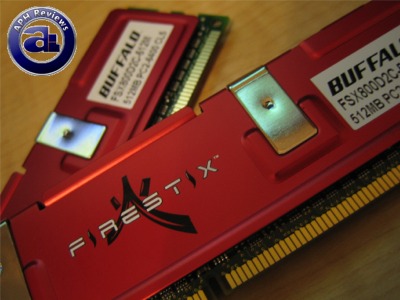 Speical thanks to Kelly representing Buffalo for making this review possible.
Rating: 7/10
- The rating 7/10 means "Great product with many advantages and certain insignificant drawbacks; but should be considered before purchasing".
- More information in our Review Focus.
This rating is a hard one to give, since normally we don't have anything that directly addresses the factor of limited availability. To be honest, I just could not give a 6 for this matter (Interestingly, that is the average APH rating in general -- we know we are hard markers ourselves). It really deserves better than 7 -- but in reality, 7 is still a great mark by APH standards; because Buffalo's Firestix is no doubt great RAM and overclocks very well. I would really like to emphasize that if you can find a set at the capacity you want, and the price is right, the Buffalo Firestix would give you a lot of fun in overclocking.
Do you have any comments or questions about the Buffalo Firestix PC6400 2x512MB? Drop by our Forums. Registration is free, and it only takes a minute!
---
Page Index
1.
Introduction, Packaging, Specifications, Test System
2.
Benchmarks
3. Overclocking and Conclusion