By: Jonathan Kwan
November 2, 2018
If there is one thing I have learned over the years in standing out from the crowd, there are good ways to stand out and there are bad ways to stand out. Let me explain it to you with a real estate analogy. Say you are house shopping and you come across a designer place with all the latest craze like 10-foot ceilings, granite countertops, recessed LED down lights, and a staircase with glass railings. Then you come across another dwelling with a neon green garage door, fairy floss pink walls, swimming pool in the middle of the living room, and strange drawings on the floor. Both houses will probably stand out among the crowd of your average 2,000 square foot detached suburban home in North America, but you remember them for probably very different reasons. The first example stands out in a good way being the kind of the house you want to buy, while the second one likely got a few laughs as you whip out your cell phone to post up an example of "strange design choices" on Instagram. The general principle is you want to be remembered for being really good at the things most people want, and not stick out in aspects only few can appreciate. In the power supply world, it is hard to stick out in a good way. Even if you were to deliver matchless performance in every meaningful metric like the renowned Seasonic PRIME Ultra Titanium 850W, at the end of the day, even the most hardcore enthusiast will not be able to tell the difference in day-to-day use. So NZXT decided to take a different route. The NZXT E850 850W promises "digital voltage and temperature monitoring for precise, real-time information about your PSU, including uptime, wattage by rail, and temperature" via the company's excellent CAM software. Is this a PSU that stands out from the crowd for all the right reasons? Is it still good at what it is supposed to be good at? Read on to find out!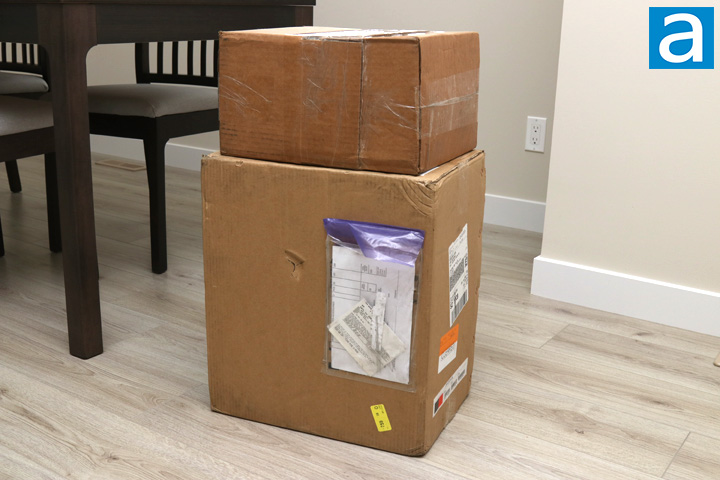 Our review unit of the NZXT E850 850W arrived in a medium-sized brown corrugated cardboard box from the company's American headquarters in City of Industry, California, USA. Traveling with the E850 was the NZXT H200i, which my colleague Aaron Lai recently reviewed. Using FedEx International 2day, our E850 arrived in excellent condition for our review here in Calgary, Alberta, Canada.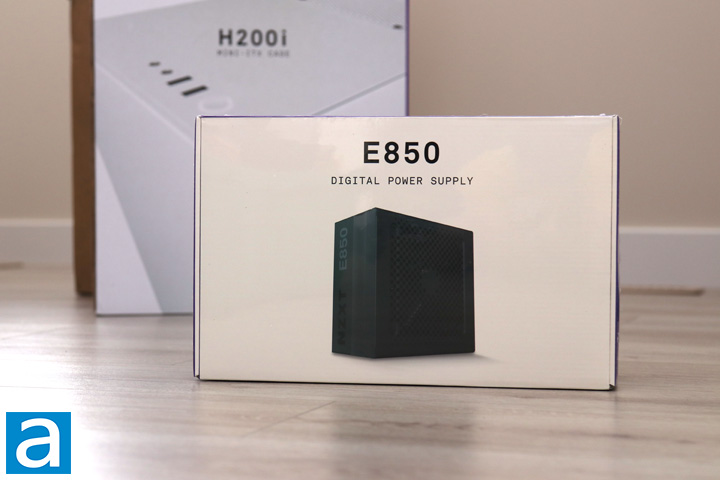 Inside the shipping box is the NZXT E850 850W's retail box. It has been a long time since I reviewed an NZXT power supply here at APH Networks, but consistent with the company's cases, the E850's retail box design continues to be at the forefront of clean, modern, and stylish packaging we have come to expect from NZXT. The Apple-esque layout features a predominantly purple and white color scheme NZXT fans should be familiar with. On one side, we have a close-up three-quarter view of the E850, with the only text present being "E850 Digital Power Supply", as shown in our photo above. The other sides have a little more detail in presentation, which you will find more photos, feature highlights, and specifications.
Before we move on, let us take a look at the specifications of the NZXT E850 850W, as obtained from the manufacturer's website:
Dimensions: 150 x 150 x 86 mm
Material(s): Steel, PCB and plastic
Compliance Standard: ATX12V v2.4 / EPS12V v2.92
PF Correction: Active@0.99
AC Input Rating: 100-240Vac, 12-6A, 50-60Hz
DC Output Rating:
Fan Specs: Dimensions: 120 x 120 x 25mm
Speed: 0-1,800 + 180 RPM
Airflow: 73.9 CFM
Noise: 32.3 dBA
Bearing: FDB (Fluid Dynamic Bearing)
Hazardous Materials: RoHS & China RoHS
Energy Efficiency: 80 Plus Gold 20% loading: 87%, 50% loading: 90%, 100% loading: 87% @115Vac
Operation Temperature: 0 to 50°C
Regulations & Certifications (EMC & Safety): CB / CE / FCC / TUV / cTUV-SUDus / China CCC / Taiwan BSMI / Australia RCM / EAC
MTBF: 100,000 hours
Output Connector(s): 1 x 24-pin ATX power, 2 x 4+4-pin CPU power, 6 x PCIe (6+2 pin), 8 x SATA, 6 x Peripherals, 1 x Mini-USB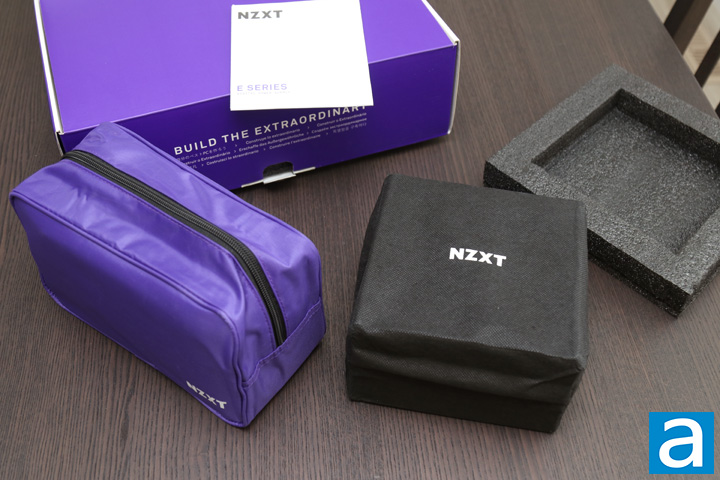 The NZXT E850 850W's retail packaging can be opened by a flap attached at the bottom. Upon opening the box, you will find everything neatly organized. The power supply is placed inside a nylon bag and securely clipped in by two foam brackets. Everything else is located inside a purple nylon zipper bag that looks like a big pencil case. Out of the box, you will receive the E850 850W power supply itself, modular cables, AC power cable, four screws, and a product manual. The bundle is very minimalist; you will not even find a Velcro strap or zip tie.
---
Page Index
1. Introduction, Packaging, Specifications
2.
Physical Look - Outside
3.
Physical Look - Inside
4.
Minor Tests and Conclusion