By: Jonathan Kwan
February 23, 2018
What better way is there to celebrate than to eat cake together with a group of friends? Recently, I was tasked with ordering one from Costco to commend the success of an event we ran on campus a few weeks ago. Since Costco allows you to fill out custom orders and write anything you want on the cake, some of the leaders suggested we inscribe it with the word "Yes". When time came for me to fill out the order form, I thought writing "Yes" was a little too mainstream. As such, I placed an order with the entry, "Yes!!!!!!!!!!!!" The next morning, I got a call from Costco's bakery department asking if I really wanted a cake with the word "Yes" on it. "Yes," I replied. "And I want every single exclamation mark that I put on the sheet, too." We got our hands on the cake later that afternoon, and it was exactly what I ordered: A chocolate cake with the word "Yes" on it along with all twelve exclamation marks I specified on the form. Now this is what I call customer service! Why all the exclamation marks, you ask? Clearly, the extra exclamation marks make it all the better. It is like saying "Yes", but better as it has more emphasis. A while ago, I looked at the Seasonic PRIME Titanium 850W, a product I said was "no doubt one of the best, if not the best, power supply in the market today". It seems to me Seasonic was not entirely satisfied with their success though. To make things even better, they released the Seasonic PRIME Ultra Titanium series. If adding twelve exclamation marks to a word on a cake makes it all the better, what about tacking on the word "ultra" to the product name? Read on to find out!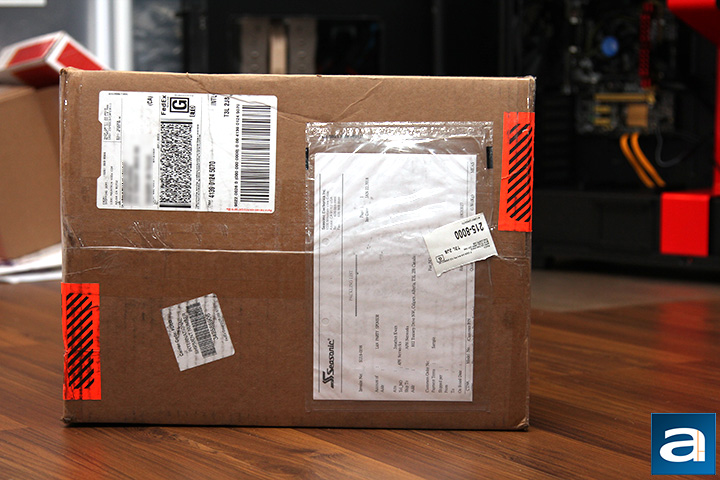 I would say it has not been a long time since I have reviewed the Seasonic PRIME Titanium 850W, but much to my surprise, it has been almost a year now -- how time flew by. As it was in the past, our review unit of the Seasonic PRIME Ultra Titanium 850W came in a medium sized, brown corrugated cardboard box from the company's American headquarters in Azusa, California, USA using FedEx Ground. We have been trying to our hands on this since September of last year, and alas, the company's latest flagship is finally in our hands here in Calgary, Alberta, Canada today.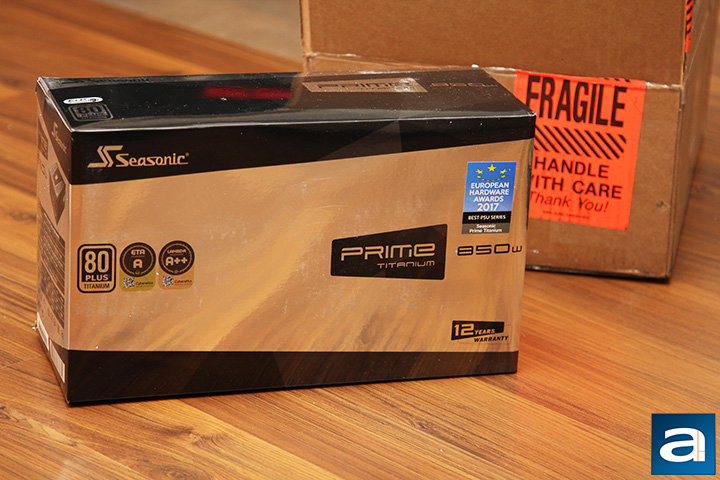 In my Seasonic PRIME Titanium 850W review, I said it is a rare occasion a computer component manufacturer makes a retail box that can be considered stylish, but Seasonic has done a really good job at making this happen. The PRIME Ultra Titanium 850W uses an almost identical design; so much that I got worried they sent us the wrong unit. Why? Because nowhere does it say the word "Ultra" -- the box design and branding has not changed at all, save for the satin silver swapped for a highly reflective silver finish. If we look at the specifications, both product lines are practically identical; I will point out the changes in the Ultra series throughout this article. The otherwise ubiquitous black and silver color scheme of the box is made unique by the use of geometric shapes, as shown in our photo above. The box art is clean in appearance, and it gets the message across very well. At the top left corner, we can see Seasonic's logo, while an 80 Plus Titanium badge can be see along the western edge along with a couple of extra badges. On the opposite end, the company's PRIME Titanium branding -- notice it does not say "Ultra" anywhere, as mentioned earlier -- and 850W model designation is present. The box suggests this power supply comes with a very generous twelve-year warranty at the bottom right corner. Feature highlights and specifications can be found on the remaining sides of the box.
Before we move on, let us take a look at the specifications of the Seasonic PRIME Ultra Titanium 850W, as obtained from the manufacturer's website:
80 PLUS®: Titanium
Form Factor: Intel ATX 12 V
Dimensions: 170mm (L) x 150mm (W) x 86mm (H) +/-1 mm
Fan Information:
- Fan Size: 135 mm
- Fan Control: Premium Hybrid Fan Control
- Fan Bearing: Fluid Dynamic Bearing
- Life Expectancy: 50,000 hours at 40 °C, 15 % - 65 % RH
Cable Information:
- Modularity: Fully Modular
- Cable type: Flat black cables
Electrical Features:
- Operating Temperature: 0 - 50 °C (derating from 100% to 80% from 40 °C to 50 °C)
- MTBF @ 25 °C, excl. fan: 150,000 hours
- AC Input: Full Range
- Protection: OPP, OVP, UVP, OCP, OTP, SCP
Safety and Environmental:
- Safety and EMC: cTUVus, TUV, CB, CCC, BSMI, EAC, CE
- Environmental Compliance: Energy Star, RoHS, WEEE, ErP Lot 6, REACH
Warranty: 12 Years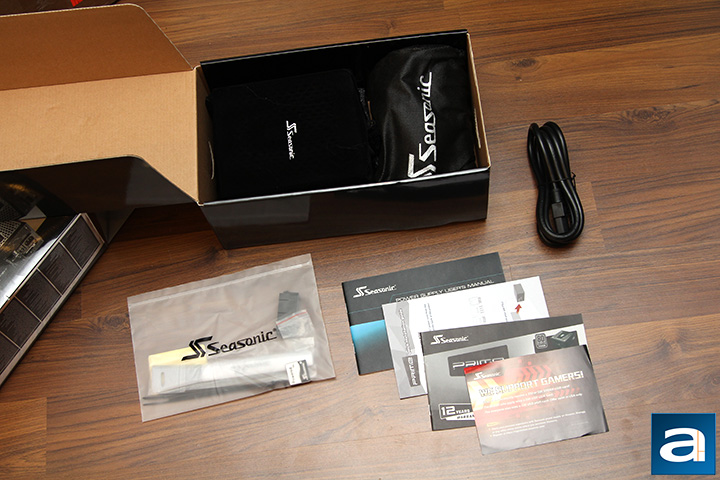 The Seasonic PRIME Ultra Titanium 850W's retail packaging can be opened by a flap attached on the right. Upon opening the box, you will find everything neatly organized. The power supply is located inside a drawstring suede bag on the right, cables in a nylon bag on the left, and everything else inside a resealable translucent plastic bag. Out of the box, you will receive the PRIME Ultra Titanium 850W power supply itself, modular cables, AC power cable, power supply jump starter, Velcro straps, zip ties, four screws, case badge, sticker, and a manual. The power supply jump starter is something the non-Ultra model did not come with. Everything is presented well and appropriate for a flagship PSU.
---
Page Index
1. Introduction, Packaging, Specifications
2.
Physical Look - Outside
3.
Physical Look - Inside
4.
Minor Tests and Conclusion