By: Jonathan Kwan
December 31, 2010
Okay, here we go: Last in-house article of the year. Just when you thought you just got used to writing '2010', it is time to update our brain calendar and practice writing '2011' starting... well, tomorrow. For those who were dreaming of a white Christmas and didn't get any (Which is really not the case for me, because we get that a little too often here in Canada -- of course, other than the igloos we live in, and polar bears we ride on a daily basis), in yours truly's personal opinion, the next best thing is a white power supply. Yeah yeah, call out for a lame introduction. But the point is, NZXT's HALE90 is really one of a kind. When I loaded up the company's website a short while ago, the moment I saw the NZXT HALE90's photo on their front page, I knew I just had to get my hands on this for my next main computer refresh. Since 2006, I have used a variety of Seasonic power supplies exclusively for my primary system, mainly because of their excellent performance, impeccable reliability, near silent operation, and top notch efficiency. And all four attributes are just as important as the next. This is where the NZXT HALE90 comes into the picture. Other than receiving excellent reviews from reputable websites that demonstrates this product's high load performance, 80 Plus Gold certification, large 140mm fan (Without actually using it, my best guess is that it would be acoustically silent, in which we will cover later in this report), the company adds one more thing to push everyone else aside: Looks. Unlike traditional matte black power supply units, this one has a sleek white painted exterior. But what makes NZXT's HALE90 so great beyond the surface? We cracked open a 750W example open to take a look at the hardware under the hood.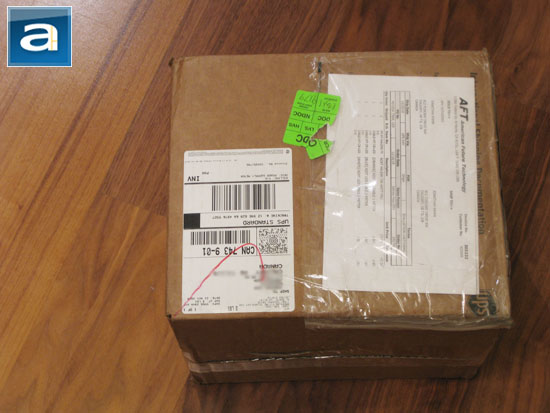 Our evaluation unit of NZXT's HALE90 750W power supply unit came in a medium sized brown corrugated cardboard box using UPS Standard from American Future Technology's offices in California, USA. Everything was handled in excellent condition all the way to our doorstep here at Calgary, Alberta, Canada. Included inside is the company's Sleeved LED Kit we have reviewed last week. You may have seen my installation of the HALE90 already, which has been shown in one of the demonstration photos in the review mentioned. If not, feel free to take a look -- it is actually quite stylish!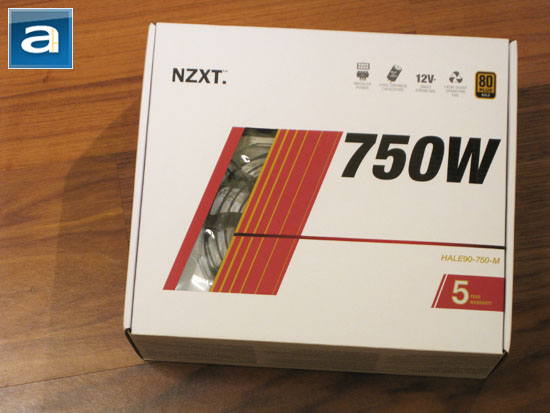 One of the most distinguishing features of NZXT's HALE90 power supply is its white colored enclosure -- and its packaging rightfully reflects that to the consumer. Our retail box features a clear white design with a small window near the middle to allow the end user to take a peek at the power supply itself; the window is surrounded by an array of red stripes to capture a potential retail customer's attention, as well as giving the retail package some style. Its maximum wattage specification is printed quite boldly across the front -- that is 750W in our particular case (The HALE90 is available from 550W up to 1000W). Other than that, NZXT's logo is found in the upper left corner, with five icons highlighting its modular power connectors , 100% Japanese capacitors, single 12V rail, 140mm fan, and 80 Plus Gold certification situated next to each other on the right. The NZXT HALE90 750W also comes with a 5-year warranty.
Before we move on, let us take a look at the specifications of this power supply, as obtained from the manufacturer's website:
- 80+ Gold certified: The HALE 90 series from NZXT operates at ultra high efficiency, at 20%, 50% and 100% loads, efficiencies are 87%, 90%, and 87% respectively.
- Single 140mm two ball-bearing fan operates with minimal noise even at full load. Maximum decibel levels are 20db for wattages between 550-750W and 30db for 850W and above.
- Strong Single Rail Design: A single +12V rail provides stability and ease of use making the most out of your power supply. Offers stable & clean current delivery under heavy load.
- Modular cable design: Modular cable design allows the user to pick and choose which cables they want to use, optimizing cable management and airflow inside the chassis. Flat cables allow for easier routing and bending inside the computer chassis during wire management.
- Hybrid LLC resonant Topology circuitry allows the HALE series to create highly efficient power supplies ranging from 550W-> 1000W.
- Full range Design from 100V – 250V with Active PFC.
- 100% Japanese Capacitors: High quality components for longer life time and better reliability.
- Latest CPU support for all the latest INTEL and AMD CPUs like Corei7, i5, AMD Phenom II X4, X3.
- Latest GPU support, ideal for latest DX11 GPUs and comes with 8pin and 8 (6+2) pin PCI-E connectors.
- Large tower support: The Hale Series of power supplies have extended 8pin CPU connectors for wire management in large cases which have PSUs mounted at the bottom.
- Compliance with ATX 12V v2.2, EPS 12V v2.91, and SSI EPS 12V v2.92 Specifications.
- Environmentally Responsible: Consuming less than 1W during shut off status Complies with the newest EuP (Energy-using Products) requirements and USA Energy star standards.
- Continuous Power: The HALE 90 series listed wattage is the continuous operating wattage.
- Keeping it safe: The HALE series offers over voltage, current, power, under voltage, and short circuit protection. The power supply will automatically shutdown to prevent any damage to your system or misuse.
- Warranty: 5 Years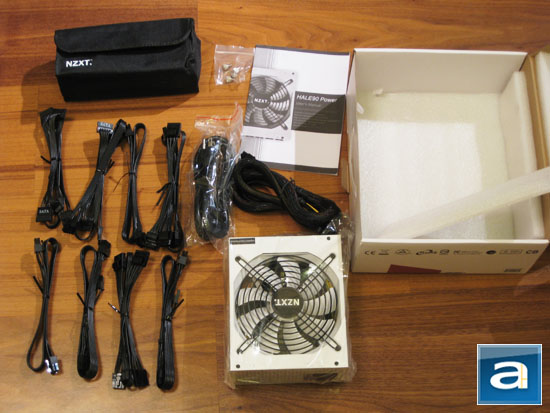 The retail box opens by a flap over the top. Between the foam padding sits the NZXT HALE90 750W power supply unit, Velcro bag with modular cables inside, four thumbscrews, power cable, and a user's manual. Everything is packaged very neatly in my opinion. One thing to note is that the modular cable configuration differs slightly than the 850W model where many websites received for reviewing; where eight are included out of the box, with only the motherboard connectors permanently affixed to the power supply. The following detachable cables are included:
- 2x Serial ATA chains (8 connectors in total)
- 2x Molex chains (7 connectors in total, plus 1 Floppy 4-pin)
- 2x PCI Express 6+2 pin
- 2x PCI Express 6 pin
---
Page Index
1. Introduction, Packaging, Specifications
2.
Physical Look - Outside
3.
Physical Look - Inside
4.
Minor Tests and Conclusion