Page 2 - A Close Look - Outside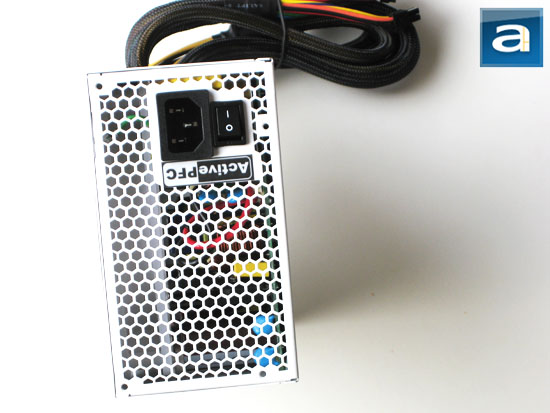 The NZXT HALE90 750W looks quite unique compared to other power supplies; as the usual matte black finish is now replaced with a sharp white coat of paint. I installed mine in a windowed chassis, and it looks extremely good in my personal opinion. My only complaint is that it messes up with my camera's white balance against my background, haha. Starting from the back part of the power supply, we have the same familiar honeycomb mesh design like most PSUs with bottom mounted fans; and the standard on/off switch located beneath the male connector for power input. The low resistance honeycomb mesh design is implemented to maximize airflow and minimize air resistance. This is done as heat needs to leave the power supply as easily and efficiently as possible, because the NZXT HALE90 750W incorporates only one 140mm fan at the bottom, with no side fans. As with most new power supplies, the NZXT HALE90 has an automatic full range (100V-240V) AC line voltage selection, so the user does not have to worry about manually selecting input voltage.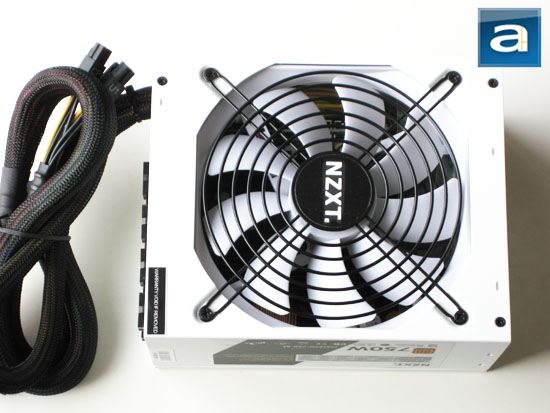 Residing behind the black colored eight-ring fan grille, again, designed for minimal air resistance while providing adequate protection -- is the primary and only cooling fan installed. The 140mm fan generates airflow by drawing air from the bottom of the power supply over its internal components to keep the temperatures in check. Exhaust heat is allowed to leave at the back of the power supply through the large mesh opening as aforementioned.
Measuring nearly 18.5cm in length, the NZXT HALE90 750W is one of the longest power supplies I have used. For most ATX or eATX chassis, the additional centimeters over a 'short' 14cm power supply like the Seasonic S12D 850W should not be much of a problem. However, if you have a mATX case that takes standard power supplies, be sure to measure out everything accordingly so there will be no surprises during installation. Meanwhile, four screws on each side of the HALE90 secure the power supply case together; where one side has a warranty seal on -- so you can't open the power supply without voiding the warranty. However, you can still remove four separate screws that attach the fan grille to the power supply casing to clean the fan without putting your five year coverage in jeopardy.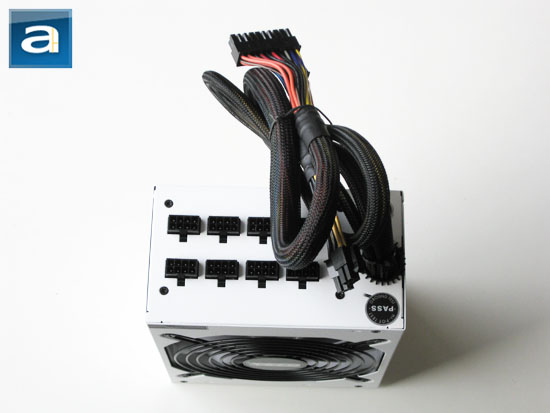 As we have mentioned this probably more than enough times by now, the NZXT HALE90's flat white finish breathes some new air into a world saturated with matte black power supplies. It's not attention grabbing in a bad way, but it is subtle yet makes its presence known at the same time. There is no need for LED lights either, and I like it for what it is. Since the HALE90 750W is modular, only two essential cables are fixed to the back. This includes an ATX 20+4 pin and an ATX/EPS 4+4 pin connector. You will always need them when running your computer (Unless you don't have a motherboard installed), so it makes perfect sense they are permanently attached.
An O-shaped opening on the right side of the power supply (From the angle above) provides lead out to the fixed cables. In a standard configuration, it makes clean cabling a little easier for the user since that side is closer to the inner panel of the chassis. The lead out is built cleanly, with all cables properly sleeved and strapped together. A 2x4 matrix of eight modular connectors adjacent to that are there to accommodate the detachable cables. All cables attach securely, but are also easy to remove when needed. Each plug is non-specific, so you can conveniently attach the ones you need in any order.
The external build quality of NZXT's HALE90 750W power supply is also excellent -- a good indication the company is serious about the product they are selling. We will take it apart in just a moment. Fit is done well with minimal panel gaps, and all edges are nicely finished off. The level of refinement with regards to the external build quality is right up there with all the Seasonic PSUs I have used in the past -- at least right up until this point. As aforementioned, we will crack open the power supply to see what's inside in the following section, and find out more about its OEM.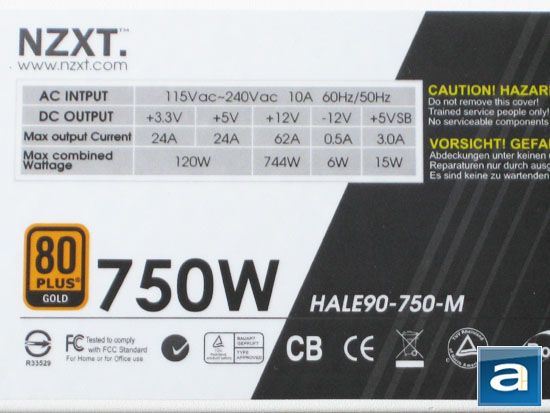 The voltage specification label on the side of the NZXT HALE90 750W. There are two virtual rails. Up to 24A can be delivered via the +3.3V rail for a total of 79.2W; while 24A on the +5V rail brings the output to 120W in this area. The total combined output for the +3.3V and +5V rail is also 120W. This means that your power allocation combination must fall within the limits of the listed specifications. Meanwhile, a single powerful +12V rail delivers up to 62A (744W) to reduce operating overhead compared to multiple +12V rails. Overall, the combined power output is... well, 750W haha. Again, your power distribution in your system must fall within the limits provided -- it must not exceed 79.2W on the +3.3V rail, 120W on the +5V rail and 120W combined for both, 744W on the +12V rail, and 750W combined between the +12V and +3.3/+5V rails. It does sound a bit confusing to understand how this works at first, but generally speaking this configuration allows very flexible power demands and should be sufficient to accommodate most users and about what you would expect from a 750W power supply unit.
The NZXT HALE90 750W is 80 Plus Gold certified, which means that it is certified to be at least 87%, 90%, 87% efficient at 20%, 50%, and 100% load, respectively. The only higher certification available is 80 Plus Platinum, but availability of such a product is practically non-existent at press time.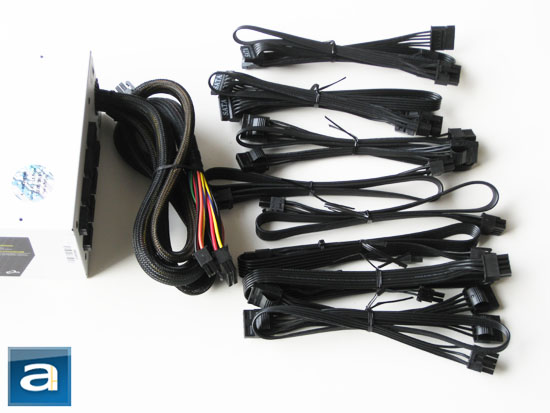 Eight modular cables are included out of the box. All the fixed one are 55cm long; which should be more than enough for computer cases with bottom mounted power supplies. I have experienced absolutely no length problems when wiring up my Cooler Master 690 II Advanced NVIDIA Edition chassis using the NZXT HALE90 750W. As mentioned on the previous page, the following cables are included:
- 2x Serial ATA chains (8 connectors in total)
- 2x Molex chains (7 connectors in total, plus 1 Floppy 4-pin)
- 2x PCI Express 6+2 pin
- 2x PCI Express 6 pin
All cables are black, made in a flat configuration rather than the usual round batch with a sleeve over the top. They are reasonably flexible and are easy to work with. All modular cables are 18 AWG, with the exception of the ones that connect to your motherboard, which are thicker 16 AWG units.
---
Page Index
1.
Introduction, Packaging, Specifications
2. Physical Look - Outside
3.
Physical Look - Inside
4.
Minor Tests and Conclusion