By: Jonathan Kwan
December 19, 2009
Seasonic power supplies have been favorites amongst APH Networks editors for quite a while now. Every Seasonic power supply is made to deliver absolutely flawless power in a reliable manner to every component in the system, designed with near-flawless engineering implementation, has unsurpassed quality in almost every component used, and with a level of refinement that's simply unmatched by any other manufacturer. Not only that -- Seasonic also designs power supplies that are also one of the most efficient and quietest around. For these reasons and beyond, it's definitely no surprise why so many enthusiasts -- us included -- embrace Seasonic as their power supply of choice. However, they have always had one problem: Seasonic PSUs in the past have always been relatively modest in terms of power output rating. While the Seasonic M12II 500W we wrote about in mid-2008 is beyond capable of powering my overclocked Core 2 Extreme QX9650 machine back in the days, and an average computer uses no more than 300W under full load (No joke), there are always those people with a series of extremely power hungry components who require power output beyond that of an average user. If you are in that situation and want Tier-1 Seasonic units, you're pretty much out of luck. But times have changed. With the release of the Seasonic M12D 750W and 850W power supplies late last year, the company promises to deliver higher power output products, while retaining the traits that defined their presence in so many enthusiast's hearts. Earlier this year, the M/D-series power supplies were complimented by the release of the S/D-series -- the non-modular version of its M/D-series counterpart at a reduced cost. Will the S12D continue the tradition of Seasonic's excellent products? We cracked open the 850W model today to find out for you.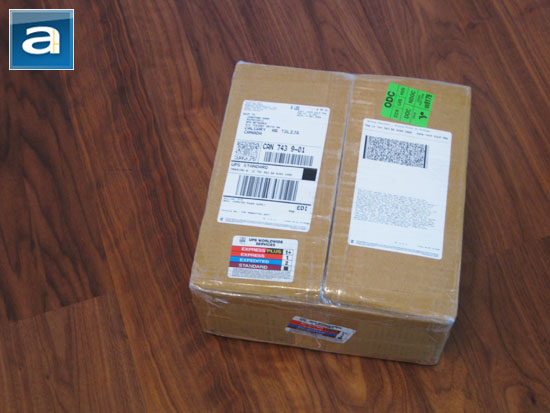 Our review unit of the Seasonic S12D 850W power supply came in a small, brown corrugated cardboard box from Seasonic's American offices. Using UPS Standard, everything arrived in commendable condition. Interestingly, when I fired up my web browser to check on the status of this shipment on the day our Seasonic S12D was scheduled for arrival, it was marked as 'Delivered' on the UPS tracking page. Location was marked as 'MET CUST WOM'. At first, I was like, "What the heck is 'MET CUST WOM'?" A quick Google search shows that this note indicates the UPS driver met the customer in person for delivery; who happen to be female. A bit confused about what the heck is going on, I walked away from my computer and noticed there were two packages (The other package being a Cooler Master product another review) conveniently placed at our doorstep. I don't recall UPS knocking on the door, or meeting a female customer for that matter, earlier that morning. Nevertheless, it was safe in our hands for review after I brushed off some renowned Canadian snow -- you know, the stuff typically used for building igloos, or stepped on by the polar bears that live next door.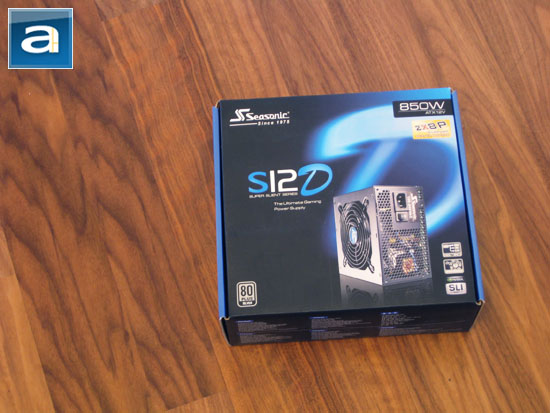 Seasonic's retail box design for the S12D-series of power supplies maintains the stylistic elements of the company's power supply products in the past. The relatively compact corrugated cardboard box is composed mainly of a black and fluorescent teal color scheme; a photo of the Seasonic S12D itself resides prominently on a 'glass' surface in front. Seasonic's logo is placed at the top left corner, whereas its power rating is located at the opposing side. Our particular unit is the 850W version as shown in the photo above; however a 750W model is available as well. Its "S12D" badge is promoted prominently in front as well; a large florescent brushed teal 'D' occupies the space behind for a stylish and modern retail box design. Features, certifications, and performance information is printed on various remaining sides of the package.
Before we move on, let's take a look at the listed feature highlights of the Seasonic S12D power supply, as obtained from the manufacturer's website:
- Super High Efficiency [up 90%]
- DC to DC Converter Design
- Tight Voltage Regulation
- Highly Reliable 105℃ Japanese Brand Capacitor
- Solid Caps on +12Vs
- Active Power Factor Correction [99% PF Typical]
- Dual Sided PCB Layout
- San Ace Silent Fan [SANYO DENKI]
- Smart & Silent Fan Control [S2 FC]
- Ultra Ventilation [Honeycomb Structure]
- Multi-GPU Technologies Supported
- All-in-One DC Cabling Design
- Universal AC Input
- Patented Easy Swap Connector
- 5 Year Warranty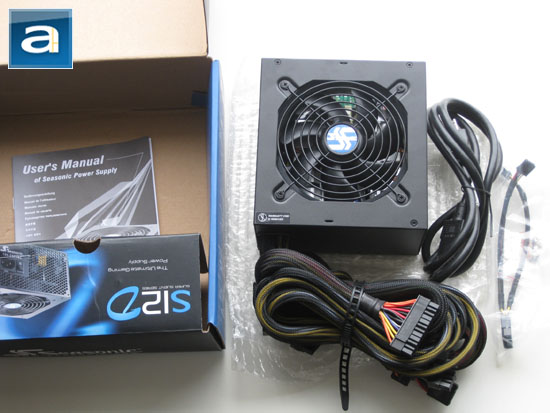 Out of the box, you will receive the following:
- 1x Seasonic S12D 850W power supply
- 1x Power cable
- 1x Single Molex to double FDD power adapter
- 4x Mounting screws
- 1x Seasonic case badge
- 1x User manual
Everything you need is included -- with no real excess. It's quite a good thing to keep the Seasonic S12D 850W at a very reasonable $120 USD retail (Approximate) at press time. It's nice to see a high powered, Tier-1 Seasonic high performance power supply for that price!
---
Page Index
1. Introduction, Packaging, Specifications
2.
Physical Look - Outside
3.
Physical Look - Inside
4.
Minor Tests and Conclusion