By: Kenneth Kwok
October 14, 2011
It is hard to believe it is already mid-October already. It seems not too long ago we were all enjoying the sunshine and days off -- at least that is how I feel here at APH Networks Vancouver, with the weather slowly becoming the usual colder, darker and filled with rain (As most Vancouverites has come to expect at this time of the year, anyway). Although if there is a good thing to take out of this weather, it would be the time spent inside. For me, I may finally have some time to write a review, do some work, and in general, spend more time in front of my computer. So for all those who will be spending more time in front of your computer like yours truly, there is one crucial component in a system that are often overlooked, and that is the power supply. A few months ago, we have covered the OCZ ZX Series 850W; OCZ's flagship performance PSU. Today, we will be diving deeper into a product from the other end of the spectrum, and that is the OCZ ZS Series 550W -- a more budget friendly power supply for enthusiasts who are looking for reliability and performance on budget. Nowadays, you can get a good quality power supply from a reputable manufacturer for $50-60, so why cheap out on the part that keeps the life of your computer going? Without further delay, let's dig right into our report, and check out all the juicy details to see if this product is right for the task.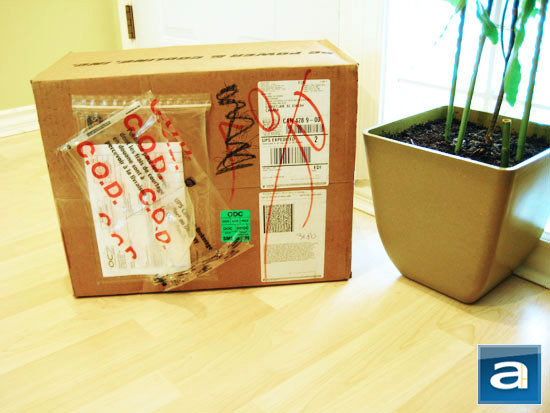 Our review unit of the OCZ ZS Series 550W power supply arrived in an oversized brown corrugated cardboard box from OCZ's American office in California, USA. UPS Standard was the shipping method used to deliver the package to us here in Vancouver, British Columbia. It took some time for me to actually get my hands on the package, since I wasn't available to receive it up for the first few times, and there was also an import duty on it as well. After everything has been worked out, I finally got my hands on the power supply. Therefore, I cracked open the box, and got straight to work.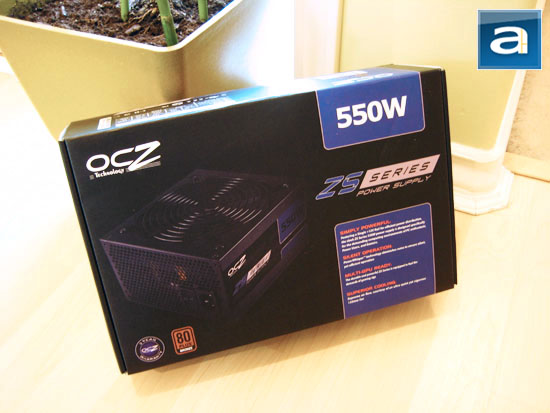 In terms of retail packaging, OCZ really did a fine job as always. Although the box design is simple (For a retail computer component, anyway), it still has that OCZ feel to it -- we have the standard black background, and a splash of vibrant colors on the side describing the product. The top left side has the usual OCZ Technology logo, while below that is a pretty big picture of the OCZ ZS Series 550W power supply itself. At the bottom left corner is a badge indicating it comes with a 3-year warranty, and an 80 Plus Bronze logo. An series of blue blocks lists information such as the wattage and feature highlights. The one we are looking at today is of course the 550W version, as shown in our photo above. Between the blue blocks is the ZS series logo. This design is overall very clean, and gets the message across well, making it great for many retail displays. In addition, the box is also sealed in plastic to prevent it from being damaged while being transported, or while being placed on display.
Before we move on any further in this report, let's take a quick look at the specifications of the OCZ ZS Series 550W, as obtained from the manufacturer's website:
- Available Wattages: 750W, 650W, 550W Continuous
- Configurations: Non-Modular
- Rating: 40°C ambient temperature
- Rails: Single +12V
- Form Factor: ATX12V v2.2standard
- Dimensions(W x H x L): 150mm x 86mm x 160mm
- Fan: 135mm load controlled double ball-bearing
- Efficiency: 85% at Typical Load, meets 80-Plus Bronze requirements
- Protection: ActivePFC, Over-Voltage, Over-Current, Under-Voltage, Short Circuit
- Weight: 2.47kg
- Safety Approvals: UL, CUL, CE, CB, FCC Class B, TÜV, CCC, C-tick
- MTBF: 100,000 hours
- Service & Support: 3-Year Warranty, Toll-Free Tech Support, 24 Hour Forum Support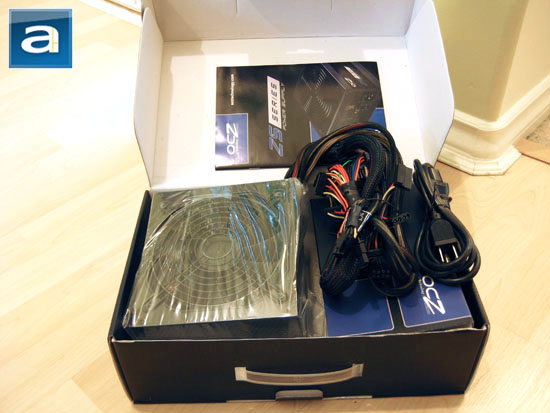 After opening up the standard flap style box, we are treated with the parts that are included with the OCZ ZS Series 550W. As expected, the interior is actually pretty simple; all we have is the power supply itself, instructions manual, and an AC power cable. This is to be expected from a non-modular power supply. The box interior is organized quite well. There were no additional accessories, and for a power supply being targeted towards the budget oriented, this makes a whole lot of sense in my opinion.
---
Page Index
1. Introduction, Packaging, Specifications
2.
Physical Look - Outside
3.
Physical Look - Inside
4.
Minor Tests and Conclusion