By: Jonathan Kwan
March 4, 2011
Until someone can effectively convince me otherwise, I am not an environmentalist. Let me clarify before we begin that the probability of convincing me otherwise is zero, so please do not even try. And no, egging my house will not change my mind. I can assure you I will promptly dial 911. On the other hand, don't take me wrong and label me as someone who don't care about the environment -- I do and will continue to do my part in recycling and the such. It is just I am not about to go out of my way just to 'go green'. Admittedly, I drive an 8th generation Honda Civic, and routinely get over 40 US MPG on average with some hypermiling techniques. But I do that not because I want to protect the environment per se. I just happen to really like my wallet. You know, using less gas saves me money. I like that. And let's be honest here -- do you think companies actually reduce their product packaging out of the goodness of their own hearts to save the earth? No, they're just saving money on reduced packaging so they can make more money; at the same time advertise they are being green. Therefore, let's deal with it: This is called killing two birds with one stone. At this point, you may be wondering what my whole little rant on being environmental has to do with our OCZ ZX Series 850W article today. In fact, this has everything to do with it. The latest flagship in OCZ's line of computer power supplies is unsurprisingly another 80 Plus Gold certified unit, meaning it is at least 87%, 90%, 87% efficient at 20%, 50%, and 100% load, respectively. In fact, every power supply we have looked at since August last year were Gold certified. Other than saying this is a very 'green' power supply, for most computer enthusiasts, this means it is yet another high performance PSU built with top notch components inside. Being efficient also means less heat is generated for a quieter operation in conjunction with improved thermal management inside your chassis. Oh yeah, you get to save some electricity and reduce your next utility bill. The best of both worlds? Sounds like a winner to me. So whether you are someone who cares about the environment or want maximum performance, we opened up an OCZ ZX Series 850W power supply for our report today. Read on to see what we have found!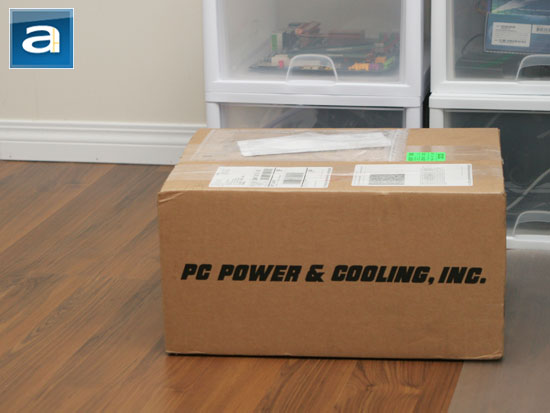 Our review unit of the OCZ ZX Series 850W power supply came in a large brown corrugated cardboard box from OCZ's American headquarters at San Jose, California, USA. Using UPS Saver, it landed on our doorstep here at APH Networks Calgary by Thursday morning -- and that is after I received confirmation of shipment from OCZ on Wednesday evening; where it left its origin at 6:06 PM local time. As the clock ticked past 11:19 AM on our watch, the package branded PC Power & Cooling is already safely in our hands over 1000 miles away. So we wasted no time, and got straight to work.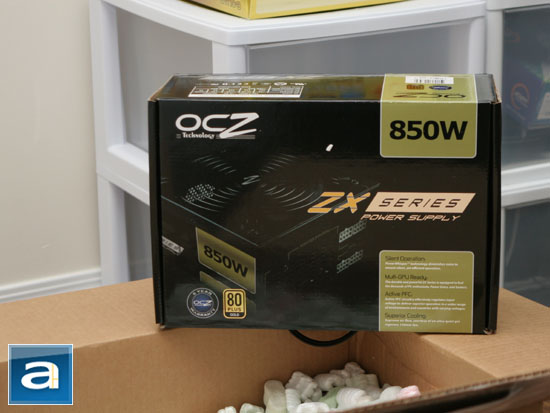 After slicing the packing tape apart with a utility knife, we were greeted by a lot of packing peanuts. And by a lot, we mean a lot. It surrounded every side OCZ's ZX Series 850W power supply retail box. So after some digging in taking extreme care not to spill packing peanuts anywhere, I managed to extract the inner package and placed in on top for more photos, like the one you see above. Without falling short of our expectations from this kind of careful packaging, it arrived in nothing less than absolute pristine condition.
OCZ took on a relatively conventional approach when designing the retail package for their ZX Series power supplies. Using a rectangular flap top box with a handle on top (Well actually, by top, we mean bottom), I am certain you have probably seen this before -- but there is no point in making change for the sake of change, as this is also the kind that makes most sense. Using a predominantly black background, a photo of the power supply itself blends out from the dark background at the left two-thirds on the box at 3/4 angle; followed by OCZ's logo at the top left corner and two badges at the bottom left, signifying its five year warranty and 80 Plus Gold certification. To balance out the design, on the right we have its specified wattage at the upper corner, 'ZX Series Power Supply' branding at the center, and four feature highlights at the bottom. Specifications and product description can be found on remaining sides of the box.
Before we move on further, let's take a look at the specifications of OCZ's ZX Series 850W power supply, as obtained from the manufacturer's website:
- 850W Continuous power
- Ultra quiet 140mm ball-bearing fan
- +12VDC @ 70A Single Rail Design
- SLI™ and CrossFire™ support
- Fully modular cable management system
- 150 x 175 x 86mm (W x L x H)
- ATX12V v2.2 and EPS12V
- 80-Plus Gold Certified
- 92% Efficiency (Typical Load)
- Overvoltage/Overcurrent/Short-Circuit protection
- Active PFC
- MTBF: 100,000 hours
- 5 year warranty backed by OCZ's exclusive PowerSwap Warranty replacement program.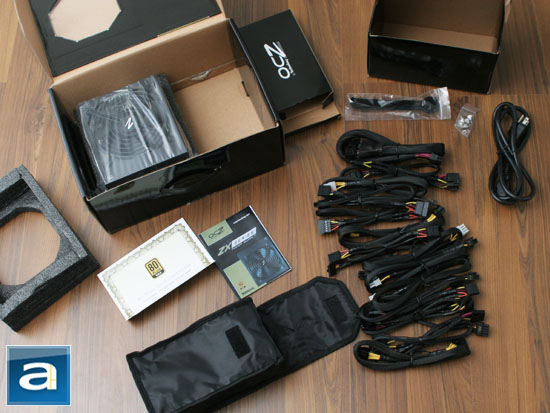 The retail box opens by a flap over the top. A cardboard sheet with a clear window provides a quick view of the OCZ ZX Series 850W's fan. Packed nicely between two black Styrofoam brackets is the power supply itself. In a separate box adjacent to it is Velcro sealed bag with modular cables inside, four thumbscrews, power cable, Velcro cable ties, user's manual, and even a pseudo 80 Plus Gold certification, as shown in our photo above. There is absolutely no wiggle room inside, since everything packed so nice and neatly.
The following modular cables are included out of the box:
- 20+4 pin ATX
- Dual 4+4 pin CPU
- 4 x PCIe 6+2 pin
- 12 x SATA*
- 9 x Molex*
- 1 x Floppy
* Please note that not all can be connected simultaneously
---
Page Index
1. Introduction, Packaging, Specifications
2.
Physical Look - Outside
3.
Physical Look - Inside
4.
Minor Tests and Conclusion