By: Jonathan Kwan
January 18, 2013
Ninety nine percent of the time, it is quite boring to watch the local news on TV here in Canada. It is not that I do not care about things going on around the country. But usually, the biggest headline would be a cat getting stuck in a tree somewhere in Newfoundland, and the Canadian Special Operations Forces Command would have to be called in to save it. Now, don't get me wrong -- I am not complaining, because like any other sane person, I would much rather be here than in parts of the world where a bomb blowing up and killing several dozen people is just another day. As we slowly come to realize flipping through our calendars uneventfully month after month in the "same old, same old" fashion can be so much of a blessing, there are also highlights in between that makes life so interesting. Back in the days, different power supplies make a huge difference, whether it is quality, reliability, or performance. Nowadays, any name brand unit is pretty close, and darn -- this is making our reviews sound as exciting as the cat stuck on a tree in Newfoundland. It really does not help when my colleague Preston already reviewed the PC Power & Cooling Silencer Mk III 600W about a year ago. Thankfully, with the PC Power & Cooling Silencer Mk III 1200W, there is excitement in the details. Not only is it twice as powerful, but it is also Platinum certified with fan shutoff capabilities at up to 50% load. Read on to see what makes this kilowatt-plus unit brings to the table today!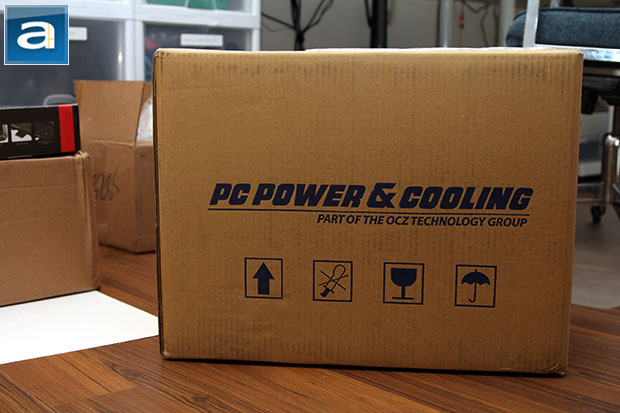 Our review unit of the PC Power & Cooling Silencer Mk III 1200W came in a large, brown corrugated cardboard box from OCZ's San Diego warehouse. Usually, we get things from Sunnyvale, California, USA, so we are in for a change this time around. Packed inside a box with an especially strong sidewall, our power supply is further protected by a thick fill of packing peanuts, which will probably survive a drop from the plane at 32,000 feet en route to us here in Canada. Fortunately, a real person from UPS handed us the package, rather than via a mid-air jettison, and everything arrived in perfect condition for our evaluation today.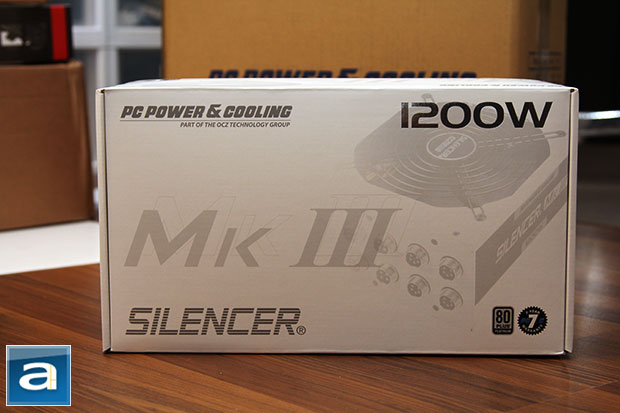 Like its smaller brother, the PC Power & Cooling Silencer Mk III 600W, the 1200W iteration comes in almost identical packaging -- save for the wattage marking at the top right corner, of course. This design remains quite true to the brand, with no fancy colors, and no exorbitant graphics. Ladies and gentlemen, we are talking straight business here. Doug Dodson would be proud. Meanwhile, the white colored power supply is faded into the white background with a grey shade; down in the bottom right corner are two icons highlighting its 80 Plus Platinum certification and seven year warranty coverage. The rest is in our photo above. With this in mind, before we get into the details, let's take a look at the specifications of the PC Power & Cooling Silencer Mk III 1200W, as obtained from the manufacturer's website:
AC Input
Operating Range: 115-240 VAC; 0.98 power factor
Frequency: 50/60Hz
Current: 15A
Efficiency: 92% typical load (80+ Platinum)
EMI: FCC Class-B, CE
DC Output
Output: +3.3V@20A,+5V@20A,+12V@99.5A,-12V@0.5A,+5VSB@2.5A
Regulation: 3% (+3.3V, +5V, +12V); 5% (-12V, +5Vsb)
Ripple: 1% (p-p)
Hold Time: 40ms minimum
PG Delay: 100-500ms
Safety
Over Voltage Protection: +3.3V, +5V, +12V
Over Current Protection: 135% OPP
Agency Approval: cTÜVus, CB, TÜV, CCC, C-tick, GOST, BSMI, China RoHS, WEE, RoHS
Environmental
Temperature: 0-50°C
Humidity: 10-90%
Fan Type: 140mm, ball bearing, thermally controlled
Miscellaneous
Compatibility: ATX12V & EPS12V
M/B Connectors: 1 x 20+4-pin ATX, 2 x 4+4-pin CPU
Video Connectors: 6 x 6+2-Pin PCI-E
Drive Connectors: 4 x Peripheral, 12 x 5-pin SATA, 1 x FDD Adapter
MTBF: 100,000 Hours
Dimensions/Harness: 150mm (W) x 86mm (H) x 180mm (L)
Power Cord: US, EU, UK, CN, AU, JP, KCC
Warranty: 7-Years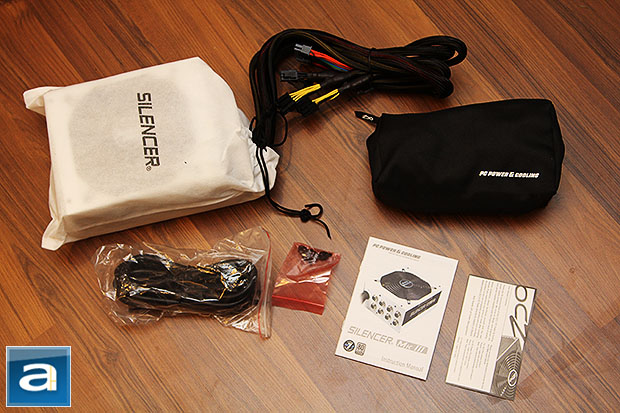 The PC Power & Cooling Silencer Mk III 1200W's bundle aptly reflects the company's high-end, but practical and down-to-earth image. The stuff included from the factory is more than sufficient, but not excessive. Otherwise, it would have been undesirable to sell a performance enthusiast power supply in a value oriented presentation, as people like yours truly will be out and about on this issue quickly, haha. Out of the box, you will receive the PC Power & Cooling Silencer Mk III 1200W itself inside a neat drawstring bag and clipped between two Styrofoam brackets, a zipper bag full of modular cables, four thumbscrews, AC power cord, and the usual documentation.
---
Page Index
1. Introduction, Packaging, Specifications
2.
Physical Look - Outside
3.
Physical Look - Inside
4.
Minor Tests and Conclusion