By: Preston Yuen
January 27, 2012
Stealth and sneak is the way to be, as a sniper sits behind a nearby tree. Oh the many things he may yet to see, but only one target is the key. Seasons come and seasons go, but the time came when the ground is covered with snow. PC Power & Cooling drops by to say 'hello', only to say that the target is blended in with the snow below. A white power supply is what we see, but a Silencer Mk III 600W is its true identity. Before you slowly move towards the little 'X' at the corner of your browser, let me inform you that this power supply we have here at our APH labs is truly unique. Nowadays, more and more people are leaning towards such products, and I am no exception. Sometimes, such unique products come with a high price tag, as some people possess the idea of "unique means special, and if I want it, I am willing to pay more." I don't know about you, but when it comes down to such products I want, there is always a tight budget; especially money is usually not in your favor. Being the computer enthusiast that I am, having only a couple computers in the house for my personal use doesn't seem to cut it. This eventually leads to spending more and more money on secondary computers in different locations of the house for the sole purpose of "conveniently" accessing the internet or files on my network. Whether you have a mindset like me, or if you simply have a limited budget for a decent enough computer, PC Power & Cooling's Silencer Mk III is a good place to start for mid-range power supplies. With most power supplies possessing the usual dark colors, the Silencer Mk III comes in a unique white body. But does its outer look live up to market niche expectations? Read on to find out!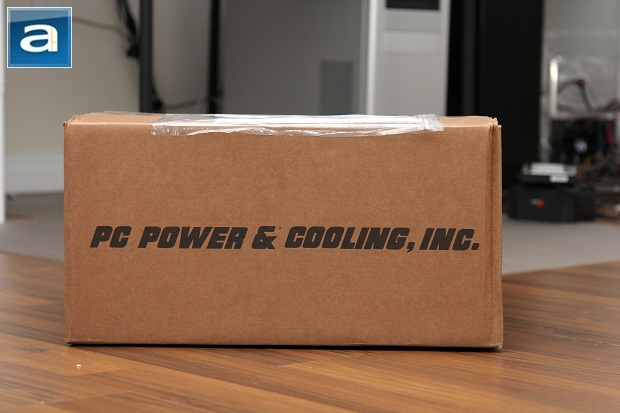 Our review unit of the PC Power & Cooling Silencer Mk III 600W power supply came in a large brown corrugated cardboard box from the headquarters in California, USA via UPS Saver and ended up here at our APH Networks office in Calgary, Alberta in a short period of time. Almost anyone would love packages arriving in pristine condition, and the Silencer Mk III 600W is of no exception. As always, receiving packages, especially from big corporations, is very exciting, so I quickly pulled out my utility knife and quickly got down to work.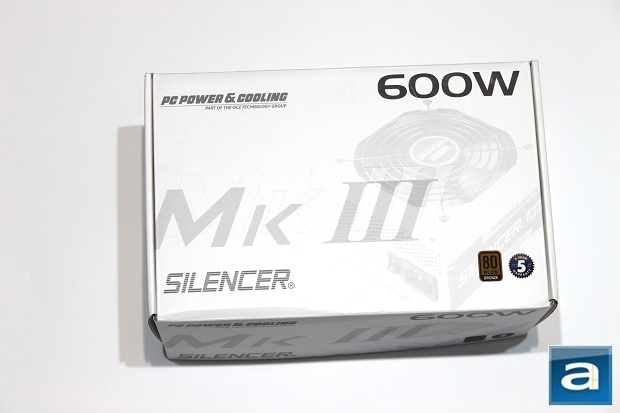 Our unit of the PC Power & Cooling Silence Mk III 600W arrived in a rather simple and, well, white packaging. In my opinion, this blends into Calgary's weather quite well, considering we had chilling temperatures with much snowfall recently. The company logo is clearly stamped in grey at the top left corner, while its model name is clearly written on the bottom half, and the wattage rating in silver at the top right. What I like most about this packaging is that the photo of the PSU is blended into the background, which reminds me of camouflaged professional military snipers. I don't know too much about them, but for the Silencer Mk III, we do. A good description of it is printed on the back, as well as its featured cables on the side. Before we move on any further into this report, let's take a quick look at its features and specifications, as obtained from the manufacturer's website:
Features
- 600W Continuous @ 50C
- Dual-GPU Ready
- 80-Plus Bronze Certified (85% Efficiency); .98 Active PFC
- 120mm double ball-bearing fan
- Up to 90% (10dB) Less Noise per Watt
- +12VDC @46A (Powerful Single Rail)
- Premium Components with 100% Japanese 105°C Capacitors
- Modular Cabling Design
- Automatic Fan Speed Control Circuit
- 5-Year Warranty and Tech Support
Specifications
AC Input
- Operating Range: 90-264 VAC, 0.98 power factor
- Frequency: 50/60Hz
- Current: 100-240Vrms, 9-4.5A
- Efficiency: 85% typical load (80+ Bronze)
- EMI: FCC Class-B, CE
DC Output
- Output: +3.3V@24A,+5V@24A,+12V@46A, -12V@0.8A,+5VSB@2.5A
- Regulation: 5% (+3.3V, +5V, +12V), 5% (-12V, +5Vsb)
- Ripple: 1% (p-p)
- Hold Time: 20ms minimum
- PG Delay: 100-500ms
Safety
- Over Voltage Protection: +3.3V, +5V, +12V
- Over Current Protection: 135% OPP
- Agency Approval: cTÜVus, CB, TÜV, CCC, C-tick, GOST, BSMI, China RoHS, WEE, RoHS
Environmental
- Temperature: 0-50°C
- Humidity: 20-80%
- Fan Type: 120mm, ball bearing, thermally controlled
- Noise: 20 - 37dB(A)
Miscellaneous
- Compatibility: ATX12V & EPS12V
- M/B Connectors: 1 x 20+4-pin ATX, 2 x 4+4-pin CPU
- Video Connectors: 2 x 6+2-Pin PCI-E
- Drive Connectors: 3 x Peripheral, 6 x 5-pin SATA, 1 x FDD
- MTBF: 100,000 Hours
- Dimensions/Harness: 150mm (W) x 86mm (H) x 160mm (L)
- Power Cord: US, EU, UK, CN, AU, JP/BZ
- Warranty: 5-Years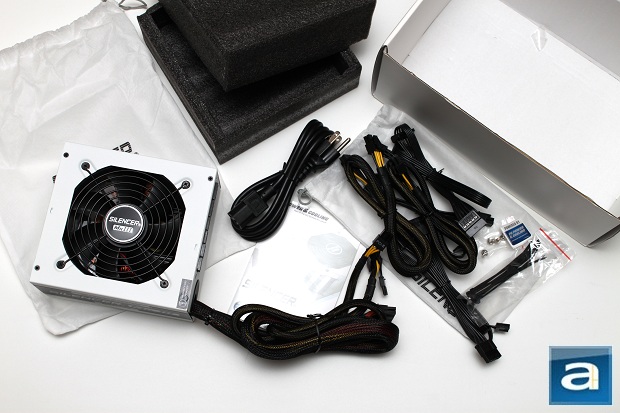 Upon opening the flap, you will find the ghostly white PSU in a ghostly white bag; sandwiched between two foam brackets for extra protection. All the appropriate accessories are provided in a smaller ghostly white bag next to it. You will receive all the necessary modular cables, power cable, several zip ties, four extra screws, and a small manual. In other words, there are no excessive accessories here -- just what you need is provided out of the box.
---
Page Index
1. Introduction, Packaging, Specifications
2.
Physical Look - Outside
3.
Physical Look - Inside
4.
Minor Tests and Conclusion