Page 2 - Physical Look - Outside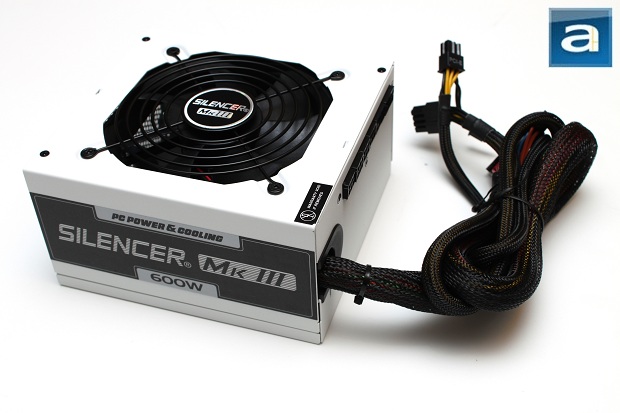 Before we dive right into this report, you will notice that this is one of the few white colored power supplies we have here at APH Networks. The other one being no other than the NZXT's HALE90 750W reviewed by my colleague Jonathan a little over a year ago. In my opinion, its looks suit its name quite nicely. Although simple looking, it does not look cheaply built, as all the gaps fit together nicely with all the edges shaved down, giving it a very solid feel. Flipping the power supply upside down, the PC Power & Cooling Silencer Mk III 600W features a 120mm ball-bearing fan for intake cooling, with a honeycomb mesh for dissipating the exhaust heat out the back. The Silencer Mk III 600W measures to 150mm in width, 86mm in height, and 160mm in length, which places this power supply about at par with other standard power supplies in its class. This should be of no concern to you when fitting it into your case, even if you decide to smuggle it inside your favorite mATX chassis. Four Philips-head screws, one at each corner, hold the casing of the power supply together. Removing the one with the sticker over it voids the warranty, so it is best to leave it until your warranty runs out, even if you are curious. Four additional Philips-head screws fix the fan and its grill in place. However, the fan is mounted on the inside, so if you plan on cleaning it out, a compressed can of air is probably a better idea.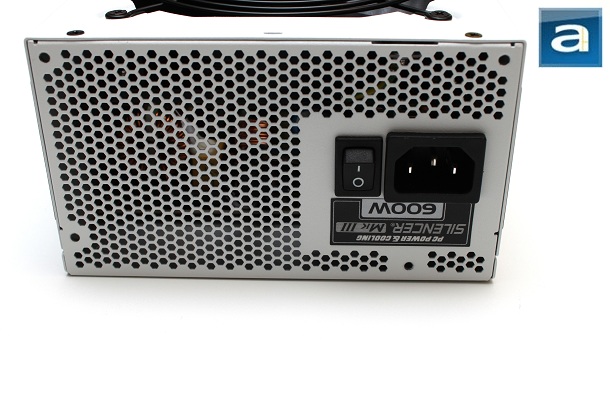 As for the back of the Silencer Mk III 600W, we will see the usual honeycomb mesh. This is a typical design used for better flow of heat out of the power supply with minimal resistance, as it has only one bottom-mounted fan and no auxiliary fan. As well, there is the standard on/off switch next to the male power input connector. As for most modern power supplies these days, it features an automatic full range (100V-240V) AC line voltage selection, so users do not have to worry about manually adjusting the input voltage, and frying components if it is in the wrong position.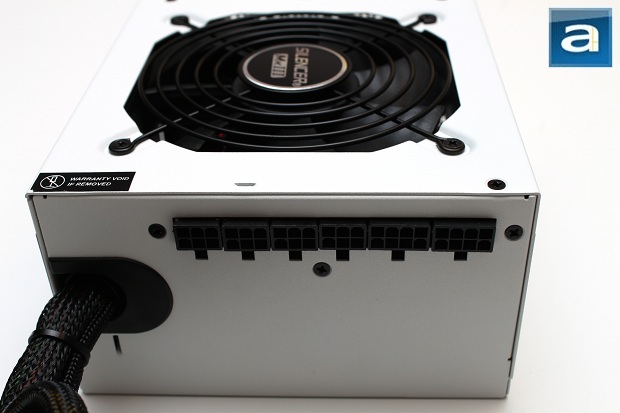 Regardless whether plug-and-play is your style or not, the PC Power & Cooling Silencer Mk III 600W has six connectors for you to plug in your cables, despite the fact that there are only five modular cables provided. Users who like a clean cabling job would find this especially useful. However, having modular cables means a negligibly higher electrical contact loss at the connectors compared to permanently fixed cables. The good news is that three of the total eight cables are permanently soldered onto the power supply. If you think about it, these cables must be connected to your computer anyways, so it's not a big deal if they are not modular, unless you are concerned about operating your computer with no ATX 24-pin power -- simply not possible, or a hassle that no one would bother with.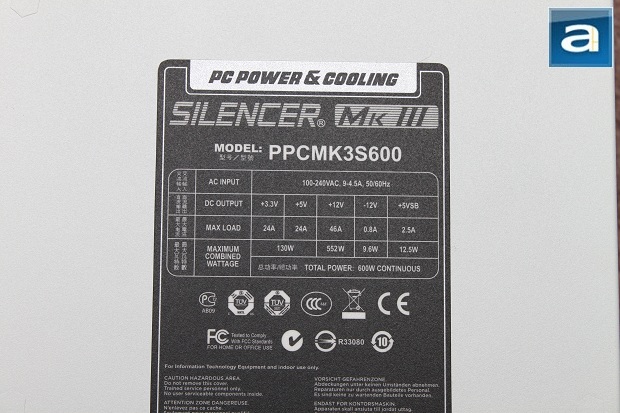 Following the power formula P=IV, the +3.3V rail can deliver up to 24A, totaling 79.2W. The +5V rail delivers up to 30A, resulting in a total output of 120W. The total combined output for the +3.3V and +5V rail is 130W. This means that the power allocation combination for each of these rails must fall within the listed specified limits, but not in excess of 130W in aggregate. The single +12V rail delivers up to 46A, which puts the figure at 552W. One single +12V rail is used to reduce operating overhead instead of using multiple +12V rails. Combining the power output for the whole PSU is, of course, 600W.
The PC Power & Cooling Silencer Mk III 600W is 80 Plus Bronze certified, which means that it is certified to be at least 82%, 85%, 82% efficient at 20%, 50%, and 100% load, respectively. Higher certifications available at press time include 80 Plus Silver, 80 Plus Gold, and 80 Plus Platinum.
Besides the permanently fixed ATX 24-pin, ATX/EPS 4+4-pin, and one 6+2-pin PCIe cable, there are five total modular cables, all of which are 18 AWG. The following are modular cables provided out of the box:
- 1x 6+2-pin, ~55cm
- 1x 4+4-pin, ~55cm
- 1x Molex, 3 connectors, ~55cm to first connector, ~15cm thereafter, Floppy 4-pin attached to the end
- 2x SATA, 3 connectors each, ~45cm to first connector, ~15cm thereafter
---
Page Index
1.
Introduction, Packaging, Specifications
2. Physical Look - Outside
3.
Physical Look - Inside
4.
Minor Tests and Conclusion