By: Jonathan Kwan
January 19, 2018
We here at APH Networks are no strangers to kilowatt-spec power supply units. My first experience of a power supply capable of converting more than 1000W from my wall to my computer was the very aptly-named -- it practically sounded like a jet -- Tagan TurboJet 1100W back in 2006. 2006 was a time where people knew little about power efficiency and long before anything in the four-digit realm was commonplace. Since then, we have covered many 1000W+ models from major manufacturers such as Cooler Master, FSP, PC Power & Cooling, and Seasonic; all of which has produced products that continually improved over the years in performance and power efficiency both in official certifications and from our affiliates with professional load testing equipment. With our comprehensive coverage of power supplies from all these major manufacturers here at APH Networks, perhaps one of the most surprising statistic of them all is while we have covered no less than fifteen PSUs from SilverStone, we have never written about one that broke the kilowatt barrier. I actually had to check this fact twice before writing this review. What does this mean to us? The answer is quite simple. Today, we have the SilverStone Strider Titanium ST1300-TI 1300W sitting on our test bench ready for some disassembly fun and, of course, as part of our tradition, voiding the warranty. Think about it for a second. 1300W. 80 Plus Titanium certified. Built by renowned OEM Enhance. Without containing too much excitement, let us get right at it.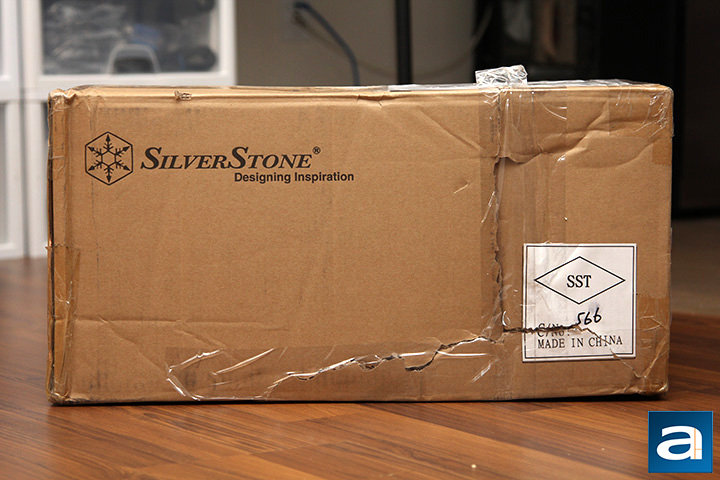 Just another fun fact, the first 80 Plus Titanium power supply we have ever reviewed here at APH Networks was the SilverStone Strider Titanium ST80F-TI 800W, so we will have to give SilverStone that for a first. The SilverStone Strider Titanium ST1300-TI 1300W came in a slightly beat up brown corrugated cardboard box from the company's American headquarters in Chino, California, USA using UPS Standard. Even though there was a hole on the side as it arrived to us here in Calgary, Alberta, Canada, all of the contents inside arrived safe and sound. It included the SFX SX500-G 500W reviewed by my colleague Hai last week, as well as the SFX SX650-G 650W by Aaron in December.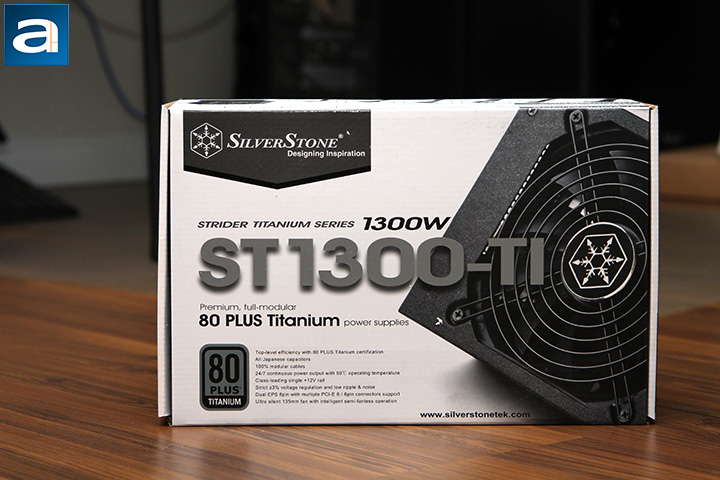 The SilverStone Strider Titanium ST1300-TI 1300W's retail box is designed with some stylistic consistency with the rest of the company's power supply lineup, but the layout has once again been revised with the latest model. The box comes in a predominantly white background with everything else in shades of grey to allude to its 80 Plus Titanium certification. I did not count how many shades of grey there are, but please let me know if you ever find out. Across the center, its model number is written in super large font, while a more consumer friendly name in English is printed above it. The line "Premium, full-modular 80 PLUS Titanium power supplies" occupies the space below the model number. At the top left corner, we can see SilverStone's logo and slogan. A photo of the power supply can be seen in the background on the right. At the bottom, a large 80 Plus Titanium badge ensures you know this is an 80 Plus Titanium certified power supply, just in case you could not tell by the name or the box already. Lastly, adjacent to the 80 Plus Titanium badge, a series of bullets point out the feature highlight of SilverStone's latest ultra-high efficiency, high wattage power supply.
Before we move on, let us take a look at the specifications of the SilverStone Strider Titanium ST1300-TI 1300W, as obtained from the manufacturer's website:
Model No.: SST-ST1300-TI
Max. DC Output: 1300W (Peak 1400W)
Power density: 560W per liter
Color: Black (lead-free paint)
Combined +3.3V & +5V: 120W
Combined +12V: 1296W
Input Voltage: 90 ~ 264 Vrms
Input Frequency Range: 47Hz ~ 63Hz
PFC: Active PFC (PF>0.9 at full load)
Efficiency: 90% ~ 94% at 10% ~ 100% loading
MTBF: 100,000 hours
Operating temperature: 0 ~ 50°C
Protection:
- Over Current Protection
- Over Power Protection
- Over Voltage Protection
- Short Circuit Protection
- Under Voltage Protection
- Over Temperature Protection
Connectors
- 1 x 24 / 20-Pin motherboard connector (550mm)
- 1 x 8 / 4-Pin EPS / ATX 12V connector (750mm)
- 1 x 8 / 4-Pin EPS / ATX 12V connector (550mm)
- 8 x 8 / 6-Pin PCIE connector ("550mm" x 8)
- 16 x SATA connector ("600mm / 150mm / 150mm / 150mm" x 4)
- 6 x 4-Pin Peripheral connector ("600mm / 150mm / 150mm" x 2)
- 1 x 4-Pin Floppy adapter connector (100mm)
Cooling System: Single 135mm silent fan
Form factor: ATX
Noise Level: 0 ~ 36 dBA
Dimension: 150 mm (W) x 86 mm (H) x 180 mm (D) / 5.91" (W) x 3.39" (H) x 7.09" (D)
Weight: 3.96 kg
Certification: 80 PLUS Titanium
Other: Compatible with ATX12V v2.4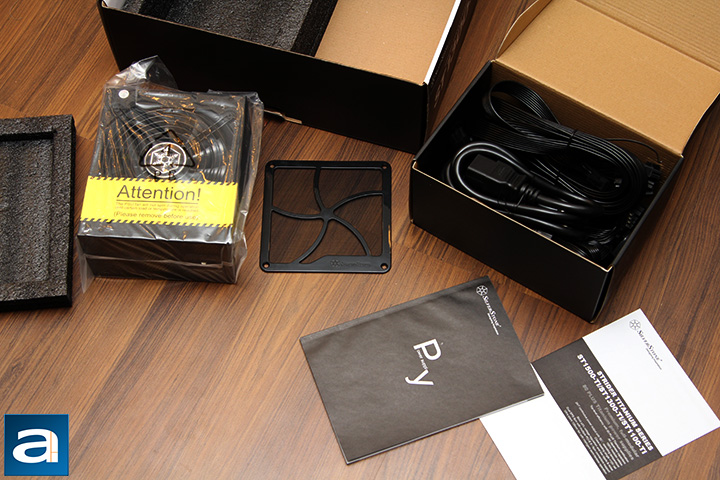 The SilverStone Strider Titanium ST1300-TI 1300W's retail packaging can be opened by a flap attached at the bottom. Upon opening the box, you will find everything neatly organized. The power supply is located on the left, cables on the right, and everything else in a resealable plastic bag. There is also an instruction manual as well as a specifications booklet out in the open. The instruction manual is highlighted with the letters "PY" in front, which is a generic booklet in multiple languages that comes with all SilverStone power supplies. Out of the box, you will receive the ST1300-TI 1300W power supply itself, two pieces of literature as aforementioned, magnetic dust filter, modular cables, C20 AC power cable, and a bag that contains some zip ties, Velcro straps, four thumbscrews, and four regular screws.
---
Page Index
1. Introduction, Packaging, Specifications
2.
Physical Look - Outside
3.
Physical Look - Inside
4.
Minor Tests and Conclusion