By: Derek Lun (Guest Writer)
May 10, 2013
Herro everybody, Derek is back again. Now that this is my second time here, let me tell you a bit about myself. I love sports. Do you know what sport Asians play? StarCraft. To all the non-believers out there, eSport is still a sport. Heck, it is more 'sport' than chess will ever be -- a professional StarCraft player usually maintains over 300 APM (actions per minute) throughout the match. Chess players? Maybe three actions per hour. Ever since the StarCraft II: Heart of the Swarm came out, I have been sporting non-stop. Sorry to my dear friends whose calls I have missed, texts not returned, Facebook status not liked, and major life events didn't attend -- they are just not sporty enough. In the expansion, Blizzard Entertainment introduced a new unit to Terran arsenal, the widow mines. What makes the widow mines so overpowered is how cost effective it is. For every unit of resource I invest into my widow mine, my opponent has to invest more to match the power in battle. Cost effectiveness is something we should always strive for; from financial investment to hybrid cars to 80 Plus certified PSUs. We have one such PSU for review today, the 80 Plus Gold certified SilverStone Strider Gold ST65F-G 650W. This means that for every one unit of energy of input, you will get at least 87% of that unit on the output. If you reside in a location with high electricity rates, this could lead to significant savings. Less waste energy also means less heat produced as a byproduct. Less heat means your gears runs cooler, with your fans running at a lower RPM for less noise. Let's take a closer look at what makes it so efficient!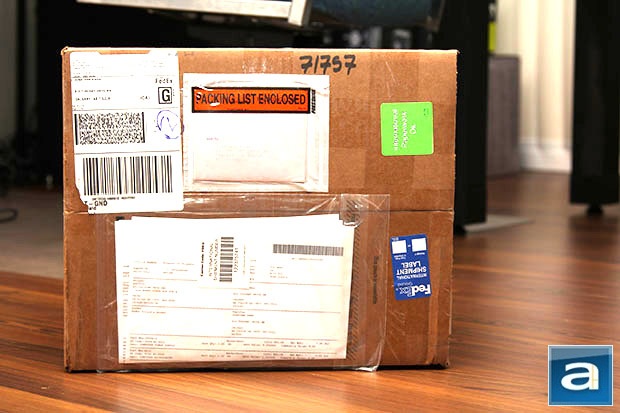 Our review unit of the SilverStone Strider Gold ST65F-G 650W came in a giant brown corrugated cardboard box; the same one that contained the company's Air Penetrator AP182 reviewed by Preston Yuen a while back. The box arrived in pretty good condition, thanks to FedEx's fine people on the payroll. No major bumps and bruises were found anywhere on it. The top of the box is covered with shipping order forms and other not-so-useful details, at least for me, anyway. To waste no time, let's take a look at what is inside.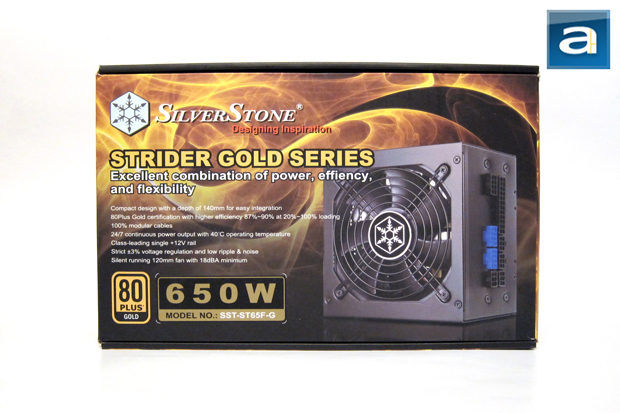 SilverStone did an excellent job with the retail package. All of the selling points and key information are clear at first glance; from the gigantic 80 Plus Gold certified logo at the bottom left, to the 650W metallic print label, they are really hard to miss. An image of the product on the right hand side of the box art shows the SilverStone Strider Gold ST65F-G 650W is 100% fully modular. Of course, the brand name and series identification are also clear in a big and easy to read font. The wave-like gold pattern background enhances the "gold" feel of the series without creating too much distraction in the process. All small prints on the retail package are highly legible with the gold and black background.
Before we take a look inside, let's take a look at the specification of the SilverStone Strider Gold ST65F-G 650W power supply, as obtained from the manufacturer's website:
AC Input
Input Voltage: 90V~264V
Input Frequency Range: 47Hz ~ 63Hz
PFC: Active PFC.(PF>0.95 at Full Load
Efficiency: 87%~90% at 20%~100% loading
Protection
Over Current Protection
Over Power Protection
Over Voltage Protection
Over Temperature Protection
Under voltage protection
Short Circuit Protection
No Load Protection
Connectors
1 x 24 / 20-Pin motherboard connector
1 x 8 / 4-Pin EPS / ATX 12V connector
2 x 8 / 6-Pin PCIE connector
2 x 6-Pin PCIE connector
8 x SATA connector
6 x 4-Pin Peripheral connector
2 x 4-Pin Floppy connector
Miscellaneous
MTBF: 100,000 hours at 25°C(at Full Load)
Operating temperature: 0°C ~ 40°C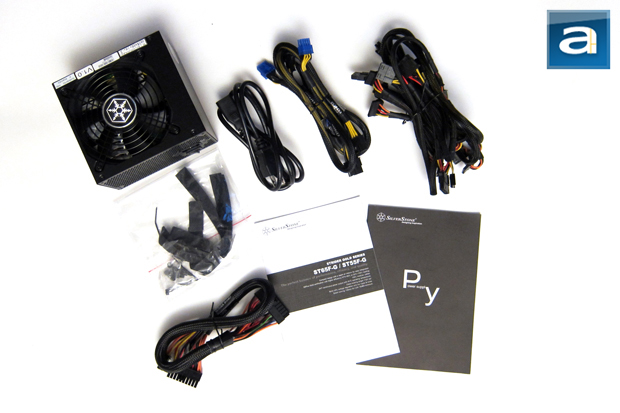 Inside the box, the SilverStone Strider Gold ST65F-G 650W power supply came in packaging that is fancy enough without creating excess waste. The PSU itself is bubble wrapped to ensure a safe transport from the factory to your home. The cardboard box is partitioned internally into sub-sections for the PSU and the cables. If, for any reason, you need to pack it back into the box, the divider will make the job much easier. Just remember to keep that bubble wrap, or your PSU is going to move around the gap. Aside from the expected cables and screws, SilverStone also includes small bag of goodies for your cable management needs. The bags of goodies include four quick ties and four Velcro straps.
---
Page Index
1. Introduction, Packaging, Specifications
2.
Physical Look - Outside
3.
Physical Look - Inside
4.
Minor Tests and Conclusion