By: Preston Yuen
January 4, 2013
Like many of us around here, our parents play quite a large role in our lives in terms of taking care of us from a young age and making sure we are able to survive on this earth. This may include obtaining suitable education, so that we would at least have a decent enough job. When we are asked the question, "What do you want to become in the future?", many of us may think of big shots such as lawyers, doctors, and accountants. Lawyers fight for the biggest legal rights of their clients, doctors perform tasks under pressure to save lives, and accountants make sure the big bucks are in the right place. On many other occasions, the little roles count as well -- society will not function properly if everyone does the same thing. Not all things have to be grandiose to have impact on different people. As the saying goes, "big things come in small packages." What we have here today at APH Networks is another set of fans; specifically, the SiverStone Air Penetrator AP182. Indeed, we have two very large fans sized at 180mm in small cardboard boxes. Some may agree these may become the rivalry against some of Noctua's quiet enthusiast fans. In addition to their size, they are suited up in white, and run from as low as 500rpm to as high as 2000rpm. Will having such features make a fan more competitive against others in the market? Read on to see what SilverStone has in store for us today!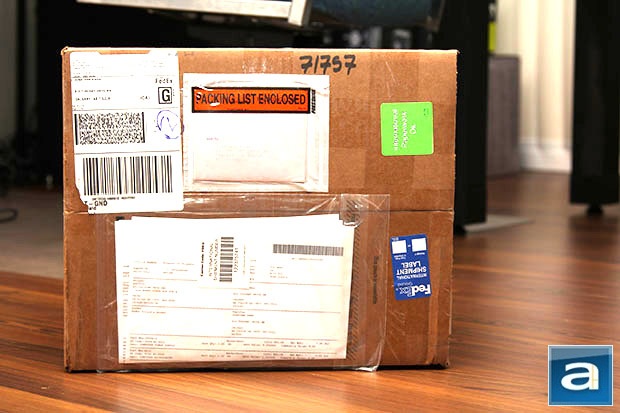 Our review sample of the SilverStone Air Penetrator AP182 came in a decently sized corrugated cardboard box via FedEx Ground, and arrived in good condition. You can tell FedEx has taken good care of it, as there are next to no bumps and bruises on the box. I will not go into the specifics on how it got transferred to FedEx. Frankly, when I read the shipping details on the papers, I was slightly confused by the details, haha. All that matters now is that our review sample has arrived safe and sound, so I wasted little time, and opened the package right away.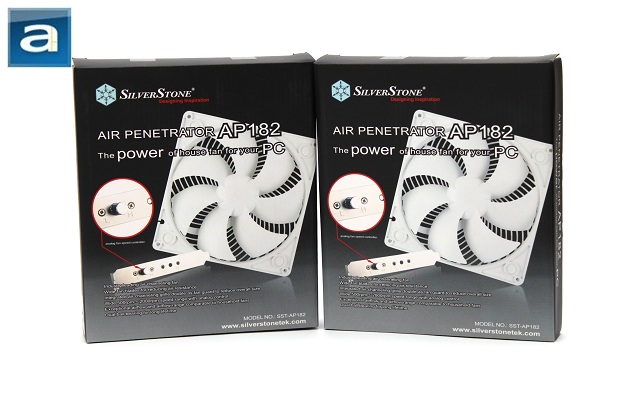 Our review unit came in retail packaging, as always. The design of the box is composed with white and black shades, making the product itself eye-catching. White text is found all around to point out the SilverStone Air Penetrator AP182's main features, as well as showing a picture of how one can manually adjust the speed of the fan. As expected, the company and logo can be found at the top left corner, with a picture of the AP182 printed right in the middle, and its model name near the top. If you see this at a retail store, you will know what it is.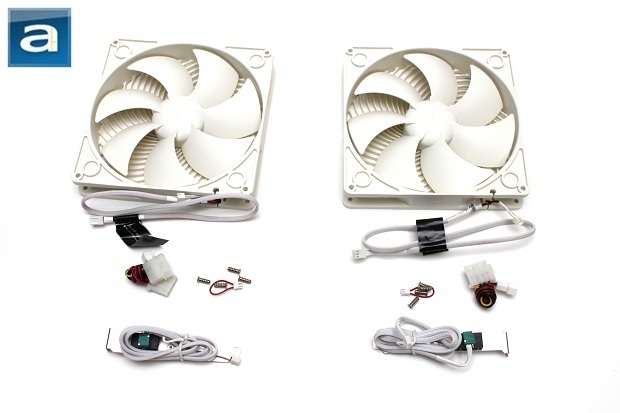 Pulling everything out of the retail package, you will find the AP182 fan itself, a Molex adapter, loop wire, four screws, RPM controller, and a manual. Of course, you will find this complete set in each of the boxes, unless they have mistakenly packaged it... which is rather unlikely. The manual can also be found on SilverStone's website, if you happen to ever lose your hard copy... which is rather likely. Before we move on to the rest of our review, let's take a closer look at the specifications of the fan, as obtained from the manufacturer's website:
Features
- Industry leading air channeling fan
- Wide fan blades for reducing air resistance
- Integrated air channeling grill double as fan guard to reduce overall size
- Wide 500rpm - 2000rpm speed range with analog control
- Exceptional airflow and airflow range comparable to household fans
Dual ball bearing for long lifetime
Specifications
- Model No.: SST-AP182
- Color: White
- Bearing: Dual ball bearing
- Rated Voltage: 12V DC
- Start Voltage: 11V (w/ fan control @ lowest rpm); 9V (w/ fan control @ highest rpm)
- Rated Current: 0.05A (500rpm) ~ 1.3A (2000rpm)
- Rated Power: 0.6W (500rpm) ~ 15.6W (2000rpm)
- Speed: 500~2000rpm
- Airflow: 60CFM (500rpm) / 130CFM (1200rpm) / 1700CFM (2000rpm)
- Effective Airflow Range: 0.7mmH2O (500rpm) / 2.45mmH2O (1200rpm) / 6.1mmH2O (2000rpm)
- Diameter: 180mm
- Noise Level: 17dBA (500rpm) / 18dBA (700rpm) / 34dBA (1200rpm)
- Air Speed: 1.0m/s; 3.1m/s (measured at fan exit)
- Life Time: 50,000 hours
- Dimensions: 180mm x 180mm x 32mm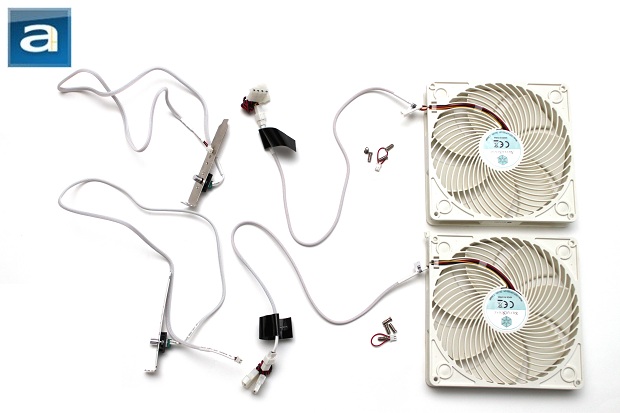 For those who do not know what the loop wire is for, it is used when you prefer using your motherboard to control your fan speed instead of using the provided controller. As with most fan products these days, the fan is made out of plastic with a good looking grill to prevent anyone from accidentally sticking your "you know what" in there. Whether your "you know what" is chubby or thin, long or short, it is a good measure to keep it intact, and it is a good safety measure for keeping adults and young children from getting hurt. The "you know what" being your finger, of course -- not sure where your mind wandered off to, haha. From the photos shown, the grille is painted white, which is quite unique from most fans that are produced on the market today.
In terms of blade geometry, like the SilverStone Air Penetrator SST-AP121-L reviewed just under two years ago by my colleague Kenneth, the SilverStone Air Penetrator AP182 has enlarged fan blades. The bigger width along with increased overlap provides more air pressure into the system. In addition, the fan grill pattern helps focus the airflow into a cone shaped vortex to enhance airflow into a larger area. It would have been great if SiverStone could add a dust filter to block out the dust, but in most computer chassis these days, dust filters are part of the case, and not the fan.
Most products with cables on the market these days now come with partially or fully sleeved cables, and the AP182 fans are of no exception. This gives the fans a slick look, and it feels better overall. Upon closer inspection, there is nothing special implemented on the fan blades other than the fact that they are wider. I believe SilverStone could have implemented other features to reduce wind turbulence instead of relying on controlling the speed to do so, since it has been a good two years since the smaller ones were released. The cables themselves are sufficiently long. I have tested them out in my SilverStone Raven RV03 chassis, and I could say that SilverStone has put good thought into accommodating for those who have larger enclosures.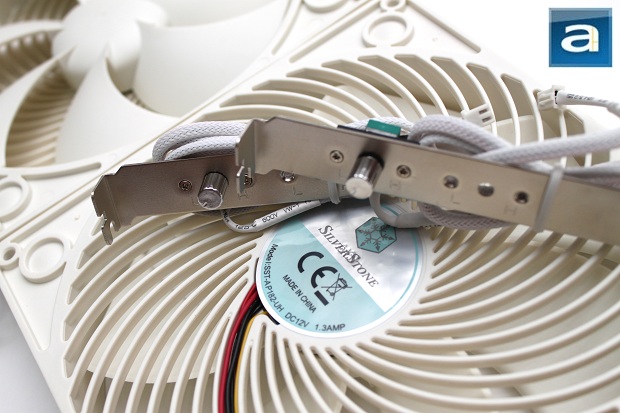 One of the nice features of the SilverStone Air Penetrator AP182 is it comes with a speed controller as aforementioned. Its lowest setting specified by the letter "L" is rated at 500rpm, while the highest speed denoted by an "H" is rated at 2000rpm. From logical deduction, the halfway mark runs the fan at 1250rpm. As specified previously, the noise level of the fan is rated at 17dBA when the fan runs at its lowest setting.
The following three paragraphs is written by my colleague Jonathan in his Noctua NF-F12 PWM and NF-P12 PWM review, which I will borrow for this article.
A big challenge when designing fans is to provide the best airflow to noise ratio. One would want the best amount of airflow, while keeping it as quiet as possible. Even with the best ratio, it is quite difficult to measure objectively at all times. The most common unit of objective measurement is CFM (Cubic feet per minute) of air for airflow, and dB noise, respectively. We will go over how application and CFM is related with regards to its standard measurements, but let's discuss perceived noise first.
dB (Decibels) is a logarithmic unit of sound intensity. While it provides what appears to be an objective measurement for the most part, it should be noted that perceived noise levels to the human ear, and actual sound intensity, could result in very different things. Human ears are more sensitive to particular frequencies, and when those particular frequencies are emitted from its source, it may appear louder than its numbers suggest. That same can be said vice-versa -- frequencies that human ears are less sensitive to can actually have louder dB measurements from a sound meter, yet the human ears does not perceive it to be as loud as the numbers suggest. Other factors such as turbulence noise are often not measured correctly, therefore, while it usually provides a good reference, it does not necessarily reflect real life performance.
With regards to the application and CFM, it is generally optimal to have a fan to have a high air volume flow rate -- but as aforementioned, pure CFM values are limited to an extent with regards to its indication on fan performance. It is not completely about how much air in can move per minute quantitatively, but equally as important is how it is executed in reality. Airflow to noise ratio is an essential factor as mentioned earlier. Static pressure is also very important depending on application. High resistance applications such as dense fins on a large heatsink require high static pressure, while case fans needs less static pressure and faster airflow. Its differences in application is like a large truck that has a diesel engine with lots of low end torque for towing, compared to a sports car with a high revving gasoline engine with lots of power to beat around the track -- they are simply designed for different purposes, so choose one appropriate to your needs.
-----------------------------------------
The Tests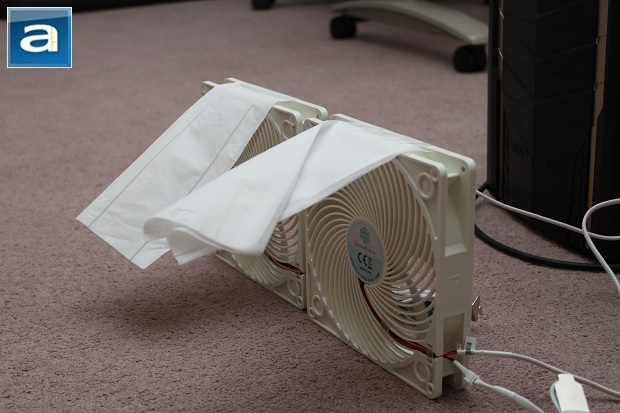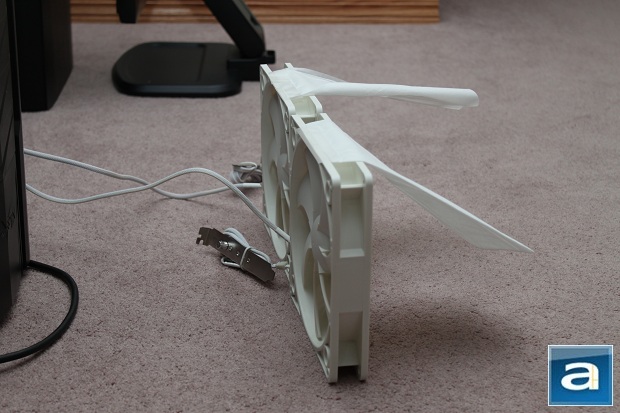 Using our tried-and-true APH proprietary 'scientific' method for measuring fan performance we devised back in 2007 by our Editor-in-Chief Jonathan Kwan, it is no surprise that we are using it for this review as well. While it is not exactly the most objective method you can use (No kidding haha), there's a few attributes of fan performance that we can obtain clearly from our observations: Airflow, airflow consistency, and amount of static pressure generated. It visually portrays characteristics of each fan.
In our tissue paper test above, it is fairly obvious that the SilverStone Air Penetrator AP182 on the right moved much more air compared to the one on the left. This is because the one on the right is set to its maximum setting, where the fan is spinning at 2000rpm. Notice that part of the tissue is flipped over. This is partially due to the fact that I did not tape the second side of the tissue properly, but mainly because the Air Penetrator AP182 is providing so much airflow that it will cause some fluttering. Having said that, at this rate, it is providing a fairly good amount of static pressure.
The one on the left still uses 12V at its lowest setting, running at approximately 500rpm. Obviously, it moves significantly less air compared to its maximum rotational speed. However, it is still able to lift the tissue with next to no fluttering at all. In most applications, this would not be applicable, but in the odd application or two, the lowest setting might just do the trick. The general rule of thumb is to turn up the fan to the point where it starts to get annoying. Running it at the lowest speed may be an overkill.
Perceived sound is another important factor. However, this is limited to the subjective measurement of the user. How we perceive sound here at APH Networks may vary, but I tend to be quite picky when it comes to such matters. However, all staff at APH Networks rate sound according to the same scale, so the numbers seen from review to review are comparable. The noise levels of the fans were tested independently in a quiet room with the power supply and all other noises isolated to ensure accuracy. On a scale of 0 to 10, where 0 is a place of complete solitude and 10 is the loudest thing you could possibly think of, I would rate the SilverStone Air Penetrator AP182 to be approximately 1.0/10 at its lowest speed, and approximately 7.0/10 at full throttle. This is not all that bad, considering how much airflow the AP182 can give its maximum setting, but I still believe SilverStone could still reduce the noise and wind turbulence by further optimizing the design of the blades and fluidity of the motor. I am not sure how practical this request is, but good engineers are expensive for a reason!
-----------------------------------------
With another set of fans added to our pile, it seems like SiverStone fans are starting to get more and more popular here at APH Networks. With their current impeller design, SilverStone's Air Penetrator series continues to establish its credibility in the silent PC enthusiast market along with Noctua fans. While SiverStone takes on a different approach in their geometric design, the AP182 provides quite the performance, especially considering quality fans are quite rare in this size. Although the minimum 500rpm speed may not seem as practical in most configurations, I have flooring it to 2000rpm really nails some air out, if noise is not a concern. Now running at 2000rpm may sound like you have a jet engine stuck inside your computer, and unless you are a hardcore plane enthusiast running Flight Simulator 24/7, this is not practical either. If moderation is the key to life, this is where the Air Penetrator can strike a sweet spot. The icing on the cake is SilverStone's latest gigantic series has pretty good looks with it being fully suited up in white. These fans also comes with a speed controller, which is a nice touch, as users can adjust the airflow to noise ratio according to their preference. You can even use the headers provided on their motherboard to control the fan speed. Most importantly, the SilverStone Air Penetrator AP182 does what it is intended to do -- provide commendable static pressure and good airflow, all at relatively low noise. I am glad plenty of air is moved throughout my system to keep things as cool as possible, thanks to the AP182. With its large 180mm diameter, these are probably the best fans you can buy in XL-size.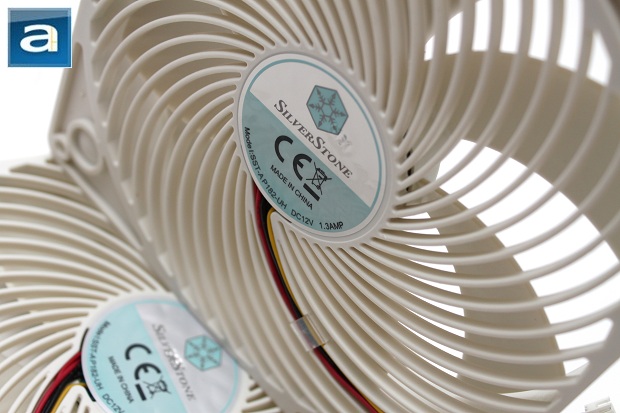 SilverStone provided this product to APH Networks for the purpose of evaluation.
APH Review Focus Summary:
7/10 means Great product with many advantages and certain insignificant drawbacks; but should be considered before purchasing.
8/10 means Definitely a very good product with drawbacks that aren't likely going to matter to the end user.
-- Final APH Numeric Rating is 7.8/10
Please note that the APH Numeric Rating system is based off our proprietary guidelines in the Review Focus, and should not be compared to other sites.
The SilverStone Air Penetrator AP182 are great fans with sweet looks that can be controlled manually or automatically out of the box. Quality 180mm fans don't come around every day, but with these units, today is the day.
Do you have any comments or questions about the SilverStone Air Penetrator AP182? Drop by our Forums. Registration is free, and it only takes a minute!