By: Jonathan Kwan
February 10, 2012
While it is important to be outstanding on paper, practical excellence is what that keeps you going in the long run. Take cars, for example. Yes, I will admit most of us here are not exactly the biggest fans of Hyundai and Kia, and we do frequently take jabs at their products, but the reason is because we have actually test driven them in an objective manner. We were not paid to say anything good about them, nor were we swayed by all the irrational praise by many automotive media outlets. The point is, while it looks like you are getting a lot of car for the money simply by reading the specifications sheet, it does not really mean you are getting a lot of car for the money. Stuff like a rough, gutless engine, poorly programmed transmission, wipers that don't work very well, uncomfortable seats, and real world fuel economy that is nothing like EPA ratings are just a few things I can name right off my head that you can't determine by looking at the window sticker. In the same way, here at APH Networks, we have always been huge proponents of Noctua fans -- not because they have the highest CFM rating or lowest dB values on paper, but because they provide most competitive airflow at the lowest amount of perceivable noise in real life. You know, more like the big H rather than the slanted H of the computer cooling world. How well does the Noctua NF-P12 PWM and Noctua NF-F12 PWM live up to the legacy set by its predecessors? To find out, we took three of each in, and put them to the tests.
Our review unit of the Noctua NF-F12 PWM and NF-P12 PWM cooling fans came in a relative large, brown corrugated cardboard box from the company's headquarters in Austria. Yes, that's Austria -- not Australia -- so everything is the right side up, just as it should be. Wrapped in lots of tape, and filled with a plethora of environmentally-friendly packing material, the package was transferred to Canada Post after making its trip across the pond. As usual, they left a delivery notice in my mailbox, so I dropped by the postal office on a nice Saturday afternoon to pick up the package. Needless to say, everything arrived in excellent condition for our review today.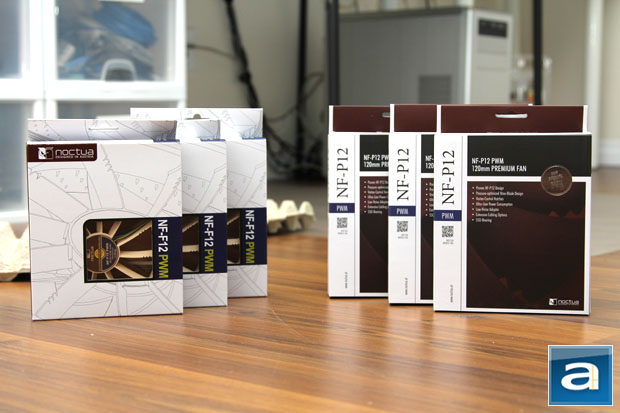 We were pleased to find our request for half a dozen fans have been accommodated -- Noctua threw in three of each model, much to our delight. In the past, we usually request one of each model, but what good does it do when you can't even finish a proper computer build with it? It's like having a credit card, but with a $50 credit limit on it. Sure, it is the real thing, but it's not very useful. With enough fans to make a custom built vacuum cleaner, now we are talking!
As you can see in our photo above, on the left, we have a trio of NF-F12 PWMs, and on the right, we have a corresponding trio of NF-P12 PWMs. Just looking at the photo already delivers an impeccable sense of satisfaction; imagine that in real life, haha. If you compare the packaging design of the NF-F12 PWM against preceding models such as the NF-S12B and NF-P12, you will be tempted to say it is a refreshing change -- but let's not forget the NH-C14 and NH-D14, which carries the same style, and has been kicking around for the last couple of years. While it has retained the fundamental burgundy-based color scheme the company has used in the past, the updated version is much more modern and clean. On the other hand, the NF-P12 PWM's retail box is completely new, but again, it retains Noctua's core color scheme very well. Meanwhile, the specifications, features, and highlights are listed in consistent design with the box on the remaining sides of the retail package. Speaking of which, before we move on, let's dig a little bit more into the details, as obtained from the manufacturer's website:
Noctua NF-F12 PWM
Size: 120x120x25 mm
Connector: 4-pin PWM
Bearing: SSO2
Blade Geometry: Heptaperf™
Frame Technology: Focused Flow™
Rotational Speed (+/- 10%): 1500 RPM
Rotational Speed with L.N.A. (+/- 10%): 1200 RPM
Min. Rotational Speed (PWM): 300 RPM
Airflow: 93,4 m³/h
Airflow with L.N.A.: 74,3 m³/h
Acoustical Noise: 22,4 dB(A)
Acoustical Noise with L.N.A.: 18,6 dB(A)
Static Pressure: 2,61 mm H2O
Static Pressure with L.N.A.: 1,83 mm H2O
Max. Input Power: 0,6 W
Max. Input Current: 0,05 A
Voltage: 12 V
MTBF: > 150.000 h
Scope of Delivery: Low-Noise Adapter (L.N.A.), 4-Pin Y-Cable, 30cm Extension Cable, 4 Vibration-Compensators, 4 Fan Screws
Warranty: 6 years
Noctua NF-P12 PWM
Size: 120x120x25 mm
Connector: 4-pin PWM
Bearing: SSO
Blade Geometry: Presure-optimized Nine Blade Design with Vortex-Control Notches
Rotational Speed (+/- 10%): 1300 RPM
Rotational Speed with L.N.A. (+/- 10%): 900 RPM
Min. Rotational Speed (PWM): 300 RPM
Airflow: 92,3 m³/h
Airflow with L.N.A.: 63,4 m³/h
Acoustical Noise: 19,8 dB(A)
Acoustical Noise with L.N.A.: 12,6 dB(A)
Static Pressure: 1,68 mm H2O
Static Pressure with L.N.A.: 1,21 mm H2O
Max. Input Power: 0,6 W
Max. Input Current: 0,05 A
Voltage: 12 V
MTBF: > 150.000 h
Scope of Delivery: Low-Noise Adapter (L.N.A.), 4-Pin Y-Cable, 30cm Extension Cable, 4 Vibration-Compensators, 4 Fan Screws
Warranty: 6 years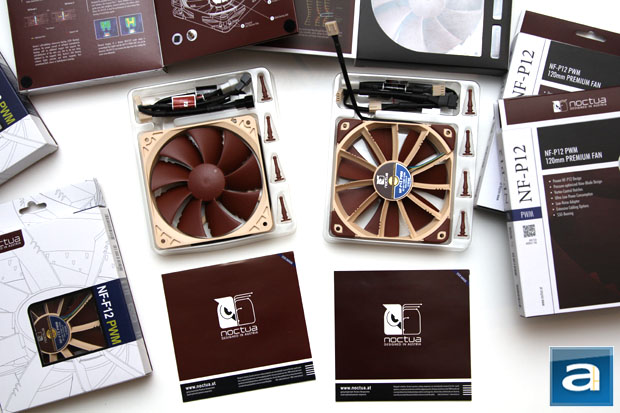 How can I put it -- the boxes are fancy as always. On the left is our trio of Noctua NF-P12 PWMs, while sitting on the right side is our set of NF-F12 PWMs. I know I kind of mixed up the order of the boxes during the photo session, but it is easy to tell the difference between the fans; we will get into the details in just a short moment. I can go on all day about how cool the retail packaging is -- complete with Velcro button flaps and plastic windows for your viewing pleasure -- but I will just be wasting your time. Sliding out the clear plastic tray from within, it is everything you can come to expect from the Austrian manufacturer of quiet PC components. The fan itself occupies majority of the room, while its accessories are set in the adjacent well. The usual bundle of four vibration dampening mounts are included, but frankly, I have never used them. A properly tightened screw will do the trick. I think Noctua realized this as well, so they have made some modifications to the frame of the NF-F12 PWM. This then brings us right into the next section.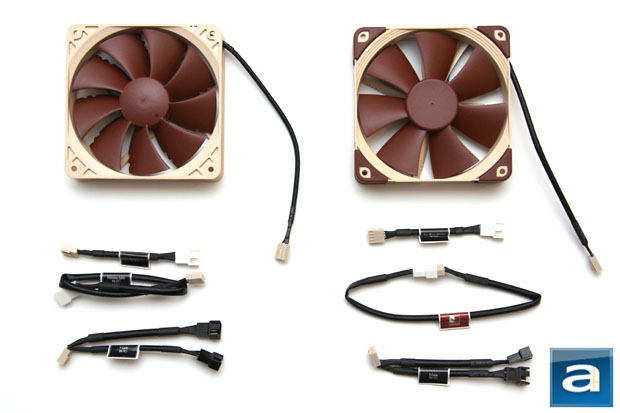 Since this is a combined review for both the Noctua NF-F12 PWM and NF-P12 PWM, things might get a little tricky. To keep things organized, let's talk about its common points first. Other than stating the obvious, and say both products very well carries forward the classic burgundy and peach color scheme of the company, we are happy to see the accessories list is also identical. Or, for those in Europe, they would like to refer to this as the 'scope of delivery'. In addition to the fan itself, you will receive one low-noise adapter (LNA), one 4-pin Y split cable, one 30 cm extension cable, four vibration compensators, and four fan screws. I am very happy to see all cables are finally labeled in plain English by attached tags, rather than color coded as it has been done in the past. The LNA adapter is used to cap the speed for the attached fan. For the NF-F12, it reduces the maximum RPM from 1500 to 1200; for the NF-P12, this figure is modified from 1300RPM to 900RPM. To add some class to their products, all cables are fully sleeved out of the box.
Of course, despite the fact that both fans come from the same factory, the purpose of each is a bit different. Back when Noctua started out, one of their main products is the NF-S12 series. In addition to being sold on its own, it is also fitted onto various heatsinks the company manufactures. Sooner or later, people realized it is not the jack of all trades. Yes, the NF-S12 does deliver pretty good airflow at relatively low noise levels, but only when airflow is unrestricted. The moment you slap the fan onto a heatsink, it simply does not have enough static pressure to keep air moving effectively out the other end. Along came the NF-P12, which does not move air as fast or as far, but it keeps the static pressure high, and is extremely effective when used behind a heatsink or densely populated hard drive rack. The Noctua NF-P12 PWM, as shown on the left in our photo above, is simply a modified version of the original NF-P12 with Noctua's custom-designed NE-FD1 PWM fan driver IC -- hence the name. The NF-P12 PWM has an operating range from 300RPM to 1300RPM in PWM mode. Other than that, the engineering behind it has not changed much. It still has the same 9-blade configuration and geometry, frame design, and SSO bearing for identical aerodynamic characteristics.
Shown on the right is Noctua's new NF-F12 PWM. In my personal opinion, the best way to describe the NF-F12 PWM is it basically a hardcore version of the NF-P12 PWM. It kicks static pressure a further notch up from the NF-P12 PWM; implementing a completely new 7-blade design inside a frame we have not seen before. Not only is the frame more aerodynamically optimized in design, rubber vibration dampeners are integrated on all four edges. Using the same Noctua NE-FD1 chip found in the new NF-P12 PWM, the NF-F12 PWM can also be hooked up directly to your 4-pin motherboard fan header, and has an operating range of 300RPM to 1500RPM in PWM mode.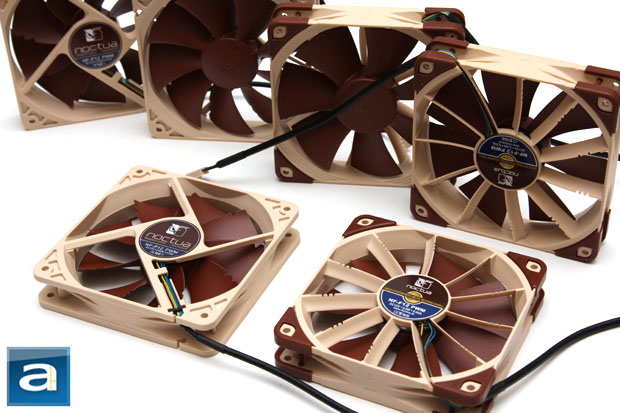 One of the biggest challenges to a noise optimized product is to provide a high level of airflow to noise ratio, and even both of these cannot be objectively measured at all times. The most common unit of objective measurement is CFM (cubic feet per minute) of air for airflow, and dB noise, respectively. We will go over how application and CFM is related with regards to its standard measurements, but let's discuss perceived noise first.
dB (Decibels) is a logarithmic unit of sound intensity. While it provides what appears to be an objective measurement for the most part, it should be noted that perceived noise levels to the human ear, and actual sound intensity, could result in very different things. Human ears are more sensitive to particular frequencies, and when those particular frequencies are emitted from its source, it may appear louder than its numbers suggest. That same can be said vice-versa -- frequencies that human ears are less sensitive to can actually have louder dB measurements from a sound meter, yet the human ears does not perceive it to be as loud as the numbers suggest. Other factors such as turbulence noise are often not measured correctly, therefore, while it usually provides a good reference, it does not necessarily reflect real life performance.
With regards to the application and CFM, it is generally optimal to have a fan to have a high air volume flow rate -- but as aforementioned, pure CFM values are limited to an extent with regards to its indication on fan performance. It is not completely about how much air in can move per minute quantitatively, but equally as important is how it is executed in reality. Airflow to noise ratio is an essential factor as mentioned earlier. Static pressure is also very important depending on application. High resistance applications such as dense fins on a large heatsink requires high static pressure as offered by the Noctua NF-P12 PWM and NF-F12 PWM we are reviewing today, while case fans needs less static pressure and faster airflow as offered by the Noctua NF-S12B FLX and NF-S12B ULN we have covered back in 2009. Its differences in application is like a large truck that has a diesel engine with lots of low end torque for towing, compared to a sports car with a high revving gasoline engine with lots of power to beat around the track -- they are simply designed for different purposes, so choose one appropriate to your needs.
Now that we are all on the same page, let's get the technical data out of the way first. The NF-F12 is rated at 54.97 CFM, 22.4 dB, and 0.19 mmHg at 1500RPM, whereas the NF-P12 is rated at 36.67 CFM, 19.8 dB, and 0.12 mmHg at 1300RPM. According to Noctua, these 12V fans only consumes 0.6W, so you can "cut down the electricity bill". I am not sure if this is a joke or not, haha. Being able to "save about half the price [...] after 5 years of continuous use" is really negligible at best. I mean, saving quite literally one watt is nice and all, but considering how electricity is only about 10 to 15 cents a kilowatt hour in many parts of the world (I pay less than that, actually), and my computer uses more than 100W idling, I don't think this is really anything to get concerned about. So if power efficiency is not really a selling point, what is?
Well, obviously the engineering behind that makes it acoustically and aerodynamically superior.
Noctua's NE-FD1 PWM IC is the heart of the company's NF-F12 PWM and NF-P12 PWM cooling fans. As an Electrical Engineer, I am tempted to dig into what PWM is in detail. Unfortunately, I am sure most of you will fall asleep by the time I finish. Therefore, to make a long story short, a PWM signal used for controlling a fan is basically just a train of rectangular electrical impulses. Each pulse moves from zero to full voltage almost instantaneously, with the fan speed depending on the frequency of signal. The downside of this is it will cause sudden torque impulses in correspondence to the impulse train, which will result in audible clicking noises. To work around this issue, Noctua's NE-FD1 PWM IC integrates their long standing Smooth Commutation Drive technology with their controller chip. In the context of a PWM controller, the transition of each signal impulse is smoothed out, creating a more consistent output of power to the fan's motor, and minimizing irregular noise in the process. The result is more constant torque in the DC brushless motor, and current switching is more consistent to further reduce acoustical noise.
As far as the NF-P12 PWM is concerned, the 'trailing edge with Vortex Control Notches" (As Noctua puts them) is quite a unique application in the fan blades; we have first seen this in the original NF-P12. After all, those bumps in each of the nine blades are there for a reason. As you can see on the fan itself, the nine thick, tight blades really looks like it will move a lot of air right. However, we must keep in mind audible noise is not just generated by the motor in many cases, but also by air turbulence. Noctua has taken this into account with the NF-P12 PWM; if you look closely, even the relative position of the cut in the edges are slightly different in each blade of the fan. This is done to break up trailing edge vortices into smaller vortices, and increase the range of noise frequencies emissions, making it more pleasant sounding to the ear. Additionally, the rounded Vortex Control Notches helps out in ensuring smooth transitions for reduced turbulence and velocity loss to achieve the best overall performance.
The Noctua NF-F12, on the other hand, is a completely new design. Building upon their previous products, the NF-F12 takes it up an entire notch, with optimizations made to both the frame and the impeller. As far as the frame is concerned, besides having integrated vibration dampeners, we can see that the stator guide vanes -- basically, in layman's terms, the part of the frame behind the impeller -- is angled between 31 to 37 degrees. This is done to decrease its acoustic noise profile by varying the noise emission frequency over a broader frequency range when air is flowing over it. Vortex Control Notches and miniature dents inside the fan frame further enhances its performance by creating a smoother and more focused airflow pattern. On the impeller and motor side, brass metal bearing shells are used on its SSO bearings, so the rear magnet can be placed closer to the rotor axis for more magnetic force. They call this updated SSO implementation SSO2, no surprises here.
Nerdy details aside, let's see if theory actually translates to real life.
-----------------------------------------
The Tests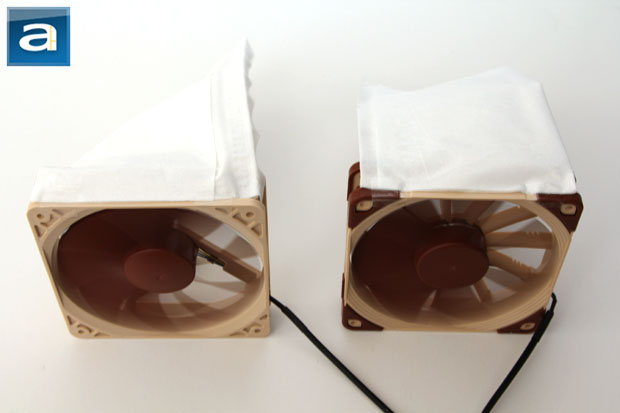 It does.
Using our tried-and-true APH proprietary 'scientific' method for measuring fan performance we devised back in 2007, it's no surprise that we're using it for this review as well -- we have used it in every fan review since then. While it is not exactly the most objective method you can use (No kidding haha), there's a few attributes of fan performance that we can obtain clearly from our observations: Airflow, airflow consistency, and amount of static pressure generated. It visually portrays characteristics of each fan.
From our tissue paper test above, I don't think I have seen another fan quite like the NF-F12 PWM. All the "Focus Flow" stuff they mention on their website may sound like your regular marketing BS, but you really have to see it to believe it. The NF-F12 at full speed did not provide a ton of airflow per se (Compared to regular case fans anyway), but that is not the point. It delivers an incredible amount of static pressure to keep the inside part of the tissue floating in the air, while keeping its end off the ground. Not only that; airflow is straight and incredibly consistent, with nearly no observable fluttering at all.
The NF-P12 PWM hits the middle ground between the NF-S12B and NF-F12 PWM. It moves a little more air at a little more speed compared to the NF-F12 PWM, but otherwise, it is almost the exact same thing as the NF-P12 non-PWM we have tested a few years ago. Once again, airflow and static pressure is very consistent. We noticed a little fluttering near the end, but that is only because the reference fan happens to be NF-F12 PWM -- simply not a fair comparison, haha. At the end of the day, please do keep in mind the purpose of each fan is different. Ideally, you will want a NF-F12 PWM on your heatsink or radiator, a NF-P12 PWM as a front intake fan in front of your hard drive cage, and a NF-S12B as a rear or top exhaust fan. That said, we hope a NF-S12 PWM is on the way soon!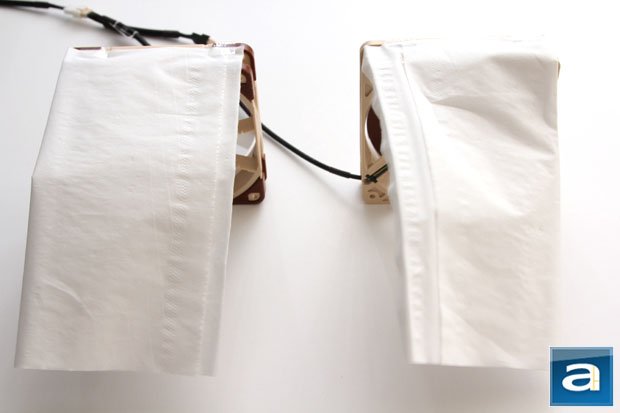 Image taken from another angle, for improved clarity.
Perceived sound is another very important aspect, as we have mentioned earlier with regards to perceived noise versus decibel measurements. However, limitations of this test involves subjective measurement of the reviewer; while one reviewer will tell you it is very quiet, it is entirely plausible that another will claim it is very loud. Throughout the last few years, we have developed our own perceived sound scale to make some objectiveness out of this matter here at APH Networks -- the same measurements are been applied to products ranging from power supplies to video cards. To ensure accuracy, I have several reference devices to make sure my ears are in line at all times. All APH Networks reviewers work on the same scale, so the numbers you see in our reviews are definitely comparable.
Each fan was tested independently in a quiet room, with the power supply isolated, to ensure accuracy. On a scale from 0-10, where 0 is silent and 10 is the loudest, I would rate the Noctua NF-F12 PWM to be at 4.0/10 at full RPM. It buzzes a bit with a higher pitched whine at full speed, which is not exactly the most desirable characteristic in my opinion. However, since this is a PWM fan, you are probably not going to run it at 1500 RPM at all times anyway -- modern motherboards do a great job at adjusting the fan speed in relation to the system temperature. The minimum speed is 300 RPM, and it is very quiet up to 70% to 80% of its rated maximum.
For the Noctua NF-P12 PWM, for some reason, I found the new model to be quieter than the original, even though no major changes have been made to the structure of the design. I could be wrong, but at full 1300 RPM, I can only give it a 3.0/10 on the APH noise scale. Maybe even 2.5/10, lower the number the better. Once again, the minimum fan speed is 300 RPM, and if you have a late model motherboard, it will probably do a great job at scaling the RPMs based on how hot your computer is running. As with the NF-F12 PWM, it is very quiet up to 70% to 80% of its maximum speed.
Thanks to Noctua's NE-FD1 PWM IC and Smooth Commutation Drive design on both fans, the minor clicking noise exhibited by their motors in the past have been fixed. I have complained about since 2007, and I am very happy to see that this issue has finally been addressed. Both the NF-F12 PWM and NF-P12 PWM are incredibly smooth running during operation; there really isn't much we can possibly complain about in this regard.
-----------------------------------------
With the word count of this review sitting in excess of 3600 at the time of writing this conclusion, it sounds a bit absurd even to me how a simple fan review can turn out to be so long. But let me tell you this: It's not about how much I can talk about something as simple as two 120mm fans, but rather how the nitty gritty details can make all the difference. Simply put, incredible things happen when a company takes design and engineering very seriously, especially when the details of a $20 computer fan starts to turn out like a jet engine on paper. And the best part? All this actually works out in real life. The Noctua NF-F12 PWM and NF-P12 PWM is a brilliant demonstration of amazing aerodynamics and low acoustic noise profile at work. Firstly, let's talk about the new NF-F12 PWM. It really pushes air like no other fan. I am not speaking this from a quantity point of view, but rather, quality. Its airflow consistency and generated static pressure is simply untouchable. The only thing I could complain about is its higher pitched noise emissions at high RPMs, but you are not likely to plug it in and run it at full speed 24/7 anyway. Now, the NF-P12 PWM. Built upon a proven design since 2007, the NF-P12 continues the legacy of what it takes to make a quality fan -- good airflow, good static pressure, and low noise. I am kind of surprised the new optimizations made to the NF-F12 has not found its way onto the NF-P12 PWM, but overall, it is a great all-round performance fan that quiet PC enthusiasts and hardcore users alike cannot miss. Now, Noctua, where is my NF-S12 PWM?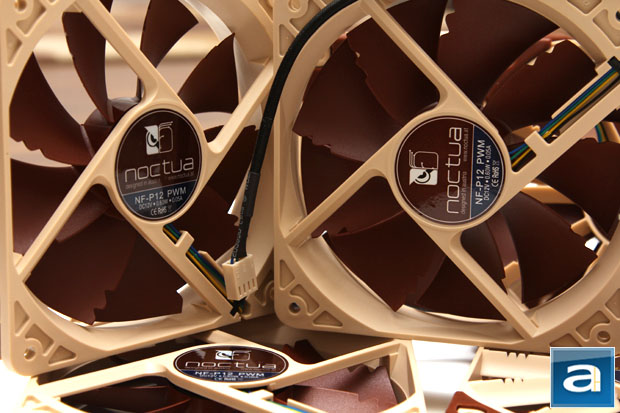 Special thanks to Jakob over at Noctua for making this review possible.
Noctua NF-F12 PWM



APH:Renewal Award | APH Review Focus Summary:
7/10 means Great product with many advantages and certain insignificant drawbacks; but should be considered before purchasing.
8/10 means Definitely a very good product with drawbacks that aren't likely going to matter to the end user.
-- Final APH Numeric Rating is 7.6/10
Please note that the APH Numeric Rating system is based off our proprietary guidelines in the Review Focus, and should not be compared to other sites.
Noctua NF-P12 PWM



APH Recommended Award | APH Review Focus Summary:
7/10 means Great product with many advantages and certain insignificant drawbacks; but should be considered before purchasing.
8/10 means Definitely a very good product with drawbacks that aren't likely going to matter to the end user.
-- Final APH Numeric Rating is 7.9/10
Please note that the APH Numeric Rating system is based off our proprietary guidelines in the Review Focus, and should not be compared to other sites.
Do you have any comments or questions about the Noctua NF-F12 PWM and/or NF-P12 PWM? Drop by our Forums. Registration is free, and it only takes a minute!