By: Preston Yuen
March 25, 2011
I once heard a very intriguing quote that went something like, "A wise old owl sat on an oak. The more he saw, the less he spoke. The less he spoke, the more he heard. Why aren't we like the wise old bird?" Let's pull up some of our good old high school English Language Arts skills, and answer the following question: What does an owl symbolize in this day and age? In fact, what does owls have anything to do with technology in the first place? Well, let's go over a little history lesson. In Greek culture, there is a little owl that represents the Greek goddess Athena. Unlike most gods and goddesses, she represents wisdom, science, and strategy; and goes by savvy considerations rather than brute force to endure quests and adventures. In society today, the accepted norm in which an owl symbolizes is intelligence and prudence with their distinct skills of observation in the dark. Are you catching on now? So, let me ask you again, what does owls have anything to do with technology? The first thing that comes to my mind is owls have nocturnal vision, and the word very much sounds like the company Noctua. From our brief history with Noctua, they are famous for noise optimized heatsinks and fans. As we have seen before from our reviews on products such as the Noctua NH-D14 and Noctua NH-U12P, both are heatsinks which are proven to be great competitors in the computer market. To add onto the list, what we have here today is Noctua's NH-C14 heatsink. So is this how Noctua pull it off? Is Noctua that wise old owl sitting in the oak? Keep your nocturnal eyes busy to find out!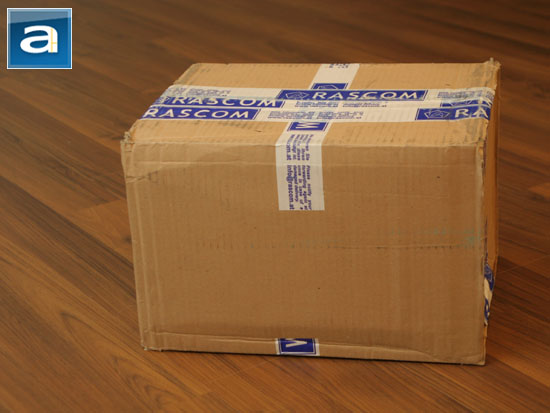 Our Noctua NH-C14 unit came in a fairly large brown corrugated cardboard box all the way from Austria. It was transferred to Purolator Air when arriving in Canada. Everything was in fairly good condition, with minimal bumps and bruises. Noctua also provides sufficient packing material to ensure its safety when traveling such a great distance overseas.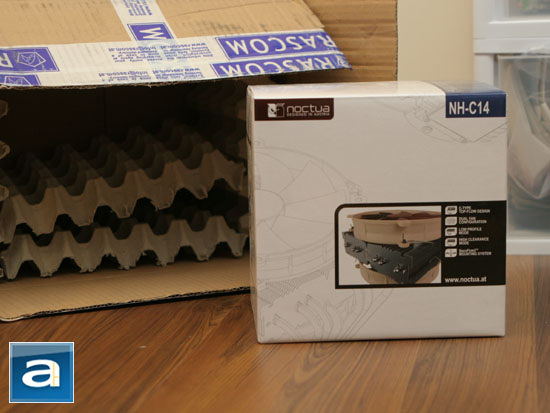 Much like the Noctua NH-D14 reviewed by our Editor-in-Chief last year, the packaging of the NH-C14 is simple yet eye-catching in my opinion. It uses the burgundy color scheme in conjunction with a white background and vector diagrams of the heatsink, which gives it a very clean appeal. The brand and logo is displayed nicely on the left corner, with the model name on the right corner. Its specifications, features, and other highlights are listed on the remaining sides of the the packaging.
Before we dig into the goods, let's take a closer look at the specifications of the Noctua NH-C14 heatsink, as obtained from the manufacturer's website:
Heatsink Specifications
Socket compatability: Intel LGA1366, LGA1156, LGA775, & AMD AM2, AM2+, AM3 (backplate required)
Height (without fan): 105 mm
Width (without fan): 140 mm
Depth (without fan): 166 mm
Height (with fan): 130 mm
Width (with fan): 140 mm
Depth (with fan): 166 mm
Weight (without fan): 700 g
Weight (dual fan): 850 g / 1000 g
Material: Copper (base and heat-pipes), Aluminum (cooling fins), soldered joints & nickel plating
Fan compatibility:140x140x25 mm / 120x120x25 mm
- Scope of Delivery: 2x NF-P14 140 mm premium fans
- 2x Low-Noise Adaptors (L.N.A.)
- 2x Ultra-Low-Noise Adaptors (U.L.N.A.)
- NT-H1 high-grade thermal compound
- SecuFirm2™ Mounting Kits
- Noctua Metal Case-Badge
Warranty: 6 years
Fan Specifications
Model: NF-P14
Bearing: SSO-Bearing
Rotational Speed (+/- 10%): 1200 RPM
Rotational Speed with L.N.A. (+/- 10%): 900 RPM
Rotational Speed with U.L.N.A. (+/- 10%): 750 RPM
Airflow: 110.3 m³/h
Airflow with L.N.A: 83.7 m³/h
Airflow with U.L.N.A.: 71.2 m³/h
Acoustical Noise: 19.6 dB/A
Acoustical Noise with L.N.A.: 13.2 dB/A
Acoustical Noise with U.L.N.A.: 10.1 dB/A
Input Power: 1.2 W
MTBF: > 150.000 h
On a side note, the clearance between your motherboard and the low mount fan is measured to be 38 mm. With the fan removed, the clearance increases to 65 mm from your motherboard to the fins of the heatsink. This is one important thing to consider, because depending on the configuration of the fans on your NH-C14, you might not give you enough clearance for memory modules with high profile heatspreaders.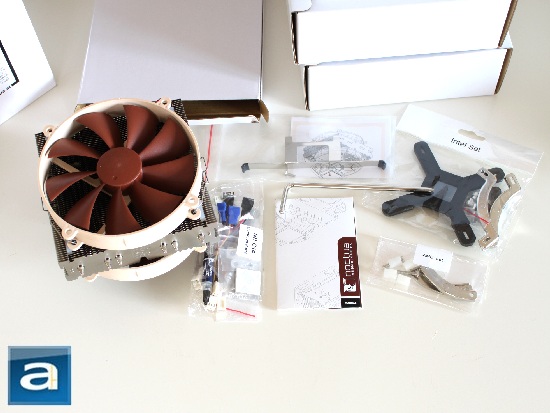 While unpacking the Noctua NH-C14, the first thing that came to my mind was the movie Inception. Why, you may ask? Well, let me give you a brief explanation. The NH-C14 is hidden in a box inside a box. Upon opening the outer box, the first inner box you will come across is a nice slim one in white. This contains all the accessories for you to mount your heatsink. Next up is the NH-C14 hiding within its own box wedged between two cardboard brackets. Lastly, we are presented with another slim box, but this one is simply used as extra packaging because, unlike the first slim box, it does not hold any accessories. When you take the NH-C14 out of the box, you will two NF-P14 fans are already pre-installed for you in what the company refers to as Dual Fan Mode. These fans can easily be removed if you ever decide to use either High Clearance Mode with the bottom fan removed, or Low Profile Mode with the top fan removed. There are four packaged accessory bags; three of which are labelled as "Intel set", "AMD set", and "Common parts". The unlabelled accessory bag contains a support bar for the NH-C14, two Philips head screws to mount the support bar, as well as a simple miniature instruction poster. The Intel set provides installation instructions for the Noctua NH-C14 on Intel LGA1366, LGA1156, and LGA775 sockets, while the AMD set provides installation instructions on AMD AM2, AM2+, and AM3 sockets. In addition, two Low-Noise Adapters (LNA), two Ultra-Low-Noise Adapters (ULNA), a set of case mounts for mounting a NF-P14 fan to your chassis, one fan Y-split cable, a miniature instruction booklet/poster, and a long Philips head screwdriver for reaching the mounting screws are included. Noctua also includes a tube of their their excellent NT-H1 thermal compound along with a Noctua case badge.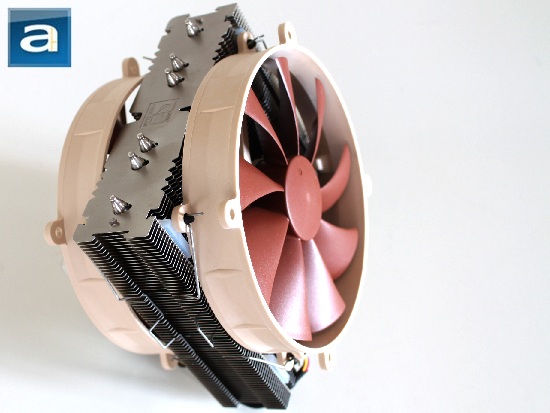 From an angled top/side view of the Noctua NH-C14, we can see two NF-P14 140 mm fans; with one mounted on each side of the fins. Each fan is attached by two wire clips. These wire clips are evidently very study, yet flexible at the same time, for easy mounting and removal of the fans in uniform fashion. And, of course, there are rubber strips between the fans and the fins, which act as vibrational dampeners during operation. These two fans are separated 36 mm apart by the heatsink fins between them. Similar to the NH-D14, the edges of the fins have been slightly modified to a zig-zag pattern to ensure maximum airflow between the fins with minimal resistance. This also poses an acoustical advantage in reducing turbulence noise. There are 68 fins, spaced 2 mm apart. According to my calculations, the total surface area of the fins combined measures in to approximately 0.72 square meters. Aesthetically speaking, I find the NH-C14 to have a very clean and simple look to it, with a touch of elegance. However, I believe the heatpipes could use a little touch-up work on the ends with a secondary cap of some sort, rather than leaving it with the raw welded look, although it may not be such a big issue.
In terms of size, the Noctua NH-C14 pretty much packs a punch. It measures to 130 mm in height, which includes the top fan. Most modern chassis should be able to support such a large size, but if you do not have such a chassis, it would be most advisable that you take off the top fan or just buy a new chassis altogether, haha. It also measures to 166 mm in depth from the tip of the heatpipes to the end, with 75 mm of space from the end to the edge of the the base. Being such a large heatsink, it will hover over your memory modules. The 75 mm of space from the edge of the base to the end should have enough room for your memory modules to fit underneath the heatsink. However, the clearance from your motherboard to the bottom fan is only 38 mm. As aforementioned, memory modules that require high clearance will not fit under the heatsink. You have been warned, so go find yourself another set of memory modules if you are planning to get the NH-C14, unless you plan to remove the bottom fan or the heatspreaders on your RAM. This will then give you an additional 25 mm of clearance room.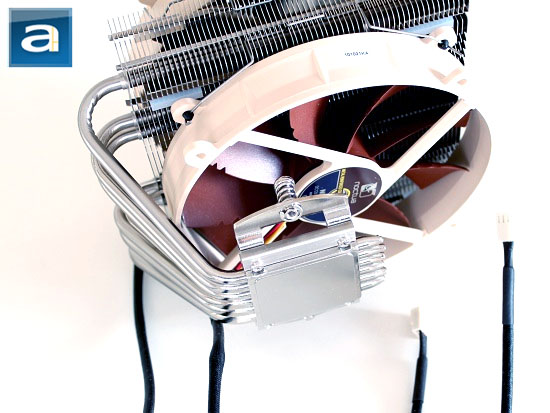 Here, we can see a clearer shot of the heatpipes, as well as the underside of the heatsink. As we can see, the heatpipes lead away from the base, and curves around into the fins, creating a C-like shape, hence the name "C14". There are a total of six heatpipes in the NH-C14. If you have taken a sneak peak at our testing section below, you may have been wondering about its weight in correlation to its size. Brace yourselves and prepare for the worst! It weights 700g with no fans installed, but once you got both of them on, it tips the scales at a full kilogram. So how much does it weigh with only one fan? Well, according to simple calculations (Or you can cheat by looking off the website, haha), it weighs 850 g with one fan. It may seem large at first, but do consider its size and material composition. In that regard, the weight does not seem so bad after all.
Like the Noctua NH-D14 and Noctua NH-U12P, the NH-C14 is a hybrid cross of copper and aluminum electroplated with nickel. The heatpipes and base are made of copper for best transfer of heat, with a thermal conductivity of 401 W/mK. The fins are made of aluminum due to its lightweight properties as opposed to copper, which relieves the motherboard of extra stress due to its weight. Aluminum has a thermal conductivity of 237 W/mK, which is not as great for heat transfer, since it retains more thermal energy.
Speaking on the topic of copper, it is pretty obvious that we do not see any sort of copper color on its heatpipes and base. According to the specifications, the copper is electroplated with nickel -- which has a thermal conductivity of only 90.9 W/mK. Although nickel may seem limit the heat transfer, the electroplated layer is thin enough that it should not have too much effect on performance to a significant degree. Nickel is more of a corrosion prevention measure. Generally, nickel and similar alloys can withstand corrosive environments due to its high resistance to heat, as corrosion will occur on metals with the presence of oxygen, and heat tends to accelerate the corrosion factor. The NH-C14's electroplated nickel on copper design is especially beneficial on such devices to prevent such natural phenomenon from occurring, and thus, leads to the most optimal and long-lasting performance. We have had Noctua heatsinks at APH Networks for years, and they certainly held well over time.
Taking a closer look at the base, we can see Noctua has cleanly soldered the joints. The fins are also soldered to the heatpipes. This prevents loss of contract over time. If you have taken a look at lower quality heatsinks in the past, they tend to not solder the fins to the heatpipes. This offers great initial performance, but degrades over time as contact is lost between the fins and the heatpipes due to thermal expansion and contraption. Overall, the Noctua NH-C14 appears to be a solid build.
-----------------------------------------
Installation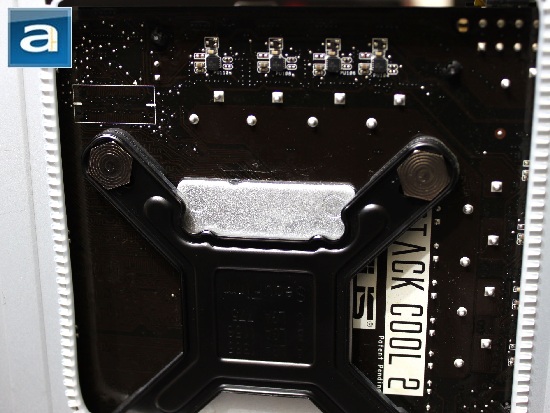 The installation process was actually quite simple. The packaged installation instructions as well as the accessories were very organized and easy to follow, which made the process go by within minutes. I installed the Noctua NH-C14 on my ASUS P6T motherboard with an Intel Core i7-930 processor. The Securfirm 2 mounting system for the Intel platform uses a backplate that installs over the stock plate for better weight distribution, which is very important for the heatsink, as it may cause unnecessary stress on the motherboard due to its sheer weight. The backplate can easily be installed by aligning the two cuts with the screws of the motherboard's stock backplate. In this case, the Asus P6T does not have backplate screws sticking out, so technically, you can place it in any orientation, as long as it is mounted correctly. Then, place the four bolts -- one in each corner -- through the appropriate A, B, or C openings for LGA1366, LGA1156, and LGA775, respectively, and corresponding motherboard mounting hole openings. Hold these in place, because they are not totally fixed at the moment. If you need help, it is a good idea to ask someone to hold it. If not, place the back of your motherboard on something without static (Preferably, an anti-static mat would be optimal, but I doubt most people would use one anyway). Then move on to the top side of your motherboard, as I will be describing the next step part in the following section.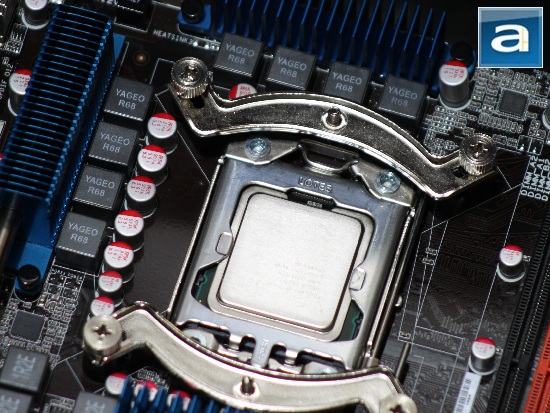 Two mounting bars are included for attaching the heatsink to the motherboard. Before installing those, first place the plastic spacers onto each of the bolts. Since the heatsink is designed in a C-like shape, the user then has the choice of either mounting the heatsink with the memory modules at its mouth, or have the memory modules on either one of the heatsink's sides. It would be inadvisable that you mount your heatsink with the back of the heatpipes directly facing your memory modules, because that will not give you enough clearance room. Once you have decided the orientation of your heatsink, the bars must be fastened to your motherboard via the screw caps. Make sure the bends in the mounting bars are facing outward, then tighten the screw caps over the bolts.
In order to fasten the heatsink over the CPU, you will need to reach two screws located on the bottom of the heatsink itself. Make sure you have a long enough screwdriver, and if not, Noctua kindly provides you with an extra one. Be sure that you do not forget to apply the thermal past over your CPU before installing the heatsink. To gain access to these screws, you will have to carefully stick your screwdriver through the holes that are pre-made in the fins. Be careful not to damage anything in the process. I find it much easier to install by unmounting the fans first to install the heatsink, and then mounting the fans back on after installation. Removing your memory modules also makes this processor easier. Again, as mentioned earlier, if you have memory modules that require more clearance, it is most advisable that you only use the top fan, unless of course, you want to remove the heatspreaders on your RAM.
-----------------------------------------
The Tests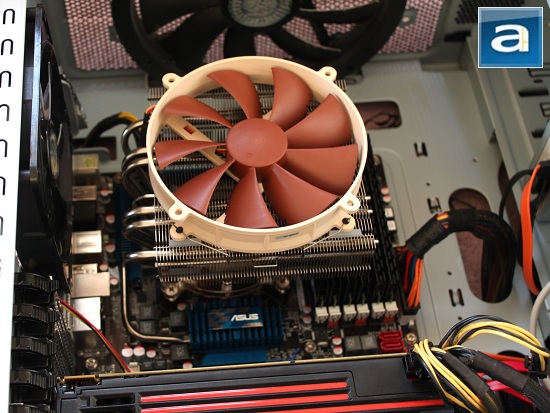 Yes, that is the standard size the Asus P6T motherboard with the Noctua NH-C14.
Our test setup are as follows:
CPU: Intel Core i7-930 (Stock settings)
Motherboard: ASUS P6T
Graphics: HIS Radeon HD 6870 1GB
Memory: Patriot Extreme Performance Viper II Sector 7 PC3-12800 6x2GB
Chassis: Cooler Master HAF 932 (3x Cooler Master 230mm fans)
Power: Cooler Master Silent Pro Gold 1000W
Sound: Integrated (Motherboard)
Optical Drive: Asus DRW-24B1ST 24x DVD-RW
Hard Drive: Seagate Barracuda 7200.11 1.5TB; Western Digital Caviar Green 5400rpm 1TB
Operating System: Microsoft Windows 7 Ultimate x64
All tests were run on a custom built test platform. The computer remained in the same location for all of the tests, with a room temperature at approximately 21c. Stock thermal paste respective to Arctic Cooling's Freezer 13 and Intel's stock cooler were used to rate their individual performances, and were given sufficient time to fully settle. Noctua's NT-H1 thermal compound was applied to the NH-C14. The fans on all heatsinks were directly connected to the motherboard's 4-pin connector running at full speed. Our computer was turned on and idling for a minimum of one hour before the idling tests. High CPU load results were obtained using the Prime95 in-place large FFTs test with four worker threads running for a minimum of ten minutes until the temperatures were deemed stable.
We have spent a lot of time, to our fullest ability, to create a very similar environment to ensure accurate temperature measurement when comparing the Noctua NH-C14, the Arctic Cooling Freezer 13, and Intel's stock cooler.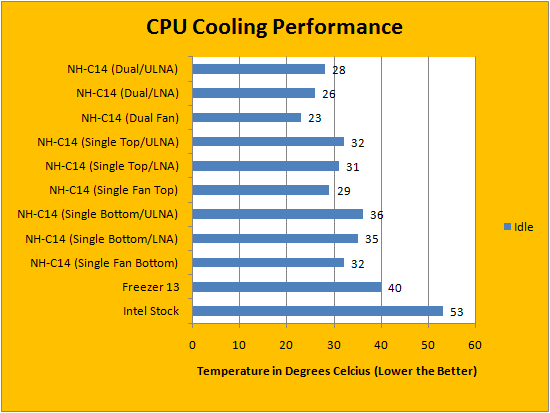 The readings displayed on our graph above were the temperatures readings of the processor taken from Core Temp using data provided by the CPU's Digital Thermal Sensor. The temperature of the highest core was recorded. I have also cross-checked the temperature readings with Real Temp to ensure correct temperature readings throughout. I also made sure that the the heatsink itself is heated properly beforehand to verify the idle state after a full load cycle.
At full speeds with both fans, we can see the Noctua NH-C14 cooled my Intel Core i7-930 to an amazing 23 degrees Celsius. Keeping it at full speed in High Clearance Mode bumps the temperature readings up to 29 degrees Celsius. Using Low Profile Mode at full speed further increases the temperature to 32 degrees Celsius. For reference, using Low Profile Mode in conjunction with the lowest noise level setting, the Noctua NH-C14 still holds a respectable 36 degrees Celsius with the fan running at 900 RPM. All the idling tests, as well as the load tests coming up next, were done in my high airflow Cooler Master case with a triple 230 mm fan setup. With the dual fans running at full speeds, the CPU temperature readings show it is a full 30 degrees Celsius lower than with the stock Intel heatsink, which is pretty darn impressive!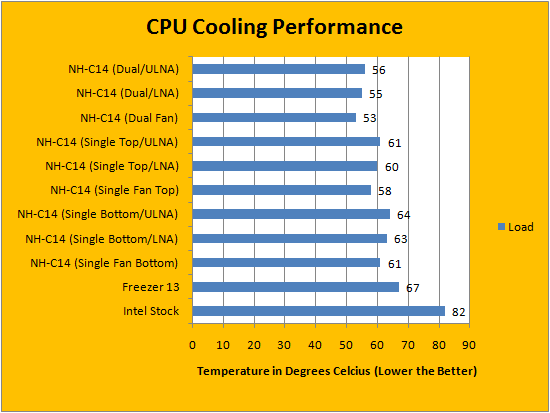 The results under load are equally as impressive as it is in idle conditions. There should be no further need to question, as we already have seen such astounding idle results. Even when capped at 900 RPM with a single bottom mounted fan, I could not get any core to go over 64 degrees Celsius. With both fans running at full speed under load, the results nearly beat that of Intel's factory heatsink under idling conditions. There is a 11 degrees Celsius difference between having a single bottom mounted fan at its lowest speed and the dual fans at full speeds. For reference, the i7-930 configured with an Intel stock heatsink was running at an unacceptable 82 degrees Celsius in the same testing conditions.
The topic of noise is quite interesting in my opinion. I am quite a picky person when it comes to noise emission from my computer, so on a subjective scale from 0-10, where 0 is silent and 10 is the loudest, I would rate the noise level of the NF-P14 with one fan to be approximately 3.5/10 at full speed, 2.5/10 at LNA speed, and 1.5/ at ULNA speed. When we mounted the second fan on and testing the acoustical noise, I would rate the noise level to be approximately 4.0/10 at full speed, 3.0/10 at LNA speed, and 2.0/10 at ULNA speed. I have to admit, the fans are very impressive, and are one of the most silent components in my system now!
-----------------------------------------
This is probably the first heatsink I have owned that is this huge. Having similar feelings as my colleague Jonathan on the equally giganormous NH-D14, I believe Noctua should really be more inspired with a better name for such a great heatsink. You know, something that sounds more hardcore. Something that gets your heart beating and blood pumping. Like Aventador or something. (Yes, I'm thinking Lamborghini.) But whatever its name is, the Noctua NH-C14 is really a one-of-a-kind heatsink, in which I have so many good things to talk about, but not really anything to complain about. Beginning with its simple and clean packaging, we are greeted with an organized system for the consumer to find where all the accessories are. On the heatsink itself, Noctua has paid special and specific attention to detail for a fundamentally solid design, construction, and noise reduction; even when two fans are used. This all comes down to one of the most important aspects of a heatsink -- keeping your CPU temperatures in check. The thermal paste icing on the cake is the company includes a tube of excellent NT-H1 paste. However, one complaint some users may bring, but not necessarily for me, is that there may not be enough clearance for those memory modules that need extra space due to the enormous size of the NH-C14. Fortunately, like the wise old owl, Noctua provides flexibility for user configuration of the heatsink, so you can easily switch out fans when you need to. If you got $75 MSRP to splash on a heatsink with a top mounted fan rather than a side mounted fan, the Noctua NH-C14 is a commendable choice.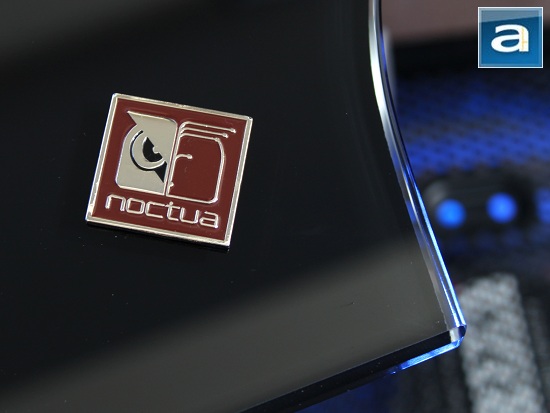 Noctua provided this product to APH Networks for the purpose of evaluation.

APH:Renewal Award | APH Review Focus Summary:
8/10 means Definitely a very good product with drawbacks that aren't likely going to matter to the end user.
9/10 means Excellent product with very minor drawbacks that does not affect the overall product.
-- Final APH Numeric Rating is 8.1/10
Please note that the APH Numeric Rating system is based off our proprietary guidelines in the Review Focus, and should not be compared to other sites.
The Noctua NH-C14 is one of the most beastly heatsinks I have seen on the market. If you are looking for a high performance, low noise heatsink using overhead fans (140mm too), this is the one.
Do you have any comments or questions about the Noctua NH-C14? Drop by our Forums. Registration is free, and it only takes a minute!