By: Jonathan Kwan
February 16, 2008
The market for CPU heatsink and fans has grown quite saturated -- but with this saturation also comes a diversity that allows for a different heatsink to suit every preference. From performance heatsinks, noise conscious designs, to value/budget products, there's at least a dozen from various brands to fill in the specific market niche -- or maybe even a combination of two or more. Noctua has made quite a prominent name for itself in the industry for making quiet PC cooling solutions. Being that, a quiet cooler does not mean it cannot be a performance cooler at the same time. Combined with a design that challenges the best air cooler, it proves one thing -- bigger does not mean better. It's all about cooling efficiency; and combined with arguably the best fan for this application -- the Noctua NF-P12 -- how will the Noctua NH-U12P perform installed in our real life testing scenario? I've always wondered how it stacks up against the Scythe Infinity -- one of the biggest, and one of the best performing coolers over a year and a half ago -- but with a little twist. We want to see how the heatsink itself performs. And we'll even compare the two with the same fan. Now that would be an interesting showdown.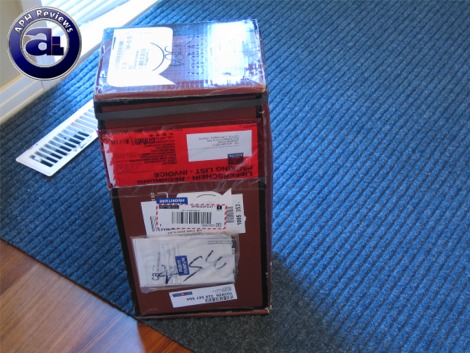 Our review unit arrived in a surprisingly large Noctua (With a Noctua logo and Noctua color scheme!) corrugated cardboard box from Austria. Using express parcel service, it was again transferred to Canada Post here in Calgary as I picked it up conveniently from the postal office on the way home; which was also five minutes away from APH Networks. I had to admit, the box was really beat up; but fortunately it was filled with some ripped cardboard pulp egg tray. With lots of clearing between the sides and the package contents, our Noctua NH-U12P arrived in perfect condition.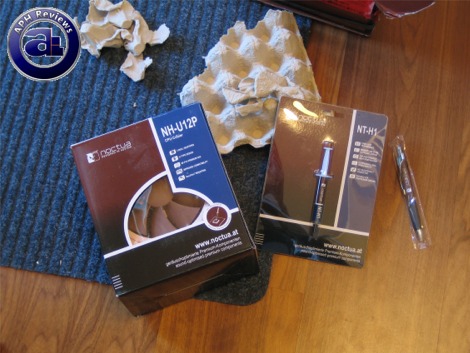 Noctua got us a retail package of the Noctua NH-U12P, which features quite a large cubic box incorporating the typical Noctua shades of burgundy, blue, and white color scheme. Like other Noctua retail packages, the Noctua NH-U12P has a custom cut window that is placed in front to show a portion of its main contents. We also got a tube of Noctua NT-H1 thermal paste in which we'll be reviewing shortly; they also got us a Noctua pen which was really quiet during operation ;) Anyways, in this case, the NH-U12P retail box shows the Noctua NF-P12 fan in front of the heatsink. The other sides of the box have the specifications as well as information on unique NF-P12 fan attributes.
Before we move on, let's take a look at the specifications of the NH-U12P, as obtained from Noctua's website:
General Specifications
Socket compatibility: Intel Socket LGA 775, AMD AM2 & AM2+, Intel Xeon on request
Height (without fan): 158 mm
Width (without fan): 126 mm
Depth (without fan): 71 mm
Height (with fan): 158 mm
Width (with fan): 126 mm
Depth (with fan): 95 mm
Weight (without fan): 600 g
Weight (with fan): 770 g
Material: Copper (base and heat-pipes), aluminum (cooling fins), soldered joints, nickel plated
Application: Intel all frequencies, AMD all frequencies
Fan compatibility: 120x120x25mm / 120x120x38mm (2 fans can be installed)
# Scope of Delivery: NF-P12 premium fan
# Mounting-clips for 2 fans
# Ultra-Low-Noise-Adaptor (U.L.N.A.)
# Low-Noise-Adaptor (L.N.A.)
# NT-H1 high-grade thermal compound
# SecuFirm™ mounting kits for LGA & AM2(+)
Warranty: 6 Years
Fan Specifications
Size: 120x120x25 mm
Bearing: SSO-Bearing
Blade Geometry: Nine Blade Design with VCN
Rotational Speed (+/- 10%): 1300 RPM
Rotational Speed with L.N.A. (+/- 10%): 1100 RPM
Rotational Speed with U.L.N.A. (+/- 10%): 900 RPM
Airflow: 92.3 m³/h
Airflow with L.N.A.: 78.5 m³/h
Airflow with U.L.N.A.: 63,4 m³/h
Acoustical Noise: 19,8 dB(A)
Acoustical Noise with L.N.A.: 16.9 dB(A)
Acoustical Noise with U.L.N.A.: 12.6 dB(A)
Static Pressure: 1.68 mm H2O
Static Pressure with L.N.A.: 1.43 mm H2O
Static Pressure with U.L.N.A.: 1.21 mm H2O
Input Power: 1.08 W
Input Current: 0.09 A
Voltage Range: 12 V
MTBF: >150,000 h
Warranty: 6 years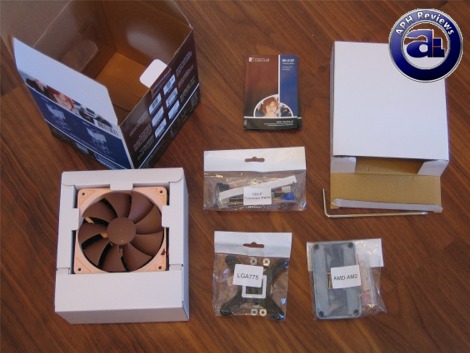 Out of the box, you'll get two other boxes -- you will receive the Noctua NH-U12P heatsink and fan (The Noctua NF-P12) in the larger unit, as well as three bags of mounting/usage accessories and manual in the slimmer box. Each bag of installation and usage accessories is clearly labeled with its application -- one bag for installing on socket LGA775, one for socket AM2, and the last one is a common accessories bag with things such as LNA and ULNA resistors for the fan. The manual is also separated into two sections -- one for Intel and AMD; and it folds out to reveal a large installation poster.
The instructions are clear, and with the accessories very cleanly distinguished for each application; it makes life just that much easier. Noctua also included a small tube of their NT-H1 high performance thermal compound out of the box with the NH-U12P, which is, rumored to be amongst the top in terms of heat conduction performance -- we'll verify that in just a few weeks. Nevertheless, it's quite a package. It's not just about the heatsink, it's also about a combination of an excellent 'stock' fan (Which is, really, a high performance aftermarket fan) and of course, no cheap thermal paste. If only all heatsinks were packaged this way!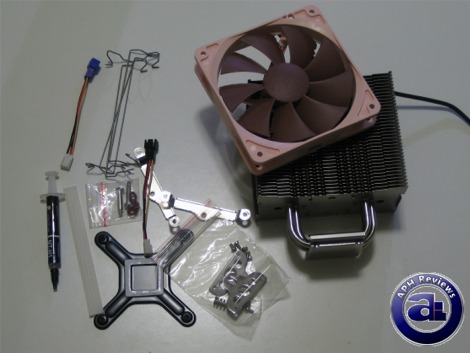 There are not a lot of accessories to use when installing the Noctua NH-U12P -- which is quite fortunate in my opinion. I've used heatsinks that require assembly, which is not really that appealing to go through five pages of information and three bags of nuts and bolts just to get a heatsink going. Most of these are mounting accessories to ensure a secure mount; lately I've felt that using aftermarket mounting solutions rather than stock LGA775 mounting holes to work a lot better. Theoretically, using stock Intel mounting holes will not require you to remove your motherboard, but many aftermarket heatsinks are simply too large to allow anyone to reasonably reach in there and tighten the heatsink securely -- and things just get worse when removing it later on.
Noctua also included two 3-pin resistor cables for the included fan; which allows the user to control the maximum rotational speed on the Noctua NF-P12. Each cable is color coded; the one with the blue connector is the one with the highest resistance -- limiting it to 900rpm (ULNA), while the black connector sets the maximum speed to 1100rpm (LNA). Personally I found the LNA adapter to obtain the best noise to airflow ratio as we've described in the Noctua NF-P12 review.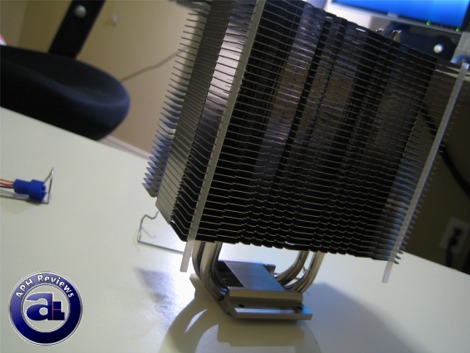 I found the Noctua NH-U12P's design quite interesting -- it's actually a bit similar in terms of looks when compared to Thermalright's Ultra 120 heatsink. Of course, the Noctua NH-U12P has different dimensions and weighs 600g without the fan. It does retain somewhat similar design cues with regards to how heatpipes are aligned through the fins, and how the heatsink fins are cut to curved inwards. Being that, the Noctua has a more distinct edgy shape rather than a smooth round design in that regard. The Noctua NH-U12P is still a fairly large heatsink as its large enough to accommodate 120mm fans both of its sides.
Four self-adhesive rubber strips are included for fan noise dampening, in which we attached as shown above. While the Noctua NF-P12 fan has minimum vibrational noise according to our tests in our separate NF-P12 review, it sure doesn't hurt to minimize all portions of it. Four strips are included as they are to be used in pairs as shown above; two for each side to accommodate up to two fans on the Noctua NH-U12P heatsink.
In comparison to the Scythe Infinity, however, it's significantly sleeker and slimmer. For heatsinks, does "the bigger, the better" still hold true? We'll see about that in our tests in just a moment.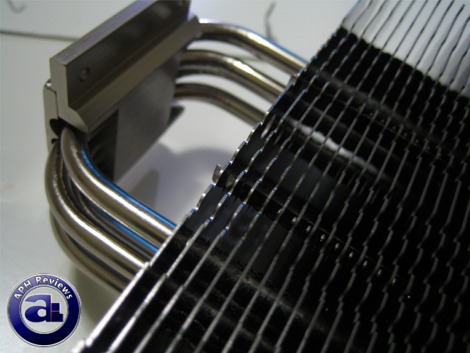 The Noctua NH-U12P is a copper/aluminum hybrid heatsink electroplated with nickel. The vital parts such as the base and heatpipes are built using copper for best heat transfer ability with a specific heat capacity of 0.385J/g°c. The heatsink fins utilize aluminum as its material due to its lightweight properties as juxtaposed to copper -- this is to allow the construction of larger heatsinks without stressing too much on the motherboard due to weight (Full copper heatsinks of this size can weigh nearly a kilogram!). Aluminum has a specific heat capacity of 0.897J/g°c which is not as optimum for heat transfer as it retains more thermal energy.
While this is all quite interesting information, visually speaking the NH-U12P from Noctua has none of the copper color with its copper heatpipes and base. According to the specifications, the Noctua NH-U12P is electroplated with nickel on top of its copper -- which has a specific heat capacity of 0.444J/g°c, obviously every Chinese's favorite number... not that I believe in any of these things, but it's funny to poke fun at ;) Anyways, ignore that if you don't understand. While nickel has a higher specific heat capacity than copper which may limit heat transfer, the electroplated layer is very thin and should not directly affect performance to a significant degree -- but it is likely related to the corrosion allowance factor. Nickel and nickel-base alloys generally have desirable properties that can withstand corrosive environments and high temperatures -- which, for a heatsink, could be a combination of the two especially if you have a Prescott! (Sorry guys, just kidding.)
Back on topic, the reason why nickel has such a property is because of nickel's ductility and toughness all the way up to the melting point of 1455°c measured at non-standard pressure. Nickel's face-centered cube crystal structure is virtually unaltered all the way up to that temperature -- so when we mean high temperature, unless you have a Prescott, it's nothing for a nickel surface. Generally speaking, nickel, like titanium, is highly resistant to corrosion therefore corroded material won't build up on the surface in the long run. It's surely a good sign because the NH-U12P will be less prone to losing its cooling performance over time as juxtaposed to a corroded copper surface.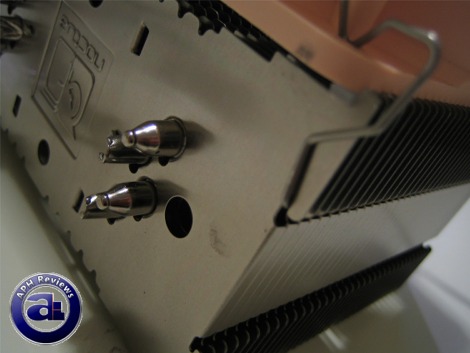 We can see at the top of the Noctua NH-U12P, obviously, the engraved Noctua logo.
... Of course, besides that, we can see the inner curvature via a 'best fit' line rather than a smooth curve towards the center, which looks fairly unique with the distinct bumps and slopes. A small gap can be observed in the center between the heatsink and fan, because it's not a complete flat alignment as designed. Four heatpipes are constructed into the NH-U12P that leads in two direction away from the CPU base for eight effective heatpipes; two less than the Scythe Infinity we reviewed last year. The finish is very clean with the nickel coated heatpipes and with four of the eight heatpipe ends with aesthetic cap finishes at the top -- although I don't really understand why the other four does not have the beginning finishes. They are implemented in an alternating alignment for better heat distribution between the inner and outer parts of the heatsink fins.
Regardless, the welding job of the Noctua NH-U12P heatsink is done extremely nicely and everything is clean and is generally built with quality.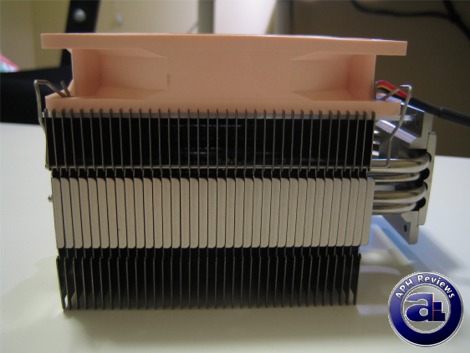 With the four heatpipes that lead in both directions in alternating alignment over the CPU base, the clearing between the base and the fins section are empty. I've seen heatsink designs where heat dissipation fins are placed over the top of the heatsink base in this area to more effectively dissipate heat; on the other hand I've also seen it backfire if there's lack of airflow in this area. Theoretically the heatpipes are supposed to lead away the heat due to low heat of vaporization (Phase change energy) of alcohol. It should be just fine in this regard for the Noctua NH-U12P.
Like many Scythe heatsinks, the fan is separately mounted onto the NH-U12P to free the user from being stuck with the stock fan. Of course, I don't see a reason why anyone wouldn't use the included Noctua NF-P12 fan -- I can definitely see myself buying the same fan for other heatsinks. Anyways, while the mounting idea is somewhat the same, the wire clips are much stronger than Scythe Infinity wire mounting clips and the way it is implemented in the reverse clipping section is much more secure in my opinion. The ending clearance on both sides is also much shorter to prevent potential interference with nearby heatpipes on the modern motherboards.
The fan can be installed on either or both sides of the heatsink for classic air pushing design or a more 'hardcore' push/pull implementation. The fan aligns horizontally with the ledges on both sides of the heatsink to ensure proper installation. Mounting accessories are included to accommodate two fans if desired.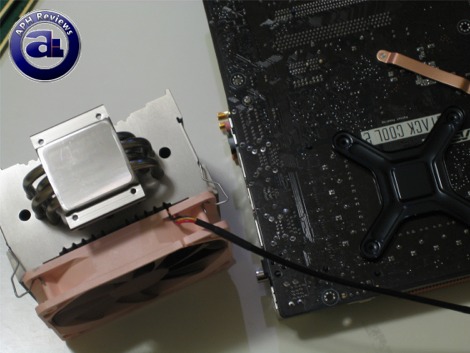 The base of the nickel plated heatsink has a relatively clean finish, but it is not polished to a shine. While how shiny it is is usually a good indication of its finish in terms of flatness, some manufacturers simply polish the base to make it look better. The Noctua NH-U12P did not fit in this category because the base is certainly not polished -- but a close look at the surface seems to reveal a decently flat finish with no machine marks on our particular unit.
The first part of installation on our LGA775 platform involves the implementation of the motherboard backplate; which uses the four LGA775 mounting holes as a passthrough to connect with the front mounting accessories.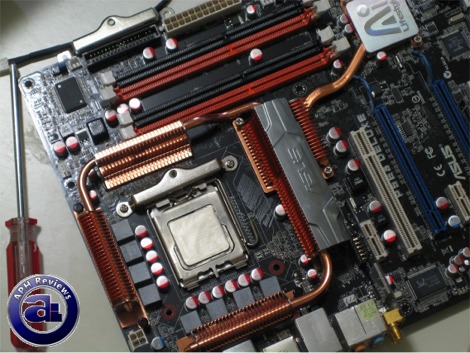 We installed the Noctua NH-U12P on our Asus P5E3-Deluxe/WiFi-AP@n motherboard. Two pieces of metal mounting aids are placed in parallel to the desired orientation of the heatsink; where screws are attached to ensure a secure attachment with included washers between the metal pieces and the motherboard. A quick attachment of the four screws will take to the completion of this relatively simple and easy step.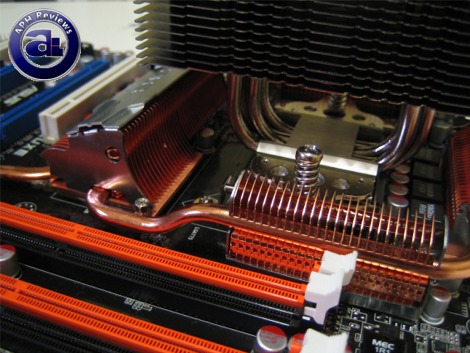 Two plates are to be installed onto the top face of the Noctua NH-U12P's heatsink base; again attached with two screws each for a total of four screws. After applying thermal paste on the CPU, we placed the NH-U12P on top of the CPU/CPU socket and aligned it with the motherboard mounters as installed earlier. Two spring loaded screws will be used for securing the Noctua NH-U12P onto the motherboard. These screws provide a very distinct tightness threshold to prevent overtightening -- I actually cheated a bit and used power tools for this step, so I would have known haha.
Since pre-attaching the fans would interfere with the above step, the fan(s) must be mounted after the Noctua heatsink is installed over your CPU. There's no clearing issues as far as I am concerned, and the fan clip wires retain a tight, low clearing fit around the corners of the fan as mentioned earlier so it does not interfere with motherboard heatpipes -- this is important the fan can go low enough for enough airflow to go between the empty space between the heatsink fins and the heatsink base; to prevent heat from concentrating in that particular area.
---
The Tests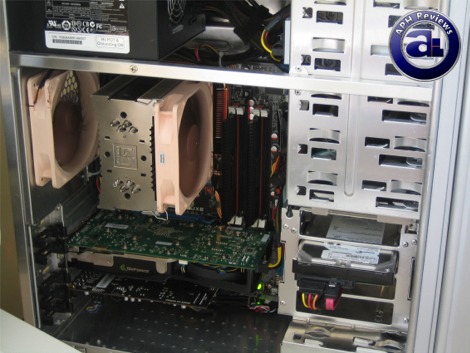 Our test setup as follows:
CPU: Intel Core 2 Duo E6600 @ 3.45GHz (383MHz*9 - 1.3750V)
Motherboard: Asus P5E3-Deluxe/WiFi-AP@n
RAM: Super Talent Project X DDR3-1800 2x1GB
Graphics: Asus 8800GTS G92 TOP 512MB
Case: Thermaltake Aguila (Noctua NF-S12-800 - Front; NF-S12-1200 - Back)
Power: Seasonic M12 500W
Sound: Auzentech X-Fi Prelude
Optical Drive: NEC AD-7170A 18X DVD+/-RW
Hard Drive: Seagate 7200.10 320GB 16MB SATA2
Operating System: Microsoft Windows Vista Ultimate
Compared heatsinks:
- Scythe Infinity (Noctua NF-P12 LNA @ 1100RPM with Arctic Cooling MX-2)
- Noctua NH-U12P (Noctua NF-P12 LNA @ 1100RPM with Arctic Cooling MX-2)
All tests were run with the computer in an upright position, case door closed, in order to achieve the most accurate and real-life results. The computer remained in the same location in the same room throughout all tests. The room temperature is around 24c. Arctic Cooling MX-2 thermal paste was used for its performance; all pastes were given a proper amount of time for them to fully settle. The fans on all heatsinks are directly connected to the motherboard's 4-pin connector, Asus Q-Fan "Optimal" setting enabled. Computer is turned on and idling for at least 1 hour for the idling tests. High CPU load results were obtained using Orthos multithreaded large FFTs test for a minimum of 30 minutes.
I did not compare this heatsink against a bunch of other heatsinks because in my opinion, a heatsink is important in areas such as engineering, build, noise and performance in relation to idle/load. It's hard to simulate the exact two scenarios -- the same amount of paste, application pressure, and other temperature influential factors -- including time of day, airflow and circulation of room, as well as maintaining a constant temperature. For careful representation, we have spent a lot of time to carefully simulate the exact same scenario in each case to ensure accurate temperature measurement when be compared this heatsink against the Scythe Infinity.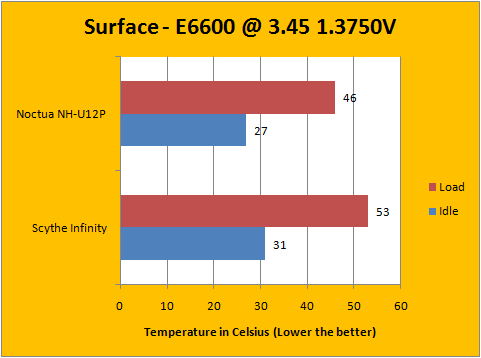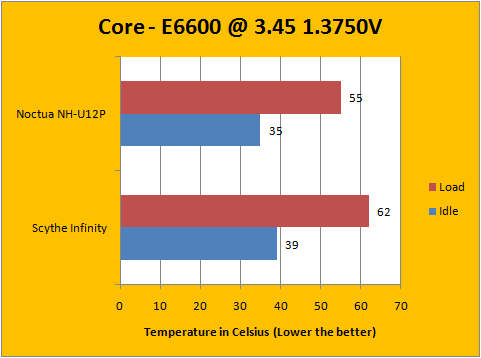 Shooting 1.3750V through an E6600 clocked at 3.45GHz is quite a bit of fun to test, especially in a small and relatively lower airflow environment I've created in a quiet PC configuration. Being that, there's no reason for such a huge difference as juxtaposed to our results obtained last year. What contributes to this? We even used the same fan! According to my speculations, I would personally think a few of these factors: The Scythe Infinity has a hard time getting rid of the congested heat between the fins and the heatsink base; which is probably true in this situation because of the low airflow and high clearance of the heatsink mounting wires and some interference with the P5E3-Deluxe's heatpipe system -- clearly a design flaw that the NH-U12P does not suffer from. I actually had to push the fan down at an angle (The wires allow a certain degree of tolerance angle in mounting) to bring some air over that area. Secondly, as we've already described earlier, the corrosion factor may come in handy especially when our Scythe Infinity test unit which incorporates a copper base is in service for over a year already. We cleaned the base thoroughly and precisely before the tests, so maybe the nickel plating on the Noctua NH-U12P will really pay over time, you never know. Thirdly, the Scythe Infinity's heatpipes aren't actually soldered to the heatsink fins -- which may lose contact over time due to thermal cycles of heating up and cooling down; as they are only tightened.
The test environment is, well, close to 100% controlled with everything as close as possible for the controlled variables, therefore the error factor should be fairly low for our results.
During idle conditions, the Infinity stayed at 31c surface and 39c core; both at 4c higher than the NH-U12P with the same fan on it. The change of temperature measured on the NH-U12P is 20c at core and 19c surface -- which isn't too bad considering the maximum temperatures of 55c and 46c, on core and surface, respectively. This completely blew our older Scythe Infinity away by 9c on the surface and 7c on core readings.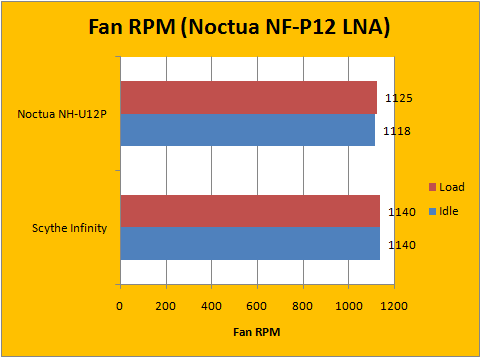 Since I installed the LNA adapter on the Noctua NF-P12 fan between the motherboard header and the fan itself, the fan speed is capped at approximately 1100rpm for lower acoustical noise. Remember, this test is for testing real life usage regarding a quiet PC scenario -- so 1100rpm has the best airflow to noise ratio in my opinion. Interestingly, however, while I disabled motherboard fan controls in our tests today, the Noctua NF-P12 mounted on the NH-U12P actually had a slightly lower RPM the whole way through -- so what gives? The NH-U12P is clearly the better cooler here. Maybe we can check back in a year or so to see if the nickel plated NH-U12P holds a high degree of consistency over time. Suppose that the applied scientific facts are true, nickel's low corrosion factor will really help!
For noise factor considerations, please read our Noctua NF-P12 fan review.
---
The Noctua NH-U12P performed very well on our graphs -- but if performance is what we are all concerned about, then we were wrong. That's because as far as I am concerned, it may not be the best performing heatsink for lowest temperature in the market today according to what our affiliates have done with the testing. That does not mean it's that far behind either -- it stacks up nearly as well. In reality, it is an excellent package, and priced accordingly based on its performance at retail price. It includes one of the best fans for performance to noise ratio in the market, great 'stock' thermal paste out of the box, and a carefully engineered heatsink for long term consistency in performance and excellence in aesthetics. Noctua also took great care down to the details such as utilizing rubber dampening strips to ensure silence is retained at all times. The heatsink mounting method may take only a reasonable amount of work, but it's certainly a guaranteed secure mount unless you forgot an entire part; there's nothing much to complain here because there probably isn't anything out there that's without more sacrifices. This is what we define as a great package. My only complaints are, well, some minor aesthetic issues fixed, what else can I complain about? It's priced reasonably for how it performs, and after all, it's a heatsink, and the package it comes in accommodates both performance and quietness in use!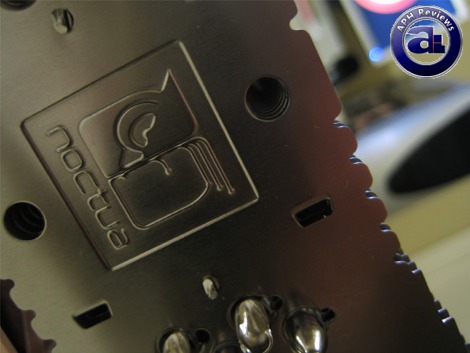 Special thanks to Jakob over at Noctua for making this review possible.

APH:Renewal Award | APH Review Focus Summary:
7/10 means Great product with many advantages and certain insignificant drawbacks; but should be considered before purchasing.
8/10 means Definitely a very good product with drawbacks that aren't likely going to matter to the end user.
-- Final APH Numeric Rating is 7.9/10
Please note that the APH Numeric Rating system is based off our proprietary guidelines in the Review Focus, and should not be compared to other sites.
The Noctua NH-U12P is a package that strikes a balance for excellence in virtually all areas. It's certainly a heatsink you don't want to miss, whether you are looking for performance or quietness.