By: Jonathan Kwan
February 2, 2008
Sound cards. From the world of Creative dominating nearly the entire sound card market, to today's relatively adequate integrated audio, all the way to competition to who can make the best discrete audiophile sound card, the choice consumer has for computer audio is better than ever before. I've always been a big fan of Creative hardware for excellent performance and flexibility to push the potential of low end to high end computer audio. However, there always seem to be some limitations in place -- whether it's software issues, or other onboard hardware used in conjunction with the audio processor -- it really limited their popularity to a few certain users only. Lately, two high end sound cards gained a lot of press. One is the Asus Xonar D2 which we've already reviewed back in October 2007. It's excellent with the DACs and OPAmps used, but I personally felt a bit of limitations with its scalability and processing power. The second is the Auzentech X-Fi Prelude. Now this is one interesting product. Being the first third-party manufacturer to license Creative's excellent X-Fi audio processor, the X-Fi Prelude is a combination of a favorite audio processor amongst many, with pretty much all the benefits of a high end board such as the Xonar D2 as aforementioned. Is this really the ultimate consumer sound card money can buy? Let's take a close look and see how it goes.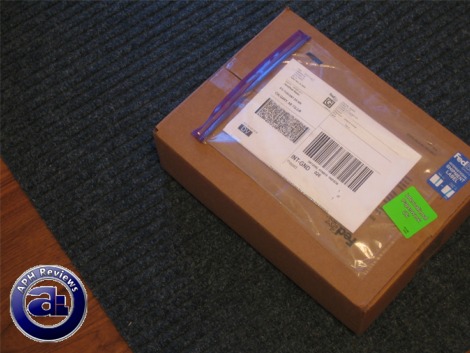 Our review unit of the Auzentech X-Fi Prelude 7.1 sound card came in a small box from Auzentech's offices in Santa Clara, California to here in Calgary, Alberta using FedEx Ground. This is certainly one of those products that I was really excited for -- bookmarking the tracking page and checking it almost daily. On the day of delivery, FedEx just left it at my door, but everything arrived in excellent condition for our review today.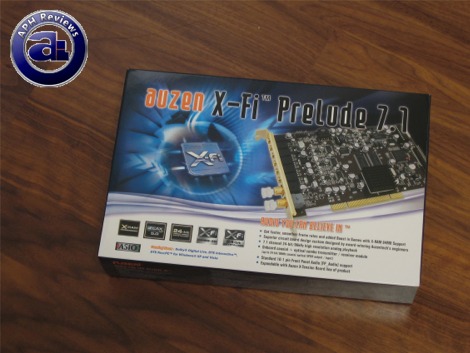 Our Auzentech X-Fi Prelude came in a retail box, incorporating part of the X-Fi blue and black color scheme while retaining mostly of Auzentech's own design. And of course, they didn't miss out on the Auzentech orange. The box is quite a bit smaller and less complex than Creative's own X-Fi XtremeMusic packaging I purchased over a year ago; with a stock photo of the X-Fi Prelude shown in front under the big and bold "Auzen X-Fi Prelude 7.1" title. An array of five X-Fi icons are shown in front, with a brief listing of features in the bottom right corner in front. Miscellaneous information such as features, and specifications (With diagram at the back) are printed on various sides of the box.
Before we move on, let's take a look at the specifications of the Auzentech X-Fi Prelude, as obtained from the manufacturer's site:
Key Components
- Creative X-Fi CA20K audio processor
- One AKM AK-5394 super high performance 96kHz 24-bit ADC for analog input
- Four AKM AK-4396 96kHz 24-bit advanced multi-bit DAC for analog output
- 64Mbytes of memory for audio processing
- High fidelity audio OPAMPs for analog input and output (TI OPA2134)
- Front L/R output OPAMP is replaceable by end-user (National LM4562NA)
- Dual mode S/PDIF receiver and transmitter
Audio Performance (Rated Output @ 5Vrms, Typical Value)
- Signal-to-Noise Ratio (20kHz Low-pass filter, A-Weighted)
- Stereo Output : 120dB (part spec)
- Front and Rear Channels : 120dB (part spec)
- Center : 120dB (part spec)
- Subwoofer and Side Channels : 120dB (part spec)
- Total Harmonic Distortion + Noise at 1kHz (-3dBFS, A-weighted) : 0.001% - part spec
- Frequency Response (+/-0.01dB, 24-bit/44.1kHz input ) : 20khz (part spec)
- Frequency Response (+/-0.01dB, 24-bit/96kHz input ) : 43.5 khz (part spec)
- 16-bit to 24-bit recording sampling rates: 32, 44.1, 48 and 96kHz
IO Connectors
- One 3.5mm MIC input connector in rear panel
- One 3.5mm line input connector in rear panel
- One 4-pin AUX connector on board
- Four 3.5mm 8 channel line output connectors in rear panel (FL/FR/C/SW/RL/RR/RSL/RSR)
- One S/PDIF combo input connector in rear panel for receiving either coaxial or optical digital
- One S/PDIF combo output connector in rear panel for transmitting either coaxial or optical digital
- One 10-1pin front panel connector on board for MIC input and headphone: more
- One 40-pin digital extension header on board to support AD-Link and other digital functionality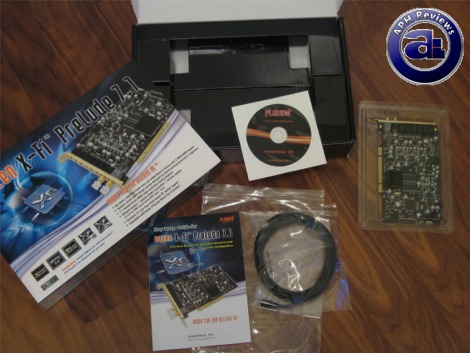 The retail box is a two-piece set; sliding out the inner part reveals the content holding box. Unlike the similarly-priced Asus Xonar D2, the Auzentech X-Fi Prelude includes a minimalistic amount of accessories. Out of the box, you will receive the following:
- 1x Auzentech X-Fi Prelude PCI card
- 1x Optical cable (3 meters)
- 2x coaxial to optical adapters
- 1x Manual
- 1x Driver/Software CD
---
Page Index
1. Introduction, Specifications, Bundle
2.
A Closer Look - Hardware
3.
A Closer Look - Software
4.
RightMark Audio Analyzer 24-bit/48 kHz
5.
RightMark Audio Analyzer 24-bit/192 kHz
6.
Subjective Listening and Conclusion