Page 3 - A Closer Look - Software
Those who have previously used Creative's X-Fi sound cards should be quite familiar with the user interface with these drivers -- what's included, and how it looks is literally identical to the Creative X-Fi drivers, save the Auzentech logos at the bottom. In the Start menu, several things are renamed, such as "Creative Console Launcher" to plain "Console Launcher"; and "Creative Audio Console" became "Auzentech Audio Console". Nevertheless, for those who have never owned an X-Fi, or want to see what's different, these screenshots will come in handy.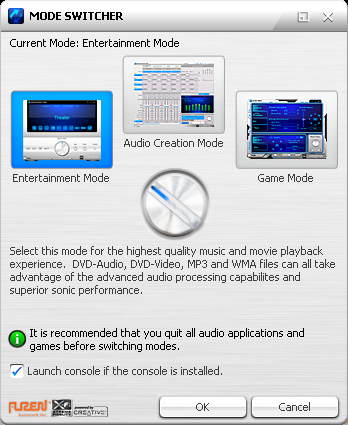 The Mode Switcher for Entertainment Mode, Audio Creation Mode, and Game Mode that takes advantage of the Creative Audio Ring on the Creative X-Fi audio processor. I won't get into the details, but different modes optimizes the combination of the features and APU differently, just to simplify things a bit -- such as audio creation mode for low latency ASIO recording, and gaming mode for low CPU utilization. Generally speaking, most of the time I am too lazy to bring it out of Entertainment Mode haha. So let's talk about that a bit.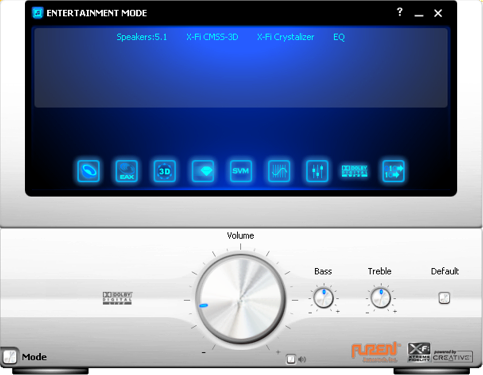 The main screen of the drivers set into Entertainment Mode on the Auzentech X-Fi Prelude. Besides the Creative logo replaced by the Auzentech logo in the bottom right corner, it's pretty much the same thing as Creative's own drivers in terms of user interface. The volume control is located in the middle at the bottom section; to the right of it are two virtual knobs for treble and bass control. At the top is an array of nine icons to bring in submenus to configure various settings available on the X-Fi Prelude.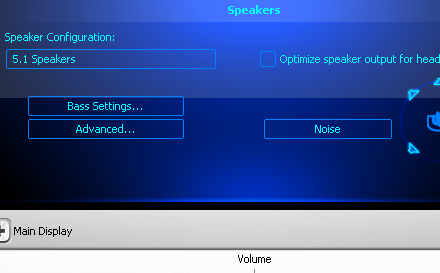 The speaker configuration page. The only thing I have to complain about is that you can't change speaker configuration in these drivers for some reason, at least under Vista -- the only way to change it is to do it in Windows sound settings.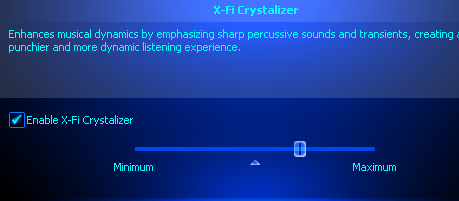 As far as an X-Fi goes, certainly the Creative X-Fi Crystalizer is part of the package. Working off the Creative DSP/APU, it is basically a dynamic equalizer/multi-band compressor to improve perceived audio quality -- it makes the highs and lows more apparent to the listener in order to make the audio sound more punchy. While it will not make low quality MP3s 'sound better than the original', it's still certainly a nice feature to have. It has been criticized by audiophiles that dislike the idea of manipulating the original signal and limit the intended sound, this is purely based on each individual and the music played back. Generally, users who like 'punchy' and more colorful sound will definitely appreciate this feature and its effect.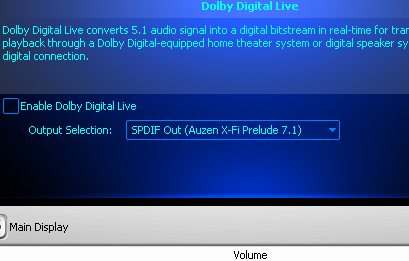 With the latest driver release, the Auzentech X-Fi Prelude gives Dolby Digital Live support. Other home theater technologies such as DTS:Interactive are promised in upcoming driver releases; Auzentech certainly fulfilled a few of its promises already at the time of review -- we'll certainly be excited to see their new driver releases.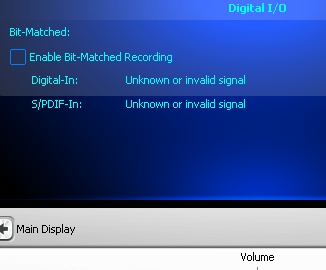 The Digital I/O tab.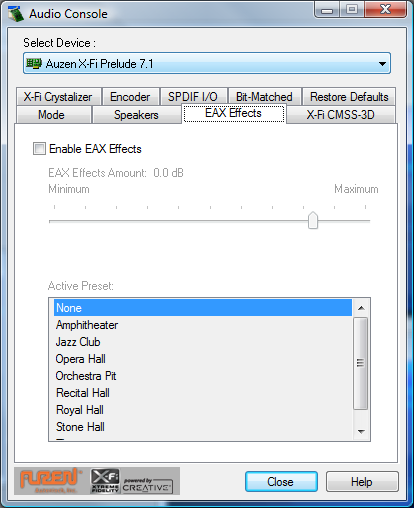 In the Auzentech Audio Console, again it looks almost identical to the Creative Audio Console in terms of looks; with a few proprietary Auzentech X-Fi Prelude only features that's not in Creative's own drivers. This is basically a non-fancy-GUI configuration control; pretty much all of the configurable items in here can be done in the GUI console as in the previous screenshots.
---
Page Index
1.
Introduction, Specifications, Bundle
2.
A Closer Look - Hardware
3. A Closer Look - Software
4.
RightMark Audio Analyzer 24-bit/48 kHz
5.
RightMark Audio Analyzer 24-bit/192 kHz
6.
Subjective Listening and Conclusion