By: Jonathan Kwan
October 27, 2007
As Intel's flagship X38 chipset rolls into the hands of motherboard makers, there are times when ordinary material is used to make extraordinary products. Of such is Asus' new, pretty much flagship (considering its price haha), motherboard -- the Asus P5E3-Deluxe with its full name of Asus P5E3-Deluxe/WiFi-AP@n describing its wireless-N capabilities. There's a 'plain' Asus P5E3-Deluxe without the WiFi, but our focus would be the one with onboard wireless networking as we refer to the Asus P5E3-Deluxe for short. The latest and greatest, along with as many features as you can possibly imagine and beyond, is built into this motherboard. Like, an integrated Linux based operating system that boots in five seconds for instant internet access? Now that's something we've haven't seen in any motherboard before. Is the Asus P5E3-Deluxe truly the motherboard of desire, the envy of all your friends, and the ultimate girl magnet? Okay, maybe not the last one, but we will investigate the Asus P5E3-Deluxe together to see how well it stacks up against typical expectations.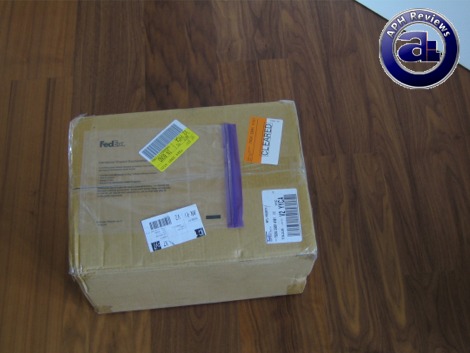 As usual from Asus, our review unit of Asus' P5E3-Deluxe came in a rather large cardboard box from the company's headquarters in Taiwan. Using FedEx International Priority, everything arrived pretty uneventfully and in excellent condition as we've always expected from FedEx particularly. Asus has also taken excellent care in the packaging with excellent use of foam brackets as well as foam sheets to ensure the contents comes in not only working condition, but also in mint condition.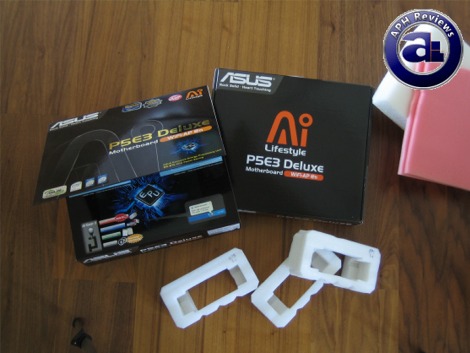 Our Asus P5E3-Deluxe review unit came in a several weeks ago as they were just being officially announced. The usual high end double section retail packaging is again seen with the Asus P5E3-Deluxe; with the first enclosing section having a flap top to reveal more written content inside. Sliding out from the side reveals the actual box; enclosed by a flap insert design. A pass-through cut on the outer surface wrapper permits a plastic carrying handle located physically on the box inside to be used. The actual box has a clean black and orange color scheme with motherboard model description under the 'Ai Lifestyle' logo.
While the Asus P5K3-Deluxe discusses primarily on memory performance, the Asus P5E3-Deluxe emphasizes on another unique aspect -- the EPU or otherwise a CPU energy saving implementation. We'll check that out later into the review.
With regards to the arrangement of its abundance of accessories inside the retail box, again everything is packed in individual plastic bags; tightly and securely in semi-arranged sections inside the box. A divider separates the accessories and manuals on top, with the motherboard itself in an anti-static bag at the bottom.
Before we move on, let's examine the specifications of this motherboard, as obtained from Asus' website: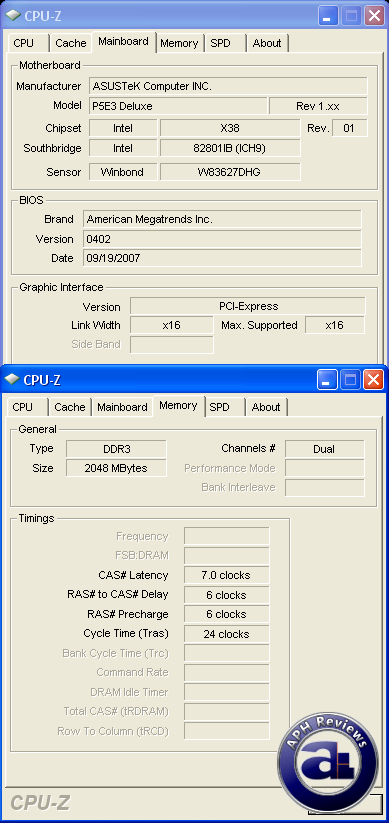 CPU-Z screenshot of the motherboard and RAM tab. RAM used is the OCZ Platinum PC3-12800 Enhanced Bandwidth Edition 2x1GB DDR3 RAM, running at stock speeds and non-stock timings. BIOS version 0402 is used with the P5E3-Deluxe for our benchmarks; in which is the latest stable non-beta release at the time of writing.
---
Page Index
1. Introduction, Features, and Specifications
2.
Bundle, Chipset, BIOS
3.
A Closer Look, Board Layout
4.
Test System; Benchmark: 3DMark06
5.
Benchmark: PCMark05
6.
Benchmark: Cinebench 9.5, SuperPI 1M
7.
Benchmark: EVEREST CPU
8.
Benchmark: EVEREST FPU
9.
Benchmark: EVEREST Memory
10.
Benchmark: EVEREST Memory Latency, HDTach 3.0.1.0
11.
Asus Express Gate Onboard Linux
12.
Onboard Sound (RMAA 6.06) Analyzation
13.
Onboard Sound (Subjective), Wi-Fi, Overclocking, Conclusion