By: Jonathan Kwan
October 2, 2007
It's been quite a few months since we reviewed the Asus P5K-Deluxe; in which we wrote about in June of this year. Today, months after images of Asus' P35 chipset based boards were released on several enthusiast websites, we've finally got a chance to take a look at Asus' first generation DDR3 boards. Actually, we've had this board since mid-July -- unfortunately we did not have any DDR3 RAM at our disposal until good old FedEx dropped off some OCZ Platinum PC3-12800 Enhanced Bandwidth memory at our front doorsteps (Without our approval, by the way, but good thing no one took it!) a few days ago. Now that we got a chance, let's examine the P5K3-Deluxe and benchmark it against its DDR2 brother, the P5K-Deluxe. The answer we want to obtain today is, what kind of performance gain are you expecting from DDR3 over DDR2? While you may already know the results partially, it's always interesting to see what the future has in store for us, today.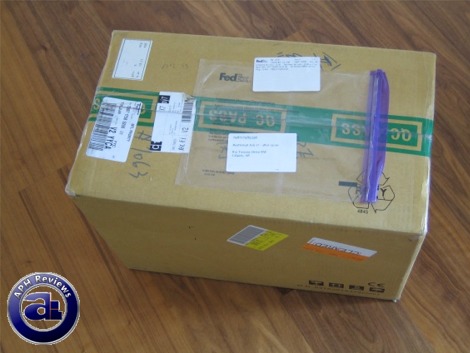 Our review unit of Asus' P5K3-Deluxe/WiFi-AP motherboard came in an unusually large shipping box from Asus' headquarters in Taiwan. Using FedEx International Economy, all the extra space was filled with sheets of foam to prevent its internal contents from being damaged.
That's the same box that held our Asus EN8800GTS 320MB graphics card we reviewed at the end of July. Considering the size of the retail boxes inside and its value, it's always nice to see everything arriving in perfect, undamaged condition.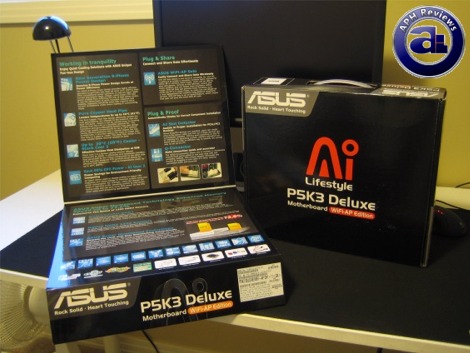 The Asus P5K3-Deluxe sent to us for evaluation was in retail box format, as expected from Asus -- in which the box retains striking similarities in design and implementation as the P5K-Deluxe. The only difference is that 'P5K3-Deluxe' is substituted in whenever it says 'P5K-Deluxe' on the other board. Oh yeah, and DDR3 instead of DDR2.
In general, the Asus P5K3-Deluxe and its DDR2 sibling is pretty much the same board with a certain degree of hardware changes -- therefore we'll 'borrow' content from our other review and implement it here as long as it's applicable. Feel free to compare the two reviews!
Anyway, moving onto the retail box, with primarily a black color scheme, the Asus P5K-Deluxe comes in pretty fancy packaging. Printed with "AI Lifestyle" logos and caption at various locations of the box, the double-phase package design is something we've seen previously only with high end products from the same company.
The outer surface wrapper opens up with a flap to highlight certain features of the P5K-Deluxe, with pretty photos and icons. Sliding out from the side reveals the actual box; enclosed by a flap insert design. A pass-through cut on the outer surface wrapper permits a plastic carrying handle located physically on the box inside to be used.
Everything inside is packed tightly and safely. It's really some fancy packaging inside and outside!
Before we move on, let's examine the specifications of this motherboard, as obtained from Asus' website: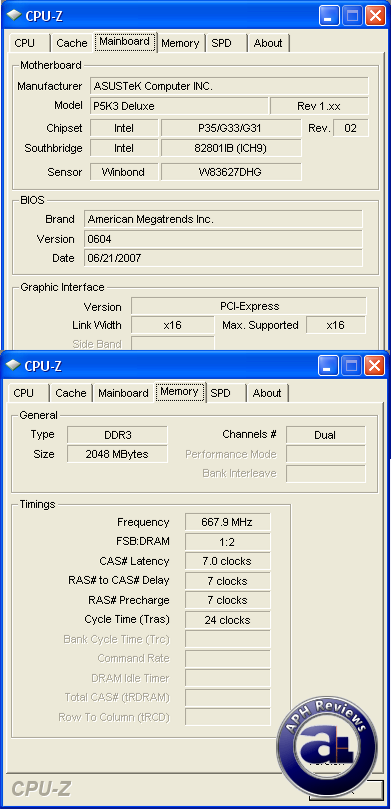 CPU-Z screenshot of the motherboard and RAM tab. RAM used is the OCZ Platinum PC3-12800 Enhanced Bandwidth Edition 2x1GB DDR3 RAM, running at non-stock speeds and timings. BIOS version 0604 is used with the P5K3-Deluxe; in which is the latest stable release at the time of writing.
---
Page Index
1. Introduction, Features, and Specifications
2.
Bundle, Chipset, BIOS
3.
A Closer Look, Board Layout
4.
Test System; Benchmark: 3DMark06
5.
Benchmark: PCMark05
6.
Benchmark: Cinebench 9.5, SuperPI 1M
7.
Benchmark: EVEREST CPU
8.
Benchmark: EVEREST FPU
9.
Benchmark: EVEREST Memory
10.
Benchmark: EVEREST Memory Latency, HDTach 3.0.1.0
11.
Onboard Sound, Wi-Fi, Overclocking, Conclusion