Page 2 - Bundle, Chipset, BIOS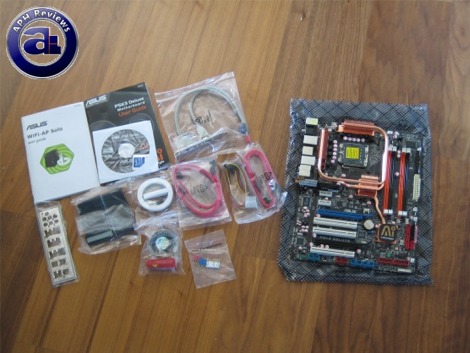 Packaging and accessories are nearly identical to the P5K-Deluxe -- out of the box, you will get the Asus P5K3-Deluxe itself. Standard accessories include an I/O shield, standard PATA cable, floppy IDE cable, four SATA cables, two dual SATA power cables, two manuals (One for the motherboard itself, another for Wi-Fi), dual USB and FireWire PCI backplates, as well as an omni-directional antenna for the Wi-Fi feature. The only difference is that the Asus P5K3-Deluxe comes with a chipset fan.
The CD includes a collection of Asus software and utilities in addition to drivers, but no games are included out of the box.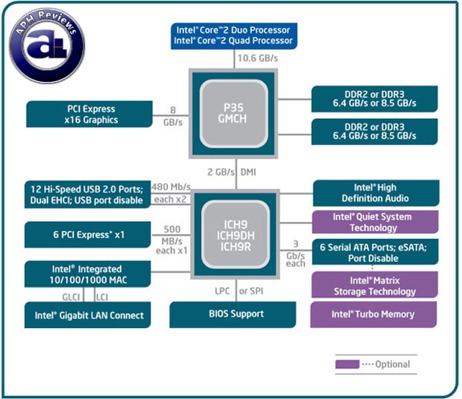 The Intel P35 chipset diagram, as obtained from Intel's website. As far as PCIe lanes go, 16 (MCH) + 6 (ICH) is still far behind NVIDIA's 46 on their flagship 680i. Intel still retains ATI Crossfire support on the P35 at 16-4 configuration. Currently, 22 PCIe lanes should suffice, but the limitation of design comes down to lack of bandwidth to the second PEG slot. Because 16 lanes come from the northbridge and 4 lanes from the southbridge, it also suffers from the limitation of data transfer/communication between the chipsets.
The introduction of P35 also brings about native DDR3 support, but still retains DDR2 compatibility and is offered on boards such as the Asus P5K-Deluxe. The P5K-Deluxe is the DDR2 variant; while Asus' P5K3-Deluxe that we are looking at today offers native DDR3 support. In addition, Intel finally announces native out-of-the-box support for 1333MHz FSB CPUs, as well as upcoming 45nm Penryn core compatibility.
Intel's P35 is also paired with the new ICH9 series southbridge (ICH9R on the P5K3-Deluxe). This enables native support for up to 12 USB ports. 6 SATA and eSATA is also available out of the box. As usual, disk configuration can be made in RAID 0,1,5,10, or JBOD on ICH9R with Asus' P5K3-Deluxe.
As with ICH8R, native PATA support has been dropped. The last Intel southbridge that supported PATA was with the ICH7 series.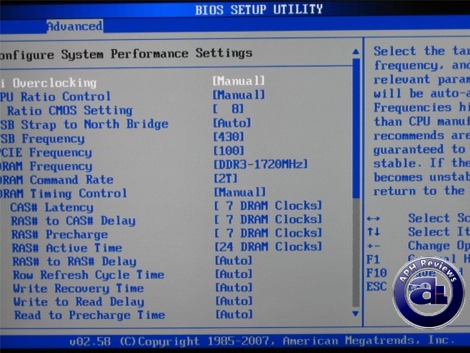 All the overclocking dirty work can be completed literally in a single page in the BIOS. Recent BIOS updates enables 1T/2T command rate setting on the P5K3-Deluxe. In addition to standard RAM latency settings of CAS-tRCD-tRP-tRAS, seven additional timing controls are featured on the P5K3-Deluxe with BIOS 0604.
PCIe frequency can be set from 100 to 150 at 1MHz increments (User defined integer, same with the FSB). FSB allowed values range from 200 to 800, integer values only. There are no literal PCI locks, but once "PCIE Spread Spectrum" is set to "Disabled", locks will automatically engage and the PCI bus would operate at 33.3MHz.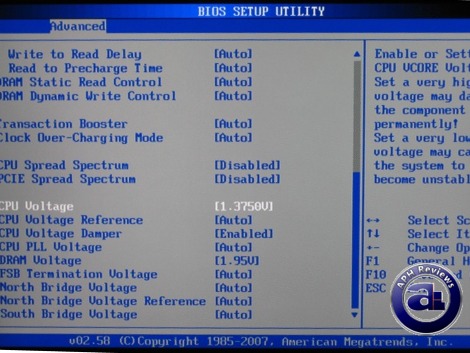 The second portion of the 'overclocking dirtywork' page in the BIOS. Voltages are to be adjusted here as well; in which permissible voltage values and settings as follows:
CPU VCore: 1.1000 to 1.7000V @ 0.0125V increments
CPU Voltage Reference: 0.57/0.59/0.61/0.63x
CPU PLL Voltage: 1.50/1.60/1.70/1.80V
RAM: 1.80 to 2.55V @ 0.05V increments
Northbridge: 1.25/1.40/1.55/1.70V
NB Voltage Reference: 0.61/0.67x
Southbridge: 1.05/1.20V
FSB Termination Voltage: 1.20/1.30/1.40/1.50V
Clock Over-Charging Mode: +700/800/900/1000mV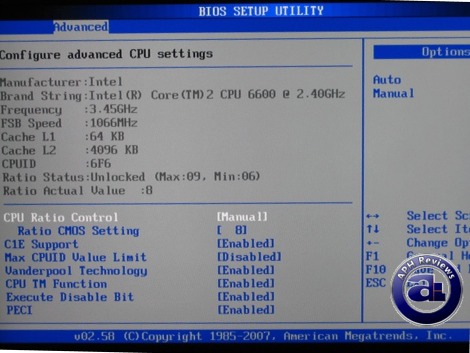 Additionally, certain CPU features can be controlled in the dedicated CPU configuration page. It's quite interesting because you can set CPU multiplier in two locations: One in the overclocking page; the second one being on the CPU advanced settings page. There's no literal SpeedStep/EIST configuration at this point, but you can disable or enable C1E Support -- which will show the SpeedStep option once C1E is enabled and rebooted.
The Hardware Monitor page in the P5K3-Deluxe BIOS. As far as it goes with the P5K series with Asus, the P5K3-Deluxe with BIOS revision 0604 does not really like low RPM with the CPU fan. For one thing, Asus' Q-Fan Silent mode reduces the fan speed to roughly 1100rpm from 1200rpm on idle only -- not much of a slowdown with my Scythe Infinity. When I put a resistor cable between my Scythe Infinity and the motherboard header, it dips below 1000rpm, but on several occasions the P5K-Deluxe prompted a CPU fan error during bootup.
Our Asus P5W64-WS Professional allows the CPU fan to go at ~800rpm with Asus Q-Fan Silent Mode.
As usual with Asus motherboards, the Asus P5K-Deluxe features Asus' EZ Flash BIOS update utility. This allows flashing without a floppy or the problems of Windows utility flashing. I experienced no problems updating with the ROM file stored on a USB flash drive.
However, we must note that the BIOS chip on the Asus P5K3-Deluxe as with its DDR2 sibling is actually soldered onto the motherboard -- meaning the chip is not self-replaceable. This could lead to BIOS flash problems that would require the whole motherboard to be replaced.
---
Page Index
1.
Introduction, Features, and Specifications
2. Bundle, Chipset, BIOS
3.
A Closer Look, Board Layout
4.
Test System; Benchmark: 3DMark06
5.
Benchmark: PCMark05
6.
Benchmark: Cinebench 9.5, SuperPI 1M
7.
Benchmark: EVEREST CPU
8.
Benchmark: EVEREST FPU
9.
Benchmark: EVEREST Memory
10.
Benchmark: EVEREST Memory Latency, HDTach 3.0.1.0
11.
Onboard Sound, Wi-Fi, Overclocking, Conclusion