By: Jonathan Kwan
July 25, 2007
Despite the fact that this is not a new product, it's still definitely worth reviewing. After the introduction of cards based off the NVIDIA 8800GTS GPU configured with 320MB of video memory, it has created a unique price segment of its own. It is a DirectX 10 compliant card that claims to offer strong performance in majority of today's games, while retaining a price of roughly $300 -- within the budget of semi-hardcore gamers that cannot spend $700 on the latest, most powerful graphics solution. Today, we'll take a look at Asus' version of the 8800GTS. What makes this card different from the rest? It comes at an affordable price, but also a bundle of a couple of games, and even a copy of Futuremark's 3DMark06 Professional full version. Let's take a look at what Asus has to offer us today, complete with our standard set of benchmarks.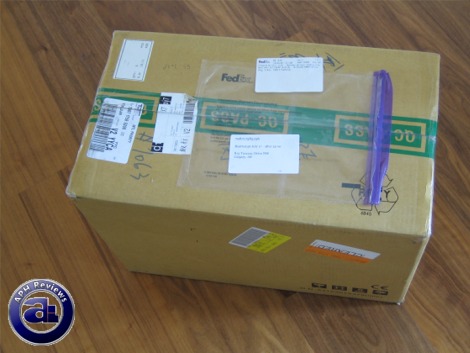 Our review unit of Asus' EN8800GTS 320MB (NVIDIA GeForce 8800GTS 320MB) came in an unusually large shipping box from Asus' headquarters in Taiwan. Using FedEx International Economy, all the extra space was filled with sheets of foam to prevent its internal contents from being damaged.
Interestingly, I was quite surprised to see this at my door. Wasn't really expecting it, especially when an Asus P5K3-Deluxe was also included for us to examine in a couple week's time.
Our Asus EN8800GTS 320MB is packaged in a retail box. It's uber huge -- contributing to the primary reason of why our shipping box is that big. The top features a flap that can be opened to highlight some unique features of Asus' EN8800GTS 320MB; as well as its specifications at the back.
The retail box also features a Ghost Recon Advanced Warfighter theme in front -- signifying the included game out of the box.
Before we move on, let's take a look at the specifications of this card, as obtained from Asus' website:
---
ASUS Exclusive Innovations
- HDCP Compliant: Allow playback of HD DVD, Blu-Ray Disc and other protected content at full HDresolutions
- Built for Microsoft® Windows Vista™
- ASUS Splendid: Watching movies on PC is as good as on Top-of-the-line consumer television
- ASUS Video Security Online: Keep an eye on your home at all times no matter where you are
- ASUS Game LiveShow: Stream live gaming action onto the internet and share with other gaming enthusiast
- ASUS Game Replay: Recording gaming action and strategy into MPEG4 files to share with other gaming enthusiast
- ASUS Game FaceMessenger: Easy IM and live game conference in any PC games
- ASUS Gamer OSD: Chat and over clocking during games
Graphics GPU Features
- NVIDIA® GeForce 8800GTS
- Built for Microsoft® Windows Vista™
- NVIDIA SLI™ Technology ready
- NVIDIA® unified architecture with GigaThread™ technology
- Full support for Microsoft DirectX10 and Shader Model 4.0 enables stunning and complex special effects
- OpenGL®2.0 support
- NVIDIA® Quantum Effects™ Technology
- True 128-bit floating point high dynamic-range (HDR) lighting
- Two dual-link DVI outputs support two 2560x1600 resolution displays
I/O Specifications
- PCI-Express
- HDCP Compliant
- TV-Out
- HDTV-out
- Dual DVI-I
- VGA
---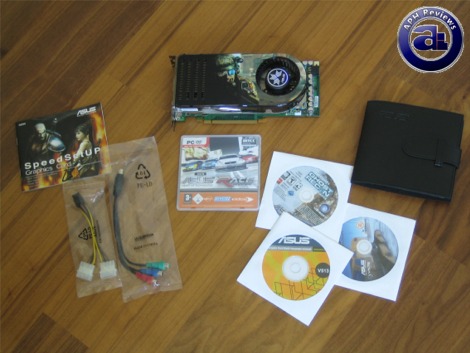 Out of the box, you will receive a HDTV-out cable, brief installation manual, leather CD case, and a dual Molex to 6-pin PCIe adapter in addition to the Asus EN8800GTS 320MB board itself. As far as the software bundle goes, Ghost Recon Advanced Warfighter, Race: The WTCC Game, 3DMark06 Professional, drivers and software CD, manual CD are also included. DVI to VGA adapters are supposed to be included; but I don't recall seeing any out of the box.
---
Page Index
1. Introduction, Specifications, Bundle
2.
A Closer Look
3.
Test System, Benchmark: Half Life 2: Lost Coast
4.
Benchmark: FEAR
5.
Benchmark: Prey
6.
Benchmark: Quake 4
7.
Benchmark: CS:S cs_militia
8.
Benchmark: 3DMark06
9.
Power Usage, Overclocking
10.
Noise Factor and Conclusion