Page 3 - A Closer Look, Board Layout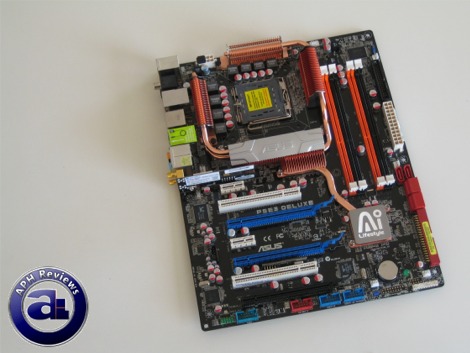 Like the majority of Asus' motherboards, the Asus P5E3-Deluxe again arrives in the chestnut/black printed circuit board. This would certainly appeal to the majority of users as when combined with the copper heatpipes, it creates a sense of high end feel -- exactly demonstrating what this motherboard is.
Incorporating a large length of heatpipes is always a great idea, especially when we've seen motherboards with overheating chipsets previously. While Intel chipsets typically do not have this problem, it's always nice to see them run cooler -- especially if it poses an advantage during overclocking.
The perimeter heatpipe design as we've previously seen in the Asus P5K3-Deluxe, but in a more complex manner, can be seen on the P5E3-Deluxe. Additional copper fins are implemented over the X38 northbridge with a large Asus logo, and brought out along the back for rear exhaust. A single heatpipe leads up from the ICH9R southbridge to the main section of the heatpipe system; in which leads both ways -- where the second path goes between the CPU and RAM and cools the voltage regulator modules at the top.
During our tests, we've found that the heatpipe system works very well, even without the included chipset fans -- I would have thought that the X38 with integrated heatspreader would run as hot as NVIDIA 6-series chipsets, but apparently the temperatures aren't bad at all.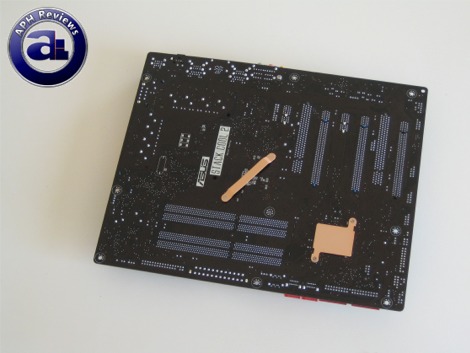 A shot at the back of the motherboard. With Asus' Stack Cool 2, where a layer of metal is integrated into the motherboard to spread heat generated by components around more evenly. Through this, it lowers the amount of concentrated heat spots in one area but instead distributes it over a larger surface area for better heat dissipation.
We can also see copper pieces at the back, corresponding to the northbridge and southbridge locations in front.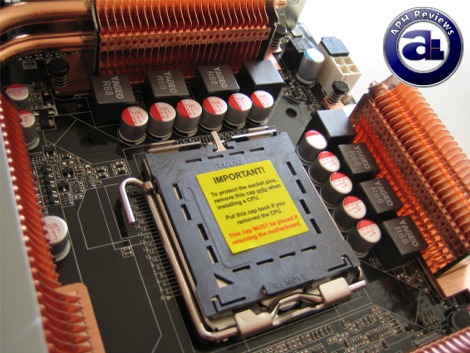 A series of relatively low profile capacitors and components constituting Asus P5E3-Deluxe's 8-phase power design reside fairly close to the CPU socket, but generally I haven't had any problems regarding clearing with any heatsinks I've tried in the past. The surrounding heatpipes are either far enough or low enough to accommodate the large Scythe Infinity heatsink used in our testing, which is great news for all users.
However, I was actually quite surprised to see a continuation of 8-phase power design on Asus motherboards. While 8-phase power designs has an advantage that would theoretically reduce the input ripple currents and permit the CPU to operate at a more stable voltage, I have seen motherboard manufacturers utilize up to 12-phase power designs, while others has jumped the boat to utilize digital PWM instead -- which is more flexible and appealing to the enthusiast than this implementation used in multiple generations of Asus motherboards.
Hidden below the heatpipe section leading to the left is what Asus calls the Energy Processing Unit (EPU). The EPU is a chip taking the form of an application-specific IC (Commonly known as ASIC) that digitally monitors and controls power levels on the Asus P5E3-Deluxe. The digital control comes from included software that runs under Windows; which takes live CPU power draw readings -- another advantage with the EPU is that it removes CPU overhead with previous generation power management software.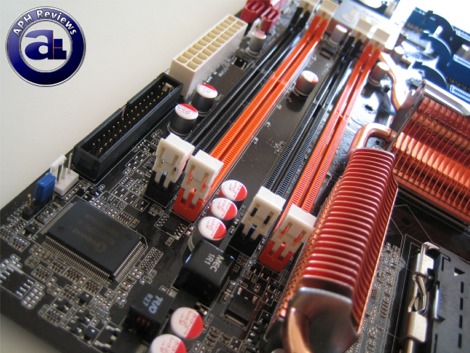 On the right of the CPU socket, as standard on most motherboards, are RAM slots. Four DDR3 memory slots are color-coded to distinguish correspondingly between channels A and B; as we can also see the two black 'blocks' above the RAM slots indicate to us that the Asus P5E3-Deluxe has a 2-phase power design for RAM. Next to that is the Winbond W83627DHG chip.
Along the right side of the motherboard is a floppy IDE connector, followed by a 24-pin ATX connector in their typical motherboard placement locations.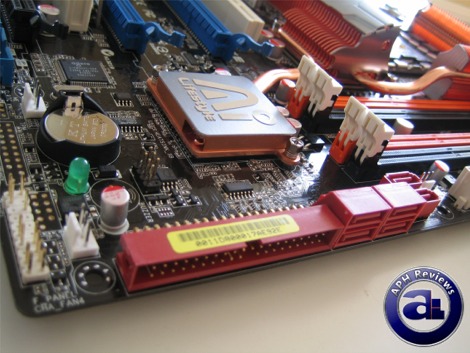 Towards the bottom right are six SATA2 connectors. As many complained about the loss of SATA connectors due to long graphics cards on the Asus P5K3-Deluxe and Asus P5K-Deluxe, it's very nice to see Asus fixing this 'problem' by rotating four potentially interfering SATA connectors 90 degrees to the right. Some may enjoy SATA connectors with this orientation, while others may find it less appealing. Regardless, the P5E3-Deluxe offers you a choice -- and you won't lose any SATA connectors due to long graphics cards.
Alongside with the four rotated SATA ports is the JMicron JMB363 controlled PATA connector. This is a much better location than what we've seen with the placement of such in the company's Asus P5K3-Deluxe and Asus P5K-Deluxe -- along the right edge -- which is excellent especially considering the fact that it is done by a third party controller instead of native southbridge support.
I also recall complaining previously about the placement of battery on the P5K series motherboard, because any graphics card installed in the first PEG slot will interfere with access to the battery. Asus moved it near the bottom right, which allows generally unrestricted access to it.
Asus' excellent Q-Connector block (Not shown) is also included out of the box to convert all the case I/O connectors into a single removable block for use with any Asus motherboard.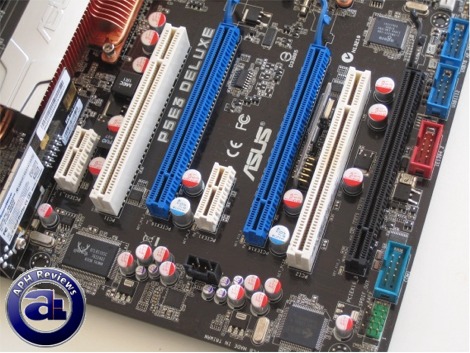 From the top: PCIe x1, PCI, PCIe x16, PCIe x1, PCIe x16, PCI, and a PCIe x16 (x4 electrical) slot. Intel's X38 chipset supports 16 lanes for each PEG slot electrically, while the third PEG slot takes 4 of 6 lanes from the ICH9R southbridge.
Along the left is AzureWare's AW-NA830 wireless-N (Supporting MIMO) chip. Also shown is the Realtek Gigabit RTL8110SC network controller; while Agere's FW3227 chip for up to two Firewire ports is located on the top right corner of our photo above.
Between the second PCIe x16 slot and PCI slot is a soldered chip containing Asus' Express Gate integrated Linux OS on the Asus P5E3-Deluxe. Along the bottom are headers for up to four USB ports, one Firewire, one serial port, as well as audio headers.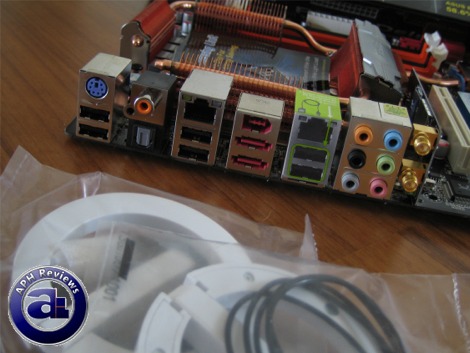 The back I/O section is almost identical to what we've seen with the Asus P5K3-Deluxe and the Asus P5K-Deluxe. One PS/2 port is dropped in favor of two USB ports; in which most people would find much more useful. S/PDIF outputs include the standard optical and coaxial out. Four more USB ports are located on two different blocks with a Gigabit network adapter each. Between the two is a block with two eSATA ports and a Firewire port. Six 3.5mm analog ports come in standard, along with two Wi-Fi antenna connectors for MIMO/Wireless-N capabilities (The board didn't get its 'WiFi@n' part of it's name for nothing!). Two antennas are included out of the box, and we'll discuss the software side of this in just a moment.
---
Page Index
1.
Introduction, Features, and Specifications
2.
Bundle, Chipset, BIOS
3. A Closer Look, Board Layout
4.
Test System; Benchmark: 3DMark06
5.
Benchmark: PCMark05
6.
Benchmark: Cinebench 9.5, SuperPI 1M
7.
Benchmark: EVEREST CPU
8.
Benchmark: EVEREST FPU
9.
Benchmark: EVEREST Memory
10.
Benchmark: EVEREST Memory Latency, HDTach 3.0.1.0
11.
Asus Express Gate Onboard Linux
12.
Onboard Sound (RMAA 6.06) Analyzation
13.
Onboard Sound (Subjective), Wi-Fi, Overclocking, Conclusion