Page 2 - Bundle, Chipset, BIOS
Out of the box, you will get no less than a truckload of accessories. In addition to the Asus P5E3-Deluxe motherboard itself, along with the standard software CD/DVDs, it includes the following out of the box:
1x UltraDMA 133/100/66 cable
1x FDD cable
6 x Serial ATA cables
1 x 2-port Serial ATA power cable
1x Asus Q-Shield
1x User's manual
1x Asus WiFi-AP @n manual
3x Q-connector (Firewire, Case I/O, USB)
1x 2-port USB2.0 / 1-port IEEE1394 module
2x Chipset fans
2x Asus WiFi-AP @n omni-directional antennas
1x Asus Ai Remote, with battery, and receiver
The 'Asus Q-Shield' is actually quite unique -- it's an EMI shielded back panel I/O shield. The support DVD includes:
- ASUS PC Probe II
- ASUS Update
- ASUS AI Suite
- ASUS WiFi-AP @n Wizard
- Anti-virus software (OEM version)
- Image-Editing Suite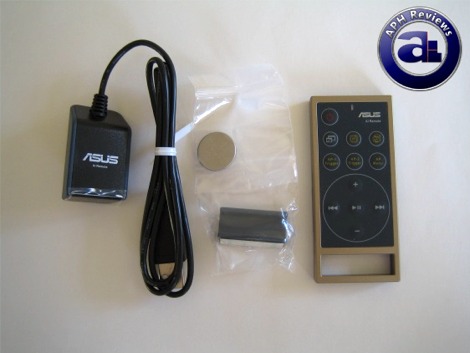 One of the things I want to highlight is the included Asus Ai Remote. Powered by a CR2025 3V coin battery, the remote offers very basic functions as you can see in our photo above. Certain buttons can be reconfigured via software, and as far as I know you can even get your computer to turn on by remote -- although I never seemed to got that to work even when it was plugged into the designated USB port.
The IR receiver is small and offers Velcro sheets for sticking it onto your desk. I found the receiver not to be very responsive as it was not very tolerant to signal angles with a high difference to the vertical.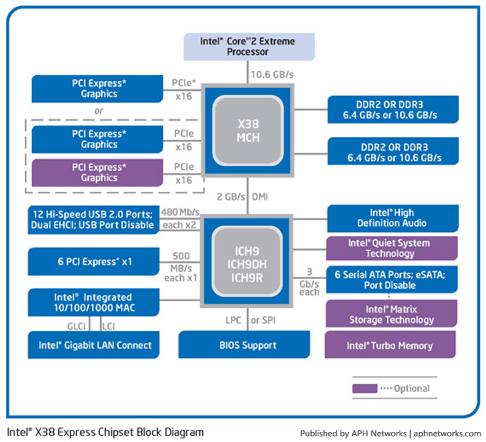 The chipset diagram of Intel's X38 chipset, as obtained from Intel's website. With offering native support for 1333/1066/800MHz system bus, Asus claims to offer support for 1600MHz QDR FSB processors out of the box as well. As with all current generation Intel chipsets, it will support 45nm Penryn by default.
PCIe 2.0 is introduced officially on the Intel X38 as well -- another improvement over previous chipsets up until this point is a total of 32 lanes offered by the northbridge, dual full PCIe x16 lanes for multi-GPU configuration is supported natively delivering up to 16GB/s theoretical bandwidth per port.
Another unique implementation of Intel X38 chipset includes the XMP feature -- basically the Intel version of NVIDIA EPP. Although it is less likely to pose any difference for enthusiasts defining manual settings regardless, it may come in handy or convenient for different types of users.
The Asus P5E3-Deluxe continues to use Intel's excellent ICH9R southbridge. This enables native support for up to 12 USB ports. 6 SATA and eSATA are also available out of the box. As usual, disk configuration can be made in RAID 0,1,5,10, or JBOD on ICH9R with Asus' P5E3-Deluxe. Similar to the ICH8 series chipsets, PATA support is dropped and is left to third party controllers to enable this feature.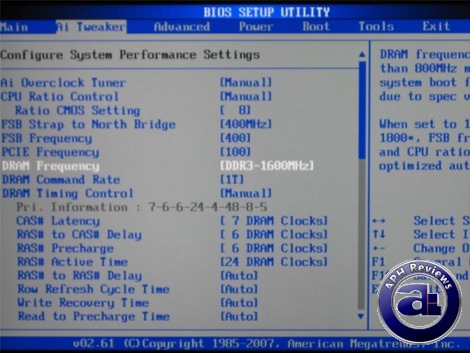 Loaded with an AMI BIOS, we've grown quite accustomed to it as expected from an Asus motherboard. On the other hand, overclocking now has its own dedicated tab in the BIOS on the Asus P5E3-Deluxe. Standard overclocking options are available the moment you load it as shown in our photo above.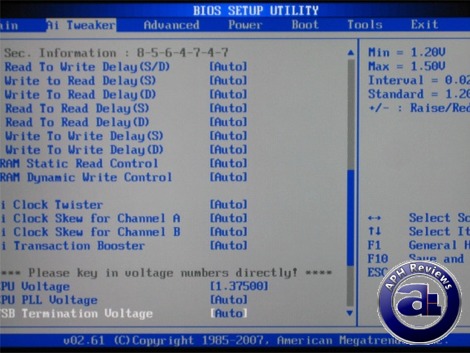 There's a ton of detailed RAM configuration options available in addition to the standard CAS-TRCD-TRP-TRAS as you scroll down.
Voltage control is also on this section, we'll get to its usage in a moment. On its voltage range:
CPU: 1.10-1.70V @ 0.00625V increments
CPU PLL Voltage: Up to additional +2.78V
FSB: 1.20-1.50V
RAM: 1.50-2.78V
Northbridge: 1.25V-1.91V
Southbridge: 1.05V-1.20V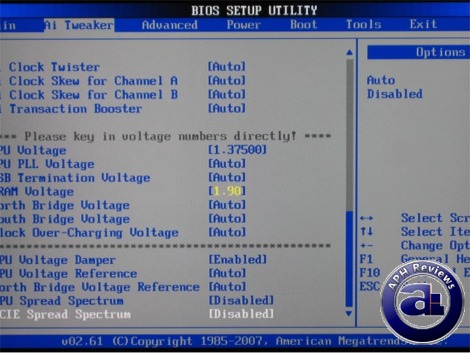 Scrolling all the way to the bottom of the Asus Ai Tweaker screen displays voltage control. Voltage is now to be keyed in directly instead of selecting it from a scroll menu -- something that I found a bit odd to use at first, but after a while I got used to it. The voltage values are color coded; in which, for example, in our shot above yellow in the RAM section indicates warning -- and the level increases in order of purple and red, with red being the most serious.
During overclocks, it is recommended to use the following settings:
CPU Voltage Damper [Enabled]
CPU Spread Spectrum [Disabled]
PCIE Spread Spectrum [Disabled]
The CPU Voltage Damper (Otherwise known as Load-Line Calibration in newer BIOS revisions) effectively reduces vdroop.
Disabling PCIE Spread Spectrum will automatically engage PCI locks.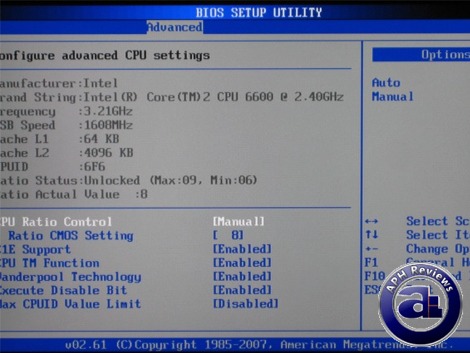 Additionally, certain CPU features can be controlled in the dedicated CPU configuration page. It's quite interesting because you can set CPU multiplier in two locations: One in the overclocking page; the second one being on the CPU advanced settings page. There's no literal SpeedStep/EIST configuration at this point, but you can disable or enable C1E Support -- which will show the SpeedStep option once C1E is enabled and rebooted.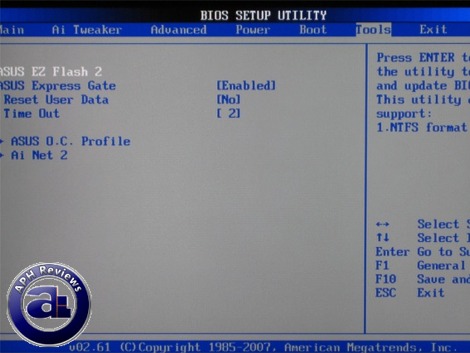 In the Tools tab, standard options such as Asus EZ Flash 2, Asus OC Profile, and Ai Net 2 can be found. In addition to that, configuration for Asus' Express Gate onboard Linux based OS can be set to enabled or disabled; along with timeout during bootup. Data clearing/reset for Express Gate can also be done on this screen.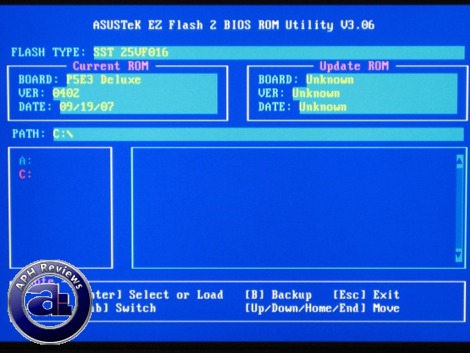 As usual with Asus motherboards, the Asus P5E3-Deluxe features Asus' EZ Flash BIOS update utility. This allows flashing without a floppy or the problems of Windows utility flashing. I experienced no problems updating with the ROM file stored on a USB flash drive.
However, we must note that the BIOS chip on the Asus P5E3-Deluxe as with all of Asus' current generation motherboards is actually soldered onto the motherboard -- meaning the chip is not self-replaceable. This could lead to BIOS flash problems that would require the whole motherboard to be replaced.
---
Page Index
1.
Introduction, Features, and Specifications
2. Bundle, Chipset, BIOS
3.
A Closer Look, Board Layout
4.
Test System; Benchmark: 3DMark06
5.
Benchmark: PCMark05
6.
Benchmark: Cinebench 9.5, SuperPI 1M
7.
Benchmark: EVEREST CPU
8.
Benchmark: EVEREST FPU
9.
Benchmark: EVEREST Memory
10.
Benchmark: EVEREST Memory Latency, HDTach 3.0.1.0
11.
Asus Express Gate Onboard Linux
12.
Onboard Sound (RMAA 6.06) Analyzation
13.
Onboard Sound (Subjective), Wi-Fi, Overclocking, Conclusion