By: Jonathan Kwan
December 1, 2007
When Super Talent announced their Project X series of DDR3 RAM a few months back, it sounded pretty astonishing -- but at this presentation I expected it to arrive at an astonishing price relative to other sets of DDR3 RAM in the market right now. Surprisingly, Super Talent's Project X paired with Micron's excellent D9GTR ICs with sharp aluminum heatsinks is also a sharp combination with a relatively aggressive price -- at least for memory in this market segment. I've seen other DDR2-1600 RAM costing more than the Project X DDR3-1800 -- something that we don't see every day. Super Talent has been highly regarded amongst enthusiast in the past, and combined with overclocking preferred Micron D9GTR ICs, as well as a relatively lower price compared to other DDR3 RAM, I'm sure that it will live up to its reputation. But will this be a winning combination if you are in the market for performance DDR3 RAM? We'll find out today.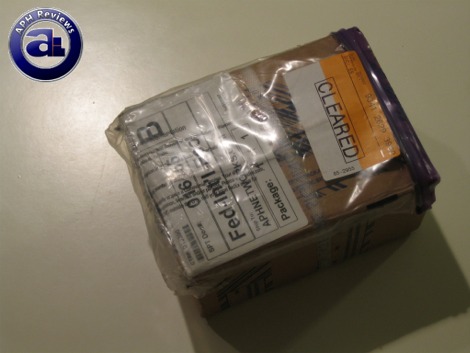 Our review unit of Super Talent's Project X DDR3-1800 memory arrived in a surprisingly small box using FedEx International Priority. Despite this, the contents inside were well backed with a saturation of packing peanuts to protect the RAM and its packaging in absolutely perfect condition. Plus, I simply can't wait to get my hands on one of the most highly regarded sets of DDR3 RAM that is available today. After months of anticipation, it's hard to believe the excitement is all contained in such a small box!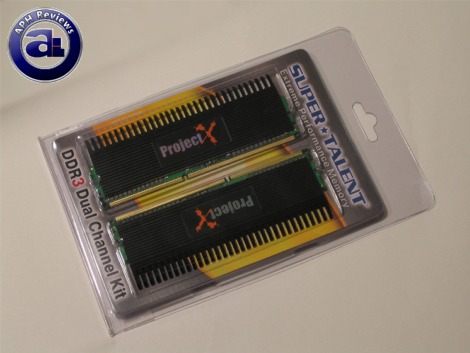 As with most memory products, our Super Talent Project X's retail packaging is done with clear plastic clamshell packaging. The package is held together only by friction on the sides of the beveled area; which is not very effective in holding together because our RAM was loose and out of its designated area when we opened the package. Regardless, I definitely appreciated the use of non-blister packs because it's always great to have it easy to open with packaging that's reusable rather than wasting a few minutes cutting open a plastic pack.
Anyways, black and orange color scheme created with shades of orange and grey are used as the background insert of the clear clamshell packaging. A relatively simple design; Super Talent's brand identification is printed across the top with the RAM modules vertically placed in relation to each other. A highlight of "DDR3 Dual Channel Kit" resides below the RAM module themselves.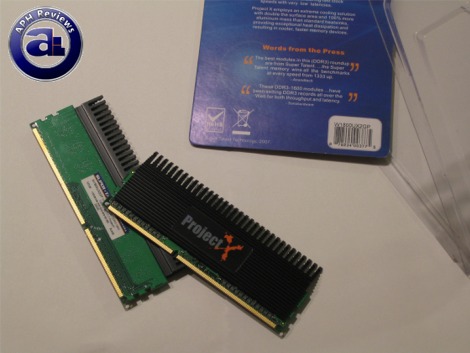 Out of the package, you will receive the Super Talent Project X DDR3-1800 2x1GB RAM themselves, and nothing else in particular -- not that we'd expect more from a memory package anyway. Before we move on, let's take a look at the specifications of Super Talent's Project X DDR3-1800, as obtained from their website:
Model Number: W1800UX2GP
Speed: DDR3-1800 (PC3-14400)
Capacity: 2GB Kit (2x1GB)
Latencies: 7-7-7-21 2.0V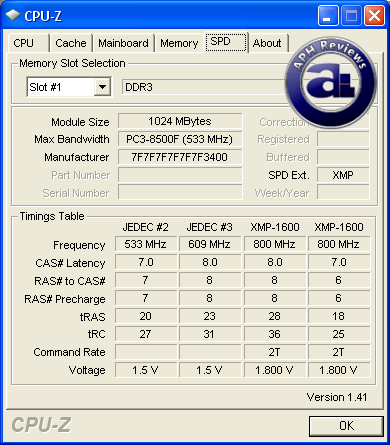 CPU-Z screenshot of the SPD tab with Super Talent's Project X DDR3-1800 memory. Correct JEDEC timings based on 1.5V can be seen; but the Project X RAM with XMP support shows the timing and voltages for it -- the DDR3-1800 Project X set is also programmed with DDR3-1600 default speeds and latencies when ran at those specifications.
---
Page Index
1. Introduction, Packaging, Specifications
2.
A Closer Look, Installation, Test System
3.
Benchmark: 3DMark06
4.
Benchmark: PCMark05
5.
Benchmark: EVEREST CPU
6.
Benchmark: EVEREST FPU
7.
Benchmark: EVEREST Memory
8.
Benchmark: SuperPI, Cinebench 9.5, EVEREST Memory Latency
9.
Overclocking Results and Conclusion