Page 2 - A Closer Look, Installation, Test System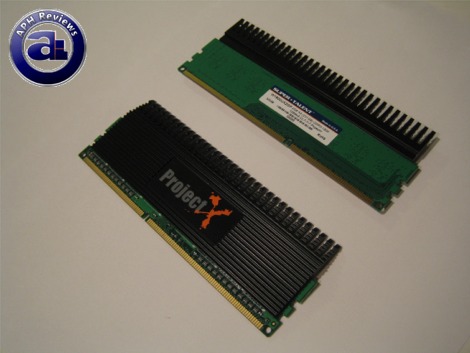 Super Talent has taken a more aggressive looking approach when it comes to heatsink design -- similar implementation as we've previously seen in Corsair Dominators and OCZ Flex XLC, except without water cooling support which the latter possesses. Super Talent claims that these aluminum heatsinks double the heat dissipation area and "106% more aluminum mass than standard heat spreaders". During our tests of overvolting to 2.1V in our overclocking tests, the Super Talent Project X heatspreaders were just warm to touch.
The Micron D9GTR based Super Talent Project X DDR3-1800 2x1GB modules -- the same ICs used with the OCZ Platinum PC3-12800 Enhanced Bandwidth 2x1GB -- like the OCZ kit, has the ICs only on one side of the PCB. This is not surprising, but what's different is that Super Talent decided to cover only the side with ICs with the heatspreader. Doing this will make lighter RAM to carry, reserving the extra aluminum weight for practical heat dissipation purposes as well as keeping the RAM light and thin. If users are going to fill all the DIMM slots on the motherboard, having a bit of space between each model would certainly bring an advantage for cooling. The only downside is that, if your motherboard's design causes the RAM to orient with heatsink facing in, green PCB would be exposed and it would look less appealing -- fortunately, Super Talent designed and tested the Project X with Asus motherboards, so I've had no issues in this regard with the Asus motherboards I own.
On the back of the Super Talent Project X DDR3-1800 RAM is a label indicated model number, frequency, latencies, and voltage.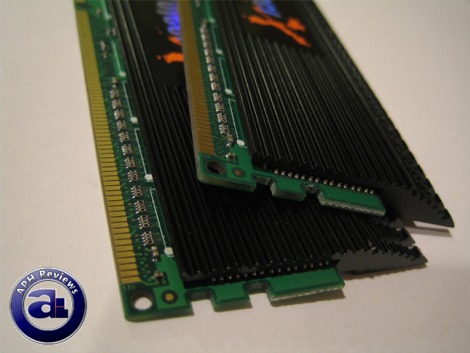 Although the conservative, black color scheme used on the Super Talent Project X modules aren't as flashy as OCZ's designs, usage of aluminum fins across the top definitely retains its impression of being high end memory -- personally I would say the textured, grooved aluminum heatspreader actually holds a sense of unique attractiveness by itself. A simple "Project X" logo is in the middle, applied by a sticker.
Super Talent claims a special adhesive is used between the aluminum heatspreader and ICs for improved heat dissipation. As mentioned many times throughout this article, the Super Talent Project X DDR3-1800 uses Micron's excellent D9GTR 80nm ICs -- generally favored amongst overclocking enthusiasts for performance and low heat generation.
The Super Talent Project X DDR3-1800 runs at 2.0V stock, at impressive 7-7-7-21 latencies for PC3-14400. This is certainly one of the best I've seen for DDR3 RAM running at these speeds. Additionally, the Project X DDR3-1800 can downclock to identical settings of its slower counterpart, the DDR3-1600 edition at 7-6-6-18 1.8V. I am impressed -- Super Talent must be using cream of the crop ICs for the Project X modules.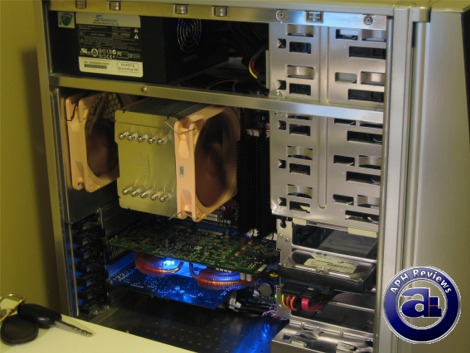 Although we didn't use the system in the above photo for testing, our Asus P5E3-Deluxe/WiFi-AP@n correctly places the heatsink covered side of the RAM in the direction facing away from the processor.
Installation and compatibility are not big issues; the Super Talent Project X modules even with its heatsink are surprisingly light and thin and allow lots of space between each module even if all slots are filled. The fins at the top of the heatsink reaches right in front of our Scythe Infinity with Noctua's NF-P12 fan, which in turn brings additional airflow across the top of the memory modules. However, pushing down the Project X memory into its DIMM slot may not be very comfortable on your fingers due to the relatively sharper design of the fins at the top. Here's a hint: When possible, grip it from the sides... or put something between your fingers and RAM before you push down!
Our test system specifications as follows:
CPU: Intel Core 2 Duo E6300 @ 2.80GHz (400MHz*7)
Motherboard: Asus P5K3-Deluxe/WiFi-AP
Chassis: Danger Den Torture Rack (1x Thermaltake 120mm LED Fan)
Power: Tagan TurboJet 1100W
Graphics: Asus Radeon X1950 Pro 256MB
Graphics Cooler: Arctic Cooling Accelero S1, with Turbo Module
Sound: Integrated ADI SoundMAX 1988B
Optical Drive: Liteon 52X CD-ROM
Hard Drive: Western Digital Caviar 7200RPM 80GB 8MB Cache
Operating System: Microsoft Windows XP Professional SP2
Compared Hardware
- Super Talent Project X DDR3-1800 2x1GB @ DDR3-1600/PC3-12800 7-6-6-18
- OCZ Platinum PC3-12800 Enhanced Bandwidth 2x1GB @ DDR3-1600/PC3-12800 7-6-6-20
The Super Talent Project X RAM are DDR3-1800 RAM downclocked to DDR3-1600; we've chosen 7-6-6-18 latencies because the DDR3-1600 model of Super Talent's Project X RAM runs at those specific latencies -- therefore we've used those settings to simulate the DDR3-1600 Super Talent Project X. Unfortunately we can't test it at DDR3-1800 on the Asus P5K3-Deluxe/WiFi-AP speeds unless we are overclocking the processor itself -- which would make it an unfair comparison (By default, the RAM won't operate at DDR3-1600 speeds until we overclocked the CPU's FSB to 400MHz).
---
Page Index
1.
Introduction, Packaging, Specifications
2. A Closer Look, Installation, Test System
3.
Benchmark: 3DMark06
4.
Benchmark: PCMark05
5.
Benchmark: EVEREST CPU
6.
Benchmark: EVEREST FPU
7.
Benchmark: EVEREST Memory
8.
Benchmark: SuperPI, Cinebench 9.5, EVEREST Memory Latency
9.
Overclocking Results and Conclusion