By: Jonathan Kwan
Initial Date: February 24, 2007
Completion Date: April 23, 2007
This review was delayed because the original graphics card malfunctioned prior to benchmark completion. The replacement date was April 16, 2007.
The immense diversity of graphics cards is already overwhelming -- never mind the excess of board manufacturers based on the same chipset. In most cases, the manufacturer has to build a graphics card based on ATI or NVIDIA's reference design, leaving minimal variation between, say, a BFG and EVGA card. The most prominent difference that companies like to set themselves above other units is the implementation of performance memory chips, pre-overclocked RAM and core, or large, quiet heatsinks. To what we've seen today, our review unit of Asus' EAX1950PRO (Basically an ATI Radeon X1950 Pro) with a large, double slot heatsink/fan is what we will be taking a look at. Is it quiet? Is it cool? Is the price competitive? How's the performance? Let's investigate these factors in our review today.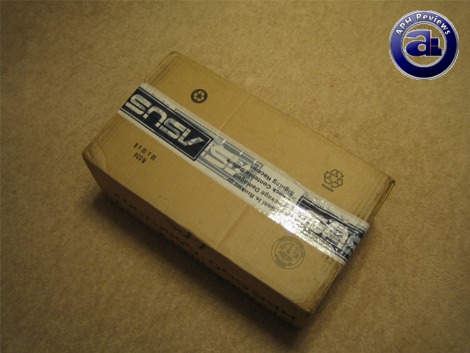 Our review unit of the Asus X1950 Pro arrived in a rather large box sealed with Asus tape using FedEx International Economy. Something made me wonder why the box was so big -- after all, it's just a graphics board, right?
Just in case you're wondering, the carpet in the above photo was not from my house. You can confirm this by looking at the third photo (Last photo of this page) ;)
Upon opening the box, they had a little surprise for us. Underneath the Asus X1950 Pro in which we expected, is an Asus P5N-E SLI motherboard, in which we'll review as well (Update: Here's the review: Click here for review). An ATI based video card with a SLI motherboard. Now that's a combination.
Of course, we'll be testing the Asus Radeon X1950 Pro on our computer using our favorite workstation board -- the Asus P5W64-WS Professional in which reviewed a couple months back.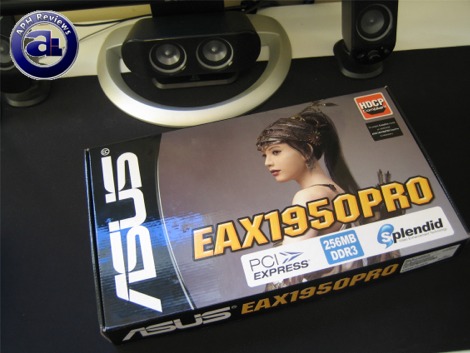 The review unit of Asus' Radeon X1950 Pro is included in their retail box, with a rather nice 3D render of a female over the top. Basically, what this means is that the element Fe is added to this thing known as "male" (I can't seem to find more information in regards to this element on the periodic table) to for an element with greater strength, ductility, and magnetism.
Anyway, the point is that it comes in a retail box. It is extensively wide; the back outlines some features and specification of this product.
Before we move on, let's take a look at the specifications of this video card, as obtained from Asus' site:
- Exclusive powerful fansink module with one heatpipe embedded
- Powered by ATI Radeon® X1950PRO GPU
- HDCP Compliant
- Built for Microsoft® Windows Vista™
- Combined with ASUS exclusive innovations
ASUS EAX1950PRO/HTDP/256M is equipped with exclusive ASUS innovations and ATI Radeon X1950PRO GPU which delivers high-definition entertainment with strikingly fast gaming performance, industry-leading image quality, and crystal clear digital video. With the powerful ATI RADEON® X1950PRO GPU, the ASUS EAX1950PRO supports the finest in graphics technology, including Avivo Video and Display Engine, Ultra-Threaded and Shader Engine.
ASUS EAX1950PRO graphics card is also HDCP ready to support future HDCP protected audio/video contents, provide worry-free upgrade to the coming high-definition contents and many other premium graphics features. Combined with unique ASUS innovations such as SPLENDID for intelligent video enhancement and interactive gaming features, the all-new ASUS card delivers the ultimate in computer visual enjoyment.
HDCP Compliant:
Allow playback of HD DVD, Blu-Ray Disc and other protected content at full HD resolutions
ASUS Splendid:
Watching movies on PC is as good as on Top-of-the-line consumer television
ASUS Video Security Online:
Keep an eye on your home at all times no matter where you are
ASUS Game LiveShow:
Stream live gaming action onto the internet and share with other gaming enthusiast
ASUS Game Replay:
Recording gaming action and strategy into MPEG4 files to share with other gaming enthusiast
ASUS Game FaceMessenger:
Easy IM and live game conference in any PC games
ASUS OnScreenDisplay:
Adjust the fame settings and enhance gaming experience without leaving the game
Graphics GPU Features
Powered by the world's most powerful GPU- ATI Radeon X1950PRO
Ultra-Threaded Shader Engine-Support for Microsift® Direct X®9.0 Shader Model 3.0
Avivo™ Video and Display Engine
Over one billion more colors than competing graphics solutions
High quality HD video playback with HDCP support
Models Available
EAX1950PRO/HTDP/256M/A
PCI-Express, VGA, Dual DVI-I, TV-Out, HDTV-out, HDCP Compliant, 256M
Like my beautiful carpet?
Out of the box, you will get the Asus EAX1950PRO itself, a couple of software/driver CDs, video out cable, Molex to PCIe connector, one DVI to VGA adapter, an Asus disc case, as well as a short, brief manual. Because the ATI Radeon X1950 Pro chipset has native Crossfire support, a master card is not required. The Crossfire Edition of this card offered by Asus includes two Crossfire bridges for interconnection, while the non-Crossfire version simply omits these two units.
However, it is possible to purchase two non-Crossfire Asus EAX1950PROs, and then obtain the Crossfire bridges separately to utilize Crossfire mode (If your motherboard chipset supports such technology). Crossfire bridges can be directly obtained from ATI/AMD or retailers for around $10 each; but two is required. NVIDIA SLI bridges will not fit for this purpose, for those of you wondering.
---
Page Index
1. Introduction, Specifications, Bundle
2.
A Closer Look
3.
Test System, Benchmark: Half Life 2: Lost Coast
4.
Benchmark: FEAR
5.
Benchmark: Prey
6.
Benchmark: Quake 4
7.
Benchmark: CS:S cs_militia
8.
Benchmark: 3DMark06
9.
Power Usage, Overclocking
10.
Noise Factor and Conclusion