Page 3 - Test System, Benchmark: Half Life 2: Lost Coast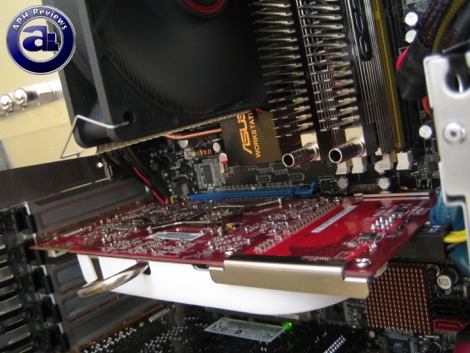 CPU: Intel Core 2 Duo E6300 @ 2.80GHz (400MHz*7)
CPU Cooling: Scythe Infinity
Motherboard: Asus P5W64-WS Professional
RAM: OCZ Flex XLC 2x1GB @ 4-4-4-10, 1:1 with CPU
Case: Thermaltake Aguila (1x120mm LED, 1x120mm)
Power: Seasonic M12 500W
Sound: Creative X-Fi XtremeMusic
Optical Drive: NEC AD-7170A 18X DVD+/-RW
Hard Drive: Seagate 7200.10 320GB 16MB SATA2
Operating System: Microsoft Windows XP Professional SP2
Comparison Graphics
- Asus EAX1950PRO 256MB
- PowerColor X1550 256MB/64Bit
- BFG GeForce 7600GT OC 256MB
All tests were ran at 1680x1050 with all settings turned to the maximum unless otherwise stated, with the only manipulated variables in the tests being AA and AF settings. ATI Catalyst 7.3 was used for the PowerColor X1550, and NVIDIA ForceWare 93.71 was used for our 7600GT. No recorded difference can be obtained from our results between Catalyst 7.2 and 7.3. At press time, the average price in US dollars for the PowerColor X1550 was $65, $90 for the BFG 7600GT OC, and $165 for the Asus EAX1950PRO.
Please note that the cards used in this review are for reference only as they are completely different classes of cards designed for various purposes, therefore the cost must be taken into account.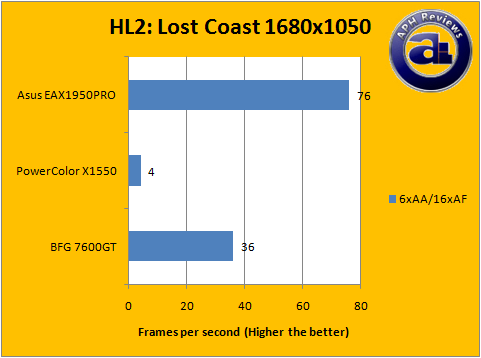 Using 6xAA and 16xAF in Half-Life 2: Lost Coast in the APH custom timedemo, the Asus EAX1950PRO has an average frame rate of 76FPS.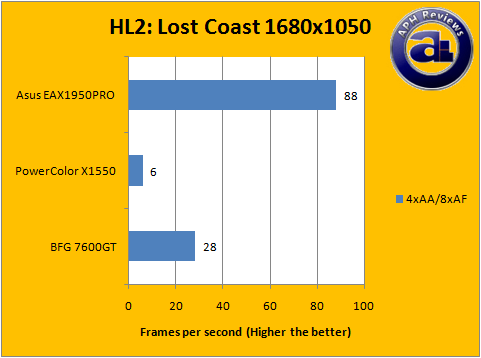 Oddly, our repeated tests show that the 7600GT's FPS actually dropped when AA and AF is reduced. However, the Asus EAX1950PRO's average FPS retained at a high 88FPS.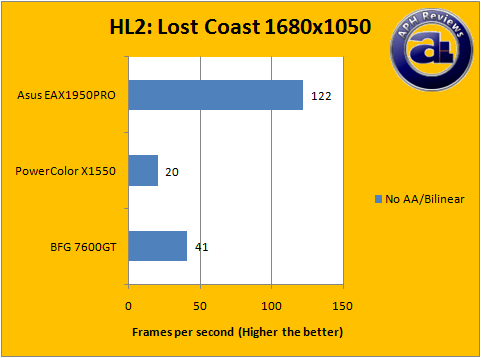 It seems to us that the Asus EAX1950PRO gained the most when AA and AF was disabled -- averaging at 122FPS, it was exponentially higher than the 7600GT reference unit.
---
Page Index
1.
Introduction, Specifications, Bundle
2.
A Closer Look
3. Test System, Benchmark: Half Life 2: Lost Coast
4.
Benchmark: FEAR
5.
Benchmark: Prey
6.
Benchmark: Quake 4
7.
Benchmark: CS:S cs_militia
8.
Benchmark: 3DMark06
9.
Power Usage, Overclocking
10.
Noise Factor and Conclusion